What's Up?
On Sunday morning I took grandson Idris to Robert Moses State Park to enjoy the waves. In my early teens I practically lived in the ocean all summer long; the bigger the waves, the better for body surfing. The beach at Moses was very steep but with the north breeze knocking the waves down, they looked pretty benign. Appearances can be deceiving.
Idris's throwing and catching skills have improved by leaps and bounds since we began tossing a ball around in daughter Lissy's backyard most every night. So, after we played catch with a tennis ball for a while, Idris and grandpa headed for the water. I tried getting him to join me about 20 feet from shore but he was too smart, getting wet only from his ankles to his thighs.
I was busy watching him on shore when I was slammed by an 8 foot wave that came out of nowhere and smashed me in the back. I was turned upside down and apparently inside out by that first wave. My swim goggles–don't ask me why I was wearing them–were ripped off my head. The next two waves in the set were not as big as the first one but still they beat me up pretty good. It was like being inside a gigantic washing machine. At one point I began to think that I actually might be in a more than a bit of trouble…
When the dust cleared I had about a pound of sand in each bathing suit pocket and another half pound in the tiny key pocket of my sun protection blouse. I escaped pretty much unscathed but realized in retrospect that I was very lucky not to have damaged my left knee when I first went flying. We searched in vain for a few minutes for my missing swim mask and then beat a hasty retreat to my Mom's community pool. We did stop at Target to grab a pair of swim goggles for each of us. Idris loves the water and swam more than 22 lengths, a solid 1/4 mile. Not bad for an 8-year old. I did my usual 66 lengths, 3/4 mile. Very slowly.
Defeat continued to plague me on Sunday evening as I lost to my Mom in Scrabble by an ignominious 99 points. 🙁
The Streak
Today's blog post marks a totally insane, irrational, illogical, preposterous, absurd, completely ridiculous, unfathomable, silly, incomprehensible, what's wrong with this guy?, makes-no-sense, 271 days in a row with a new educational blog post. And I still have dozens of new topics to cover; there should be no end in sight until my big South America trip next fall. As always-–and folks have been doing a really great job recently–-please remember to use our B&H links for your major gear purchases. For best results use one of our many product-specific links; after clicking on one of those you can continue shopping with all subsequent purchases invisibly tracked to BAA. Your doing so is always greatly appreciated. Please remember: web orders only. AND Please remember also that if you are shopping for items that we carry in the new BAA Online Store (as noted in red at the close of this post below) we would appreciate your business.
Selling Your Used Gear Through BIRDS AS ART
Selling your used (or like-new) photo gear through the BAA Blog or via a BAA Online Bulletin is a great idea. We charge only a 5% commission. One of the more popular used gear for sale sites charges a minimum of 20%. Plus assorted fees! Yikes. The minimum item price here is $500 (or less for a $25 fee). If you are interested please e-mail with the words Items for Sale Info Request cut and pasted into the Subject line :). Stuff that is priced fairly–I offer free pricing advice, usually sells in no time flat. In the past few months, we have sold just about everything in sight. Do know that prices on some items like the EOS-1D Mark IV, the old Canon 500mm, the EOS-7D, and the original 400mm IS DO lens have been dropping steadily. You can see all current listings by clicking here or by clicking on the Used Photo Gear tab on the yellow-orange tab on the right side of the menu bar above.
Used Gear Sales Continue to be Brisk
Tom Mast sold his Canon 300mm f/4L IS USM lens in excellent condition for $625 in late July.
Henry Raymundo sold his Gitzo 1325 tripod and a Wimberley V-2 head both in very good plus condition for the very low price of $699 and two used Canon 100-400mm IS L Zoom lenses, one in excellent condition for $599, the other in very good plus condition for $549–all in late July.
Jonathan Ward sold his Canon 70-200 f/2.8L IS II USM lens in excellent condition for $2,000 CAD in early July.
Long ago multiple IPT veteran Charles McRae sold his Canon EF 600mm f/4L IS lens in good to very good condition in early July for a record low $4,199.
Jeffrey Fredberg sold his EF 70-300mm f/4-5.6L IS USM L series lens in like-new condition for the record-low BAA price of $749 in late June.
Jim Burns sold his Canon 200-400mm F/4L IS zoom lens with Internal 1.4X Extender in brand new condition for the insane BAA record-low price of $8499 in late June.
Moody McCall sold his Canon 300mm F/2.8L IS II in excellent condition for $4199 in mid-June.
Long-ago IPT veteran Charles Sleicher sold his Canon EF 500mm f/4L IS USM lens in very good plus condition for $3400 in mid-June.
Top BAA Used Gear seller Jim Keener sold his Canon EOS 5D Mark III in absolute mint condition for $1599 in mid-June.
KW McCulloch sold his Canon EOS-1D X in excellent condition for $2459 in mid-June.
Top BAA Used Gear seller Jim Keener sold his Canon EF 500mm f/4L IS USM lens (the old five) in very good plus condition for a BAA record low price of $3699 in mid-June.
New Listings
Canon EF 200-400mm f/4L IS USM Lens with Internal Extender
Eric Karl is offering a Canon EF 200-400mm f/4L IS USM Lens with Internal Extender in excellent condition for a very low $8,099. The sale includes the rear lens cap, the lens trunk, the original tough front lens cover, the lens strap, the original product box, and insured ground shipping via major courier to US addresses only. Your item will not ship until your check clears unless other arrangements are made.
Please contact Eric via e-mail or by phone at 1-503-272-1055 (Pacific time).
This is the world's best lens for a trip to Africa. It kills also in the Galapagos and in South Georgia, the Falklands, and Antarctica. And I use mine a lot at Bosque and other dusty places where the built-in TC helps to keep your sensor clean. And I love it in the Palouse for its versatility. The lens sells new at B&H right now for $10,999. You can save a slew of dollars by grabbing Eric's lens now. artie
Canon EOS 7D Mark II
Eric Karl is also offering a Canon 7D Mark II camera in like-new condition with the BG-E16 battery grip for only $1,099. The sale includes the battery grip, the original strap, the charger, the original product boxes, and insured ground shipping via major courier to US addresses only. This camera was purchased on 5/12/15 and used primarily as a backup on only two trips. Your item will not ship until your check clears unless other arrangements are made.
Please contact Eric via e-mail or by phone at 1-503-272-1055 (Pacific time).
Though I currently own and use two 5DS R and one 1DX Mark II body, I owned and used two 7D II bodies for about two years; several of my 7D II images made the final judging rounds in both the BBC and Nature's Best competitions. I still feel that it is by far the greatest digital camera body value ever… artie
Canon EOS-5D Mark III
Price Reduced $80 on August 8, 2016.
Multiple IPT-veteran and all around nice guy Sheldon Goldstein is offering a Canon EOS-5D Mark III in excellent plus condition but for a few scuffs on the bottom of the camera for the great price of $1399 (was $1479). The body was just cleaned and checked by Canon; it has only about 16,500 actuations. The sale includes the camera strap, the battery, the battery charger, and the manual.
Please contact Shelly via e-mail or by phone at 1-646-423-0392 (eastern time).
I have owned and used this superb, full frame, 22mp digital body for several years. It was always my first choice for scenic, Urbex, and flower photography until I fell in love with the 5DS R (for a lot more money!). artie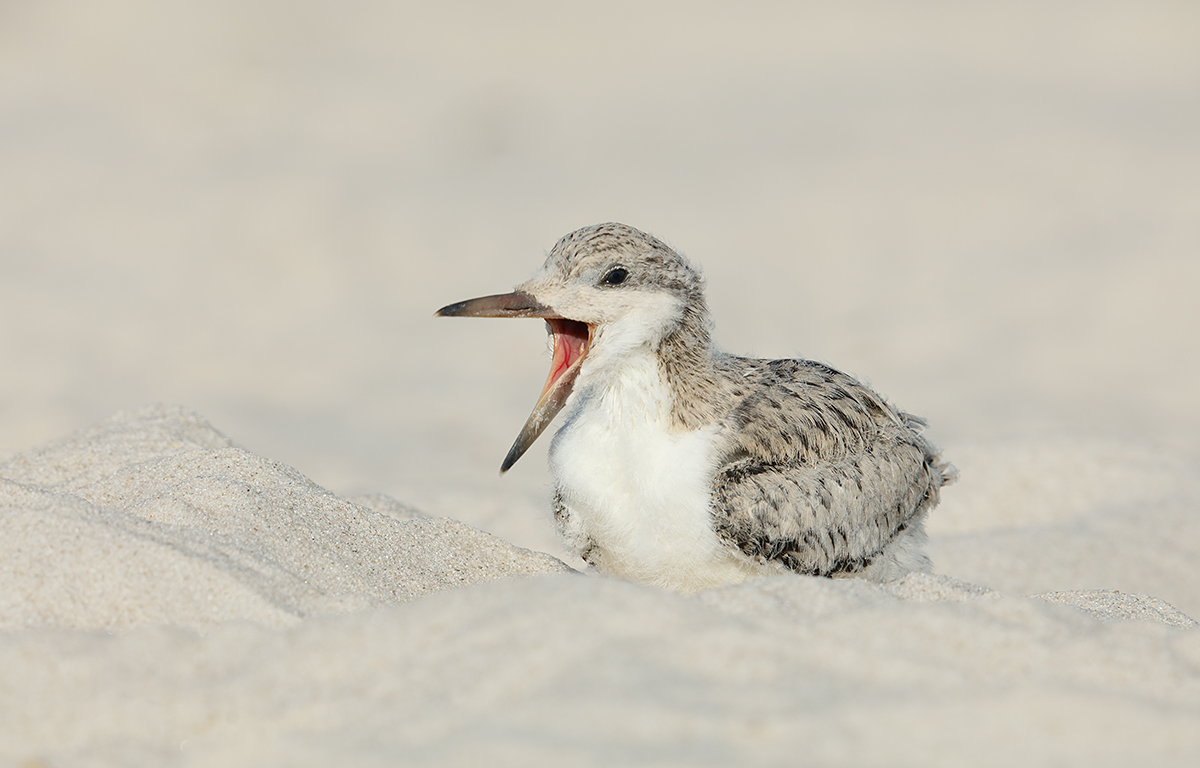 This image was created at Nickerson Beach early on the morning of Monday, August 8 2016. I used the Induro GIT 304L/Mongoose M3.6-mounted Canon EF 600mm f/4L IS II USM lens, the Canon Extender EF 2X III, and the mega mega-pixel Canon EOS 5DS R. ISO 400. Evaluative metering +2/3 stop as framed: 1/640 sec. at f/11. Daylight WB.
Center AF point (by necessity)/AI Servo Expand/Rear Focus AF as framed was active at the moment of exposure. The active AF point was on the chick's neck. Click here to see the latest version of the Rear Focus Tutorial. Click on the image to see a larger version.
LensAlign FocusTune micro-adjustment: -5.
Black Skimmer–large chick yawning
Your browser does not support iFrame.
More Eye-opening Photoshop Criminality…
The RAW conversion and the image optimization here were pretty straight-forward but for the fact that I used a warped Quick Mask to open the chick's eye just a bit. That plus minimal beach clean-up.
A Different Crop?
Feel free to leave a comment and suggest an alternate crop.
Please Remember to use my Affiliate Links and to Visit the New BAA Online Store 🙂
To show your appreciation for my continuing efforts here, we ask, as always, that you get in the habit of using my B&H affiliate links on the right side of the blog for all of your photo and electronics purchases. Please check the availability of all photographic accessories in the New BIRDS AS ART Online Store, especially the Mongoose M3.6 tripod head, Wimberley lens plates, Delkin flash cards and accessories, and LensCoat stuff.
As always, we sell only what I have used, have tested, and can depend on. We will not sell you junk. We know what you need to make creating great images easy and fun. And we are always glad to answer your gear questions via e-mail.
I would of course appreciate your using our B&H affiliate links for all of your major gear, video, and electronic purchases. For the photographic stuff mentioned in the paragraph above we, and for everything else in the new store, we, meaning BAA, would of course greatly appreciate your business. Here is a huge thank you to the many who have been using our links on a regular basis and those who will be visiting the New BIRDS AS ART Online Store as well.
Facebook
Be sure to like and follow BAA on Facebook by clicking on the logo link upper right. Tanks a stack!
Typos
In all blog posts and Bulletins, feel free to e-mail or to leave a comment regarding any typos or errors. Just be right 🙂