What's Up?
On Friday, September 2, I completed about five blog posts, two of them (including today's) very interesting and different to say the least.
Gear Questions and Advice
Too many folks attending IPTs and dozens of the folks whom I see in the field, and on BPN, are–out of ignorance–using the wrong gear, especially when it comes to tripods and more especially, tripod heads… Please know that I am always glad to answer your gear questions via e-mail.
The Streak
Today's blog post marks a totally insane, irrational, illogical, preposterous, absurd, completely ridiculous, unfathomable, silly, incomprehensible, what's wrong with this guy?, makes-no-sense, 296 days in a row with a new educational blog post. There should be no end in sight until my big South America trip next fall. Or not… As always-–and folks have been doing a really great job recently–-please remember to use our B&H links for your major gear purchases. For best results use one of our many product-specific links; after clicking on one of those you can continue shopping with all subsequent purchases invisibly tracked to BAA. Your doing so is always greatly appreciated. Please remember: web orders only. And please remember also that if you are shopping for items that we carry in the new BAA Online Store (as noted in red at the close of this post below) we would appreciate your business.
Canon 5D Mark IV, EOS-1DX Mark II, and 5DS R: Top Canon Tech Rep Rudy Winston Answers My Questions and Yours
Top Canon technical representative Rudy Winston, technically a Technical Advisor in Canon USA's Customer Experience and Innovation Department (part of the camera division) kindly agreed to an interview in which he would answer a few of my and many of your questions. Enjoy. If you have a follow-up question, please leave a comment and I will do my best to answer it or to get it answered.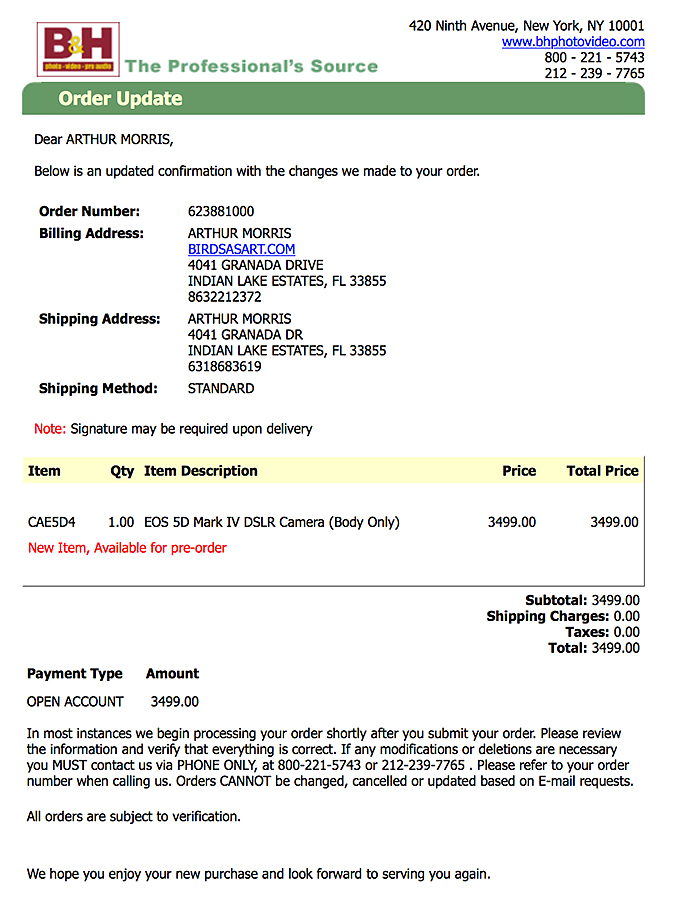 My 5D IV B&H Pre-order 🙂
To learn the basics of the new EOS 5D Mark IV and how to pre-order your body, please click here.
The Interview
am: Hi Rudy. We will start you off with a softball toss question: does the Canon EOS 5D Mark IV DSLR have Silent frame advance mode?
RW: Yes; both Silent (single-frame advance) and Silent (continuous) are available. The fastest drive speed with Silent/continuous is about 3.0 fps.
AF Questions
am: Everyone wants to know how the AF systems of these three Canon bodies compare in real life, not just on paper: the 1DX Mark II, the 5D IV, and the 5DS R. Can you shed any light on that? In what ways are they identical and in what ways are they different. And what happens when you add a 1.4X or 2X III TC into the mix?
RW: Internal processing of AF information during AI Servo AF continues to give the EOS-1D X Mark II the advantage, at least theoretically, with challenging moving subjects. The AF sensor on both the 1D X Mark II and new EOS 5D Mark IV are identical so both share the same ability to grab onto subjects at lower light levels, and to offer the real-life benefits of expanded AF points available during f/8 autofocus (at effective apertures down to f/8, when compatible lenses are combined with Canon EF Extenders). Real-world AF performance with moving subjects between 5DS R and EOS 5D Mark IV should be essentially similar. There will be a slight edge to the EOS-1D X when the going gets really challenging.
am: Does any of the above have to do with the 360,000 pixel RGB metering system as compared to the 150,000 pixel RGB metering system on the 5DS R and the 5D IV?
RW: Those factors would only come into play in terms of the Intelligent Tracking and Recognition — EOS iTR, as it's called in-camera. That's the ability of the camera to combine color and subject identification info from the metering system with focus information from the AF points to help the camera change AF points to follow an erratically moving subject in AI Servo AF. This applies, however, only if the user has set their AF Area Selection Mode to Automatic AF point selection (all 61 AF points active), Large Zone AF, or Zone AF.
The 150,000 pixel RGB metering system–you're correct, it's an even more powerful 360,000 pixel metering sensor in the EOS-1D X Mark II–reads not just brightness, but color information, even including the ability to detect human faces. Normally, its advantages apply to exposure-based matters, which isn't what your question was about. But the RGB color metering does assist with how AF points change to continue to track a moving subject that moves around the frame when the EOS iTR is active; users can turn it off in the AF menu. Again, this applies only if the user has set Automatic AF point selection (all 61 AF points active), Large Zone AF, or Zone AF.
If you are using one AF point or Expanded AF points the 150,000 pixel RGB metering system (or 360,000 on the 1DX II) has nothing to do with AF performance.
AM: Staying on the AF topic, it has always been obvious to me that the pro bodies, like the current 1DX Mark II, drive AF faster especially when a teleconverter is attached to a big lens than do the 5D or 7D series bodies. I have always assumed that that was because of the more powerful battery in the pro bodies. Several friends who are much more technically minded than I am insist that the battery is not the answer. They state clearly that they believe that the 5D or 7D batteries are fully capable of driving AF with TCs and big lenses just as fast as the pro bodies, but that the AF system in the 5D/7D has been damped somehow. Who is right?
RW: We have not received recent technical information on this, but earlier on in the EOS-1D platform's development, the engineers made it clear that one of the benefits was that with the larger battery, when specific lenses such as the big white super-teles were attached, that the AF system would pull more initial power from the battery to boost the starting performance of the big ring-type USM (ultra sonic motor). As I recall, this was not tele-converter-dependent. Other factors that may add to this impression are the added sensitivity of certain AF points on the EOS-1D X Mark II's AF sensor, as well as its gains in data processing during AI Servo AF; this would likely be more of a factor during an AI Servo AF sequence rather than at the initial start where the lens is first driven to focus on the subject. That's the best I can say on it based on the information our engineers are making available to us at the present time.
am: Again, same question here: does anything in the preceding paragraph have anything to do with the 150,000 pixel RGB metering system (or 360,000 pixel RGB metering system of the 1DX II)?
RW: No, again, assuming the use of a single AF point or AF Point Expansion — both of which don't use color information to change AF point location upon a subject.
5D IV Battery Info
am: Speaking of batteries, is the battery for the 5D Mark IV the same as for the 5D Mark III and the 5DS R? Does the battery grip from the 5D III fit the 5D IV as it does the 5DS R?
RW: The batteries are the same–the 5D Mark IV ships with the Canon LP-E6N Lithium-Ion Battery Pack (7.2V, 1865mAh); the older LP-E6 batteries will also work, albeit at a modestly reduced number of images per charge–no figures are available to quantify that. The battery grip for the 5D IV is different; the new grip is the Canon BG-E20 Battery Grip for EOS 5D Mark IV. The 5D IV body is slightly different in shape and size from the 5D III; this was surely the primary factor influencing development of the new battery grip.
The 5D IV Body Itself…
am: Is this correct, but but for the new AF Area Selection Mode Button, are all the rest of the controls pretty much identical to those on the 5D III?
RW: Essentially, yes. The new 5D Mark IV does add the ability to apply deliberate exposure compensation if Auto ISO is combined with Manual exposure mode via the SET or AF Area Select button. Either of those buttons would need to be re-configured to +/- exposure compensation in the Custom Controls area of the C.Fn menu and then combined with turning the Main Dial on top of the camera.
(artie note: I firmly believe that–for many reasons–folks should stay as far away as possible from using EC when they are working in Manual mode.)
5D IV Dual Pixel RAW Possibilities
am: On the subject of dual pixel RAWs, the Canon video that I saw by our mutual friend Drew MacCallum was pretty impressive. The example on the video was with an image made at a relatively short focal length. My question is, will correcting focus with on images created with long focal lengths be either similar or possible?
RW: For most Dual Pixel RAW applications, the engineers are saying that lenses from normal focal length (roughly 50mm) upward will tend to produce the most noticeable results, although they do go on to say that the Bokeh Shift can be effective with wide-angle lenses as well. One of the key factors is that there is a visible out-of-focus areas in the frame, other than the primary subject. Telephoto lenses will work with this; we've received no information about any limit to a telephoto lens's focal length for using the Dual Pixel RAW process options. Basically, this new feature is most noticeable in shots taken at wide apertures (low f-numbers)and at relatively close distances. Do not, therefore, expect huge results in landscape shots where the plane of sharpest focus is on mountains that are miles away.
am: Wow, that sounds promising; I can't wait to get mine and try it.
am: On the same subject, how is the buffer of the 5D Mark IV affected when you are creating dual pixel RAW files?
RW: Significantly. We don't have official numbers, but on an ordinary CF card, my burst rate on a pre-production sample dropped to about 7 consecutive shots before the system had to slow down drastically. The 7 fps is available, but for fewer shots in a row. Normally, with a fast CF card, the EOS 5D Mark IV can shoot up to about 21 full-res RAW images in a continuous burst.
5D IV vs 7D II
am: How would a sharp 5D IV image cropped to comparable 7D II image size stack up as far as image quality is concerned?
RW: Though I haven't done this comparison, I'd expect some 5D Mark IV advantage stemming from its larger pixel size as well as slightly less noise at the higher ISOs, etc.
The Question Nobody Can Answer Yet…
am: On the 5D IV, can you delay the start time when working with the built-in intervalometer?
RW: I haven't tried it, and I had to leave my sample with a production company, so I don't have it at the moment. I Will try this when I get the body back and let you know. I can't recall, off the top of my head, if there's a built-in "self-timer" setting within the intervalometer menu.
am: On the 5DS R, I could not find a way to delay the start using the built-in intervalometer.
Anti-aliasing Filter Issues
am: On the topic of the anti-aliasing filters, is it true that they only benefit video? In the same vein many folks are wondering why Canon continues to introduce new bodies with anti-aliasing filters while other major manufacturers have pretty much abandoned them with their latest releases. Please comment on the benefits of the AA filters for still photographers.
RW: Canon's engineers have long maintained that in terms of total image quality that the presence of a low-pass (Anti-Aliasing) filter represents a benefit, more often than not. While moire patterns in images are rare, there is an increased risk of them with many real-life subjects that have repeating horizontal or vertical detail, and this is the primary problem that the low-pass filters counter. False colors are less prevalent, at least in some instances, when a low-pass filter is in place. The feeling in general is that the reduction in sharpness that they deliver can relatively easily be countered, at least to some degree, with appropriate sharpening/unsharp masking during RAW processing or certainly with image-editing programs. These corrections are much easier to apply than those needed to remove unexpected moire patterns from parts of an image file or stray false colors. And yes, the engineers are certainly aware of the initial sharpness increase that occurs if and when the low-pass filter is either removed completely or cancelled (as in the EOS 5DS R).
High ISO Considerations
am: Assuming that the 1DX II is the high ISO leader in the clubhouse, what can we expect from 5D Mark IV images in comparison.
RW: I don't have any official numbers to give you. Considering the increase in pixel count and the corresponding reduction in the size of each pixel on the EOS 5D Mark IV image sensor, the fact that there is only a slight decrease in the control of high-ISO noise at normal settings is commendable. Simply comparing files from an EOS 5D Mark III (previous model) to the new 5D Mark IV, it's not a night-and-day difference at the higher ISOs, at least on the pre-production cameras I've sampled. There will be a slight edge going to the to the Mark IV at ISOs of 3200 and above. The EOS-1D X Mark II remains the leader for those for whom low noise levels at high ISOs are their number one priority.
5D IV Digital Media Info
am: Can you confirm that the 5D Mark IV supports only the UHS-I standard secure digital card, but not the more recent, faster, UHS II version?
RW: This is absolutely true, and EOS 5D Mark IV users will need to be careful, moving forward, not to pay for the theoretical performance benefits of UHS-II type SD cards if they intend to use they exclusively in the 5D IV. While the faster UHS-II cards will fit, there's a possibility that their write speeds may drop to levels slower than those of a typical UHS-I complaint card, for technical reasons. To be clear, the EOS 5D Mark IV's SD card slot supports SD-type cards up to and including UHS-I compliant cards, but does not have the extra pin connections and circuitry to take advantage of the benefits of UHS-II cards.
Maximum card writing speed is absolutely required for anyone intending to work with the 4K video feature on this camera. According to our engineers, the recommended card performance for 4K video recording is:
CF cards: UDMA-7 compliant; write speeds 100MB/sec. or faster
SD cards: UHS-I compliant; Speed class 3 or higher.
Please note that some cards with the specs above on the package may still not meet the performance requirements for 4K video recording. Still-image shooters who regularly create long continuous bursts of RAW images will likewise benefit from the highest-performance compatible memory cards. The older, slower cards can still be used for less-aggressive applications by folks shooting short RAW image bursts, creating original JPEGs in-camera, or video users working with Full HD (1080p) in the IPB or IPB Light settings, etc.
Thanks Rudy!
am: Rudy, thanks a stack for your time, your help, and for sharing your expertise with us here.
Please Remember to use my Affiliate Links and to Visit the New BAA Online Store 🙂
To show your appreciation for my continuing efforts here, we ask, as always, that you get in the habit of using my B&H affiliate links on the right side of the blog for all of your photo and electronics purchases. Please check the availability of all photographic accessories in the New BIRDS AS ART Online Store, especially the Mongoose M3.6 tripod head, Wimberley lens plates, Delkin flash cards and accessories, and LensCoat stuff.
As always, we sell only what I have used, have tested, and can depend on. We will not sell you junk. We know what you need to make creating great images easy and fun. And we are always glad to answer your gear questions via e-mail.
I would of course appreciate your using our B&H affiliate links for all of your major gear, video, and electronic purchases. For the photographic stuff mentioned in the paragraph above we, and for everything else in the new store, we, meaning BAA, would of course greatly appreciate your business. Here is a huge thank you to the many who have been using our links on a regular basis and those who will be visiting the New BIRDS AS ART Online Store as well.
Facebook
Be sure to like and follow BAA on Facebook by clicking on the logo link upper right. Tanks a stack!
Typos
In all blog posts and Bulletins, feel free to e-mail or to leave a comment regarding any typos or errors. Just be right 🙂