What's Up?
After a late start loading about 12 wheelchair passengers — there but for the grace of God go we — and about two dozen families with small children, we were late leaving Orlando. After flying into a stiff headwind we got into San Diego about 45 minutes late. That said, I love the MCO to SAN nonstop flight.
Our Word Press hosting/server problems continue. If you are unable to access the blog, please try again in an hour or so as the problems have been inexplicably intermittent. Huge thanks to Peter Kes for helping to keep the streak going …
I took my new Fujifilm loaner gear — scroll down for details on the big surprise — to La Jolla and had a ball. With the 1.5 crop factor the Fujinon 100-400 lens a great optical image stabilization system becomes an eminently hand holdable 150-600mm f/5.6 lens. Add the 1.4X TC and you have up to 840mm of reach at f/8. When the sun returns to San Diego I will play around with the 2X TC. I kept 50 images and I gotta say they look pretty good. The proof, however, will be in the pudding. Will they be super sharp? What will I think of the color and the image quality. I am upgrading Photoshop CC this afternoon and with help from Patrick Sparkman, I should be converting a few RAW (RAF) files very soon. Using a completely new system is always a challenge, but I got better and more comfortable as the morning progressed. I will be sharing my experiences with you all here soon. Plus few images of course.
Photographic conditions in San Diego are excellent.Note that the Brandt's Cormorants are building nests and displaying more than a month earlier than they did last year. It is getting close to being too late to join the San Diego IPT so if you are interested in the late registration discount please shoot me an e-mail e-mail asap 🙂 Scroll down for the details.
Gear Questions and Advice
Too many folks attending BAA IPTs and dozens of folks whom I see in the field, and on BPN, are–out of ignorance–using the wrong gear, especially when it comes to tripods and more especially, tripod heads… Please know that I am always glad to answer your gear questions via e-mail.
The Streak: 420!
Today's blog post marks a totally insane, irrational, illogical, preposterous, absurd, completely ridiculous, unfathomable, silly, incomprehensible, what's wrong with this guy?, makes-no-sense, 420 days in a row with a new educational blog post. As always–and folks have been doing a really great job recently–please remember to use our B&H links for your major gear purchases. For best results use one of our many product-specific links; after clicking on one of those you can continue shopping with all subsequent purchases invisibly tracked to BAA. Your doing so is always greatly appreciated. Please remember: web orders only. And please remember also that if you are shopping for items that we carry in the new BAA Online Store (as noted in red at the close of this post below) we would of course appreciate your business.
My San Diego Gear Bag: Read on for the Big Shocker …!
My main decision was whether to take the Canon EF 600mm f/4L IS II USM lens or the Canon EF 500mm f/4L IS II USM lens. It did not take me long to decide to take the 500 II leave the 600 II at home. For starters, the the 500 II is lighter and offers plenty of reach with the 2X III TC. And I can get pretty darned close physically without disturbing the birds. The 500 II focuses closer than the 600 and the latter is often too long to be effective on the cliffs of LaJolla. All of my super-telephoto lenses are outfitted with a LensCoats and the CRX-5 Low Foot. The former to protect the white finish of my Canon lenses and the latter so that the center of gravity of the lens is centered over my Induro GIT 304L tripod with a Mongoose M3.6 on it. The LensCoat is in Realtree Hardwood Snow, my favorite pattern. We carry a huge assortment of LensCoat stuff here.
As each day goes by weight becomes a more important factor when choosing what gear I will travel with. If I were traveling to a place where the birds are even tamer than San Diego like the Southern Ocean or the Galapagos and where traveling light would be of huge importance, the 500 II would be replaced by the Canon EF 400mm f/4 DO IS II USM lens. Don't forget that with any of the aforementioned f/4 super-telephotos anyone should be able to create sharp images with the 1.4X III TC and folks with good to excellent long lens sharpness techniques should routinely be able to create professionally sharp images with the 2X III TC down to 1/60 sec.
Next up is the Canon EF 100-400mm f/4.5-5.6L IS II USM lens. This lens absolutely kills on the pelicans in La Jolla and makes a great flight lens for the gulls that we will photograph at Coronado. It is so good that I did not even think of taking the Canon EF 200-400mm f/4L IS USM lens with Internal 1.4x Extender that I had used with great success on the cliffs on my last two visits. The times they are a-changin'.
As always, I am taking my all-purpose, never leave home without it Canon EF 24-105mm f/4L IS USM lens.
Camera Bodies
This ranks as a shocker: I am so committed to my 5D Mark IV bodies that I am leaving my EOS-1D X at home on the shelf.
I will be taking my two Canon EOS 5D Mark IV bodies. With its light weight, high quality, crop-able image files, AF to f/8, and superb AF system, the 5D IV has become my very favorite and everyday workhorse camera body.
TCs
I am making this trip with two Canon 1.4X III TCs and two 2X III TCs. Each is stacked for travel and filed use around a Canon Extension Tube EF 12 II
Gateway to the Big Shocker: Think Tank Rolling Bags
I packed all of the Canon gear above in the larger of my two Think Tank rolling bags, the Airport Security™ V 2.0 Rolling Camera Bag, put the whole thing in a large sturdy box, and sent it UPS Ground insured to arrive at Patrick Sparkman's home this coming Friday.
I am flying with the slighter smaller of those two, the Airport International™ LE Classic. What's in it?
Keep reading.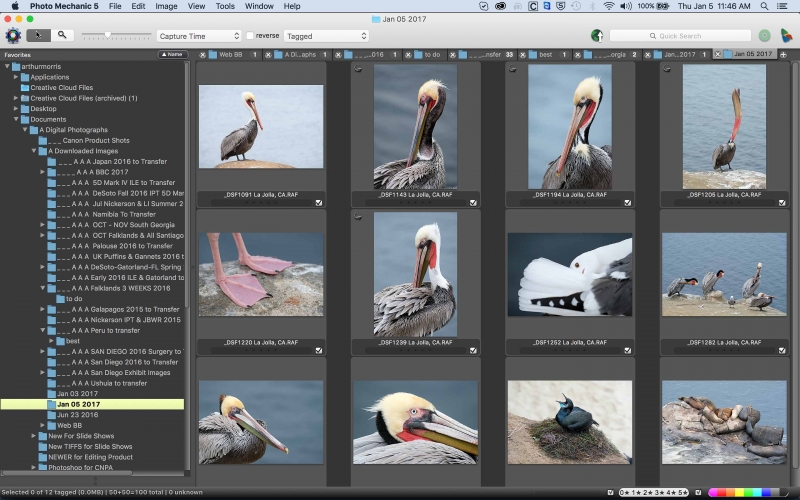 As David Peake suggested might happen, I had a ton of fun using the Fujifilm gear discussed below on my first morning in San Diego … These are a few of the first fifty keepers. Lots more on the new gear coming soon.
Fujifilm X-T2 Mirrorless Digital Camera and Fujinon Intermediate Telephoto Lenses & Accessories
Good friend David Peake from New Zealand was a member of the BAA Group on South Georgia Expedition. He took both his Canon 100-40 II and his 7D II along with the Fujifilm X-T2 Mirrorless Digital Camera , the Fujifilm XF 100-400mm f/4.5-5.6 R LM OIS WR lens, and the Fujifilm VPB-XT2 Vertical Power Booster Grip.
He also had a Fujifilm XF 1.4x TC WR Teleconverter and the Fujifilm XF 2x TC WR Teleconverter.
In addition, he had two wide angle lenses, the Fujifilm XF 16-55mm f/2.8 R LM WR lens
and the Fujifilm XF 10-24mm f/4 R OIS lens along with the Fujifilm XF 50-140mm f/2.8 R LM OIS WR lens for flight photography on the Falklands pre-trip.
David loves his Fujifilm gear. He likes the light weight, the image quality, the high ISO performance, and the array of lenses. He loves, loves loves the 1.5X crop factor and the amazing at least 4.5-stop plus optical image stabilization system. He routinely makes sharp images with both the 1.4X and the 2X TCs, that latter often at 1200mm … He encouraged me to give the system a test drive. Thanks to the generosity of B&H, I am taking the XT-2, the battery grip, the two intermediate telephoto lenses, and both teleconverters with me on the plane in the Think Tank Airport International™ LE Classic rolling bag.
Huge thanks to David for the hours he has spent with me on Skype teaching me about the XT-2. As my Canon gear does not arrive until Friday, I will be using the Fujifilm gear for at least two full mornings … I took a few crane pix at ILE on Tuesday morning. I was able to edit the images (pick my keepers) in Photo Mechanic. And once I update my Photoshop CC, I will be able to convert the RAW files in ACR. I am looking forward to both the new adventure and the challenge of learning a new system.
Stay tuned for images and thoughts.
Think Tank Urban Disguise Laptop Shoulder Bag
I love this amazing bag as it has tons of room and enables me to bring tons of extra stuff. Every time on every trip.
Please click on my Think Tank affiliate link here to earn a free gift when you purchase a Think Tank Rolling Bag.
Delkin Flash Cards
For the first time I am going to the 128gb Delkin e-Film Pro Flash Cards. I will have a 128gb Delkin e-film compact flash card in each Canon body and an SD card in the XT-2. I hope that we will be adding the 1900X SD card to the store soon. If you can't wait, give Jim a buzz at 863-692-0906 (weekdays) and he can have yours drop-shipped to you.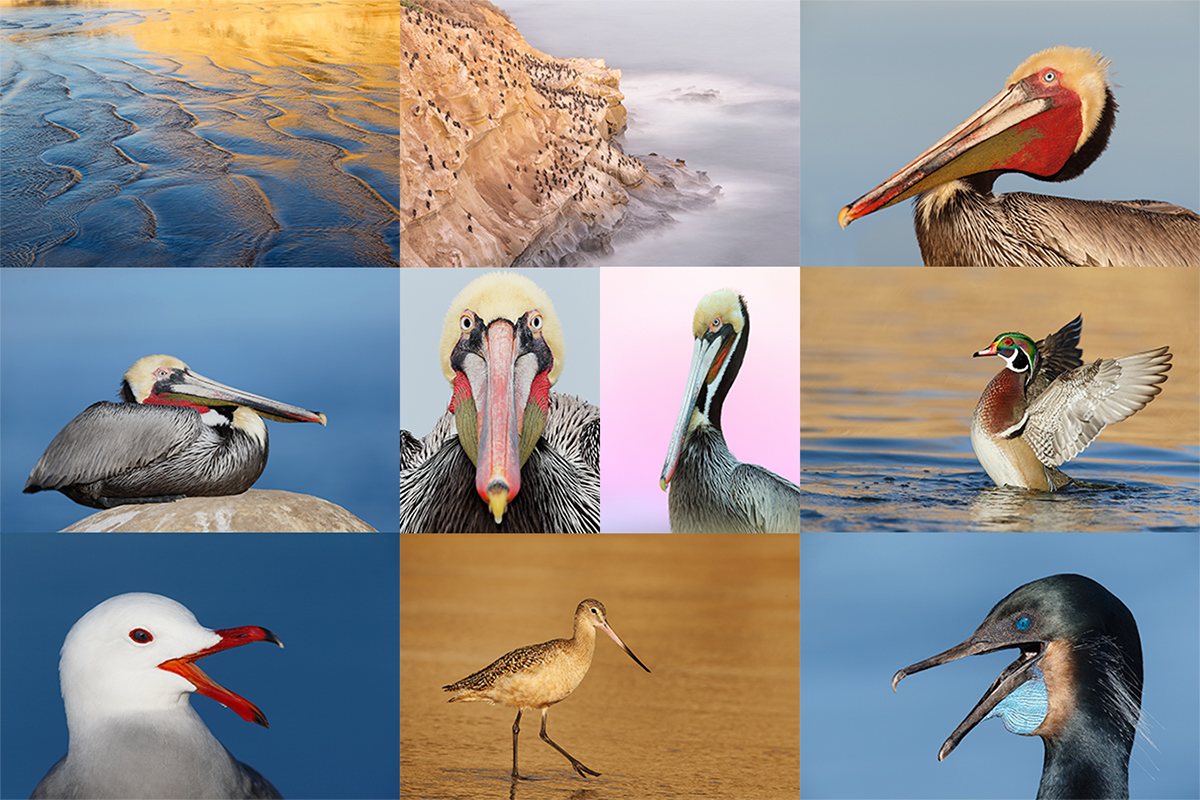 San Diego offers a wealth of very attractive natural history subjects. With annual visits spanning more than three decades I have lot of experience there….
2017 San Diego 4 1/2-DAY BIRDS AS ART Instructional Photo-Tour (IPT) JAN 11 thru and including the morning session on JAN 15: 4 1/2 days: $1999.
(Limit: 10/openings 4)
Meet and Greet at 7:00pm on the evening before the IPT begins; Tuesday 1/10/17.
Join me in San Diego to photograph the spectacular breeding plumage Brown Pelicans with their fire-engine red and olive green bill pouches; Brandt's and Double-crested Cormorants; breeding plumage Wood and Ring-necked Duck; other duck species possible including Lesser Scaup, Redhead, and Surf Scoter; a variety of gulls including Western, California, and the gorgeous Heerman's, all in full breeding plumage; shorebirds including Marbled Godwit, Willet, Sanderling and Black-bellied Plover; many others possible including Least, Western, and Spotted Sandpiper, Whimbrel, Black and Ruddy Turnstone, Semipalmated Plover, and Surfbird; Harbor Seals (depending on the current regulations) and California Sea Lions; and Bird of Paradise flowers. And as you can see by studying the two IPT cards there are some nice bird-scape and landscape opportunities as well.
With gorgeous subjects just sitting there waiting to have their pictures taken, photographing the pelicans on the cliffs is about as easy as nature photography gets. With the winds from the east almost every morning there is usually some excellent flight photography. And the pelicans are almost always doing something interesting: preening, scratching, bill pouch cleaning, or squabbling. And then there are those crazy head throws that are thought to be a form of intra-flock communication.
Did I mention that there are wealth of great birds and natural history subjects in San Diego in winter?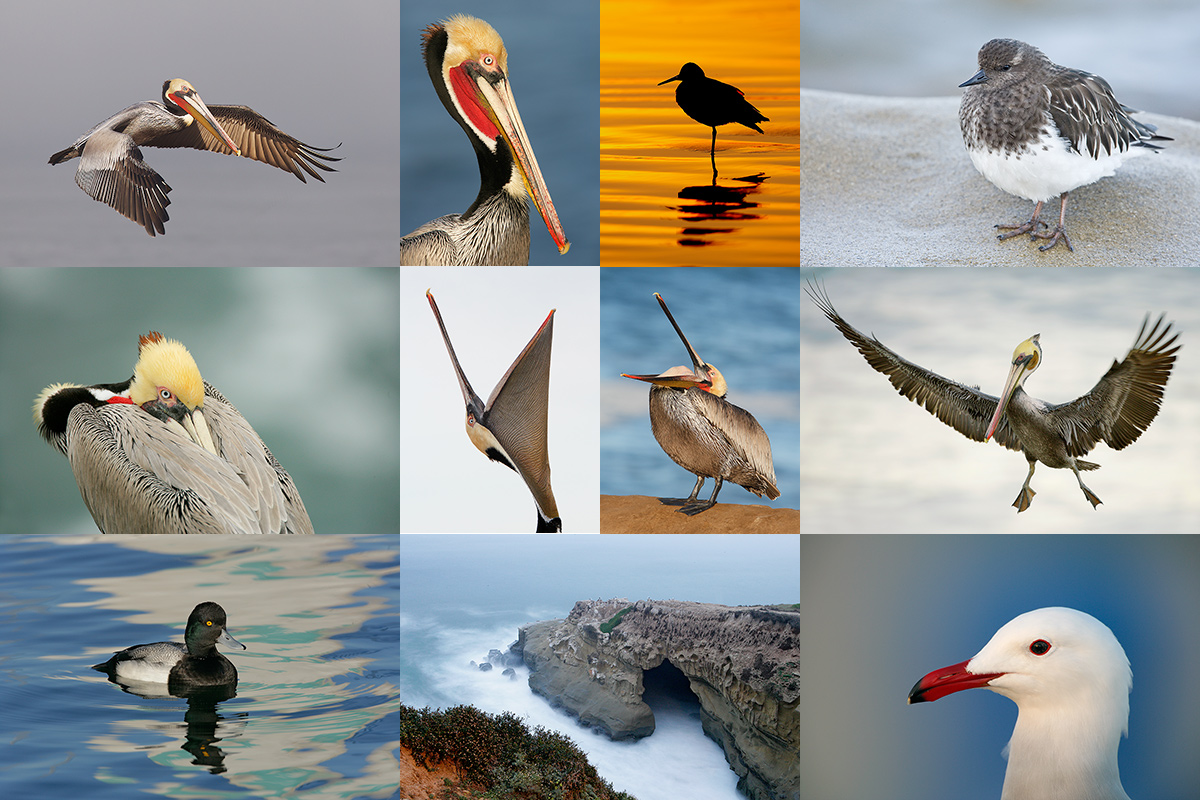 Though the pelicans will be the stars of the show on this IPT there will be many other handsome and captivating subjects in wonderful settings.
The San Diego Details
This IPT will include five 3 1/2 hour morning photo sessions, four 2 1/2 hour afternoon photo sessions, four lunches, and after-lunch image review and Photoshop sessions. To ensure early starts, breakfasts will be your responsibility.
A $599 non-refundable deposit is required to hold your slot for this IPT. You can send a check (made out to "Arthur Morris) to us at BIRDS AS ART, PO Box 7245, Indian Lake Estates, FL, 33855. Or call Jim or Jennifer at the office with a credit card at 863-692-0906. Your balance, payable only by check, will be due on 9/11//2016. If we do not receive your check for the balance on or before the due date we will try to fill your spot from the waiting list. Please print, complete, and sign the form that is linked to here and shoot it to us along with your deposit check. If you register by phone, please print, complete and sign the form as noted above and either mail it to us or e-mail the scan. If you have any questions, please feel free to contact me via e-mail.
Facebook
Be sure to like and follow BAA on Facebook by clicking on the logo link upper right. Tanks a stack.
Typos
In all blog posts and Bulletins, feel free to e-mail or to leave a comment regarding any typos or errors. Just be right :).