What's Up?
I had more fun with the XT-2 on Saturday morning and then watched the first two NFL wild card games. I continue to learn the rig and improve my skills. I will be sharing about a half dozen more images made with the Fujifilm gear over the next week or two and publish my conclusions with the last of those. I got my Canon gear from Patrick on Saturday and am still not sure which system I will use on Sunday morning …
Gear Questions and Advice
Too many folks attending BAA IPTs and dozens of folks whom I see in the field, and on BPN, are–out of ignorance–using the wrong gear, especially when it comes to tripods and more especially, tripod heads… Please know that I am always glad to answer your gear questions via e-mail.
The Streak: 422!
Today's blog post marks a totally insane, irrational, illogical, preposterous, absurd, completely ridiculous, unfathomable, silly, incomprehensible, what's wrong with this guy?, makes-no-sense, 422 days in a row with a new educational blog post. As always–and folks have been doing a really great job recently–please remember to use our B&H links for your major gear purchases. For best results use one of our many product-specific links; after clicking on one of those you can continue shopping with all subsequent purchases invisibly tracked to BAA. Your doing so is always greatly appreciated. Please remember: web orders only. And please remember also that if you are shopping for items that we carry in the new BAA Online Store (as noted in red at the close of this post below) we would of course appreciate your business.
Fujifilm XT-2/First Impressions
My first morning with the new gear was challenging as expected. Any time that you work with a new system there is a ton to learn … The ergonomics are always new and different. I had the aperture and shutter speed and ISO and exposure stuff ironed out in about an hour. The neat thing with the electronic viewfinder is that you can see the exposure in real time. With just a bit of practice you can learn to set the exposure without taking a test image and without checking the histogram; over-exposed highlights warn you in advance as they seem to glow. After two mornings, I am still getting comfortable with AF. The buttons are small and after using Canon digital bodies since about 2001 or 2002, it will take a while to train my fingers and brain to find the buttons and dials quickly and easily.
Initial focusing acquisition is not as fast as it is on any of the current or not so current Canon bodies because the AF works by reading contrast off the sensor while Canon uses phase detection AF. You can focus using contrast off the sensor with Canon only when you are in Live View and it is slower than it is with the XT-2.
The zoom works in the opposite direction of the current Canon intermediate telephoto lenses so I am constantly zooming in when I want to zoom out and constantly zooming out when I want to zoom in 🙁 That is quite challenging when you are trying to frame head throws instantly …
With my copy of the Fujinon 100-400 the ease of zooming is determined by whether you are pointing the lens up or down. I know that that sounds strange but if you are pointing the lens up it is much more difficult to zoom in than to zoom out. Point the lens down and it is easier to zoom in than it is to zoom out. It's a gravity thing. In any case, that really compounds things for me as far as framing the images quickly goes. After talking to david Peake on Friday afternoon it seems that my lens is defective as his zooms in and out easily …
When you have used one system for a zillion years you tend to forget how important 100% familiarity with your gear is. We tend to take the skills we have developed over time for granted. In spite of the relatively steep learning curve I have made some very nice images with the Fujifilm gear.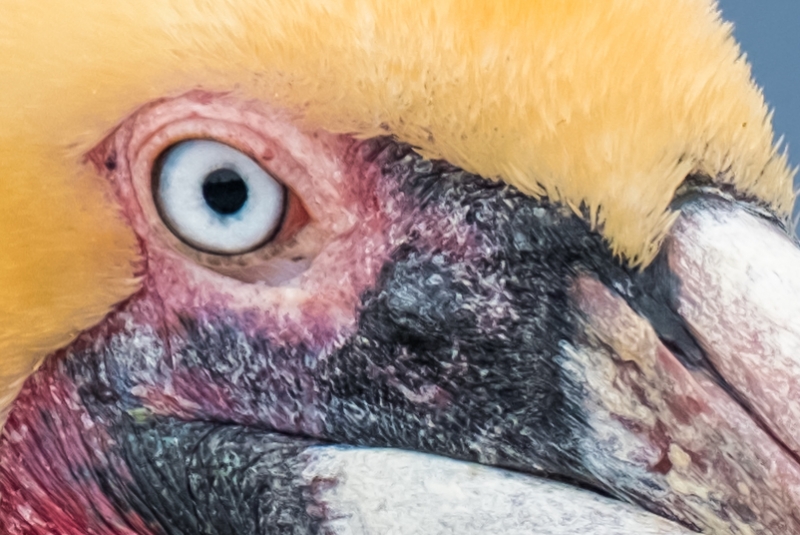 A 100% crop of today's featured image
Image Quality
One of my biggest concerns when I agreed to try out the Fujifilm mirrorless gear was image quality. I gotta say that both Patrick Sparkman and I are quite impressed. I'd rate the image quality as better than the 1DX II and just below the 5D IV. And as you can see above in the 100% crop the AF system is more than capable of producing sharp images. The noise at ISO 800 was minimal, limited to tiny marks in the background but non-existent on the bird itself. A bit of NeatImage noise reduction quickly produced the desired smooth-as-a-baby's-tush background.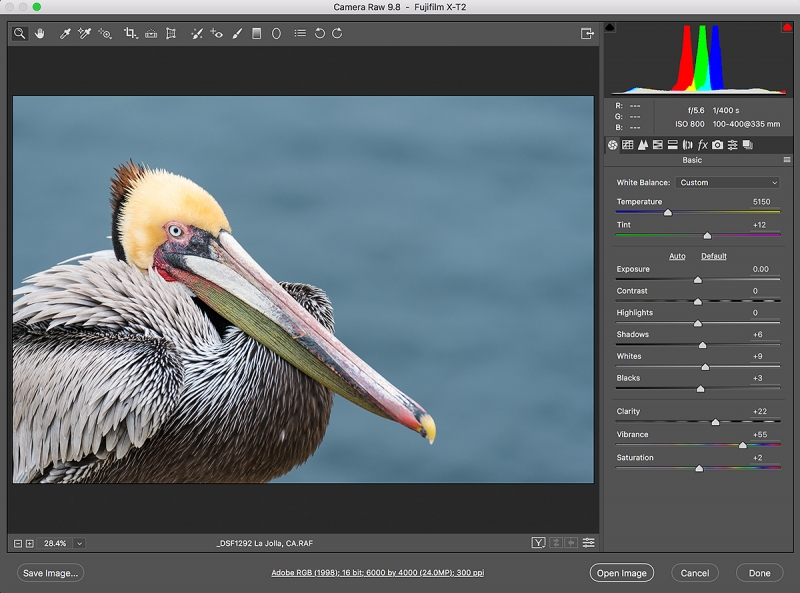 Brown Pelican, Pacific race in breeding plumage
Your browser does not support iFrame.
RAW Conversion of a Fujifilm RAF File in Adobe Camera Raw (ACR)
A second big concern had to do with color. Would I like the look of the images? The color of the RAW files as the come out of camera is flat and boring. You can see the values for my ACR RAW conversion that I set to juice up the image: +55 on the Vibrance and +2 on the saturation. In addition, I set the White and the Black points and opened up the Shadows just a bit. Once I converted the RAC image and saved it as a TIFF I brought it into Photoshop and added 3 points of black to both the BLACKs and the NEUTRALs in Selective Color to give the image some more pop. I ran my NIK Color Efex Pro 25/25 recipe on the bird only (making sure to feather and save the selection) and then followed the steps detailed in The Professional Post Processing Guide for applying some NeatImage noise reduction to the bird (Y = 55) and lots to the background (Y=90).
XT-2 Notes
If you own an XT-2 make sure to set the LCD Brightness to +5. I set the LCD Color to +3 so that I can pretty much see how the color of the optimized image file will look. This setting does not effect the RAW file.
With Canon I have long recommended that you want to always avoid having any blinkies with frontlit subjects. With XT-2 RAC files, however, I learned quickly that I always want some blinkies on the highlights. With adult Brown Pelicans that means a few blinkies on the top of the head. This makes it much easier to handle the RAW (RAC) files.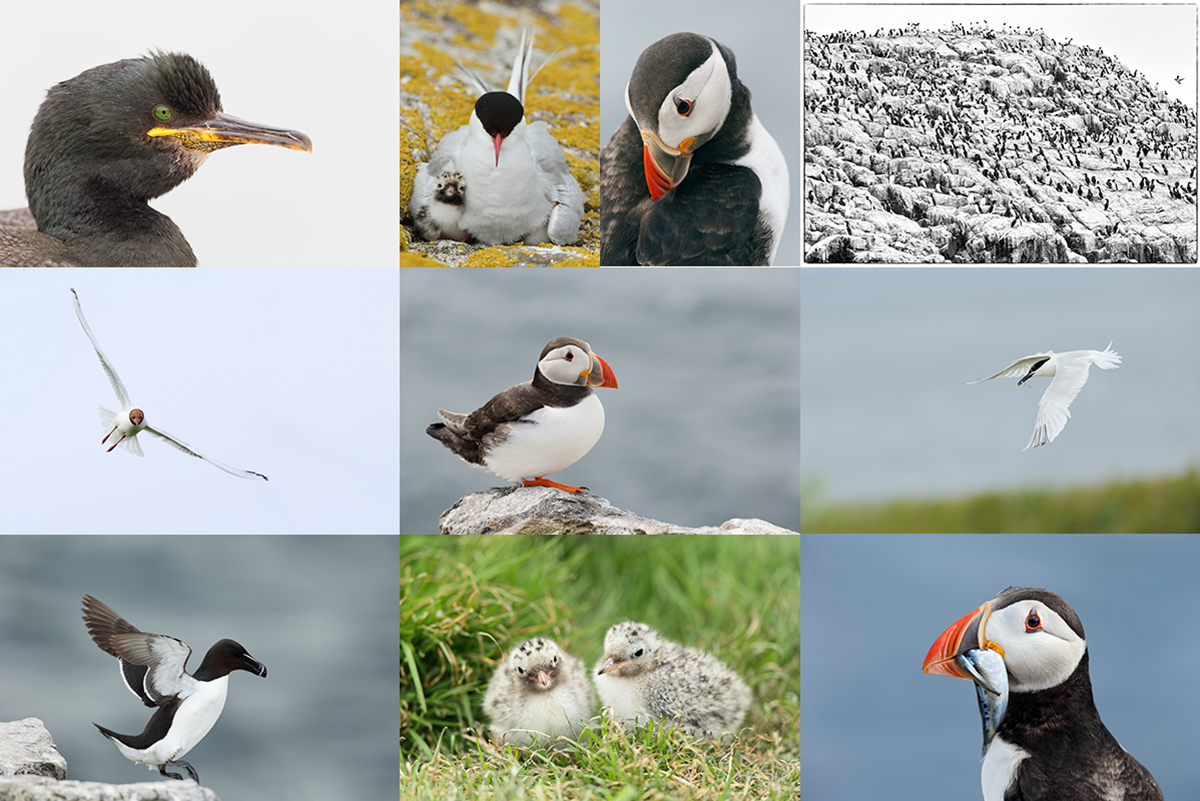 Images and card design copyright: Arthur Morris/BIRDS AS ART. Click on the card to enjoy a spectacular larger version.
2017 UK Puffins and Gannets IPT
Monday July 3 through Monday July 10, 2017: $5999: Limit 10 photographers — Openings: 6). Two great leaders: Arthur Morris and BPN co-owner, BPN Photography Gear Forum Moderator, and long-time BAA Webmaster Peter Kes.
Here are the plans: take a red eye from the east coast of the US on July 2 and arrive in Edinburgh, Scotland on the morning of Monday July 3 no later than 10am (or simply meet us then at the Edinburgh Airport–EDI, or later in the day at our cottages if you are driving your own vehicle either from the UK or from somewhere in Europe). Stay 7 nights in one of three gorgeous modern country cottages.
There are five days of planned puffin/seabird trips and one morning of gannet photography, all weather permitting of course. In three years we have yet to miss an entire day because of weather… In addition, we will enjoy several sessions of photographing nesting Black-legged Kittiwakes at eye level.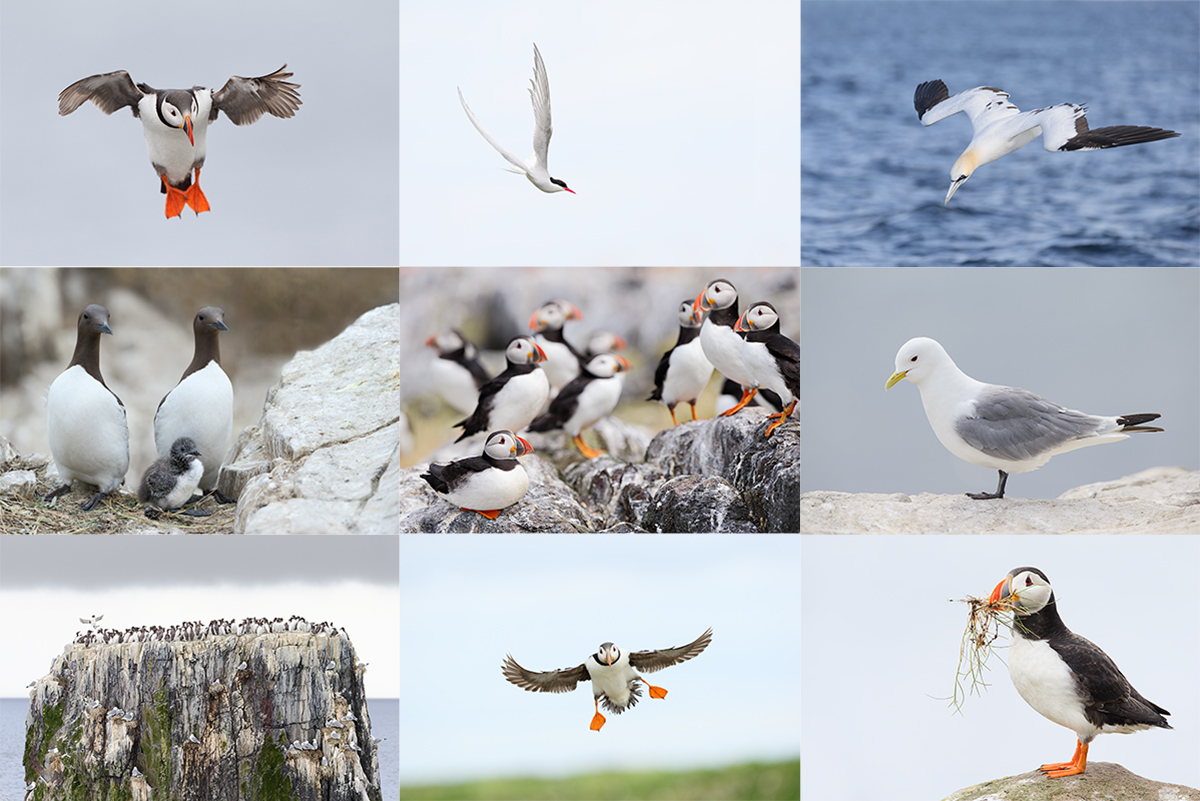 Images and card design copyright: Arthur Morris/BIRDS AS ART. Click on the card to enjoy a spectacular larger version.
The Details
We will get to photograph Atlantic Puffin, Common Murre, Razorbill, Shag, and Northern Gannet; Arctic, Sandwich, and Common Terns, the former with chicks of all sizes; Black-headed, Lesser-Black-backed, and Herring Gulls, many chasing puffins with fish; Black-legged Kittiwake with chicks. We will be staying in upscale country-side lodging that are beyond lovely with large living areas and lots of open space for the informal image sharing and Photoshop sessions. The shared rooms are decent-sized, each with a private bathroom. See the limited single supplement info below.
All breakfasts, lunches and dinners are included. All 5 puffins boat lunches will need to be prepared by you in advance, taken with, and consumed at your leisure. I usually eat mine on the short boat trip from one island to the other. Also included is a restaurant lunch on the gannet boat day.
If you wish to fly home on the morning of Monday July 10 we will get you to the airport. Please, however, consider the following tentative plans: enjoy a second Gannet boat trip on the afternoon of Monday July 10 and book your hotel room in Dunbar. If all goes as planned, those who stay on for the two extra days will make a morning landing at Bass Rock, one of the world's largest gannetries. We will get everyone to the airport on the morning of Wednesday July 12. (We may opt to stay in Edinburgh on the night of July 11.) Price and details should be finalized at least six months before the trip but you will need to be a bit patient. It would be ideal if I can get all the work done by the end of September so that folks can arrange their flights then.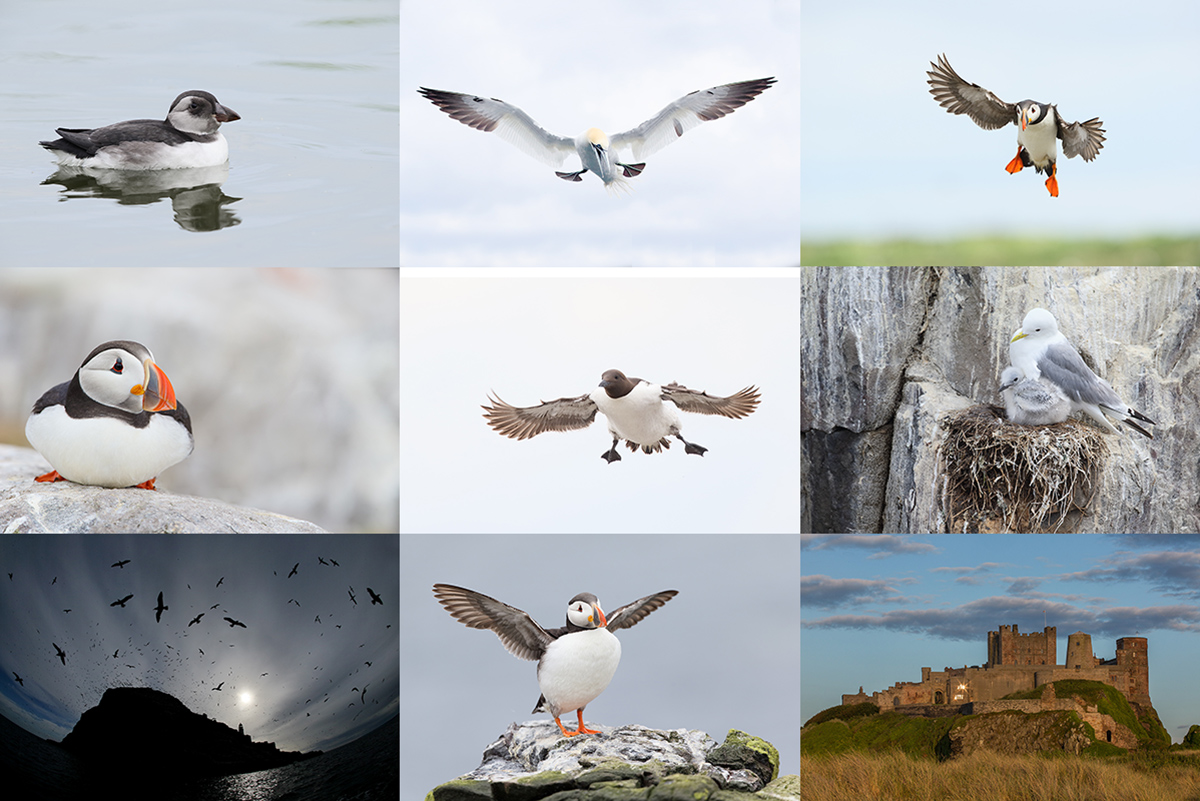 Images and card design copyright: Arthur Morris/BIRDS AS ART. Click on the card to enjoy a spectacular larger version. Scroll down to join us in the UK in 2016.
Deposit Info
If you are good to go sharing a room–couples of course are more than welcome–please send your non-refundable $2,000/person deposit check now to save a spot. Please be sure to check your schedule carefully before committing to the trip and see the travel insurance info below. Your balance will be due on March 29, 2017. Please make your check out to "Arthur Morris" and send it to Arthur Morris/BIRDS AS ART, PO Box 7245, Indian Lake Estates, FL, 33855. If we do not receive your check for the balance on or before the due date we will try to fill your spot from the waiting list. If your spot is filled, you will lose your deposit. If not, you can secure your spot by paying your balance.
Please shoot me an e-mail if you are good to go or if you have any questions.
Single Supplement Deposit Info
Single supplement rooms are available on a limited basis. To ensure yours, please register early. The single supplement fee is $1575. If you would like your own room, please request it when making your deposit and include payment in full for the single supplement; your single supplement deposit check should be for $3,575. As we will need to commit to renting the extra space, single supplement deposits are non-refundable so please be sure that check your schedule carefully before committing to the trip and see the travel insurance info below.
Please Remember to use my Affiliate Links and to Visit the New BAA Online Store 🙂
To show your appreciation for my continuing efforts here, we ask, as always, that you get in the habit of using my B&H affiliate links on the right side of the blog for all of your photo and electronics purchases. Please check the availability of all photographic accessories in the New BIRDS AS ART Online Store, especially the Mongoose M3.6 tripod head, Wimberley lens plates, Delkin flash cards and accessories, and LensCoat stuff.
As always, we sell only what I have used, have tested, and can depend on. We will not sell you junk. We know what you need to make creating great images easy and fun. And please remember that I am always glad to answer your gear questions via e-mail.
I would of course appreciate your using our B&H affiliate links for all of your major gear, video, and electronic purchases. For the photographic stuff mentioned in the paragraph above, and for everything else in the new store, we, meaning BAA, would of course greatly appreciate your business. Here is a huge thank you to the many who have been using our links on a regular basis and those who will be visiting the New BIRDS AS ART Online Store as well.
Facebook
Be sure to like and follow BAA on Facebook by clicking on the logo link upper right. Tanks a stack.
Typos
In all blog posts and Bulletins, feel free to e-mail or to leave a comment regarding any typos or errors. Just be right :).