What's Up?
I spent a good five hours on Monday morning preparing this important blog post. I will be packing on Monday afternoon getting ready to my flight to LAX to attend The School for the Work in Ojai, CA. I will be back on the morning of 17 MAR. Be sure to see tomorrow's blog post for news on the long overdue and very last Digital Basics update.
Gear Questions and Advice
Too many folks attending BAA IPTs and dozens of folks whom I see in the field, and on BPN, are–out of ignorance–using the wrong gear, especially when it comes to tripods and more especially, tripod heads… Please know that I am always glad to answer your gear questions via e-mail.
The Streak: 479!
Today's blog post marks a totally insane, irrational, illogical, preposterous, absurd, completely ridiculous, unfathomable, silly, incomprehensible, what's wrong with this guy?, makes-no-sense, 479 days in a row with a new educational blog post. As always–and folks have been doing a really great for a long time now–please remember to use our B&H links for your major gear purchases. For best results use one of our many product-specific links; after clicking on one of those you can continue shopping with all subsequent purchases invisibly tracked to BAA. Your doing so is always greatly appreciated. Please remember: web orders only. And please remember also that if you are shopping for items that we carry in the BAA Online Store (as noted in red at the close of this post below) we would of course appreciate your business.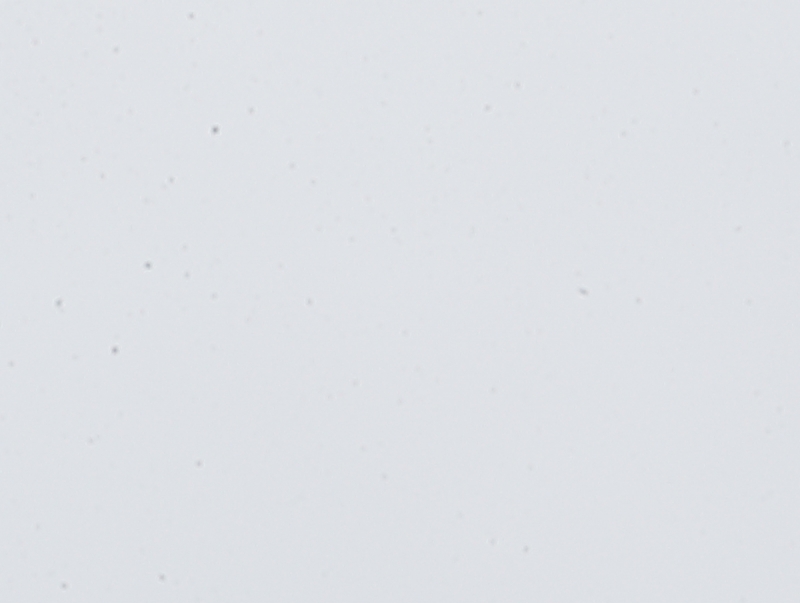 A 200% crop of upper left corner of 1D X Mark II f/22 sensor test image/January 23, 2017
Canon EOS-1D X Mark II Oil-Spatter on the Sensor Problems …
Almost from the start, I noticed some really nasty sensor problems with my then brand-new EOS 1D X Mark II. I thought that it was sensor dust. The problems were so bad, that I tried cleaning the sensor as I have been doing successfully for more than a decade with the Lens Pen. That only made things worse.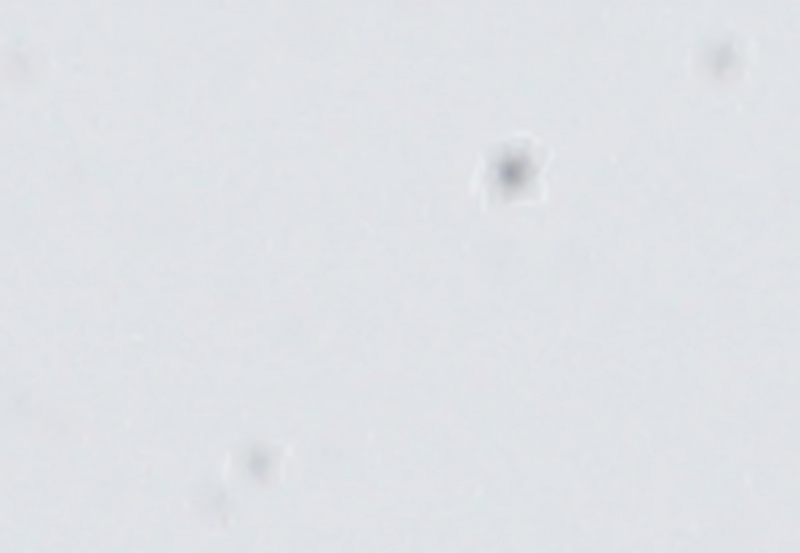 A 1200% crop of upper left corner of 1D X Mark II f/22 sensor test image/January 23, 2017
The Oil Spatter Spots
I believe without a doubt that the spots you see above are caused by oil spatter from the shutter mechanism when it fires. Viewed at lower magnification, they are all consistently round. But it is the sheen around each spot seen in the enlarged iamges that indicate oil or some sort of lubricant to me. I have never seen anything like them before or since on anything but a 1D X II body. And I have been doing digital photography since 2001.
As noted elsewhere here, one of the participants on the Japan IPT had a 1D X II that exhibited the exact same problem, similar to but worse than mine when I first noticed the problem. Unfortunately, she sent her camera to Canon Canada to be cleaned without first making an f/22 dust spot test image …
Creating an f/22 Dust Spot Test Image
Grab any telephoto lens. Make sure that the drop-in filter is perfectly clean. A small bottle of LensClens and an old tee shirt will do the job perfectly. Now mount the camera. Always be sure to turn the camera body off before removing the front cap or when changing lenses. To reduce sensor dust 🙂
Set the body to Av mode and set the aperture to f/22. Move the AF switch to M (manual focus) and defocus to close focus. An underexposed image here is fine so add only one stop of light on a cloudy day or shoot the meter on a blue sky day. Point the lens at the sky and make an image. Save the test image and view it at first at 100%. Do understand that at f/22 you will be seeing every microscopic dust spot. Most but not all of those can be cleaned with a good Rocket blowing followed by the a LensPen cleaning if needed for stubborn spots. (Note: we send complete sensor cleaning instructions with each LensPen purchase. Once cleaned well, no dust spots should be visible from wide open to stopped down a stop or two.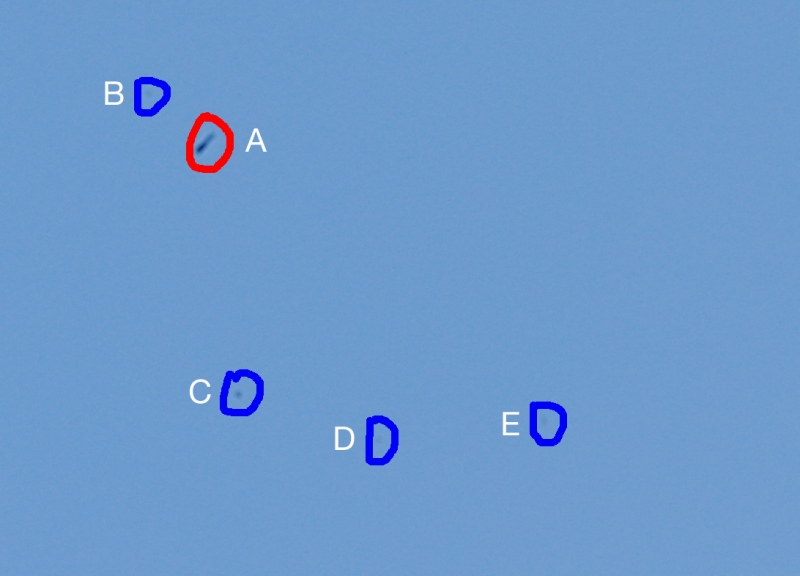 200% crop of upper 1D X Mark II f/22 sensor test image/February 6, 2017
Immediately after the sensor was cleaned by Canon
I went to using my two 5D Mark IV bodies almost exclusively, at least for a while. But tempted by that blazing frame rate, I used my 1D X II a bit in January. Fairly soon I noticed more sensor dust than expected and worse yet, some additional oil spatter. So I sent the camera back to Canon for another cleaning–not sure if that was cleaning #2 or #3 but I think that it was #3. When I got the camera back I clicked off a few frames and then did an f/22 sensor dust test and saved the results (seen above at 200%). "A," circled above in red, is good old fashioned sensor dust, albeit a good-sized chunk. One might think that a sensor should be perfect after a cleaning but small chunks of whatever are often dislodged when the shutter fires. What really worries me is the stuff circled in blue. They are to my mind surely oil spatter.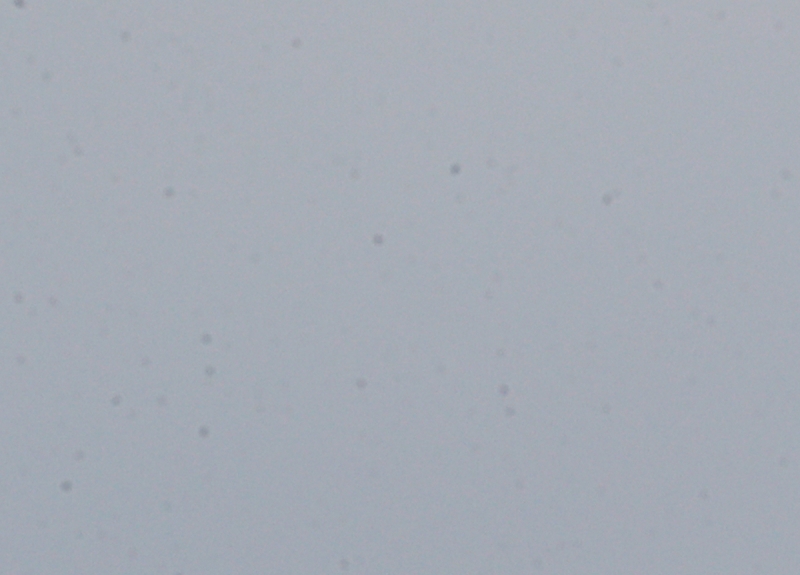 200% crop of upper left corner of 1D X Mark II f/22 sensor test image/March 6, 2017
The Latest …
After using my 1D X II a good bit in Japan and sparingly at Gatorland I created yet another f/22 sensor test image on the morning of 6 MAR. To me, they prove conclusively that my 1D X II has serious oil spatter on the sensor problems. My plan is to try to get Canon to replace my body with a brand new 1D X Mark II body. In the meantime, I could use your help. If not, I will try to do the same with the seller, B&H.
Canon EOS-1D X Mark II Help Needed
If you own a Canon EOS-1D X Mark II body, please leave a comment and let me know whether you have had sensor dust and/or sensor oil spatter problems with your copy. I am hoping that the problems I have experienced are not universal. I have been corresponding with at least one other 1D X II user who has had oil spatter problems, plus the one on the Japan IPT. Her 1D X II showed more than 20 large oil spots at f/5.6.
I am hoping that only a very few others at most have had problems.
What To Do?
Before you run off to purchase your very own 1DX Mark II, consider that while the frame rate is great for pure flight and action situations, you can purchase two 5D Mark IV bodies for the price of a single 1DX II. More importantly, consider the fact that the 1DX II is the worst Canon camera in several generations of camera bodies as far as sensor dust is concerned. And, potentially even worse, at least a few individual EOS-1D X Mark II bodies (including mine) spray tiny oil drops on the sensor.
Interested folks should stay tuned. As I have had so many camera body questions, I will be doing a 4-camera comparison blog post within the next two weeks: 1D X Mark II, 5D IV, 5DS R, and 7D Mark II. Folks who are in a hurry are urged to do a search for each camera body using the little white search box on the upper right corner of each blog post page.
If You Have an Oil Spatter Problem
After two cleanings the oil spotting seemed to have diminished somewhat but my latest test image shows clearly that it is still a serious problem. This is a totally unacceptable situation and folks need to be really good consumers to get any satisfaction: make images of the sky at f/22 as above, send the image with your camera body when you send it in to have the sensor cleaned, complain firmly, keep a record of each cleaning, and finally, go up the food chain at Canon until you get some satisfaction. To date, Canon has not — as far as I know –acknowledged in any way that there is an oil spatter problem with the 1D X II.
If you have an oil spatter problem with your 1D X Mark II be a good consumer. Create f/22 dust spotting test images before and after you send your camera body to Canon to be cleaned. Keep copies of all of your letters and notes and do the same for Canon's responses. Then work your way up the food chain at Canon. If that fails, try letting the seller know about your problems.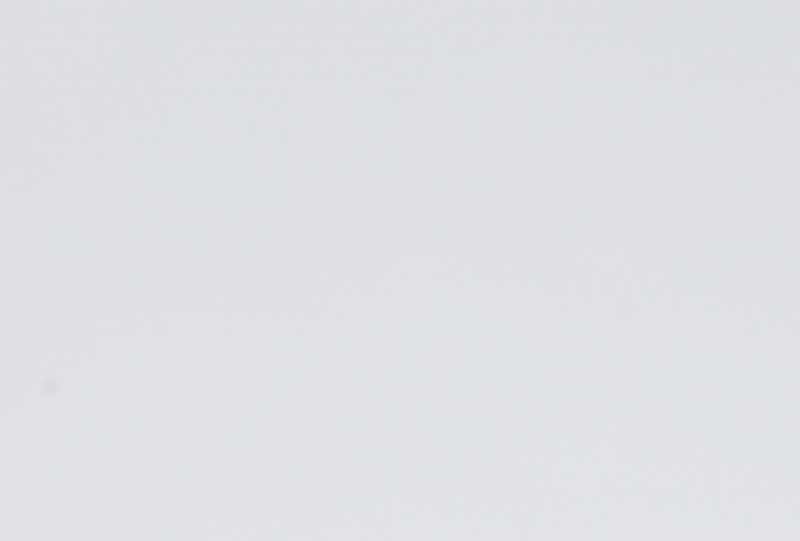 200% crop of upper left corner of 5D Mark IV f/22 sensor test image/January 23, 2017
Despite much heavier usage, my two 5D Mark IV bodies have had close to zero sensor dust. In the test image above, there is only one visible dust spot, that in the lower left corner. Such a faint spot would not show at large apertures.
To sum up, the 5D Mark IV — where sensor dust is only very rarely present — is still my favorite bird photography camera body but I must acknowledge that the 1DX II is pretty darned good for flight and action despite the smaller file size. That is why I am hoping to get my oil spatter problems rectified.
Please Remember to use my Affiliate Links and to Visit the New BAA Online Store 🙂
To show your appreciation for my continuing efforts here, we ask, as always, that you get in the habit of using my B&H affiliate links on the right side of the blog for all of your photo and electronics purchases. Please check the availability of all photographic accessories in the New BIRDS AS ART Online Store, especially the Mongoose M3.6 tripod head, Wimberley lens plates, Delkin flash cards and accessories, and LensCoat stuff.
As always, we sell only what I have used, have tested, and can depend on. We will not sell you junk. We know what you need to make creating great images easy and fun. And please remember that I am always glad to answer your gear questions via e-mail.
I would of course appreciate your using our B&H affiliate links for all of your major gear, video, and electronic purchases. For the photographic stuff mentioned in the paragraph above, and for everything else in the new store, we, meaning BAA, would of course greatly appreciate your business. Here is a huge thank you to the many who have been using our links on a regular basis and those who will be visiting the New BIRDS AS ART Online Store as well.
Facebook
Be sure to like and follow BAA on Facebook by clicking on the logo link upper right. Tanks a stack.
Typos
In all blog posts and Bulletins, feel free to e-mail or to leave a comment regarding any typos or errors. Just be right :).