What's Up?
My flight home on Wednesday was a breeze. Coast to coast in under four hours; amazing! Jim was there right on the money to pick me up and after our customary stop at Publix for some veggies we made it back to ILE just after 8:15pm.
I enjoyed a swim, a walk, a few core exercises, and some stretching.
Gear Questions and Advice
Too many folks attending BAA IPTs and dozens of folks whom I see in the field, and on BPN, are–out of ignorance–using the wrong gear, especially when it comes to tripods and more especially, tripod heads… Please know that I am always glad to answer your gear questions via e-mail.
The Streak: 7!
Today's blog post marks a totally insane, irrational, illogical, preposterous, absurd, completely ridiculous, unfathomable, silly, incomprehensible, what's wrong with this guy?, makes-no-sense, 7 days in a row with a new educational blog post. As always–and folks have been doing a really great for a long time now–please remember to use our B&H links for your major gear purchases. For best results use one of our many product-specific links; after clicking on one of those you can continue shopping with all subsequent purchases invisibly tracked to BAA. Your doing so is always greatly appreciated. Please remember: web orders only. And please remember also that if you are shopping for items that we carry in the BAA Online Store (as noted in red at the close of this post below) we would of course appreciate your business.
The Howdy to the World Exercise
On Becoming Less Judgmental
As I believe that I mentioned here previously, one of the issues that I worked on at The March 2017 School for the Work is my being too judgmental. As Byron Katie says often, "We're human. We judge. That's our job. That's who we are." I have always seen myself as friendly. When photographing the nesting Brandt's Cormorants and most recently, the killer male Anna's hummingbird while standing on the sidewalk at La Jolla, I say "Hi" to lots of folks. But not to everyone. This one looks unhappy. This one is too obese. That one is smoking. She is too beautiful. That one will not like me. He is not making eye contact. And that one is surely too homeless.
On my recent visit, I came up with the following exercise: smile and offer a friendly "Howdy" to everyone I see who walks by (when I am not actively photographing). For the most part, that eliminates a lot of the having to judge the folks who pass by (but not all of it — we are human, that's what we do). The second part of the exercise is practicing withholding judgment based on the reaction of the person you've said "Hi" to. You look someone right in the eye, smile and say "Howdy," and they walk by staring straight ahead without so much as a smile. What would your story be? Is it true?
Having done the exercise for about 12 hours over four days while photographing in La Jolla recently I have learned that we are all the same, that we are all connected. Folks whom I might have previously judged as not worth a "Howdy" often stopped and chatted for minutes. A beautiful woman from Columbia and her three younger lady friends from Japan hung out for ten minutes learning about the hummer that posed for today's featured image. There were hugs and smiles all along when they left. And several times folks who had stopped by wound up pointing out to me that I had missed seeing the bird come back and re-land.
Try giving out the love and it just might come back to you in spades.
Gatorland In-the Field Instructional Meet-Up
Join me in Kissimmee, FL as below, to photograph Great (with chicks in the nest) and Snowy Egrets in breeding plumage, Wood Stork, American Alligator (captive), and more. Tricolored Heron likely. We should get to make lots of head portraits of all the bird species and to photograph them building nests, displaying, copulating, and flying. Learn to see, find, and make the shot in cluttered settings. Learn exposure and how to handle WHITEs. Learn fill flash and flash as main light. All of the birds are free and wild.
This Weekend's Schedule
Friday afternoon, 4pm till closing: $75
Saturday morning (early entry): 7:30 till 10am: $100. Lunch and Image Review: $75 additional.
Saturday afternoon till closing (late stay): $100.
Sunday morning (early entry): 7:30 till 10am: $100.
There will be lots of instruction as there is only a single sign-up for SAT. Cheap lens rentals available: 500 II, 600 II, & 200-400. You drop it you own it.
To pay for one or more sessions in full via credit card, call Jim or Jen in the office weekdays at 863-692-0906. You will be responsible for the cost of your Gatorland Photographer's pass or passes. Please shoot me an e-mail if you have any questions.
Selling Your Used Gear Through BIRDS AS ART
Selling your used (or like-new) photo gear through the BAA Blog or via a BAA Online Bulletin is a great idea. We charge only a 5% commission. One of the more popular used gear for sale sites charges a minimum of 20%. Plus assorted fees! Yikes. The minimum item price here is $500 (or less for a $25 fee). If you are interested please e-mail with the words Items for Sale Info Request cut and pasted into the Subject line :). Stuff that is priced fairly–I offer free pricing advice, usually sells in no time flat. In the past few months, we have sold just about everything in sight. Do know that prices on some items like the EOS-1D Mark IV, the old Canon 500mm, the EOS-7D, and the original 400mm IS DO lens have been dropping steadily. Even the prices on the new 600 II and the 200-400 with Internal Extender have been plummeting. You can see all current listings by clicking here or by clicking on the Used Photo Gear tab on the right side of the yellow-orange menu bar above.
Unsolicited, via e-mail, from Gerry Keshka
Hi Artie, I wanted to share how much I appreciate your Used Gear "service." You have posted how you help sellers, but the other side of the equations is how much this service helps buyers. I have purchased three lenses (Canon 200-400, 500 f4 II, and 70-200 F2.8) all lovely experiences and I saved almost $5K over retail. Each of the sellers was delightful, willing to help me assess if the purchase was right for me by sharing their experience with the lens. Each lens was in the condition advertised (or better), and typically included several "add-ons" that would have cost several hundred dollars.
Recent Successful Used Gear Sales
Mike Kaplan sold a Canon EOS 7D Mark II in near-mint condition for $925 to a buyer who contacted him on day one when the body was listed in early March.
Sue Sanborn sold her Canon 300mm f/2.8L IS II USM lens in near-mint condition for $4100 in early March. The value of this great lens has plummeted after the introduction of the 400mm f/4 IS DO II.
Sandra Calderbank sold her used Canon EOS 7D Mark II in excellent plus condition with less than 20,000 shutter actuations for $948 in early March.
Mike Pace sold his Canon EF 500mm f/4 L IS lens in very good condition for $4699 CAD to a Canadian only days after it was listed in early March.
Kenton Gomez sold his Canon EF 500mm f4L IS II lens in excellent plus condition for the BAA record-low price of $7349 in early March, 2017.
Multiple IPT veteran Jake Levin sold his Canon 300mm f/2.8 IS lens in very good-plus condition for the very sporting price of $2199 USD to a Canadian buyer less than a week after it was listed.
Owen Peller sold his Canon EF 400m f/4 IS DO telephoto lens — the "old 400 DO,– in like-new condition for $2,299 in early MAR, 2017.
Brian Patteson sold his Canon EF 500 mm f/4L IS USM super telephoto lens in near-mint condition for $4099 in early February.
IPT veteran Dick Evans sold his NIKKOR AF-S 70-200 f2.8G ED VRII Lens in like-new condition to a local camera store and kindly sent me a check for the 2 1/2% of the original listed price.
Steve Traudt is sold a Canon 500mm f4/L IS USM Super Telephoto Lens in excellent condition for $3550 in mid-February, 2017.
James P. Nelson sold his Canon EF 70-200mm f/2.8L IS USM zoom lens in excellent condition for $899 in early February 2017.
Dow Morris sold his Canon EF 100-400 f/4.5-5.6 IS USM lens in like-new condition for $579 a few days after it was listed in early February 2017.
James P. Nelson sold his Canon EF 100-400 zoom 1:4.5 – 5.6 L IS telephoto lens in excellent plus condition for a very low $549 in early February.
Robert Blanke sold his Canon EOS 7D Mark II body in like-new condition for $949.00 in early February 2017 just two days after it was listed.
Robert Blanke sold his Canon EOS-1D X body with the Canon GPS receiver in like-new condition for $2499.00 within hours of it being listed.
New Listings
Canon 300mm f/4L IS USM Lens with like-new 1.4X II TC
David R. Gibson is offering a Canon 300mm f/4 L IS USM lens in excellent plus condition for $749. The sale includes the rear lens cap, the front lens cap, the tripod mount ring, the LZ1128 lens case, a like-new Canon 1.4X II teleconverter, the LP811 lens pouch, a brand new in the box LensCoat, and insured ground shipping via UPS to US addresses only. Your item will not ship until your check clears unless other arrangements are made.
Please contact Dave via e-mail or by phone at 757 816-2825 (Eastern Time).
I owned and used this great lens for many years. It is a great flight lens and I always loved its close focusing abilities that made it great for flowers, frogs, and dragonflies. I firmly believe that it is a far better bird photography starter lens than my beloved old "toy lens," the 400mm f/5.6L lens. Why? It is image stabilized and it does great with all AF points with a 1.4X TC. Grab this one while you can as the price is right. artie
Nikon 300mm f/2.8 VR II Lens
Justin Howland is offering a used Nikon 300mm f/2.8 VR II lens in excellent plus condition for the BAA record low price of $3399. Included is everything in the original box including the rear lens cap, the soft front lens cover, the carrying case, the original box, the Wimberley replacement foot, the original foot, and insured ground shipping via major courier to US addresses only. Photos available upon request. Your new lens will not ship until the check clears or Paypal money has been transferred. Please contact Justin via e-mail or by phone at (781) 820-7287.
The 300mm f/2.8 lenses have long been favorites of the world's best hawk photographers. More recently, with the advent of crop bodies, they make great, hand holdable workhorse bird photography lenses when coupled with a 1.4X, 1.7X, or 2X TC. Justin's lens, the latest greatest version, currently sells for $,5496.95 from B&H so you can save well more than $2k! artie
The Amazing Posing Hummingbird!
On Tuesday I still had Patrick's 600II in the trunk along with the rest of the borrowed gear in the trunk of my rental car. As Tuesday morning was a bust for the reliable male hummer, I decided for the first time to try for it in the afternoon. I texted Patrick who wrote back that he would meet me at the spot at about 3pm. At first, the bird was slow in coming and did not stay long. Once Patrick arrived at about 3:15pm the bird came more regularly and stayed longer. Remember that we only had one big lens … I had some really good chances, took out my flash card, and gave Patrick a chance. After 10 minutes he did the same.
We continued to switch back and forth ever ten minutes or so. With perched male hummingbirds the gorget usually looks black. When they turn their heads just right, the iridescent feathers light up spectacularly for a second or two so you have to be paying attention or you will miss it. Soon, things got really wild. With Patrick at the helm the bird turned just right and sat with his gorget afire. Then he sat and sat showing off his incredible bright pink/purple feathers constantly. "Can we switch?" I asked. "Sure," Patrick said, "this is amazing." My turn and the bird continued to pose in magnificent fashion. Then the bird started flaring its gorget by raising its lower edge. "Hey Pat, take a few," I volunteered. Wing stretch! Switch. Calling. Switch. Preening. Switch. For 12 hectic minutes the bird sat with its gorget aflame offering great pose after great pose along with a variety of interesting behaviors. Then it flew off, returned in a minute, and gave a repeat performance all the while with its gorget lit up.
When Patrick was photographing, I showed the bird to the many passersby walking down the hill. Each marveled at its beauty. When it was my turn, Patrick did the same. Each time we shared the bird we included a short lesson. Everyone was appreciative and there was lots of love in the air.
After ten more minutes of switching and shooting we noticed that our light was leaving the scene so we packed up and did the same, getting back to Patrick's house at about 5:00pm. At 6:30 we enjoyed a great farewell/good riddance dinner for yours truly: killer steaks, killer sweet potatoes, and really good steamed Brussel's sprouts. From Sprouts!
The Image Optimization
The image optimization was relatively straightforward. While converting the image in DPP 4 I opened the darker parts of the gorget up a bit by moving the Shadow slider to +1.5. Then I brought the TIFF into Photoshop. Though I had not clipped the stretched wing, I had just barely gotten it into the frame and needed a bit more room behind the bird. That was done quickly and easily using one of the basic APTATS II tutorials. Next I selected the gorget and the bill with the Quick Selection Tool and ran my 30/30 NIK Color Efex Pro recipe on the resulting layer. Then a Contrast Mask. Last was a bit of bill clean-up with my usual clean-up tools: the Patch Tool, the Spot Healing Brush, and the Clone Stamp Too.
Everything above plus tons more is of course detailed in my Digital Basics File, an instructional PDF that is sent via e-mail. It includes my complete (former PC) digital workflow, dozens of great Photoshop tips, details on using all of my image clean-up tools, the use of Contrast Masks, several different ways of expanding and filling in canvas, all of my time-saving Keyboard Shortcuts, the basics of Quick Masking, Layer Masking, and NIK Color Efex Pro, Digital Eye Doctor techniques, using Gaussian Blurs, Dodge and Burn, a variety of ways to make selections, how to create time-saving actions, and tons more.
I am working on an all new Current Workflow e-guide that better reflects my Macbook Pro/Photo Mechanic/DPP 4/Photoshop workflow. It will include a section on ACR conversions and a simplified method of applying Neat Image noise reduction. Learn advanced Quick Masking and advanced Layer Masking techniques in APTATS I & II. You can save $15 by purchasing the pair. Learn how and why I and other discerning Canon shooters convert nearly all of my Canon digital RAW files in DPP 4 using Canon Digital Photo Professional in the DPP 4 RAW conversion Guide here.
Print Sale
Today's featured Anna's Hummingbird image is available on sale as a signed traditional photographic print.
| Print Paper Size | Print | U.S. Shipping |
| --- | --- | --- |
| 6 x 9″ | $19.95 | $4.95 |
| 8 x 12″ | $39.95 | $4.95 |
| 12″ x 18″ | $99.95 | $4.95 |
| 16 x 24″ | $149.95 | $9.95 |
The sizes shown are the sizes of the paper. If you would like a border around your print to allow for matting, please indicate that when you order. Please indicate your choice of matte or satin (glossy) paper. Delivery times will vary. Orders by Paypal or phone only: 863-692-0906. Please e-mail us at birdsasart@att.net for overseas shipping charges.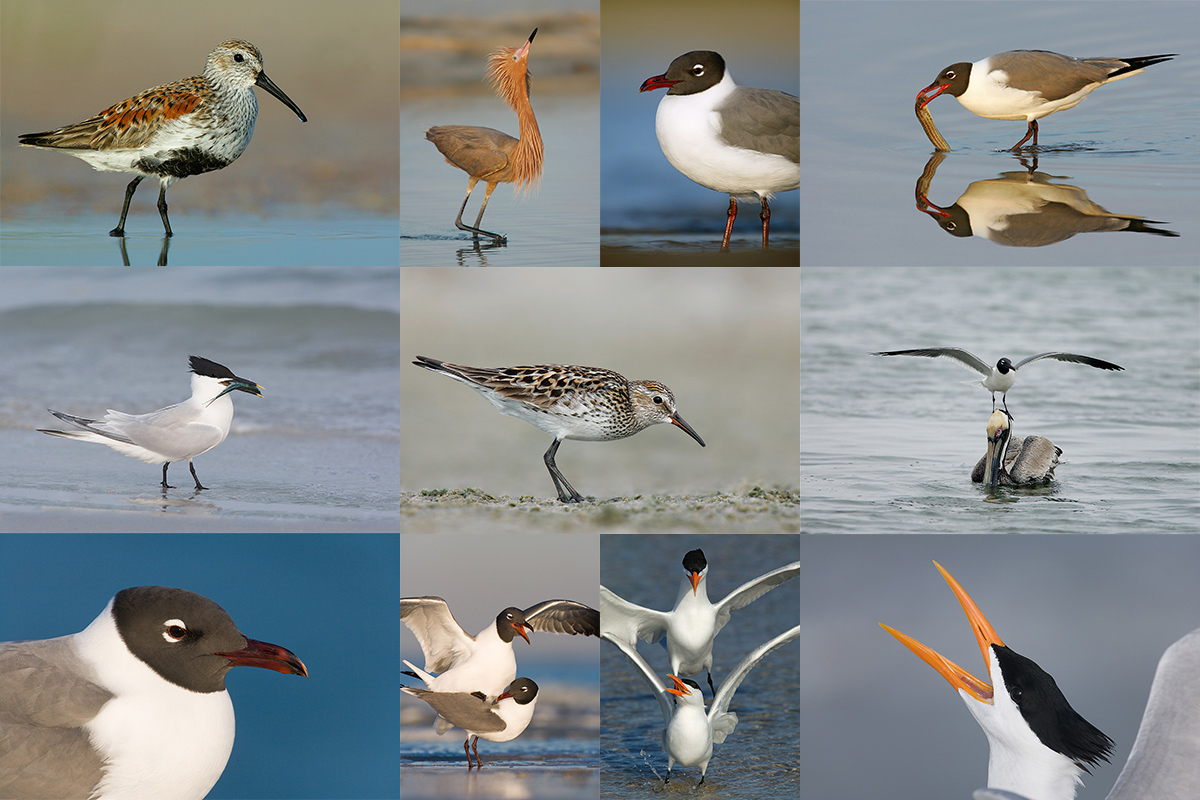 DeSoto in spring is rife with tame and attractive birds. From upper left clockwise to center: breeding plumage Dunlin, dark morph breeding plumage Reddish Egret displaying, breeding plumage Laughing Gull/front end vertical portrait, breeding plumage Laughing Gull with prey item, Laughing Gull on head of Brown Pelican, screaming Royal Tern in breeding plumage, Royal Terns/pre-copulatory stand, Laughing Gulls copulating, breeding plumage Laughing Gull/tight horizontal portrait, Sandwich Tern with fish, and a really rare one, White-rumped Sandpiper in breeding plumage, photographed at DeSoto in early May.
Fort DeSoto Spring IPT/April 19-22, 2017. (meet & greet at 2pm on Wednesday April 19 followed by an afternoon session) through the full day on Saturday April 22. 3 1/2 DAYs: $1599. Limit 10/Openings 4. To save your spot, please call and put down a non-refundable deposit of $499.00.
I may be offering small group (Limit 3) Photoshop sessions on Sunday afternoon and Monday morning if necessary. Details on that TBA.
Fort DeSoto is one of the rare locations that might offer great bird photography 365 days a year. It shines in spring. There will Lots of tame birds including breeding plumage Laughing Gull and Royal and Sandwich Terns. With luck, we will get to photograph all of these species courting and copulating. There will be American Oystercatcher and Marbled Godwit plus sandpipers and plovers, some in full breeding plumage. Black-bellied Plover and Red Knot in stunning breeding plumage are possible. There will be lots of wading birds including Great and Snowy Egrets, both color morphs of Reddish Egret, Great Blue, Tricolored and Little Blue Heron, Yellow-crowned Night-Heron, and killer breeding plumage White Ibis. Roseate Spoonbill and Wood Stork are possible and likely. We should have lots of good flight photography with the gulls and terns and with Brown Pelican. Nesting Least Tern and nesting Wilson's Plover are possible.
We will, weather permitting, enjoy 7 shooting sessions. As above, our first afternoon session will follow the meet and greet at 2pm on Wednesday April 19. For the next three days we will have two daily photo sessions. We will be on the beach early and usually be at lunch (included) by 11am. We will have three indoor sessions. At one we will review my images–folks learn a ton watching me choose my keepers and deletes–why keep this one and delete that one? The second will be a review of your images so that I can quickly learn where you need help. For those who bring their laptops to lunch I'd be glad to take a peek at an image or three. Day three will be a Photoshop session during which we will review my complete workflow and process an image or two in Photoshop after converting them in DPP. Afternoon sessions will generally run from 4:30pm till sunset. We photograph until sunset on the last day, Saturday, April 22. Please note that this is a get-your-feet and get-your-butt wet and sandy IPT. And that you can actually do the whole IPT with a 300 f/2.8L IS, a 400 f/4 ID DO lens with both TCs, or the equivalent Nikon gear. Heck, you can make a ton of great images with only an 80- or 100-400 lens. I will surely be using my 500 II as my big glass and have my 100-400 II on my shoulder.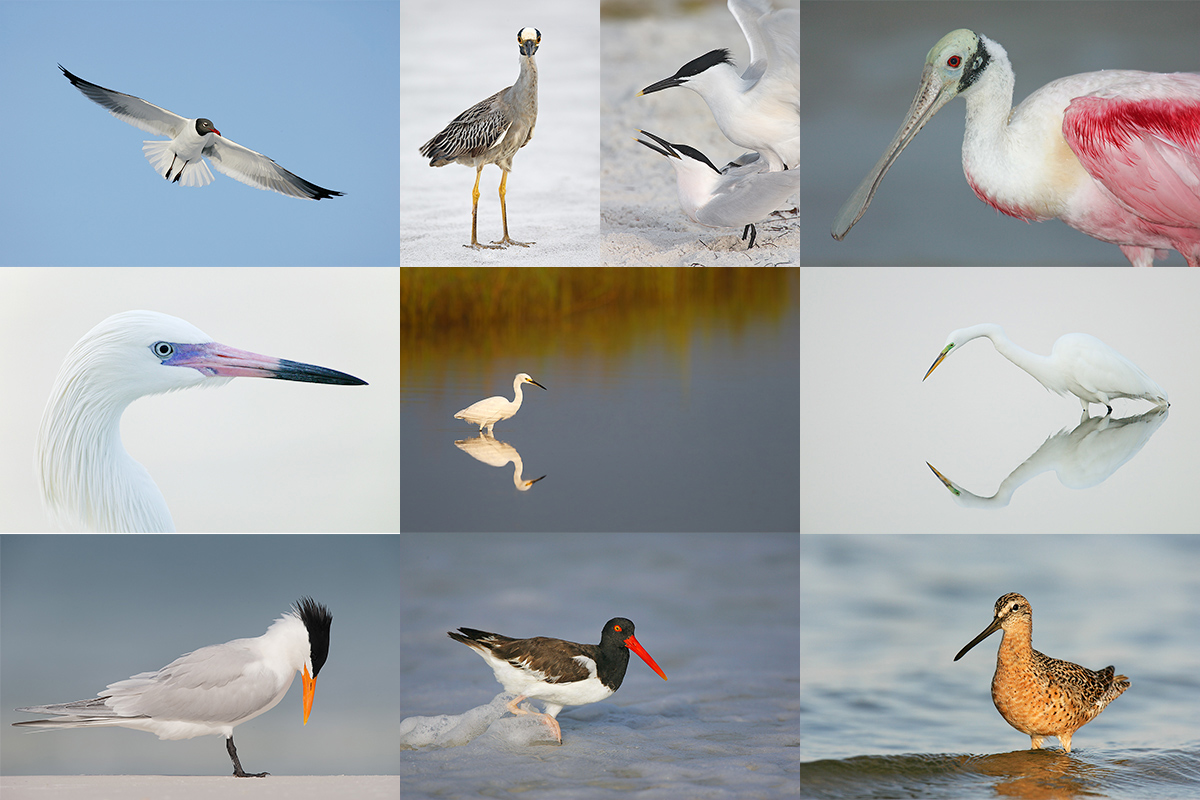 DeSoto in spring is rife with tame and attractive birds. From upper left clockwise to center: Laughing Gull in flight, adult Yellow-crowned Night-Heron, copulating Sandwich Terns, Roseate Spoonbill, Great Egret with reflection, Short-billed Dowitcher in breeding plumage, American Oystercatcher, breeding plumage Royal Tern, white morph Reddish Egret, and Snowy Egret marsh habitat shot.
What You Will Learn
You will learn to approach free and wild birds without disturbing them, to understand and predict bird behavior, to identify many species of shorebirds, to spot the good situations, to understand the effects of sky and wind conditions on bird photography, to choose the best perspective, to see and understand the light, to get the right exposure every time after making a single test exposure, and to design pleasing images by mastering your camera's AF system. And you will learn how and why to work in Manual mode (even if you are scared of it).
The group will be staying at the Red Roof Inn, St. Petersburg: 4999 34th St. North, St Petersburg, FL 33714. The place is clean and quite inexpensive. Please e-mail for room block information. And please call Jim or Jennifer at 863-692-0906 to register. All will need to purchase an Annual Pass early on Tuesday afternoon so that we can enter the park at 6am and be in position for sunrise opportunities. The cost is $75, Seniors $55. Tight carpools will be needed and will reduce the per person Annual Pass costs. The cost of three lunches is included. Breakfasts are grab what you can on the go, and dinners are also on your own due to the fact that we will usually be getting back to the hotel at about 9pm. Non-photographer spouses, friends, or companions are welcome for $100/day, $350 for the whole IPT.
BIRDS AS ART Fort DeSoto In-the-Field Meet-up Workshop (ITFW): $99
Fort DeSoto Spring In-the-Field Cheap Meet-up Workshop (ITFW) on the morning of Sunday, April 23, 2017: $99
Join me on the morning of Sunday April 23, 2017 for 3-hours of photographic instruction at Fort DeSoto Park. Beginners are welcome. Lenses of 300mm or longer are recommended but even those with 70-200s should get to make some nice images. Teleconverters are always a plus.
You will learn the basics of digital exposure and image design, autofocus basics, and how to get close to free and wild birds. We should get to photograph a variety of wading birds, shorebirds, terns, and gulls. This inexpensive morning workshop is designed to give folks a taste of the level and the quality of instruction that is provided on BIRDS AS ART Instructional Photo-tours. I hope to meet you there.
To register please call Jim or Jennifer during weekday business hours with a credit card in hand to pay the nominal registration fee. Your registration fee is non-refundable. You will receive a short e-mail with instructions, gear advice, and meeting place one week before the event.
Please Remember to use my Affiliate Links and to Visit the New BAA Online Store 🙂
To show your appreciation for my continuing efforts here, we ask, as always, that you get in the habit of using my B&H affiliate links on the right side of the blog for all of your photo and electronics purchases. Please check the availability of all photographic accessories in the New BIRDS AS ART Online Store, especially the Mongoose M3.6 tripod head, Wimberley lens plates, Delkin flash cards and accessories, and LensCoat stuff.
As always, we sell only what I have used, have tested, and can depend on. We will not sell you junk. We know what you need to make creating great images easy and fun. And please remember that I am always glad to answer your gear questions via e-mail.
I would of course appreciate your using our B&H affiliate links for all of your major gear, video, and electronic purchases. For the photographic stuff mentioned in the paragraph above, and for everything else in the new store, we, meaning BAA, would of course greatly appreciate your business. Here is a huge thank you to the many who have been using our links on a regular basis and those who will be visiting the New BIRDS AS ART Online Store as well.
Facebook
Be sure to like and follow BAA on Facebook by clicking on the logo link upper right. Tanks a stack.
Typos
In all blog posts and Bulletins, feel free to e-mail or to leave a comment regarding any typos or errors. Just be right :).