What's Up?
After my 23-hour door to door trip home from Oulu, Finland on Wednesday, I was home just after midnight. I endured two four-hour layovers. I did not sleep a wink on the 8-hour flight from Helsinki to JFK but slept like a rock for two hours on the flight to Orlando. I managed to get some sleep and was in bed till almost 7am. I enjoyed a nice swim on Thursday afternoon.
Folks who wish to support my efforts here on the blog may once again do so by utilizing the Amazon or the Amazon Canada links near the bottom of each blog post page.
Gear Questions and Advice
Too many folks attending BAA IPTs and dozens of folks whom I see in the field, and on BPN, are–out of ignorance–using the wrong gear, especially when it comes to tripods and more especially, tripod heads… Please know that I am always glad to answer your gear questions via e-mail.
Please Don't Forget …
As always–and folks have been doing a really great job for a long time now–please remember to use our B&H links for your major and minor gear purchases. For best results, use one of our many product-specific links; after clicking on one of those you can continue shopping with all subsequent purchases invisibly tracked to BAA. Your doing so is always greatly appreciated. Please remember: web orders only. And please remember also that if you are shopping for items that we carry in the BAA Online Store (as noted in red at the close of this post below) we would of course appreciate your business.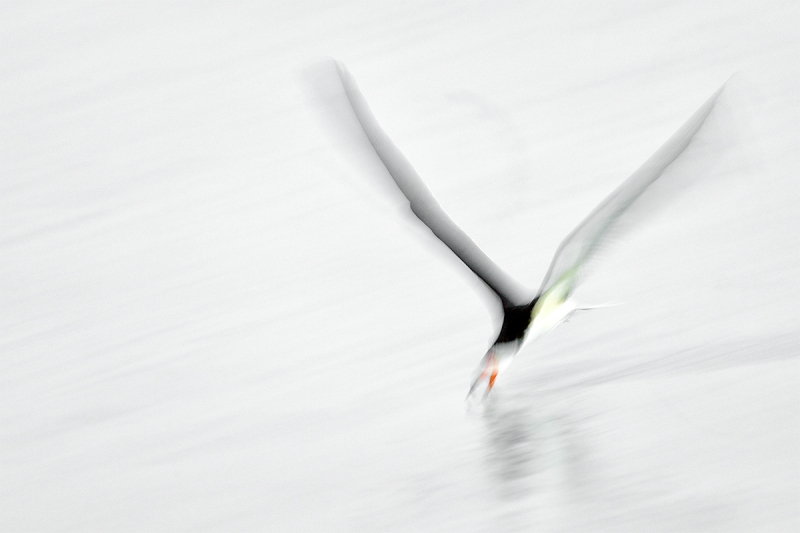 This image was created on the Fort DeSoto IPT with the hand held Canon EF 100-400mm f/4.5-5.6L IS II USM lens, the Canon Extender EF 1.4X III (at 560mm) and my favorite bird photography camera body, the Canon EOS 5D Mark IV. ISO 800. Evaluative metering +1 2/3 stops: 1/15 sec. at f/9 in Tv mode. AWB.
LensAlign/FocusTune micro-adjustment: +7.
Center Large Zone/AI Servo/Shutter Button AF was active at the moment of exposure. The AF system activated three AF points in the left center of the frame (see the DDP 4 screen capture below). None of the AF points were anywhere near the bird.
Black Skimmer skimming at dawn.
Your browser does not support iFrame.
Pre-dawn Tip …
When walking along the beach in the pre-dawn with a 100-400 II on your shoulder you can try this technique if you like blurs:
1-Set your camera to Tv mode.
2-If you have ISO safety shift set, set your ISO to 400. If not, set Auto ISO.
3-Choose a shutter speed in the range of from 1/8 to 1/60 sec. In general, the slower your shutter speed ,the lower your chances of success, but the higher your chances of creating something memorable. 1/15 sec. is a great place to start and often produces pleasing results.
4-Start with lots of plus exposure compensation; +3 works well for flight.
5-Adjust your exposure compensation for darker backgrounds. For today's featured image I dropped down to + 1 2/3 stops as the Gulf water was darker than the sky. +2 or +2 1/3 would have been better …
6-when something flies or runs by pan with the subject, acquire focus, and hold the shutter button down while trying to match the speed of the subject with your panning rate.
Like It or Hate It?
Let us know if you like this image. Be sure to let us know why. Blur-haters are welcome as long as they give a reason or two.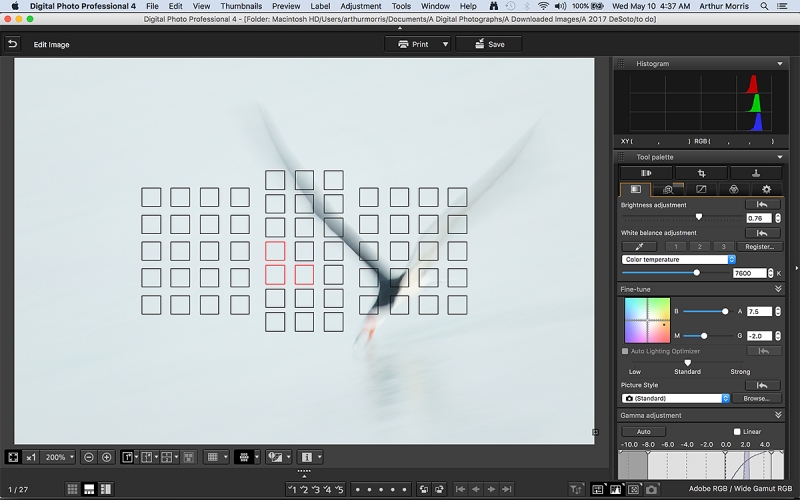 This is the DPP 4 screen capture for today's featured image.
Your browser does not support iFrame.
The DPP 4 Screen Capture
Notice that the active AF points (illuminated in red) were on the background and not on the subject (due to operator error). It is likely that the AF system was tracking properly and when the AF points dropped off the subject the system did not try to acquire the background for two reasons:
1-there was no contrast at all on the background.
2-my custom case 3 settings tell the system to stay with the subject for as long as possible before beginning to search. Recent but informal field tests show that the system will continue tracking the subject for close to two full seconds even when there is detail and contrast in the background.
Notice that I was not able to completely remove the BLUE/CYAN cast during the RAW conversion. That was done later in Photoshop.
Notice that even with the addition of nearly a stop of light during the RAW conversion that I needed to further brighten the image during the optimization.
Notice that I moved the color Fine-tune dot away from BLUE/CYAN.
The Image Optimization
The image optimization was fairly straightforward. I did some color correction work to reduce the BLUE/CYAN cast. Most notable was that I ran my NIK Color Efex Pro 50-50 Recipe on a layer planning to add an Inverse (Hide-all or Black) Layer Mask and paint the effect in on the bird. But I loved the way it brought up some background detail. I simply reduced the opacity of that layer to 80% and went with that. While it is rare to use so much 50-50 on the background when it works, it works.
A Guide to Pleasing Blurs
Pleasing blurs, as some folks believe, are not out of focus mistakes. If you would like to learn how to create these increasingly popular images, get yourself a copy of A Guide to Pleasing Blurs by clicking here."
"A Guide to Pleasing Blurs" by Arthur Morris and Denise Ippolito is a 20,585 word, 271 page PDF illustrated with 144 different, exciting, and artistic images. The guide covers the basics of creating pleasingly blurred images, the factors that influence the degree of blurring, the use of filters in creating pleasing blurs, and a great variety of both in-the-field and Photoshop techniques that can be used to create pleasingly blurred images.
Artie and Denise teach you many different ways to move your lens during the exposure to create a variety of pleasingly blurred images of flowers and trees and water and landscapes. They will teach you to recognize situations where subject movement can be used to your advantage to create pan blurs, wind blurs, and moving water blurs. They will teach you to create zoom-blurs both in the field and during post-processing. Artie shares the techniques that he has used and developed for making blurred images of flocks of geese in flight at his beloved Bosque del Apache and Denise shares her flower blur magic as well as a variety of creative Photoshop techniques that she has developed.
With the advent of digital capture, creating blurred images has become a great and inexpensive way to go out with your camera and have fun. And while many folks think that making successful blurred images is the result of being a sloppy photographer nothing could be further from the truth. In "A Guide to Pleasing Blurs" Artie and Denise will help you to unleash your creative self.
The book is laid out in landscape format to make for easy viewing and easy reading on any decent computer monitor.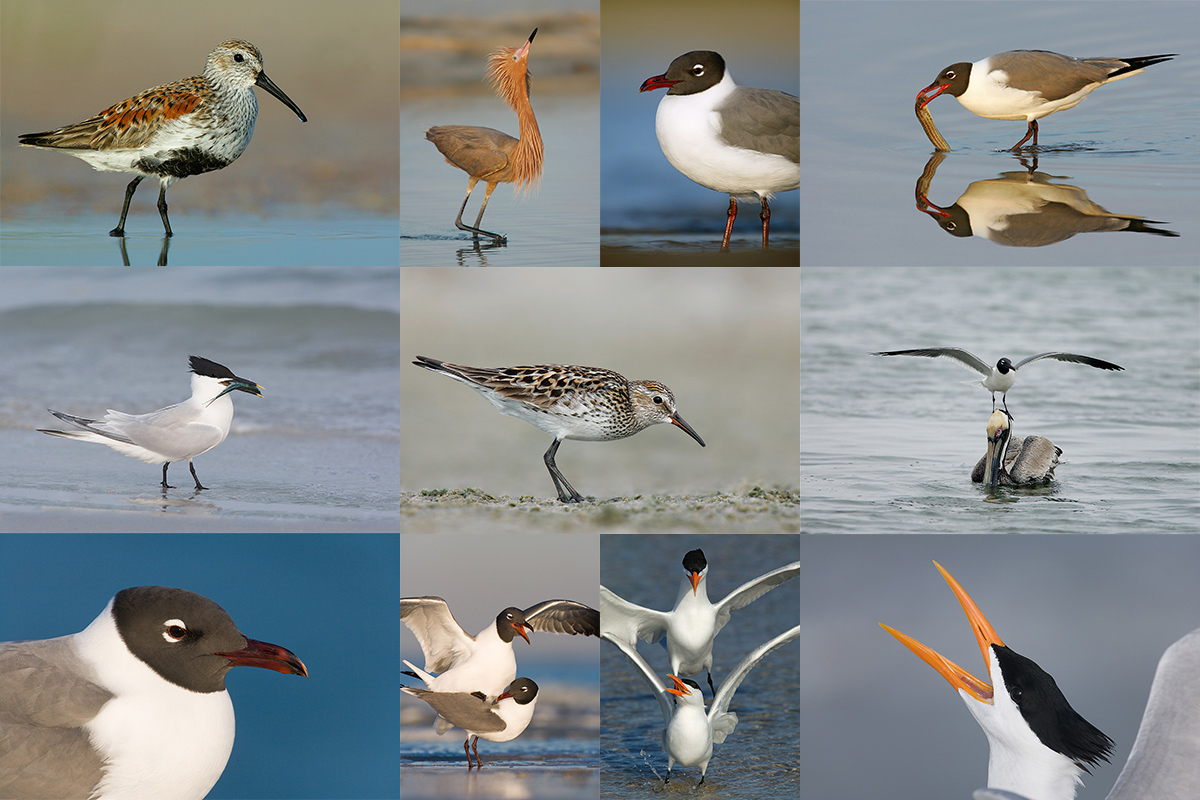 DeSoto in spring is rife with tame and attractive birds. From upper left clockwise to center: breeding plumage Dunlin, dark morph breeding plumage Reddish Egret displaying, breeding plumage Laughing Gull/front end vertical portrait, breeding plumage Laughing Gull with prey item, Laughing Gull on head of Brown Pelican, screaming Royal Tern in breeding plumage, Royal Terns/pre-copulatory stand, Laughing Gulls copulating, breeding plumage Laughing Gull/tight horizontal portrait, Sandwich Tern with fish, and a really rare one, White-rumped Sandpiper in breeding plumage, photographed at DeSoto in early May.
BIRDS AS ART May 20-21 Fort DeSoto In-the Field Instructional Meet-Up Sessions
Join me in Tierra Verde, FL for all or part of the weekend of May 20-21, 2017. Beginners are welcome. Lenses of 300mm or longer are recommended but even those with 70-200s should get to make some nice images. Teleconverters are always a plus. You will learn the basics of digital exposure and image design, autofocus basics, and how to get close to free and wild birds. We should get to photograph a variety of wading birds, shorebirds, terns, and gulls. These inexpensive sessions are designed to give folks a taste of the level and the quality of instruction that is provided on BIRDS AS ART Instructional Photo-tours. I hope to meet you there.
May 20-21, 2017 Schedule
Saturday May 20 Meet-up Morning: 6:30 till 10:00am: $99.
Lunch and Image Review: $99.
Saturday afternoon: 4pm till sunset: $99.
Sunday May 21 Meet-up Morning, Meet-up Morning: 6:30 till 10:00am: $99.
Cheap Canon lens rentals available: 600 II, 500 II, 400 DO II, or 200-400.
To pay for one or more sessions in full via credit card, call Jim or Jen in the office weekdays at 863-692-0906. You will be responsible for the cost of your Gatorland Photographer's pass or passes. Please shoot me an e-mail with questions.
Please Remember to use my Affiliate Links and to Visit the New BAA Online Store 🙂
To show your appreciation for my continuing efforts here, we ask, as always, that you get in the habit of using my B&H affiliate links on the right side of the blog for all of your photo and electronics purchases. Please check the availability of all photographic accessories in the New BIRDS AS ART Online Store, especially the Mongoose M3.6 tripod head, Wimberley lens plates, Delkin flash cards and accessories, and LensCoat stuff.
As always, we sell only what I have used, have tested, and can depend on. We will not sell you junk. We know what you need to make creating great images easy and fun. And please remember that I am always glad to answer your gear questions via e-mail.
I would of course appreciate your using our B&H affiliate links for all of your major gear, video, and electronic purchases. For the photographic stuff mentioned in the paragraph above, and for everything else in the new store, we, meaning BAA, would of course greatly appreciate your business. Here is a huge thank you to the many who have been using our links on a regular basis and those who will be visiting the New BIRDS AS ART Online Store as well.
Amazon.com
Those who prefer to support BAA by shopping with Amazon may use the logo link above.
Amazon Canada
Many kind folks from north of the border, eh, have e-mailed stating that they would love to help us out by using one of our affiliate links but that living in Canada and doing so presents numerous problems. Now, they can help us out by using our Amazon Canada affiliate link by starting their searches by clicking here.
Facebook
Be sure to like and follow BAA on Facebook by clicking on the logo link upper right. Tanks a stack.
Typos
In all blog posts and Bulletins, feel free to e-mail or to leave a comment regarding any typos or errors. Just be right :).