Stuff
It's nice when you make a plan and it works perfectly down to the very last detail. Based on the weather forecast, I switched our gannet boat trip from Thursday to Friday. As noted previously, Thursday afternoon was fantastic to say the least. And our gannet boat trip, with clouds thank you very much, was beyond anyone's imagination. Jacke McCurdy (1000 images), here along with sister Arden (2000) –both real troupers!, described it well when she said, "Even though you told us what to expect, I've never seen anything like that in all of my 83 years. Good friend and BPN moderator Peter Kes, who has traveled the world photographing birds and animals, said that it was the most amazing wildlife spectacle he had ever seen. Peter created 6308 images in two hours. Newbies Tony Zeilinsky and Chris Loffredo made 2750 and 3500 respectively. Recidivist Phil Frigon made 5500 and multiple IPT vet Loren Waxman made "about 3,000.". Anita North who has been on too many IPTs to count, was not feeling well and created a very low (for her) 3020. Having been several times, I wound up being somewhat more selective than most with only 1150 images, mostly of single gannets in flight and diving. When we return on Monday afternoon, weather willing, I will do some video.
The Streak
Just in case you have not been counting, today makes 20 days in a row with a new educational blog post 🙂
Via e-Mail from Warren Hatch
Hi Artie, I just wanted to drop you a quick note to say thanks for everything you've done to help my photography. The lessons I've learned from The Art of Bird Photography I and II, through your daily blogs, and on a pair of IPTs (spaced 20 years apart), have been invaluable. They've influenced my shooting profoundly and I know I am a better photographer as a result. This week one of my images won an Audubon award (People's Choice in the 2017 photography competition). Your inspiration and teachings played as large a part in the formation of the image as my hitting the shutter button. At a minimum, the official scorer should show you with an assist. So, thanks! Hopefully it won't take another 20 years before I capture something special again. Kind Regards, Warren
Booking.Com
I could not secure the lodging that I needed for the UK Puffins and Gannets IPT in Dunbar, Scotland, so I went from Hotels.Com to Booking.Com and was pleasantly surprised. I found the rooms that I needed with ease at a hotel that was not even on Hotels.Com, and it was a nice hotel that I had seen in person. And the rates were great. If you'd like to give Booking.Com a shot, click here and you will earn a $25 reward.
Gear Questions and Advice
Too many folks attending BAA IPTs and dozens of folks whom I see in the field, and on BPN, are–out of ignorance–using the wrong gear especially when it comes to tripods and more especially, tripod heads… Please know that I am always glad to answer your gear questions via e-mail.
Please Don't Forget …
As always–and folks have been doing a really great job for a long time now–please remember to use the BAA B&H links for your major and minor gear purchases. For best results, use one of our many product-specific links; after clicking on one of those you can continue shopping with all subsequent purchases invisibly tracked to BAA. Your doing so is always greatly appreciated. Please remember: web orders only. And please remember also that if you are shopping for items that we carry in the BAA Online Store (as noted in red at the close of this post below) we would of course appreciate your business.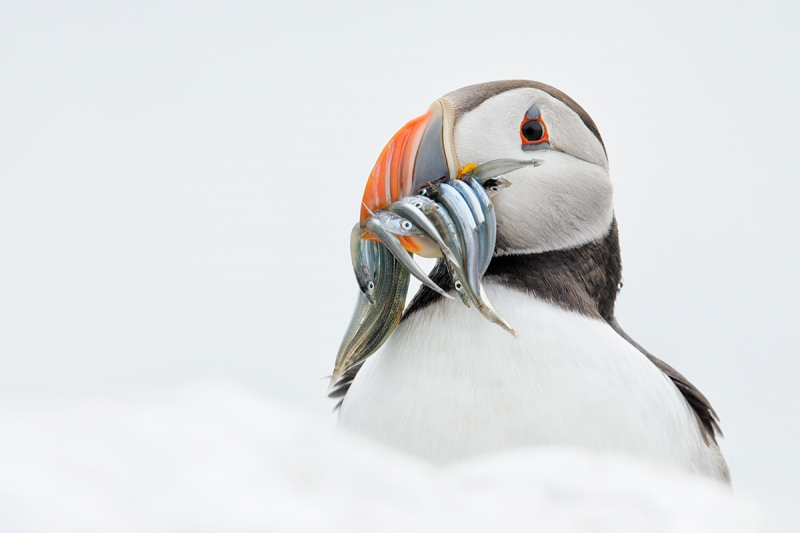 This image was created on the fabulous afternoon of Day 3 of the 2017 UK Puffins and Gannets IPT with the Induro GIT 304L/Mongoose M3.6-mounted Canon EF 500mm f/4L IS II USM lens, the Canon Extender EF 2X III, and my favorite bird photography camera body, the Canon EOS 5D Mark IV. ISO 800. Evaluative metering +2 1/3 stops as framed: 1/320 sec. at f/16 in Manual mode. Daylight WB.
LensAlign/FocusTune micro-adjustment: -7.
I chose an AF point that was two to the right and two rows up from the center AF point/AI Servo/Expand/Shutter button AF and was active at the moment of exposure. The selected AF point was on eye of the fish behind and just below the (unseen in this image) base of the bill.
Be sure to click on the image to enjoy a spectacular larger version.
Atlantic Puffin with baitfish in heaven
Your browser does not support iFrame.
Atlantic Puffin with baitfish in heaven
There is a wall around the lighthouse on Inner Farnes. At times, especially when it is cloudy, you can position the wall closest to you in front of a puffin sitting on a more distant wall. This can give you the puffin in heaven look. You will however need to choose the exact perfect perspective. I lucked out in that this bird with its huge beakful of fish was perched near the corner of the wall and when I got as tall as possible with my tripod, was just visible.
Depth of Field and Choosing an AF Point
Depth of field becomes most important when you are close to the minimum focusing distance of your lens and are at point-blank range with the subject. Here, I raised my ISO to 800 to maintain a decent shutter speed while stopping down to f/16. I focused just this side of the base of the bill, halfway between the plane of the puffin's eye and the plane of the nearest fish tail. The depth of field was just enough to cover both.
Your Critique
What do you like about this image? What don't you like about this image? Could I have done better in the field? Could I have done better with the processing? Feel free to be frank.
The Image Optimization
After converting the image in DPP 4, I worked on the snout of the last fish facing to our right, the one that I focused on just below and behind the base of the bill. The puffin had apparently ripped the nose off the fish as it was being captured. That it was hanging down seemingly no longer connected to its owner, really bugged me. I used the Clone Stamp Tool and a series of small Quick Masks to make the repair. One of those QMs needed to be flopped. I ran my NIK 25/25 recipe on the whole image; there was no need to worry about it affecting the 246/247/248 white sky that have been color corrected by decreasing the saturation of both the BLUE and the CYAN channels. The NIK 25/25 left the face just a bit too dark so I created a complete new lawyer, pull the curve up a bit, added an Inverse Layer Mask, and painted in the lighter WHITEs on the face as needed. Lastly I added two points of black to the Neutrals and added two points of black to the Blacks in Selective Color.
Everything above plus tons and tons more is detailed in the new BIRDS AS ART Current Workflow e-Guide (Digital Basics II), an instructional PDF that is sent via e-mail. Learn more and check out the free excerpt in the blog post here. Justso you know, the new e-Guide reflects my Macbook Pro/Photo Mechanic/DPP 4/Photoshop workflow.
You can learn how and why I and other discerning Canon shooters convert nearly all of their Canon digital RAW files in DPP 4 using Canon Digital Photo Professional in the DPP 4 RAW conversion Guide here. And you can learn advanced Quick Masking and advanced Layer Masking techniques in APTATS I & II. You can save $15 by purchasing the pair. Folks can learn sophisticated sharpening and (NeatImage) Noise Reduction techniques in the The Professional Post Processing Guide by Arash Hazeghi and yours truly.
Please Remember to use my Affiliate Links and to Visit the New BAA Online Store 🙂
To show your appreciation for my continuing efforts here, we ask, as always, that you get in the habit of using my B&H affiliate links on the right side of the blog for all of your photo and electronics purchases. Please check the availability of all photographic accessories in the New BIRDS AS ART Online Store, especially the Mongoose M3.6 tripod head, Wimberley lens plates, Delkin flash cards and accessories, and LensCoat stuff.
As always, we sell only what I have used, have tested, and can depend on. We will not sell you junk. We know what you need to make creating great images easy and fun. And please remember that I am always glad to answer your gear questions via e-mail.
I would of course appreciate your using our B&H affiliate links for all of your major gear, video, and electronic purchases. For the photographic stuff mentioned in the paragraph above, and for everything else in the new store, we, meaning BAA, would of course greatly appreciate your business. Here is a huge thank you to the many who have been using our links on a regular basis and those who will be visiting the New BIRDS AS ART Online Store as well.
Amazon.com
Those who prefer to support BAA by shopping with Amazon may use the logo link above.
Amazon Canada
Many kind folks from north of the border, eh, have e-mailed stating that they would love to help us out by using one of our affiliate links but that living in Canada and doing so presents numerous problems. Now, they can help us out by using our Amazon Canada affiliate link by starting their searches by clicking here.
Facebook
Be sure to like and follow BAA on Facebook by clicking on the logo link upper right. Tanks a stack.
Typos
In all blog posts and Bulletins, feel free to e-mail or to leave a comment regarding any typos or errors. Just be right :).