What's Up?
After waking at 2:30am in Guayaquil and working on yesterday's blog post, roomie Loren Waxman and I took the 4am shuttle to GYE as we were both on the AA flight to Miami. Smooth as silk. We waited a long time for our bags in customs to re-check them to our final destinations, Portland for Loren, Orlando for me. My connection was tight. After checking the board, I took the new Skytrain at MIA to Gate 8D. No air conditioning on the train … When I got to the gate I learned the the plane was no good but that a new plane was waiting at Gate D-50. Back on the steaming hot Skytrain. "We have a plane but it will take a while to get the luggage off the first plane onto the new plane." Thirty minutes later, "Most of the luggage is aboard but we are one flight attendant short so we cannot board you." Thirty minutes later. "We have a full crew but there is a mechanical problem with this plane." Thirty minutes later, "We are good to go but the field is closed because of thunderstorms and lightning." I finally got to MCO at about 5:30pm and then promptly waited 45 minutes for my bags to come out; they were the last two.
Jim did get us safely home at 7:45pm. It was a long travel day 🙂
I Was glad to learn of these recent Used Gear sales:
Multiple IPT veteran Carlotta Grenier sold her Canon EOS-1DX camera body in excellent condition for $2358 and a never used Sigma 150-600mm f/5-6.3 DG OS HSM Sports Lens for Canon EF in better than like-new condition for the BAA record low price of $998.
Eric Karl sold his Canon EOS 5D Mark III body in very good plus condition with extras for $1,300 in mid-August.
600 II Coming Soon …
Stay tuned as there will be a like-new Canon 600 II up for sale very soon. Please shoot me an e-mail if you would like advance notice.
Price Drop
Canon EOS-1D Mark III Professional Digital Camera Body
Price Reduced $50 on August 2, 2017.
David R. Gibson (the original owner) is offering a Canon EOS-1D Mark III in near-mint condition but for a few very faint scratches on the rear LCD for only $549 (was $599). The sale includes the front cap, the Canon LP-E4 Rechargeable Lithium Ion and the charger, the Canon camera body manual & pocket guide, a new Canon Pro Neck Strap 1, a Sandisk 8GB Ultra Compact Flash memory card, and insured ground shipping via UPS to US addresses only. Your item will not ship until your check clears, unless other arrangements are made.
Please contact David via e-mail or by phone at 1-757-816-2825 (Eastern time).
Two EOS-1D Mark IIIs served as my workhorse camera bodies for more than 2 years. I created thousands of consistently sharp, saleable images with them. B&H currently has a used 1D III in excellent condition (8+) for $799.95; that makes David's body a superb buy. As with my two 1D III bodies, David never experienced any AF problems. artie
The Streak
Today marks thirty-one days in a row with a new educational blog post. This blog post took about an hour to create. My plan right now with all of my upcoming free time is to break the current record streak of (I think) four hundred eighty something … Good health and good internet connections willing.
Booking.Com
I could not secure the lodging that I needed for the UK Puffins and Gannets IPT in Dunbar, Scotland, so I went from Hotels.Com to Booking.Com and was pleasantly surprised. I found the rooms that I needed with ease at a hotel that was not even on Hotels.Com, and it was a nice hotel that I had seen in person. And the rates were great. If you'd like to give Booking.Com a shot, click here and you will earn a $25 reward.
Thanks to the many who have already tried and used this great service.
Revamped
I recently updated the IPT page. If you doubt that I am really slowing down do click here to see the meager IPT schedule. Right now there are only two US-based IPTs on the schedule. Best news is I now have two folks registered for the Fort DeSoto IPT so that will run. Do consider joining us if you would like to learn from the best.
Photographers Wanted
If you would like to learn to be a better bird photographer, consider joining me on either the Fort DeSoto IPT in late September or the San Diego IPT in January, 2018. With just one person signed up, DeSoto will offer practically private instruction. And you can tack on the In-the-Field/Meet-up Workshop Session on the morning of Tuesday September 26, 2017 for free. Click here for IPT info and the current but abbreviated schedule.
Gear Questions and Advice
Too many folks attending BAA IPTs and dozens of folks whom I see in the field, and on BPN, are–out of ignorance–using the wrong gear especially when it comes to tripods and more especially, tripod heads… Please know that I am always glad to answer your gear questions via e-mail.
Please Don't Forget …
As always–and folks have been doing a really great job for a long time now–please remember to use the BAA B&H links for your major and minor gear purchases. For best results, use one of our many product-specific links; after clicking on one of those you can continue shopping with all subsequent purchases invisibly tracked to BAA. Your doing so is always greatly appreciated. Please remember: web orders only. And please remember also that if you are shopping for items that we carry in the BAA Online Store (as noted in red at the close of this post below) we would of course appreciate your business.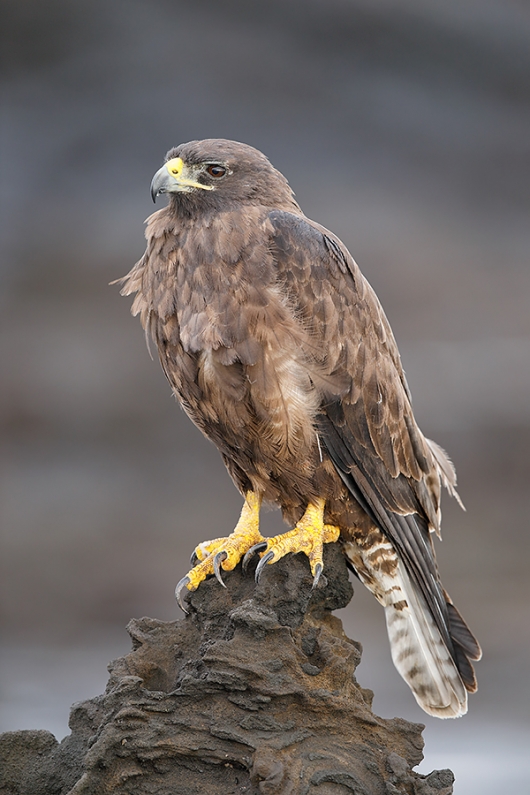 This image was at James Bay, Puerto Egas on the 2017 Galapagos IPT with Induro GIT 304L/Mongoose M3.6-mounted Canon EF 500mm f/4L IS II USM lens and my favorite bird photography camera body, the Canon EOS 5D Mark IV. ISO 800. Evaluative metering at -2/3 stop: 1/125 sec. at f/5.6 in Manual mode. AWB.
LensAlign/FocusTune micro-adjustment: +5.
One AF point to the left and five rows up from the center AF point/AI Servo/Expand/Shutter button AF was active at the moment of exposure. The selected AF point was placed slightly below the bird's eye.
Image #1: Galapagos Hawk perched on lava rock.
Your browser does not support iFrame.
Wishing and Hoping
Kidney transplant surgeon Ajit Huilgol who had made the trip from India with his good friend M.N. Jayakumar, a retired forestry manager, had been hoping for a photographable Galapagos Hawk for two weeks. Also on his wish list was Galapagos Fur Seal. And my roomie, Loren Waxman, had been wishing for a nice male Yellow Warbler for two weeks. On the morning of our last full day all of those prayers were answered. In spades. The fur seals were expected and dependable at this location; the other two were very nice bonuses.
A Good Eye and a Neat Situation
The tide was very low when we landed at James Bay, Puerto Egas and it was dead calm as well. Many in the group had been hoping to do some pleasing blurs of wave-washed Sally Lightfoot crabs but that was simply not gonna happen. Our naturalist/guide Juan scoped out the beach in both directions with his bins and quickly announced that there were three Galapagos Hawks surrounding a sea lion waiting to scavenge the placenta after a very recent birth. We made our way down the beach to the east and approached with care. I had opted to carry my 500 II along with the 100-400 II and the 500mm of reach at f/4 was perfect for the low light conditions. The trick for the exposure with the dark background and the dark bird was to avoid significant blinkies on the yellow on the bird's bill. I started at f/4 but with the bird posing as if it were a statue I dropped down to f/5.6 for a bit of extra depth-of-field. I varied my backgrounds by moving a bit right or left and lowering or raising the tripod. Today's featured Image #1 was my favorite from the series.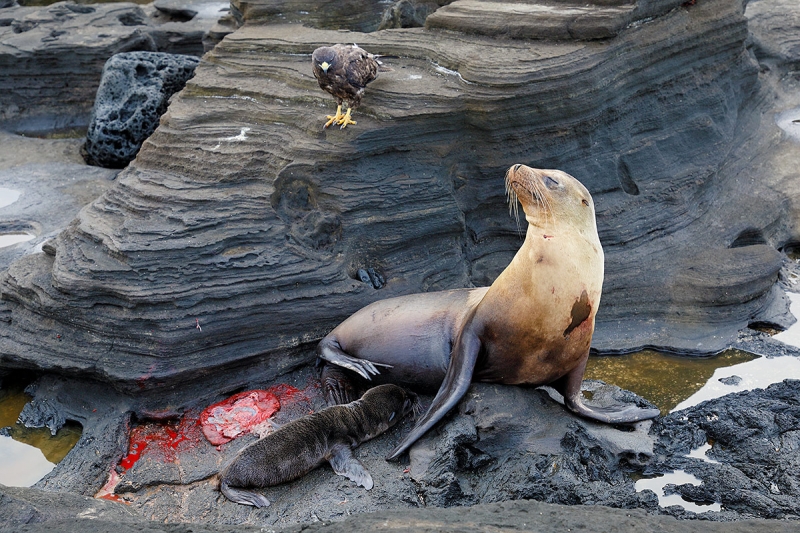 This image was created at the same location with the hand held Canon 24-105mm f/4 L IS lens (now replaced by the Canon EF 24-105mm f/4L IS II USM lens) at 50mm and my favorite bird photography camera body, the Canon EOS 5D Mark IV. ISO 800. Evaluative metering: 1/125 sec. at f/5.6. AWB.
Center AF point/AI Servo/Expand rear button AF on the mother sea lion's face and re-compose. Click here to see the latest version of the Rear Focus Tutorial.
Image #2: Galapagos Sea Lion, newborn pup, the placenta, and Galapagos Hawk
Your browser does not support iFrame.
Don't Leave Home Without It …
I've said here many times, "Whenever I opt to head into the field without my 24-105 I usually come to regret it quite quickly." When I muttered, "Yikes, I see a great image with a 24-105 but I left mine on the ship," participant Frank Sheets offered to loan me his. I approached slowly so as to get over the big rock in the foreground; momma sea lion was sitting in a bit of a crevice in the rocks. As the light had not changed, I went with the same exposure setting that I had used for the hawk portrait and then checked the histogram which looked just fine. As the hawk got closer and closer the mother sea lion lunged at it a few times possibly thinking that the predator was after her pup rather than after the afterbirth. My shutter speed was too low for any action shots and the angle was much better for those to my left. After a while all three of the hawks took off, and so did my group. When we returned several hours later the placenta had been completely devoured.
Your Favorite?
Which of today's featured images do you like best? Be sure to let us know why.
If In Doubt
If in doubt about using the BAA B&H affiliate link correctly, you can always start your search by clicking here. Please note that the tracking is invisible. Please, however, remember to shoot me your receipt via e-mail.
Please Remember to use my Affiliate Links and to Visit the New BAA Online Store 🙂
To show your appreciation for my continuing efforts here, we ask, as always, that you get in the habit of using my B&H affiliate links on the right side of the blog for all of your photo and electronics purchases. Please check the availability of all photographic accessories in the New BIRDS AS ART Online Store, especially the Mongoose M3.6 tripod head, Wimberley lens plates, Delkin flash cards and accessories, and LensCoat stuff.
As always, we sell only what I have used, have tested, and can depend on. We will not sell you junk. We know what you need to make creating great images easy and fun. And please remember that I am always glad to answer your gear questions via e-mail.
I would of course appreciate your using our B&H affiliate links for all of your major gear, video, and electronic purchases. For the photographic stuff mentioned in the paragraph above, and for everything else in the new store, we, meaning BAA, would of course greatly appreciate your business. Here is a huge thank you to the many who have been using our links on a regular basis and those who will be visiting the New BIRDS AS ART Online Store as well.
Amazon.com
Those who prefer to support BAA by shopping with Amazon may use the logo link above.
Amazon Canada
Many kind folks from north of the border, eh, have e-mailed stating that they would love to help us out by using one of our affiliate links but that living in Canada and doing so presents numerous problems. Now, they can help us out by using our Amazon Canada affiliate link by starting their searches by clicking here.
Facebook
Be sure to like and follow BAA on Facebook by clicking on the logo link upper right. Tanks a stack.
Typos
In all blog posts and Bulletins, feel free to e-mail or to leave a comment regarding any typos or errors. Just be right :).