Stuff
I got a ton of work done on my 2016 taxes on Monday morning. I swam before lunch and then relaxed with golf and then tennis on TV. I was glad to learn on Monday that the sale of Ron Paulk's Canon 600mm f/4L IS II lens to an overseas buyer is pending.
ps: Web surfers: check out the really interesting Only Engineers Can Understand Facebook page here.
Important Blog Subscription News
Many folks have been e-mailing recently stating that they have not been receiving blog notices via e-mail after having received them for years. They are actually still subscribed. But, since we went to a new server, we have been having problems with certain e-mail providers, most notably with att.net. Our understanding is that they, and several others including pacbell.net, bellsouth.net, mcn.net (and possibly others) have black-listed us for no reason whatsoever. 🙂 We have been aware of and have been working on this issue but there is a chance that the situation may never be fixed. Actually, the exact same problem has persisted for several years on BirdPhotographer's.Net. My solution there was to open a free gmail account and get in the habit of checking it every day. I still do just that so that I can get my BPN notices and respond to the various threads that I am following.
At present, there are two viable solutions:
1- You can open a free gmail account and subscribe at that address. You will get your BAA blog notifications there without a problem.
2- You can save the blog address as a favorite and get in the habit of visiting every day. I should be posting every day for at least the next year … And beyond that as well. Barring any serious health or internet problems.
I am glad that folks miss getting their BIRDS AS ART Blog notices. If you have stopped getting yours and use a different e-mail provider than the four listed above, please click here to shoot me an e-mail. Please be sure to let us know your e-mail provider.
The Streak
Today marks forty-two days in a row with a new educational blog post. This one took well more than three hours to prepare. What's wrong with me? With all of my upcoming free time, the plan right now is to break the current record streak of (I think) four hundred eighty something … Good health and good internet connections willing.
Everybody's Doing It…
Everybody's buying and selling used gear on the BAA Used Gear Page. Sales recently have been through the roof. Selling your used (or like-new) photo gear through the BAA Blog or via a BAA Online Bulletin is a great idea. We charge only a 5% commission. One of the more popular used gear for sale sites charged a minimum of 20%. Plus assorted fees! Yikes. They recently folded. And eBay fees are now in the 13% range. The minimum item price here is $500 (or less for a $25 fee). If you are interested please e-mail with the words Items for Sale Info Request cut and pasted into the Subject line :). Stuff that is priced fairly–I offer free pricing advice, usually sells in no time flat. In the past few months, we have sold just about everything in sight. Do know that prices on some items like the EOS-1D Mark IV, the old Canon 500mm, the EOS-7D, and the original 400mm IS DO lens have been dropping steadily. Even the prices on the new 600 II and the 200-400 with Internal Extender have been plummeting. You can see all current listings by clicking here or by clicking on the Used Photo Gear tab on the right side of the yellow-orange menu bar at the top of each blog post.
Wanted to Buy Service
If you would like to post a wanted to buy item, I will be glad to run it on the blog provided that you agree to pay me a 2 1/2 per cent finder's fee if I am successful, 2 1/2% of the what you wind up paying for the item. To list an item, please click only here and let me know what lens or camera body you are looking for.
Those wishing to sell a wanted to by item, please click here to shoot me an e-mail. Once I get your e-mail I will send you the Items for Sale Info e-mail. If you agree to all the usual terms we will work together to determine a fair price and then I will put you in touch with the prospective buyer. If a sale is not completed within two weeks, you agree that I will list the item for sale in a blog post and on the Used Gear page. In addition, you agree not to sell the item to the person who originally wanted to buy the item. As always, we rely on the honor system. Once the seller cashes the check they will pay me 5% of the original asking price. Note: the cost of insured Ground Shipping via major courier is always paid by the seller.
New Listing
Canon EOS 7D Mark II
IPT veteran Mike Ross is offering a Canon EOS 7D Mark II camera body with the Canon BG-E16 Battery Grip (a $209 value) all in mint condition for $1,099. The sale includes the strap, the front body cap, the original product box, the battery and battery charger, an extra Wasabi battery, the cables and insured ground shipping via UPS to US 48 state addresses only. Your item will not ship until payment is made via PayPal.
Please contact Mike via e-mail or by phone at 1-707-864-0614 (Pacific time).
Both Patrick Sparkman and I used and loved the 7D Mark II until about two years ago when we both committed to using full frame Canon bodies. We both made some truly great images with it. Two of my three 2016 Nature's Best honored entries were created with the 7D II, one still, and one video. It is surely the greatest value ever in a digital camera body .. artie
Booking.Com
I could not secure the lodging that I needed for the UK Puffins and Gannets IPT in Dunbar, Scotland, so I went from Hotels.Com to Booking.Com and was pleasantly surprised. I found the rooms that I needed with ease at a hotel that was not even on Hotels.Com, and it was a nice hotel that I had seen in person. And the rates were great. If you'd like to give Booking.Com a shot, click here and you will earn a $25 reward.
Thanks to the many who have already tried and used this great service.
Revamped
I recently updated the IPT page. If you doubt that I am really slowing down, click here to see the meager IPT schedule. Right now there are only two US-based IPTs on the schedule. Best news is I now have two folks registered for the Fort DeSoto IPT so that will run. Do consider joining us if you would like to learn from the best.
Photographers Wanted
If you would like to learn to become a much better bird photographer, consider joining me on either the Fort DeSoto IPT in late September or the San Diego IPT in January, 2018. With four folks signed up, DeSoto will offer practically private instruction. And you can tack on the In-the-Field/Meet-up Workshop Session on the morning of Tuesday September 26, 2017 for free. Scroll down for details. Click here for complete IPT info and the current but abbreviated schedule.
Gear Questions and Advice
Too many folks attending BAA IPTs and dozens of folks whom I see in the field, and on BPN, are–out of ignorance–using the wrong gear especially when it comes to tripods and more especially, tripod heads… Please know that I am always glad to answer your gear questions via e-mail.
Please Don't Forget …
As always–and many folks have been doing a really great job for a long time now–please remember to use the BAA B&H links for your major and minor gear purchases. For best results, use one of our many product-specific links; after clicking on one of those you can continue shopping with all subsequent purchases invisibly tracked to BAA. Your doing so is always greatly appreciated. Please remember: web orders only. And please remember also that if you are shopping for items that we carry in the BAA Online Store (as noted in red at the close of this post below) we would of course appreciate your business.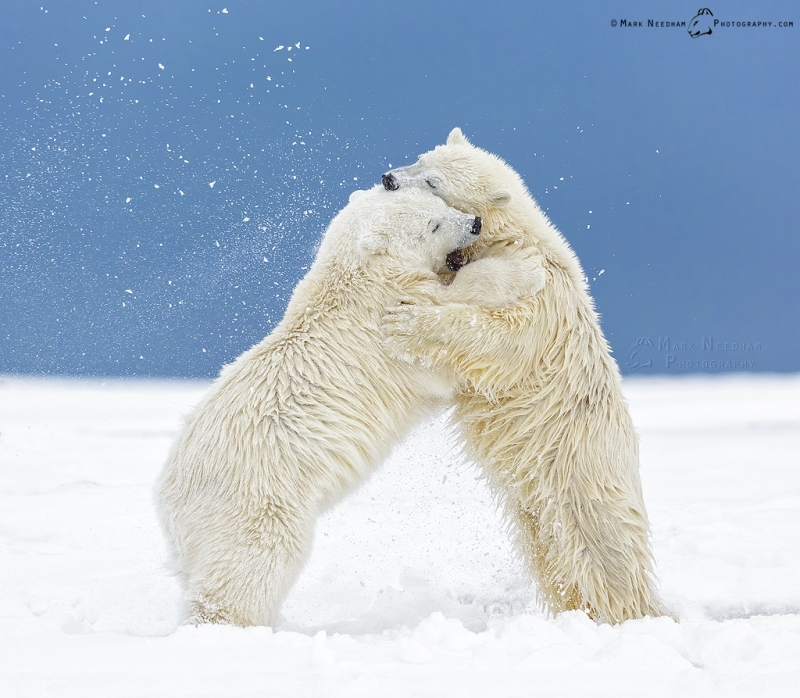 This image was created with the beanbag/Visual Echoes Panning Ground Pod-supported Canon EF 500mm f/4L IS II USM lens and the Canon EOS 5D Mark III (now replaced by my beloved Canon EOS 5D Mark IV. ISO 2000. Spot metering off the snow + 2 1/3 stops: 1/1250 sec. at f/6.3 in Manual mode.
Polar Bears jousting, from a boat in the Beaufort Sea, Alaska. Image courtesy of and copyright 2014: Mark Needham
Your browser does not support iFrame.
Mark Needham
I have known Mark Needham just a bit on BirdPhotographer's.Net for several years. His images always impressed me and he is obviously a skilled photographer. But — very busy at work — he does not get to photograph a lot or to post often. He is a Professor in the Department of Forest Ecosystems and Society at Oregon State University. In addition, he is the Editor-in-Chief of the journal, Human Dimensions of Wildlife (both online and in hardcopy at most university libraries). You can see his research and publications listed at Google Scholar and ResearchGate. He is married with no kids, but has a big German shepherd dog named Titan. Mark adds, "His name fits his size and his attitude – LOL!"
You can see what the folks on BPN had to say about today's featured images here and here. Do note that Mark likes boxy crops.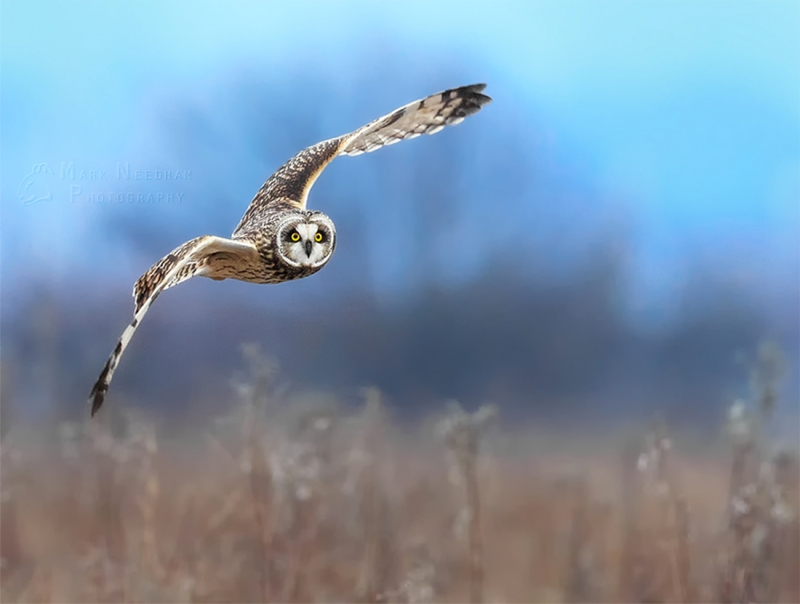 This image was created with the tripod-mounted Canon EF 500mm f/4L IS II USM lens and the Canon EOS 60D (I am impressed …) Mark has since upgraded to the EOS 5D Mark III and the EOS-1D X Mark II. ISO 1250. Evaluative metering at about +2/3 stop: 1/2000 sec. at f/5.6 in Manual mode.
Short-eared Owl in flight. Image courtesy of and copyright 2014: Mark Needham
An e-mail Conversation with Mark Needham
am: Hi Mark, It is good to hear from you. Thanks for getting in touch. re:
MN: Hope you are well.
am: I am thanks. And ditto.
NM: I have been reading both the DPP4 RAW Conversion guide and also the The Professional Post-processing Guide, both done with Arash Hazeghi. I bought them both a while ago.
am: Thanks for your purchases.
MN: Looking at the converted RAW images I notice quite a big difference in the ones converted in Lightroom and the ones converted in DPP 4. The DPP4 converted images are cleaner with more realistic colors, they are slightly sharper, and the image quality is better (just as you say in your guides).
am: 🙂
MN: So, I think that you have made me a believer and I will likely convert my workflow to DPP as a starting point instead of LR (and then move on to Photoshop and Nik for specific tweaks after that).
am: You might wish to add my new Current Workflow e-Guide (Digital Basics II) to the mix.
MN: I have a few quick questions:
First, what is the best and/or easiest way to set the black and white points in DPP? (In LR, I can hit Alt while moving the sliders to reveal the points, or shift and then double-click.)
am: When needed — about 25% of the time — I do just that with a Levels adjustment on a layer in Photoshop. Do note and understand that I do not want my WHITEs at 254, 254, 254 and I rarely want my BLACKs at 1, 1, 1. If you blindly set the black and white points that is where you will wind up …
MN: Second, is there a place to adjust vibrance in DPP, or is that something I can only do in Photoshop?
am: There is no Vibrance slider in DPP 4. There is a however, an Adjust image colors tab, the fourth tab on the bottom row. It is similar to the HSL/Greyscale tab in Adobe Camera Raw. I use it very sparingly. And I only rarely increase the Saturation during a RAW conversion in DPP 4. I often increase the Vibrance in Photoshop, sometimes to as high as 70 or 80.
MN: Third, I assume that the Brightness slider in DPP 4 is the same as adjusting the exposure, correct?
am: Yes, that is correct.
MN: Fourth, I sometimes shoot composites if I am too close to an animal so I do not amputate a body part (e.g., three shots across two rows each) and then merge them in LR into one mega-file that can then be processed. Can this be done in DPP or would I need to do this in Photoshop instead?
am: I am pretty sure that it cannot be done in DPP 4. I batch convert the images, put all the TIFFs in a folder labeled "Pano," and then use File > Automate > Photomerge to assemble the pano in Photoshop.
MN: Finally, do you recommend Highlight Tone Priority be set in camera, or that it be disabled? The same goes for the lens corrections (e.g., Peripheral illumination, Chromatic aberration, Distortion, Diffraction) . Do you keep them on or off on the camera menus? (I am usually shooting now with a Canon EOS-1D X Mark II with the 500mm f/4L IS II lens and a 5D Mark III on a 70-200 f/2.8 L IS II zoom lens)?
am: Since I convert virtually all of my images in DPP 4, I keep HTP on except when I need to get down to ISO 50 when creating pleasing blurs. I do keep HTP on my favorites menu so that I can turn it off and on as needed. If you are not converting all of your RAW files in DPP 4, you must keep HTP off or else you might get a false sense of security with your bright WHITEs, especially when photographing in full sun. That said, Arash never enables Highlight Tone Priority. He says, HTP underexposes your photo and then pulls up the shadows during the RAW conversion. That can increase noise.
I turn off all of the lens corrections on the camera. They are set automatically when I load the camera-specific recipe for a given ISO.
MN: Thanks again guys – you have written great guides!
am: Thanks for your kind words and excellent questions. Having seen your work on BPN and having visited your website, I can only say that the quality of your images lends even more weight to your comments on DPP4 RAW Conversion guide and also the The Professional Post-processing Guide. I hope to see you on an IPT some day.
with love, artie
Big Time Thanks to Mark Needham
Thanks a stack Mark for your original e-mail, for allowing me to share your images with everyone here, and for your his help editing this blog post. I do have a suggestion to you: get out more often!
If In Doubt …
If in doubt about using the BAA B&H affiliate link correctly, you can always start your search by clicking here. Please note that the tracking is invisible. Web orders only. Please, however, remember to shoot me your receipt via e-mail.
Please Remember to use my Affiliate Links and to Visit the New BAA Online Store 🙂
To show your appreciation for my continuing efforts here, we ask, as always, that you get in the habit of using my B&H affiliate links on the right side of the blog for all of your photo and electronics purchases. Please check the availability of all photographic accessories in the New BIRDS AS ART Online Store, especially the Mongoose M3.6 tripod head, Wimberley lens plates, Delkin flash cards and accessories, and LensCoat stuff.
As always, we sell only what I have used, have tested, and can depend on. We will not sell you junk. We know what you need to make creating great images easy and fun. And please remember that I am always glad to answer your gear questions via e-mail.
I would of course appreciate your using our B&H affiliate links for all of your major gear, video, and electronic purchases. For the photographic stuff mentioned in the paragraph above, and for everything else in the new store, we, meaning BAA, would of course greatly appreciate your business. Here is a huge thank you to the many who have been using our links on a regular basis and those who will be visiting the New BIRDS AS ART Online Store as well.
Amazon.com
Those who prefer to support BAA by shopping with Amazon may use the logo link above.
Amazon Canada
Many kind folks from north of the border, eh, have e-mailed stating that they would love to help us out by using one of our affiliate links but that living in Canada and doing so presents numerous problems. Now, they can help us out by using our Amazon Canada affiliate link by starting their searches by clicking here.
Facebook
Be sure to like and follow BAA on Facebook by clicking on the logo link upper right. Tanks a stack.
Typos
In all blog posts and Bulletins, feel free to e-mail or to leave a comment regarding any typos or errors. Just be right :).