Stuff
A Day to Remember …
Wednesday was a day to remember. After creating the photograph that is today's featured image, Jim and I headed to town to try to get some gas so that we could keep running the inverter off of my Sequoia to keep the food cool. I was using about 1/3 tank of gas each long day that I ran the car so it was time. Only one station in Lake Wales had fuel and the line was about a mile long so we skipped that one and headed up towards Winter Haven. We stopped at Lowe's and I grabbed a 9500 watt generator for about a grand. They had just gotten a shipment and were rolling them out on big carts six at a time. And selling them like hot cakes.
But could not, however, find a place with any gas cans for sale … We found a Murphy's that was open. After waiting calmly on line for about ninety minutes we were three cars from paydirt. Then came the "no gas" signs 🙂 We kept going on Cypress Gardens Boulevard for a while and came across a Circle K with gas. We waited on that line for about 45 minutes. We were four cars from success when again, the station ran out 🙂
We were getting a bit concerned as we were close to empty and 40 miles from home. We turned right on 17 North and found a Wawa with cars at the pumps. Jim got on our shortest line yet. I went inside to ask if they were running low and the lady said, "No. We have lots of gas and we get a new shipment every four hours." Hooray.
We stopped at a few likely spots on the way but still no gas cans; but in Lake Wales we did get a pump siphon. It would be easy to siphon gas from my full tank into the generator. Or so we thought. We wrestled the huge generator out of the trunk, wheeled it into the garage to assemble it. The directions were a bit hard to follow and we managed to lose a small nut and bolt (that we later found while looking for something else …) We got the struts on and got the handles on. We followed every instruction. We wired up the battery. We put in the oil. We confidently rolled the generator next to my Sequoia and squeezed and squeezed the bulb, but no gas flowed. Heck, the end of the hose was not even wet with gasoline … I went to our nearest neighbors, a dear couple from the UK to see if they might have a longer siphon. They did. Back to my house, back to the gas tank, same result even with three and one-half feet of tubing. I called a Toyota dealer in San Diego (nobody in FL was answering) and was told that it was not possible to siphon gas out of most newer vehicles because there was a valve that you cannot get past, a valve that keeps vapors from escaping.
I headed back to the neighbor who kindly offered us 2 1/2 gallons of gas. I kindly accepted. We fueled the generator and were good to go. Or so we thought. "Where's the ignition key?" asked Jim? "I did not see any key." After lots of swearing we searched and searched again through all of the packets and all of the packing material. No key. We read the owner's manual from cover to cover twice each, word by word. No mention of where to find the key. So I called Lowe's seven times and seven times I got disconnected. More swear words. At this point I was having a hard time loving what was. And I was too upset to do The Work on the things that were bothering me. In the meantime, Jim was checking over every inch of the generator in search of the key. No luck. I finally got through to a human at Lowe's and was told to hold for the duty manager. Just as the woman said hello Jim said, "I found the keys!" I hung up.
Where had the keys been hiding? There was a 1 1/2 by 3 inch white "What to do if your lights are flickering" tag tied onto a piece of black tubing with a yellow string. Right next to that, previously unseen by us, were two very small keys tied on by a thin black piece of string. They key were right below and completely hidden by the larger white tag 🙂
Jim had the generator up and running in short order. We ran the one stand alone freezer and my older refrigerator/freezer until we hit the sack at 9:45pm. All's well that ends well 🙂
The good thing about our gas acquisition trip was that we spent six hours in an air-conditioned vehicle. As predicted, it was hotter than Hades yesterday with no breeze. And it is looking like more of the same for today, Thursday September 14. I woke at 5am this morning in a pool of sweat. There was still not a breath of air. Amazingly however, despite having drank a ton water right before bed last night, I had slept seven straight hours without a pit stop, a record since my major prostate surgery in March, 2016.
Despite hearing what seemed like mildly encouraging news on Tuesday, it is looking as if everyone at Indian Lake Estates might be without power for at least a week or two. Or not.
Good News
I have signed up several folks for both the 2018 UK Puffins and Gannet IPT with the cost-sharing Bempton Cliffs Pre-trip that includes 100% free instruction and the July/August 2019 Galapagos Photo-Cruise of a Lifetime, the world's best Galapagos photo trip. By far. Both before they have been formally announced, by word of mouth only. If you would like advance info on either trip please shoot me an e-mail.
The Streak
Today marks fifty-one days in a row with a new educational blog post. I began this blog post late on Wednesday evening, after my wonderful and cooling evening swim that ended just after sunset. I finished it this morning. It took about two hours in all to prepare. With all of my upcoming free time (or not …), the plan right now is to break the current record streak of (I think) four hundred eighty something … Good health and good internet connections willing.
Everybody's Doing It…
Everybody's buying and selling used gear on the BAA Used Gear Page. Sales recently have been through the roof. Selling your used (or like-new) photo gear through the BAA Blog or via a BAA Online Bulletin is a great idea. We charge only a 5% commission. One of the more popular used gear for sale sites charged a minimum of 20%. Plus assorted fees! Yikes. They recently folded. And eBay fees are now in the 13% range. The minimum item price here is $500 (or less for a $25 fee). If you are interested please e-mail with the words Items for Sale Info Request cut and pasted into the Subject line :). Stuff that is priced fairly–I offer free pricing advice, usually sells in no time flat. In the past few months, we have sold just about everything in sight. Do know that prices on some items like the EOS-1D Mark IV, the old Canon 500mm, the EOS-7D, and the original 400mm IS DO lens have been dropping steadily. Even the prices on the new 600 II and the 200-400 with Internal Extender have been plummeting. You can see all current listings by clicking here or by clicking on the Used Photo Gear tab on the right side of the yellow-orange menu bar at the top of each blog post.
Booking.Com
I could not secure the lodging that I needed for last year's UK Puffins and Gannets IPT in Dunbar, Scotland, so I went from Hotels.Com to Booking.Com and was pleasantly surprised. I found the rooms that I needed with ease at a hotel that was not even on Hotels.Com, and it was a nice hotel that I had seen in person. And the rates were great. If you'd like to give Booking.Com a shot, click here and you will earn a $25 reward.
Thanks to the many who have already tried and used this great service.
Revamped
I recently updated the IPT page. If you doubt that I am really slowing down, click here to see the meager IPT schedule. Right now there are only two US-based IPTs on the schedule. Best news is I now have two folks registered for the Fort DeSoto IPT so that will run. Do consider joining us if you would like to learn from the best.
Photographers Wanted
If you would like to learn to become a much better bird photographer, consider joining me on either the Fort DeSoto IPT in late September or the San Diego IPT in January, 2018. With four folks signed up, DeSoto will offer practically private instruction. And you can tack on the In-the-Field/Meet-up Workshop Session on the morning of Tuesday September 26, 2017 for free. Scroll down for details. Click here for complete IPT info and the current but abbreviated schedule.
Gear Questions and Advice
Too many folks attending BAA IPTs and dozens of folks whom I see in the field, and on BPN, are–out of ignorance–using the wrong gear especially when it comes to tripods and more especially, tripod heads… Please know that I am always glad to answer your gear questions via e-mail.
Please Don't Forget …
As always–and many folks have been doing a really great job for a long time now–please remember to use the BAA B&H links for your major and minor gear purchases. For best results, use one of our many product-specific links; after clicking on one of those you can continue shopping with all subsequent purchases invisibly tracked to BAA. Your doing so is always greatly appreciated. Please remember: web orders only. And please remember also that if you are shopping for items that we carry in the BAA Online Store (as noted in red at the close of this post below) we would of course appreciate your business.
What Would Your Post-processing Plan Be?
After you take a peek at the image immediately below, think about how you would process the image. Then keep reading to learn what I did and how I did it. As usual, I am quite proud of what I did with this one in Photoshop.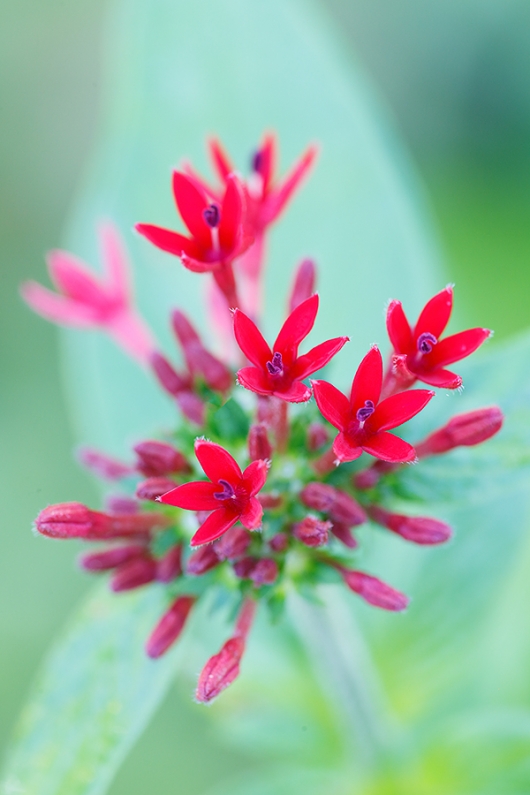 This image was created in Jim's backyard butterfly garden (or at least what survived of it) on the early morning of Wednesday, September 13, 2017 with the Induro GIT304L tripod/Mongoose M3.6-mounted
Canon EF 180mm f/3.5L Macro USM lens and my favorite flower blossoms camera body, the Canon EOS 5D Mark IV. ISO 800. Evaluative metering +1 stop as framed: 1/20 sec. at f/7.1 in Av mode. AWB.
Flexi-zone Rear button AF (in Live View for mirror lock-up and 2-second timer) with the box right on the lowest open blossom just left of center.
Penta (?) blossoms
Your browser does not support iFrame.
Hurricane Irma Survivor
I had been thinking of breaking out the 180 macro for quite some time to photograph some of the flowers in Jim's butterfly garden. After the big tree that fell courtesy of Irma flattened most of Jim's plantings, I finally got my act together. Only a yellow milkweed and this plant made it. After carefully positioning my tripod I made sure that my body shaded the entire blossom and the entire background. I used my still flower technique: Live View with the two-second timer. If you can positively identify this flower or if you agree that it is a penta of some type, please leave a comment. I would like to learn more about it whatever it is.
Image Success Question
Which of the three things below was most responsible for the success of today's featured image. Please let us know why you made your choice.
#1: Positioning the tripod.
#2: Using Live View
#3: Getting the right exposure
If In Doubt …
If in doubt about using the BAA B&H affiliate link correctly, you can always start your search by clicking here. Please note that the tracking is invisible. Web orders only. Please, however, remember to shoot me your receipt via e-mail.
Please Remember to use my Affiliate Links and to Visit the New BAA Online Store 🙂
To show your appreciation for my continuing efforts here, we ask, as always, that you get in the habit of using my B&H affiliate links on the right side of the blog for all of your photo and electronics purchases. Please check the availability of all photographic accessories in the New BIRDS AS ART Online Store, especially the Mongoose M3.6 tripod head, Wimberley lens plates, Delkin flash cards and accessories, and LensCoat stuff.
As always, we sell only what I have used, have tested, and can depend on. We will not sell you junk. We know what you need to make creating great images easy and fun. And please remember that I am always glad to answer your gear questions via e-mail.
I would of course appreciate your using our B&H affiliate links for all of your major gear, video, and electronic purchases. For the photographic stuff mentioned in the paragraph above, and for everything else in the new store, we, meaning BAA, would of course greatly appreciate your business. Here is a huge thank you to the many who have been using our links on a regular basis and those who will be visiting the New BIRDS AS ART Online Store as well.
Amazon.com
Those who prefer to support BAA by shopping with Amazon may use the logo link above.
Amazon Canada
Many kind folks from north of the border, eh, have e-mailed stating that they would love to help us out by using one of our affiliate links but that living in Canada and doing so presents numerous problems. Now, they can help us out by using our Amazon Canada affiliate link by starting their searches by clicking here.
Facebook
Be sure to like and follow BAA on Facebook by clicking on the logo link upper right. Tanks a stack.
Typos
In all blog posts and Bulletins, feel free to e-mail or to leave a comment regarding any typos or errors. Just be right :).