Stuff
We are re-adjusting to life with electricity and lights. Yesterday we cleaned our main fridge/freezer — it really needed the Clorox spray! — and defrosted the stand alone freezer. We hope to get Jim into the BAA Online Store this morning though we will likely not have phone or DSL service until at least September 25. If you have Frontier providing you any services, do your best to find someone else. They are beyond pathetic.
If you missed the announcement of the new, expanded UK Puffins and Gannets 2018 IPT with the the Bempton Cliffs pre-trip in yesterday's blog post, please click here.
The Streak
Today marks fifty-six days in a row with a new blog post — Irma be damned! This one took about ninety minutes to prepare. With all of my upcoming free time (or not …), the plan right now is to break the current record streak of (I think) four hundred eighty something … Good health and good internet connections willing.
Everybody's Doing It…
Everybody's buying and selling used gear on the BAA Used Gear Page. Sales recently have been through the roof. Selling your used (or like-new) photo gear through the BAA Blog or via a BAA Online Bulletin is a great idea. We charge only a 5% commission. One of the more popular used gear for sale sites charged a minimum of 20%. Plus assorted fees! Yikes. They recently folded. And eBay fees are now in the 13% range. The minimum item price here is $500 (or less for a $25 fee). If you are interested please e-mail with the words Items for Sale Info Request cut and pasted into the Subject line :). Stuff that is priced fairly–I offer free pricing advice, usually sells in no time flat. In the past few months, we have sold just about everything in sight. Do know that prices on some items like the EOS-1D Mark IV, the old Canon 500mm, the EOS-7D, and the original 400mm IS DO lens have been dropping steadily. Even the prices on the new 600 II and the 200-400 with Internal Extender have been plummeting. You can see all current listings by clicking here or by clicking on the Used Photo Gear tab on the right side of the yellow-orange menu bar at the top of each blog post.
Latest Used Gear Kudos
via e-mail from Robert Blanke
Hey Artie. Thank you again–the 5D s sale makes four cameras sold at fair prices and commissions, with the first three going in one day! Cheers Robert
Used Gear Sale from the past month
Robert Blanke sold his Canon EOS 5Ds body in like-new condition for $2249.00 in early September.
Ron Paulk sold his Canon EF 600mm f/4L IS II USM lens in like-new condition for $9,899 with lots of great extras in early September.
Lisa Tri sold her Canon 70-200mm f/2.8L IS USM Zoom lens (the original IS version) in near-mint condition for the BAA record low price of $898 in early September.
IPT veteran Joe Messina sold his Canon EF 200-400mm f/4L IS USM Lens with Internal 1.4x Extender in excellent plus condition for the BAA record-low price of $7,900 in early September.
Ivan Kuraev sold his Canon 100-400mm f/4.5-5.6L IS II USM lens in near-mint condition for $1699 and his Canon EOS 5D Mark IV in excellent near-mint condition for $2499 in early September.
IPT veteran Mike Ross sold his Canon EOS 7D Mark II with the Canon BG-E16 Battery Grip all in mint condition for $1,099 on the first day it was listed in early September.
Ray Stranagan sold his Canon EF 300mm f/2.8L IS II USM Lens in excellent condition for $3999 in early September, just three days after it was listed.
IPT veteran Richard Bohnet also sold his Canon EOS 5D MK III (with an L-bracket) in near-mint condition for $1449 and his Canon EOS 7D in excellent condition for $279 in late August.
IPT veteran Richard Bohnet sold his Canon EF 100-400mm f/4.5-5.6L IS USM lens (the "old" 1-4) in excellent condition for an even $500 in mid-August.
Multiple IPT veteran Carlotta Grenier sold her Canon EOS-1DX camera body in excellent condition for $2358 and a never used Sigma 150-600mm f/5-6.3 DG OS HSM Sports Lens for Canon EF in better than like-new condition for the BAA record low price of $998.
Eric Karl sold his Canon EOS 5D Mark III body in very good plus condition with extras for $1,300 in mid-August.
Canon EOS 7D Mark II
BPN member Isaac Grant is offering a used Canon EOS 7D Mark II DSLR camera body in near-mint condition for $879. The sale includes an extra Canon battery (a $64 value), the front body cap, the camera strap, all the CDs and cords, the original box with everything that was in it, and insured ground shipping via major courier. Your item will not ship until your check clears unless other arrangements are made. Photos of the body are available upon request.
Please contact Isaac via e-mail or by phone at 914-629-3820 (Eastern time).
Both Patrick Sparkman and I used and loved the 7D Mark II until about two years ago when we both committed to using full frame Canon bodies. We both made some truly great images with it. Two of my three 2016 Nature's Best honored entries were created with the 7D II, one still, and one video. artie
Booking.Com
I could not secure the lodging that I needed for last year's UK Puffins and Gannets IPT in Dunbar, Scotland, so I went from Hotels.Com to Booking.Com and was pleasantly surprised. I found the rooms that I needed with ease at a hotel that was not even on Hotels.Com, and it was a nice hotel that I had seen in person. And the rates were great. If you'd like to give Booking.Com a shot, click here and you will earn a $25 reward.
Thanks to the many who have already tried and used this great service.
Gear Questions and Advice
Too many folks attending BAA IPTs and dozens of folks whom I see in the field, and on BPN, are–out of ignorance–using the wrong gear especially when it comes to tripods and more especially, tripod heads… Please know that I am always glad to answer your gear questions via e-mail.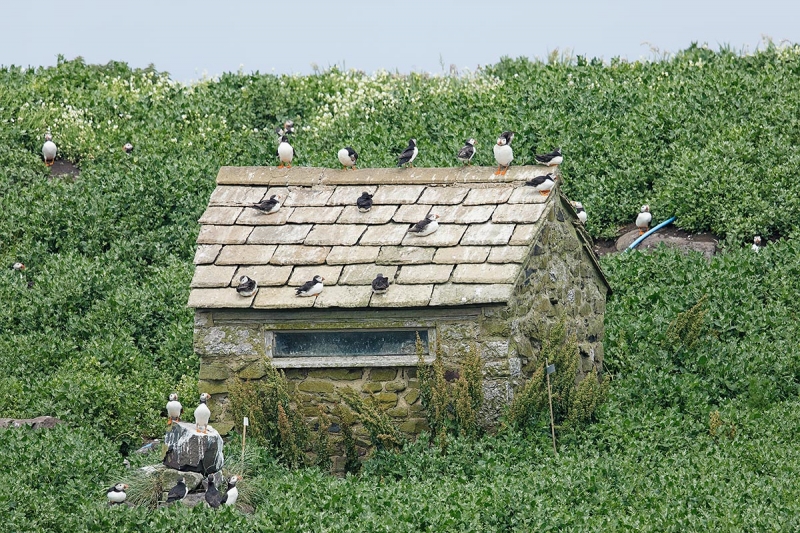 This image was created on the morning boat trip to Staples Island on the 2017 UK Puffins and Gannets IPT. I used the hand held Canon EF 500mm f/4L IS II USM lens, the Canon Extender EF 1.4X III, and my favorite puffin hotel photography camera body, the Canon EOS 5D Mark IV. ISO 800. Evaluative metering +1/3 stop: 1/2500 sec. at f/5.6 in Manual mode. Daylight WB.
LensAlign/FocusTune micro-adjustment: zero.
The center AF point/AI Servo/Expand shutter button AF was active at the moment of exposure. The selected AF point was placed on the roof of the shack. Click on the image to enjoy a larger, inexplicably sharper version.
Image #1: The (optimized) Puffin Hotel
Your browser does not support iFrame.
Photographing from the Boat
Photographing from the boat on the way to the morning landing is not easy. Some days it is rough. Some days the boat is crowded. If you know the ropes, you can get a good spot somewhere along the railing. The captain almost always will give one side of the boat a chance, and then, by turning the boat around, the other. I've made some nice scenic images, some nice images of the bird cliffs, some nice images of various structures on the islands, and rarely, some nice images of single birds either in flight or on the water. On rare occasion when the captain pulls the boat into a small cove, you can even get good photographs of Black-legged Kittiwakes on the nest, sometimes with chicks. These pre-landing sight-seeing cruises average about 30 minutes as we wait for the tide and sea conditions to be good for landing or as we wait for the researchers to open the island.
The Puffin Hotel
Sometimes we look but we do not see. I'd been noticing this little wooden shelter for years before finally doing something about it last July. Why? Perhaps because I rarely have anything more than the 100-400 II in my hands. But at 700mm, I saw the chance for something interesting. When I shared this with the group at dinner, folks said, "Oh, that's so cute." Everyone asked, "Where did you get that?" The next morning I got to point out the little shack as we circled Staples Island.
The Image Processing
The image processing was fairly straight-forward. First I leveled the roof using the Ruler Tool. The puffin standing on the rock with the blue hose on it was headless as it was preening its back so I decided to give him a head borrowed from another puffin. I ran my NIK Color Efex Pro 30/30 recipe on the whole image. That is something that I rarely do.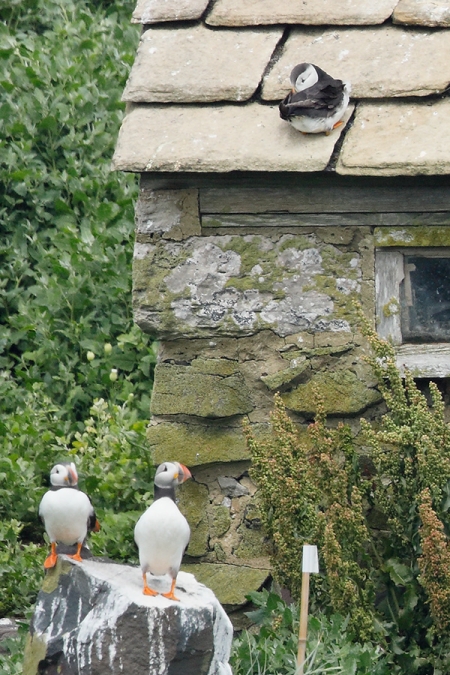 Image #2:The Puffin Hotel
This is an unsharpened tight crop of the converted TIF.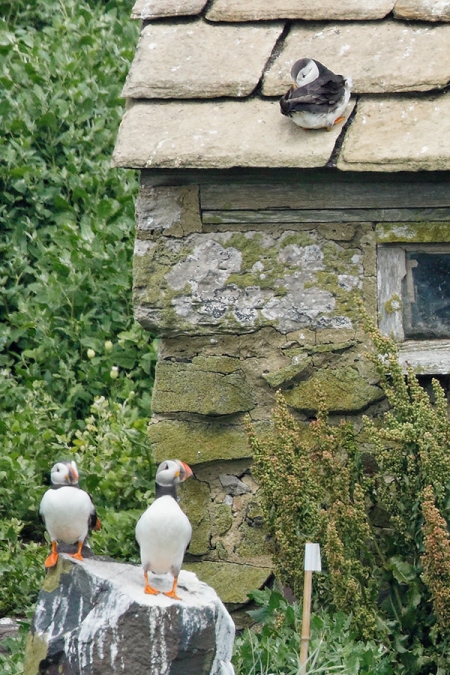 Image #3: The Puffin Hotel
This is an unsharpened tight crop of the optimized TIF.
Sharpness Help Needed
Here is how I prepared the two JPEGs above:
Working at 100% I set the Crop Tool to 2×3 proportion and cropped the images as you see above.
Next I cropped the images to 900 pixels high.
Then I sized them to 450 pixels tall in Word Press. That is how they are presented above. Neither image has been sharpened.
Question #1: Comparing Image #2 with Image #3 are you seeing one as discernably sharper than the other?
Question #2: How would you rate the sharpness of the image that you see as the sharpest. If you see a difference between the two, be sure to specify which image you are referring to.
Question #3: How would you rate the overall sharpness of Image #1, the sharpened optimized image. Best to click on the image to enlarge it first …
If In Doubt …
If in doubt about using the BAA B&H affiliate link correctly, you can always start your search by clicking here. Please note that the tracking is invisible. Web orders only. Please, however, remember to shoot me your receipt via e-mail.
Please Remember to use my Affiliate Links and to Visit the New BAA Online Store 🙂
To show your appreciation for my continuing efforts here, we ask, as always, that you get in the habit of using my B&H affiliate links on the right side of the blog for all of your photo and electronics purchases. Please check the availability of all photographic accessories in the New BIRDS AS ART Online Store, especially the Mongoose M3.6 tripod head, Wimberley lens plates, Delkin flash cards and accessories, and LensCoat stuff.
As always, we sell only what I have used, have tested, and can depend on. We will not sell you junk. We know what you need to make creating great images easy and fun. And please remember that I am always glad to answer your gear questions via e-mail.
I would of course appreciate your using our B&H affiliate links for all of your major gear, video, and electronic purchases. For the photographic stuff mentioned in the paragraph above, and for everything else in the new store, we, meaning BAA, would of course greatly appreciate your business. Here is a huge thank you to the many who have been using our links on a regular basis and those who will be visiting the New BIRDS AS ART Online Store as well.
Amazon.com
Those who prefer to support BAA by shopping with Amazon may use the logo link above.
Amazon Canada
Many kind folks from north of the border, eh, have e-mailed stating that they would love to help us out by using one of our affiliate links but that living in Canada and doing so presents numerous problems. Now, they can help us out by using our Amazon Canada affiliate link by starting their searches by clicking here.
Facebook
Be sure to like and follow BAA on Facebook by clicking on the logo link upper right. Tanks a stack.
Typos
In all blog posts and Bulletins, feel free to e-mail or to leave a comment regarding any typos or errors. Just be right :).