Stuff
Many of you might remember Roseanne Roseannadanna, one of several recurring characters created by the late Gilda Radner, who appeared on Weekend Update in the early seasons of Saturday Night Live. My favorite line of hers was and is, "It's always something." Well, my shoulder has been doing great and my left knee has been getting along just fine. About ten days ago I began having some lower back/hip pain with some pain shooting down my legs on either side. Having had major spinal surgery in 1990, I am hoping not to go that route again and am trying lots of alternative positions and exercises. And mainly avoiding sitting for long periods of time. I am feeling much better today.
I fly home early on Sunday morning.
Young folks might want to enjoy a bit of Gilda Radner's comic brilliance by clicking here.
The Streak
Today makes sixty-nine days in a row with a new educational blog post! This one took about an hour to prepare (including the time spent on the image optimization). With all of my upcoming free time (or not …), the plan right now is to break the current record streak of (I think) four hundred eighty something … Good health and good internet connections willing.
Booking.Com
Booking.Com came through for me once again with both my DeSoto IPT and next July's UK Puffins, Gannets, and Bempton Pre-trip room reservations. And all the rates were great. If you'd like to give Booking.Com a shot, click here and you will earn a $25 reward. Thanks to the many who have already tried and used this great service.
Gear Questions and Advice
Too many folks attending BAA IPTs and dozens of folks whom I see in the field, and on BPN, are–out of ignorance–using the wrong gear especially when it comes to tripods and more especially, tripod heads… Please know that I am always glad to answer your gear questions via e-mail.
Everybody's Doing It…
Everybody's buying and selling used gear on the BAA Used Gear Page. Sales recently have been through the roof. Selling your used (or like-new) photo gear through the BAA Blog or via a BAA Online Bulletin is a great idea. We charge only a 5% commission. One of the more popular used gear for sale sites charged a minimum of 20%. Plus assorted fees! Yikes. They recently folded. And eBay fees are now in the 13% range. The minimum item price here is $500 (or less for a $25 fee). If you are interested please e-mail with the words Items for Sale Info Request cut and pasted into the Subject line :). Stuff that is priced fairly–I offer free pricing advice, usually sells in no time flat. In the past few months, we have sold just about everything in sight. Do know that prices on some items like the EOS-1D Mark IV, the old Canon 500mm, the EOS-7D, and the original 400mm IS DO lens have been dropping steadily. Even the prices on the new 600 II and the 200-400 with Internal Extender have been plummeting. You can see all current listings by clicking here or by clicking on the Used Photo Gear tab on the right side of the yellow-orange menu bar at the top of each blog post.
Latest Used Gear Kudos
via e-mail from Robert Blanke
Hey Artie. Thank you again–the 5D s sale makes four cameras sold at fair prices and commissions, with the first three going in one day! Cheers Robert
New Listings
Canon EOS 5D Mark III
IPT veteran Carolyn Peterson is offering a Canon EOS 5D Mark III camera body in excellent condition for $1399. The sale includes a brand new Vello BG-C9 Battery Grip (an $80 value), the front body cap, one battery (with protective cover), the battery charger, the shoulder strap, the original product box and everything that came in it, and insured ground shipping via major courier to US addresses only.
Your item will not ship until your check clears unless other arrangements are made.
Please contact Carolyn via e-mail or phone at 1-503-730-9262 (Pacific time/evenings best).
I owned and used this superb, full frame, 22mp digital body for several years. It was always my first choice for scenic, Urbex, and flower photography until I fell in love for a while with the 5DS R (for a lot more money!). In addition, I loved my 5D III body for birds with my big lenses and both TCs. I used mine to create many saleable images. artie
Canon GPS receiver GP-E2
Carolyn Peterson is offering a Canon GPS receiver GP-E2 for EOS camera bodies in Near-mint condition for $149. The sale includes the original product box and everything that came in it, and insured ground shipping via major courier to US addresses only.
Your item will not ship until your check clears unless other arrangements are made.
Please contact Carolyn via e-mail or phone at 1-503-730-9262 (Pacific time/evenings best).
This item sells new at B&H for $239.95 so if you are interested it makes sense to grab this one and save more than a few bucks. artie
Canon EF 17-40 f/4L USM Lens
Carolyn Peterson is offering a Canon EF 17-40 f/4L USM lens in near-mint condition for ($499). The sale includes the original product box and everything that came in it including the soft lens pouch, the lens hood, the front and rear caps, and insured ground shipping via major courier to US addresses only.
Your item will not ship until your check clears unless other arrangements are made.
Please contact Carolyn via e-mail or phone at 1-503-730-9262 (Pacific time/evenings best).
The 17-40 is a high quality "L" series wide angle zoom that fits both full frame and APS-C sized DSLRs (and offers 27-64mm coverage with the latter bodies). It focuses down to 11 inches so it is great for both wide angle scenics and tight mini/macro scenics. It conveniently accepts 77mm filters. artie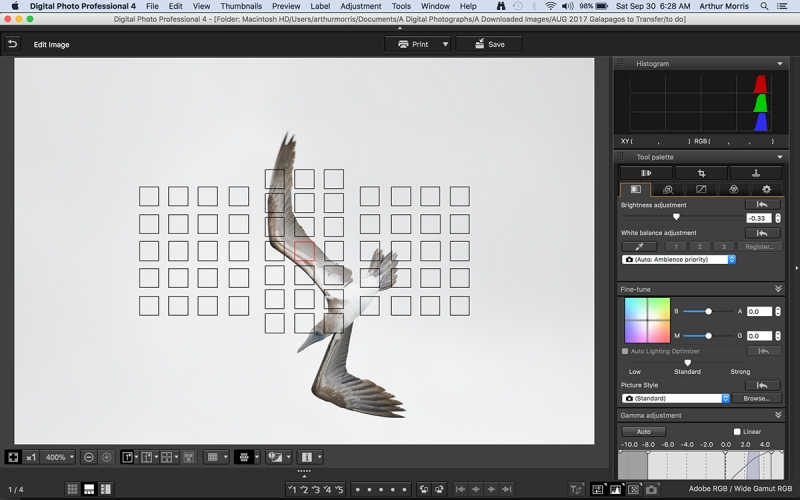 The DPP 4 Screen Capture for today's featured image
The DPP 4 Screen Capture
Again, as with Blue-Footed Booby Diving Image #1 in the blog post here, note how far the exposure has been pushed to the right (that despite the fact that I already moved the Brightness slider to -1/3 stop!) After that adjustment, the RGB values for the brightest WHITEs on the upper rear flank were still at 243, 244, 245 (high for me) and all three histogram channels were pushed almost to the highlight axis. Note also that though once again I failed to get the center AF point on the bird's face, neck, or upper breasts, the image was pretty darned sharp on the eye.
Lastly note that even though this booby was flying towards me (rather than angling away as is typical), that the face was still too dark in the adjusted RAW file (and as it was in the converted TIF as well). If you can remember why that was please leave a comment.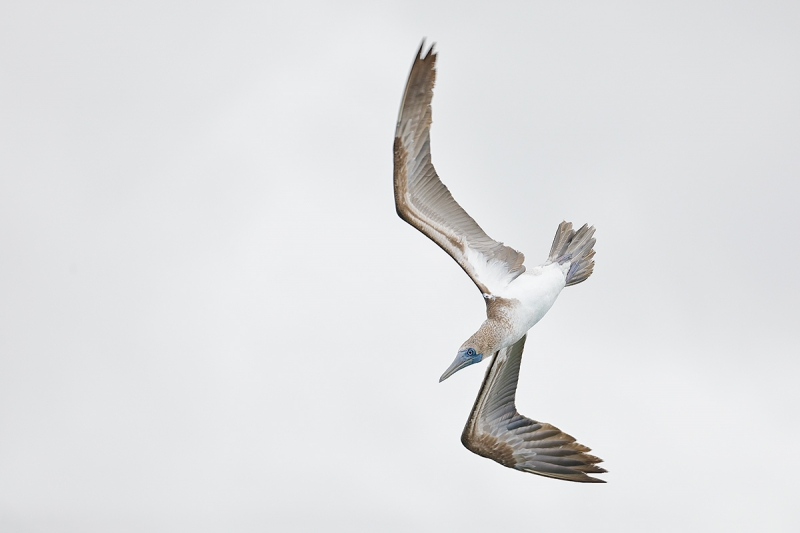 This image was created on the 2017 Galapagos Photo-Cruise of a Lifetime IPT with the hand held Canon EF 100-400mm f/4.5-5.6L IS II USM lens (at 400mm) and my favorite diving booby photography camera body, the Canon EOS 5D Mark IV. ISO 800. Evaluative metering +2 1/3 stops: 1/1000 sec. at f/5.6 in Manual mode. AWB.
Center AF point/AI Servo/Expand/Shutter Button AF was active at the moment of exposure. The selected AF point was on the on center of the upper wing about 1/3 of the way out. See the illuminated-in-red AF point in the DPP 4 screen capture below. Click on the image to enjoy a larger version.
LensAlign/FocusTune micro-adjustment: -5.
Image #2: Blue-footed Booby diving
Your browser does not support iFrame.
Good Fortune
This was one of the very few flight images from that great morning where the bird was flying a bit towards me as it dove. Thus, the head was not as dark as the head of the bird in Blue-footed Booby Diving #1 where the bird was angling away. Nevertheless, after the crop, the image optimization was much the same: quite straightforward. First I ran my NIK 30-30 Detail Extractor/Tonal Contrast recipe on the whole bird. Then I selectively sharpened the bird's head and face with a Contrast Mask and then lightened the head and face of the bird with a Curves Adjustment and some Tim Grey Dodge and Burn where needed. Then I used the latter to do the digital Eye Doctor work that darkened the pupil and lightened the iris. Same old same old.
Lens Choice for Flight
Note that for Blue-footed Booby diving #1 (again in the blog post here), I chose the 400 DO II to take advantage of the extra stop of speed at f/4. After we returned to the second feeding spree it was much later in the day and the sky was much brighter (though still nicely overcast). There were, however, other factors in play. In fact, on our first panga ride that day I have gone from the 400 DO II (4.63 pounds) to the 100-400 II (3.5 pounds) because of fatigue. In addition, with its smaller size the 100-400 II is simply easier to keep on the subject, easier to handle, easier to maneuver. If you are fortunate enough to own both, you are often faced with a challenging decision: grab the 400 DO II for more light, lower ISOs, and faster shutter speeds, or grab the 100-400 II for lighter weight and ease of handling (not to mention the ability to zoom out as needed for close birds or diving flock images) …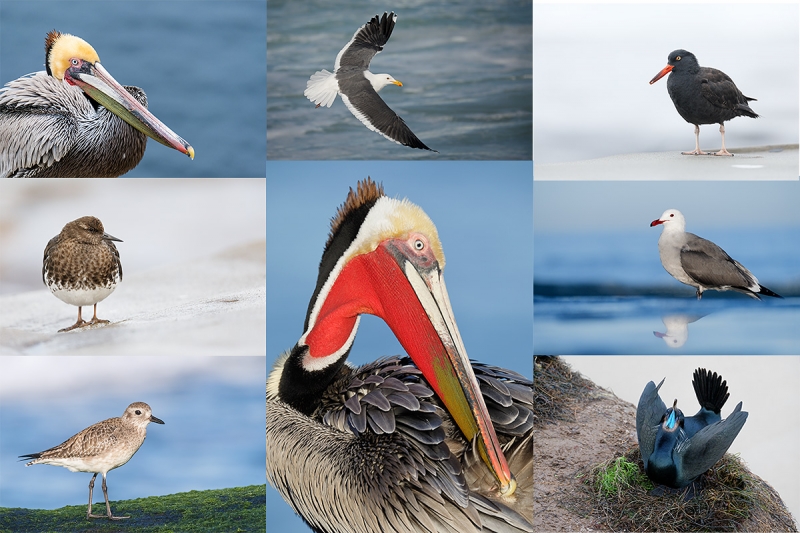 2017 in San Diego was a very good year ….
2018 San Diego 4 1/2-DAY BIRDS AS ART IPT: Monday, JAN 15 thru and including the morning session on Friday, JAN 19, 2018: 4 1/2 days: $2099.
Limit: 8: Openings: 1
Meet and Greet at 6:30pm on the evening before the IPT begins; Sunday, Jan 14, 2018.
Join me in San Diego to photograph the spectacular breeding plumage Brown Pelicans with their fire-engine red and olive green bill pouches; Brandt's (usually nesting and displaying) and Double-crested Cormorants; breeding plumage Ring-necked Duck; other duck species possible including Lesser Scaup, Redhead, Wood Duck and Surf Scoter; a variety of gulls including Western, California, and the gorgeous Heerman's, all in full breeding plumage; shorebirds including Marbled Godwit, Whimbrel, Willet, Sanderling and Black-bellied Plover; many others possible including Least, Western, and Spotted Sandpiper, Black and Ruddy Turnstone, Semipalmated Plover, and Surfbird; Harbor Seal (depending on the current regulations) and California Sea Lion; and Bird of Paradise flowers. And as you can see by studying the two IPT cards there are some nice bird-scape and landscape opportunities as well. Please note: formerly dependable, both Wood Duck and Marbled Godwit have been declining at their usual locations for the past two years …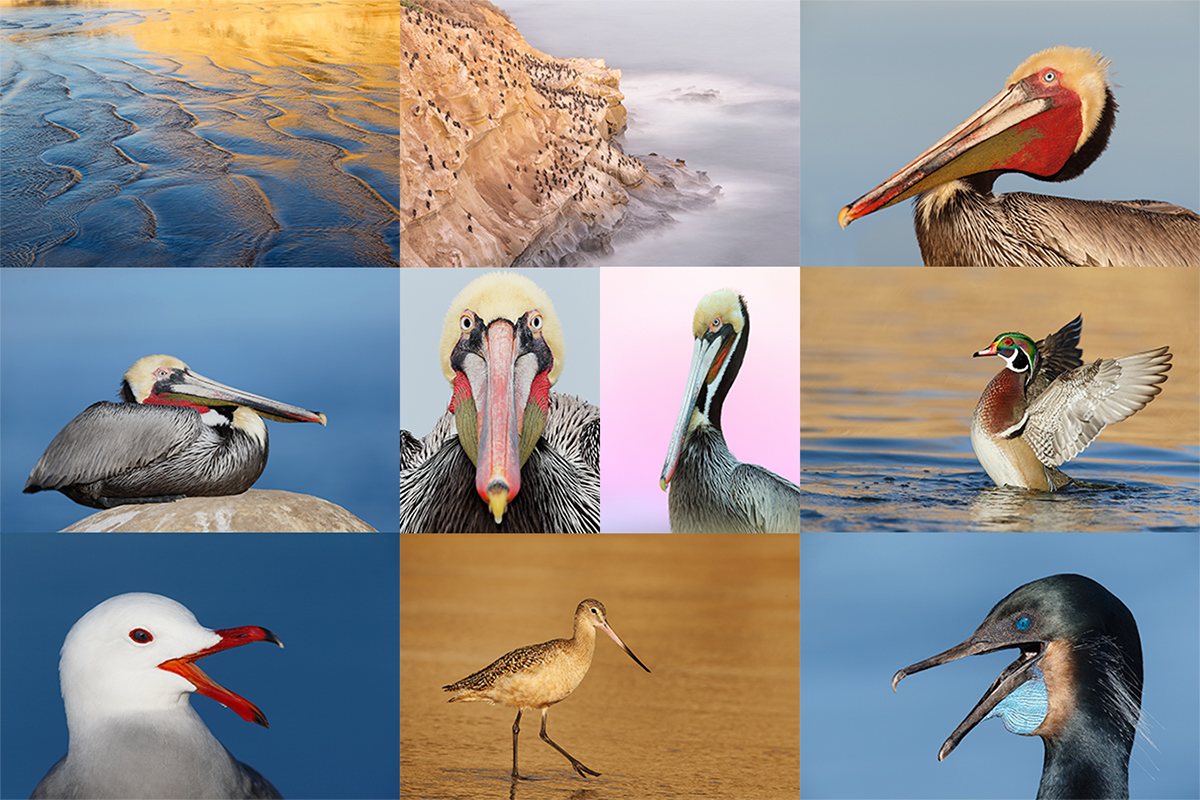 San Diego offers a wealth of very attractive natural history subjects. With annual visits spanning more than three decades I have lot of experience there….
With gorgeous subjects just sitting there waiting to have their pictures taken, photographing the pelicans on the cliffs is about as easy as nature photography gets. With the winds from the east almost every morning there is usually some excellent flight photography. And the pelicans are almost always doing something interesting: preening, scratching, bill pouch cleaning, or squabbling. And then there are those crazy head throws that are thought to be a form of intra-flock communication. You can do most of your photography with an 80- or 100-400 lens …
Did I mention that there are wealth of great birds and natural history subjects in San Diego in winter?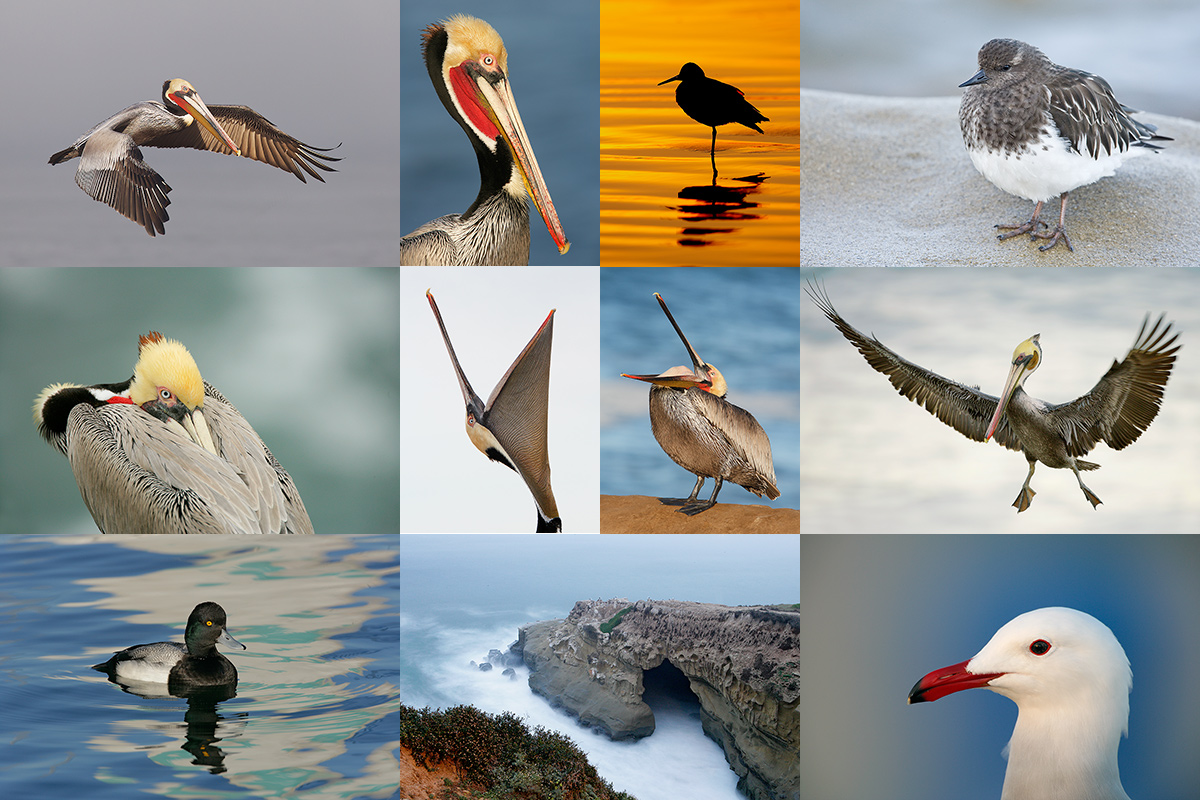 Though the pelicans will be the stars of the show on this IPT there will be many other handsome and captivating subjects in wonderful settings.
The San Diego Details
This IPT will include five 3 1/2 hour morning photo sessions, four 2 1/2 hour afternoon photo sessions, four lunches, and after-lunch image review and Photoshop sessions. To ensure early starts, breakfasts will be your responsibility. Dinners are on your own so that we can get some sleep.
A $599 non-refundable deposit is required to hold your slot for this IPT. You can send a check (made out to "Arthur Morris) to us at BIRDS AS ART, PO Box 7245, Indian Lake Estates, FL, 33855. Or call Jim or Jennifer at the office with a credit card at 863-692-0906. Your balance, payable only by check, will be due on 9/11//2016. If we do not receive your check for the balance on or before the due date we will try to fill your spot from the waiting list. Please print, complete, and sign the form that is linked to here and shoot it to us along with your deposit check. If you register by phone, please print, complete and sign the form as noted above and either mail it to us or e-mail the scan. If you have any questions, please feel free to contact me via e-mail.
If In Doubt …
If in doubt about using the BAA B&H affiliate link correctly, you can always start your search by clicking here. Please note that the tracking is invisible. Web orders only. Please, however, remember to shoot me your receipt via e-mail.
Please Remember to use my Affiliate Links and to Visit the New BAA Online Store 🙂
To show your appreciation for my continuing efforts here, we ask, as always, that you get in the habit of using my B&H affiliate links on the right side of the blog for all of your photo and electronics purchases. Please check the availability of all photographic accessories in the New BIRDS AS ART Online Store, especially the Mongoose M3.6 tripod head, Wimberley lens plates, Delkin flash cards and accessories, and LensCoat stuff.
As always, we sell only what I have used, have tested, and can depend on. We will not sell you junk. We know what you need to make creating great images easy and fun. And please remember that I am always glad to answer your gear questions via e-mail.
I would of course appreciate your using our B&H affiliate links for all of your major gear, video, and electronic purchases. For the photographic stuff mentioned in the paragraph above, and for everything else in the new store, we, meaning BAA, would of course greatly appreciate your business. Here is a huge thank you to the many who have been using our links on a regular basis and those who will be visiting the New BIRDS AS ART Online Store as well.
Amazon.com
Those who prefer to support BAA by shopping with Amazon may use the logo link above.
Amazon Canada
Many kind folks from north of the border, eh, have e-mailed stating that they would love to help us out by using one of our affiliate links but that living in Canada and doing so presents numerous problems. Now, they can help us out by using our Amazon Canada affiliate link by starting their searches by clicking here.
Facebook
Be sure to like and follow BAA on Facebook by clicking on the logo link upper right. Tanks a stack.
Typos
In all blog posts and Bulletins, feel free to e-mail or to leave a comment regarding any typos or errors. Just be right :).