Stuff
On Friday I visited younger sister Arna again, this time with my younger daughter Alissa. Lissy and I ran some errands; I picked up some protein bars for lunch. As is usual I do not eat too well when I am traveling … I had a great dinner with Lissy, her two autistic boys — Ilyas and Idris, and Erin, one of Ilyas' many support aides. Carver's, where we ate, is right around the corner from where my Mom lived for more than ten years. I had never been there. The food was basic but great. Tomorrow Alissa, husband Ajiniyas, and I will be seeing Beautiful, the Carole King musical on Broadway. Fourth row center 🙂
I was pleased to learn that IPT veteran Andrae Acerra sold her barely used Canon EOS 7D Mark II in near mint condition for $924 within two hours of it being listed.
The Streak
Today makes seventy-three days in a row with a new educational blog post! This blog post took less than two hours to prepare (including the short time spent on the image optimization). With all of my upcoming free time (or not …), the plan right now is to break the current record streak of (I think) four hundred eighty something … Good health and good internet connections willing.
Booking.Com
Booking.Com came through for me once again with both my DeSoto IPT and next July's UK Puffins, Gannets, and Bempton Pre-trip room reservations. And all the rates were great. If you'd like to give Booking.Com a shot, click here and you will earn a $25 reward. Thanks to the many who have already tried and used this great service.
Gear Questions and Advice
Too many folks attending BAA IPTs and dozens of folks whom I see in the field, and on BPN, are–out of ignorance–using the wrong gear especially when it comes to tripods and more especially, tripod heads… Please know that I am always glad to answer your gear questions via e-mail.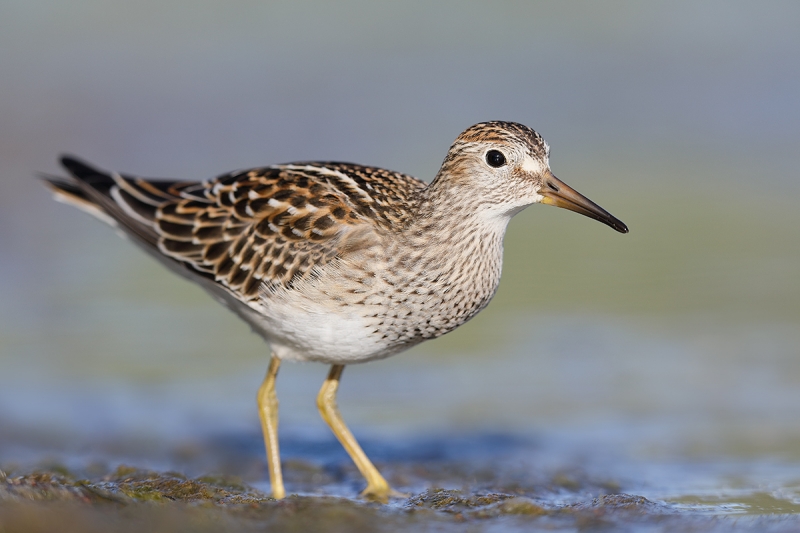 This image was created at the East Pond, Jamaica Bay Wildlife Refuge, Queens, NY CA with the Induro GIT304L Grand Series 3 Stealth Carbon Fiber Tripod/Mongoose M3.6-mounted Canon EF 600mm f/4L IS II USM lens, the Canon Extender EF 1.4X III, and my favorite shorebird photography camera, the Canon EOS 5D Mark IV. ISO 400. Evaluative metering +1/3 stop: 1/800 sec. at f/6.3 in Manual mode. AWB.
Center Large Zone/AI Servo/Shutter Button AF as framed was active at the moment of exposure. The system activated three AF points on the side of the bird's upper breast as seen in the DPP 4 screen capture below. Click on the image to see a larger version.
FocusTune/LensAlign Micro Adjustment: zero.
Pectoral Sandpiper in fresh juvenal plumage
Your browser does not support iFrame.
Celebrating 40 Years in the Mud: Part II
On the morning of Wednesday October 6, Isaac Hayes and I ventured out into the mud on the East Pond. Forty years and a bit ago in August of 1977 I first set foot onto those same South Flats. Though it was prime time for migrant shorebirds, the tide in the surrounding bay was low and there was only a single bird. The young Marbled Godwit had a long upturned bill with a dark tip and an alabaster pink base. Not far behind me, hundreds of vehicles an hour drove north and south on Cross Bay Boulevard. Just beyond the eastern shore of the pond the "A" and "C" trains, part of the New York City subway system, transported hundreds of thousands of New Yorkers each month from their homes in the Rockaways to their jobs in Manhattan and elsewhere. Overhead, huge jetliners landed and took off every few minutes bringing millions of visitors and tons of cargo to the Big Apple from around the world. I remember thinking, none of these folks even know that this beautiful bird is here. At the time, I had no idea that seeing this single bird would change the remainder of the rest of my adult life. But it did just that. And all for the good.
My Target Species …
Understanding the timing of migration for the various shorebird species I had hoped to photograph the handsome juveniles of the following species: White-rumped Sandpiper, Long-billed Dowitcher, Pectoral Sandpiper, and Dunlin. Juvenile Hudsonian Godwit was a wild-assed dream. I knocked off juvie white-rumpeds and the young, molting Dunlin on Tuesday afternoon at the north end. On Tuesday morning we spotted a gorgeous juvenile pectoral that was at first elusive. We carefully approached a small group of shorebirds that included a first-winter Lesser Yellowlegs, two young Semipalmated Plovers, two young Semipalmated Sandpipers, and the highly desired Pectoral Sandpiper. Isaac got in position first and I approached in a crouch. I was sure that we had it made in the shade but as my left knee touched down I spooked the birds. I sat in the mud, apologized to Isaac, and then we both stood stock still. The birds circled the south end of the pond before flying back to us and landing, landing just on the other side of a stand of phragmites in the pond.
"With luck," I whispered, "they should wind up right in front of us in a few minutes." And that they did. I photographed while seated for a while, but my hip pain had me lying face down in the mud in short order. The light was still lovely and the backgrounds sweet and distant. We had a good solid hour with the pectoral and the yellowlegs before they were spooked by a Merlin and departed the pond. All in all we were blessed for the second straight session. Though we never did see a long-billed dow I was thrilled both with the experience and with the images I made on my old stomping grounds.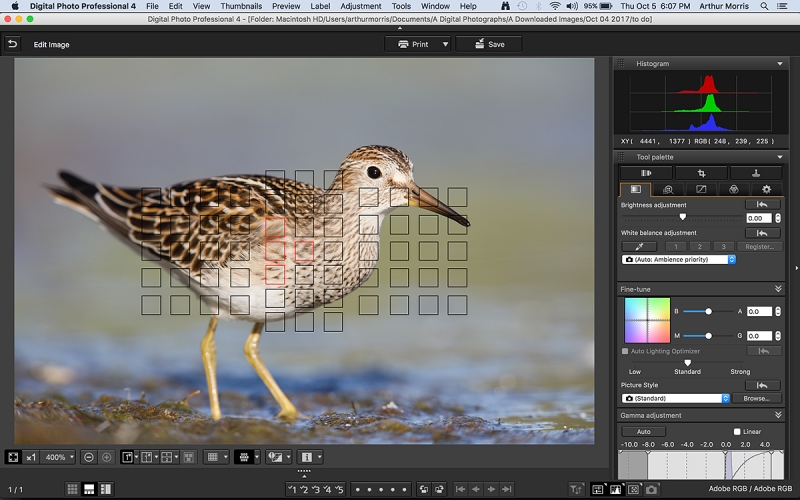 The DPP 4 Screen Capture for today's featured image
Getting Lucky with Center Large Zone AF …
Both the pectoral and the yellowlegs kept coming closer and closer so I switched my 2X III TC for the 1.4X III TC. Tired of having to move the selected AF Expand point around constantly I went to Large Zone AF. With this image, switching to Right Large Zone AF would have been ideal as I could likely have had the activated AF points on the bird's face or neck.
Even with this error the bird's eyelashes are razor sharp. (No, sandpipers do not have eyelashes but that is what the tiny marks on the eye skin look like; and they are a great test of image sharpness. I love that I can easily zoom in when editing my images in Photo Mechanic.)
The question is, "Why are the eyes razor sharp if I screwed up by using the wrong AF Area Selection mode?"
Multiple choice:
a-I had lots of extra depth of field.
b-the bird was relatively far away.
c-the bird was momentarily standing very still.
d-the bird's body was angled toward me.
e-all of the above are correct.
Before and After Image Clean-up
Lying flat down on the the mud is step one when you are looking to eliminate a majority of potential distractions and enjoy a soft, distant background. But there will almost always be some stuff in the mud that will wind up as distractions. With this image the main culprits were stray feathers, small sticks and stems, and bird droppings (whitewash). I used my usual cadre of clean-up tools: the Spot Healing Brush (J), the Patch Tool (my keyboard shortcut P), and Content Aware Fill (Shift + Delete). Notice that unlike most folks I do not depend on the Clone Stamp Tool for my clean-up work and with today's image, I did not use it at all.
Then I used my foreground Gaussian Blur technique. I put the whole image on its own layer, applied a 75-pixel Gaussian Blur, and then added an Inverse (Black or Hide-all) mask. Then, using a soft, 100% opacity brush, I painted the blur in only onto the out-of-focus portions of the foreground. I carefully avoided painting the blur onto the narrow strip on the same plane as the bird's eye <em>that was in sharp focus. In spots where the blur was a bit overdone I hit X and reduced the opacity of the brush to 50% and then painted back in 50% of the original until I was happy with the look.
Note: the posterization that you see in the two images above is a result of the creation of the animated GIF.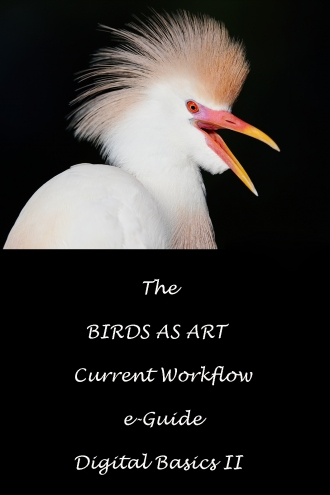 The BIRDS AS ART Current Workflow e-Guide (Digital Basics II) will teach you an efficient Mac/Photo Mechanic/Photoshop workflow that will make it easy for you to make your images better in Photoshop (rather than worse). That true whether you convert your images in DPP 4 or ACR. See the blog post here to learn lots more and to read a free excerpt.
You can order your copy from the BAA Online Store here, by sending a Paypal for $40 here, or by calling Jim or Jennifer weekdays at 863-692-0906 with your credit card in hand.
The BIRDS AS ART Current Workflow e-Guide (Digital Basics II)
Everything mentioned above is covered in detail in the BIRDS AS ART Current Workflow e-Guide (Digital Basics II), an instructional PDF that is sent via e-mail. Learn more and check out the free excerpt in the blog post here. The new e-Guide reflects my Macbook Pro/Photo Mechanic/DPP 4/Photoshop workflow. Do note that you will find the RGB Curves Adjustment Color Balancing tutorial only in the new e-guide. Note: folks working on a PC and/or those who do not want to miss anything Photoshop may wish to purchase the original Digital Basics along with DB II while saving $15 by clicking here to buy the DB Bundle.
The two most recent and many of the older MP4 Photoshop Tutorial videos releases go hand and hand with the information in DB II):
Folks who learn well by following along rather than by reading can check out the complete collection of MP 4 Photoshop Tutorial Videos by clicking here.
You can learn how and why I and other discerning Canon shooters convert nearly all of their Canon digital RAW files in DPP 4 using Canon Digital Photo Professional in the DPP 4 RAW conversion Guide here. And you can learn advanced Quick Masking and advanced Layer Masking techniques in APTATS I & II. You can save $15 by purchasing the pair. Folks can learn sophisticated sharpening and (NeatImage) Noise Reduction techniques in the The Professional Post Processing Guide by Arash Hazeghi and yours truly.
If In Doubt …
If in doubt about using the BAA B&H affiliate link correctly, you can always start your search by clicking here. Please note that the tracking is invisible. Web orders only. Please, however, remember to shoot me your receipt via e-mail.
Please Remember to use my Affiliate Links and to Visit the New BAA Online Store 🙂
To show your appreciation for my continuing efforts here, we ask, as always, that you get in the habit of using my B&H affiliate links on the right side of the blog for all of your photo and electronics purchases. Please check the availability of all photographic accessories in the New BIRDS AS ART Online Store, especially the Mongoose M3.6 tripod head, Wimberley lens plates, Delkin flash cards and accessories, and LensCoat stuff.
As always, we sell only what I have used, have tested, and can depend on. We will not sell you junk. We know what you need to make creating great images easy and fun. And please remember that I am always glad to answer your gear questions via e-mail.
I would of course appreciate your using our B&H affiliate links for all of your major gear, video, and electronic purchases. For the photographic stuff mentioned in the paragraph above, and for everything else in the new store, we, meaning BAA, would of course greatly appreciate your business. Here is a huge thank you to the many who have been using our links on a regular basis and those who will be visiting the New BIRDS AS ART Online Store as well.
Amazon.com
Those who prefer to support BAA by shopping with Amazon may use the logo link above.
Amazon Canada
Many kind folks from north of the border, eh, have e-mailed stating that they would love to help us out by using one of our affiliate links but that living in Canada and doing so presents numerous problems. Now, they can help us out by using our Amazon Canada affiliate link by starting their searches by clicking here.
Facebook
Be sure to like and follow BAA on Facebook by clicking on the logo link upper right. Tanks a stack.
Typos
In all blog posts and Bulletins, feel free to e-mail or to leave a comment regarding any typos or errors. Just be right :).