Stuff
I did enjoy a morning swim on Saturday and then made it over to DeSoto for the afternoon. I searched for the mystery heron/egret but did not find it. With a strong east wind and mostly clear skies, conditions were tough for bird photography; can you say "wind against sun?" But I really do love Desoto. And I did get to photograph a pretty neat rainbow. I ended the day at my favorite secret sunset spot and found a cooperative juvie Great Blue Heron. You can learn about my secret sunset spot in the DeSoto Site Guide. Scroll down for more info on the guide. I did stay over and photograph on Sunday morning. More on that session soon.
I am still looking for a few more folks for San Diego #2. If you are considering this trip and might be interested in adding on a free day of instruction before the IPT begins please shoot me an e-mail.
The Streak
Today makes eighty-one days in a row with a new educational blog post! This blog post took less than an hour to prepare. With all of my upcoming free time (or not …), the plan right now is to break the current record streak of (I think) four hundred eighty something … Good health and good internet connections willing.
Fort DeSoto Site Guide
Fort DeSoto is about the only bird photography hotspot that I know of that has the potential to offer great opportunities every day of the year. The big attractions are shorebirds, all the large wading birds (including Wood Stork and Roseate Spoonbill at various seasons), and many species of terns and gulls. In the spring you can usually photograph the breeding behaviors of Royal & Sandwich Terns and Laughing Gull. Flight photography can be great when a feeding spree occurs just off of the beach. These feature terns and gulls and Brown Pelican. Spring and fall migration can be excellent for all manner of warblers, vireos, gnatcatchers, tanagers, grosbeaks, and orioles in some of the wooded areas. By purchasing the guide you will know exactly where to be on what tide and what wind. Why waste your time searching for the birds when you can just show up and act like a DeSoto veteran?
Get yourself a copy of the Fort DeSoto Site Guide. Learn the best spots, where to be when in what season in what weather. Learn the best wind directions for the various locations. BAA Site Guides are the next best thing to being on an IPT. You can see all of them here.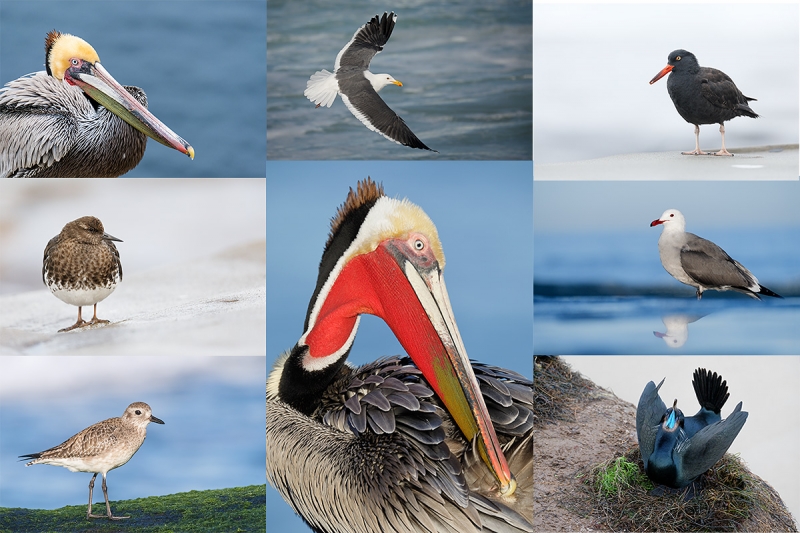 2017 in San Diego was a very good year ….
2018 San Diego 3 1/2-DAY BIRDS AS ART IPT #2: Sunday, JAN 28 thru and including a morning session on Wednesday, JAN 31, 2018: 3 1/2 days: $1699. Limit: 8: Openings: 7
Meet and Greet at 6:30pm on the evening before the IPT begins; Saturday, Jan 27, 2018.
San Diego IPT #2: Shorter and Less Expensive!
Please remember: I go with one.
Click here for details.
Booking.Com
Booking.Com came through for me twice again recently with both the DeSoto Fall IPT and next July's UK Puffins, Gannets, and Bempton Pre-trip room reservations. And all the rates were great. If you'd like to give Booking.Com a shot, click here and you will earn a $25 reward. Thanks to the many who have already tried and used this great service.
Gear Questions and Advice
Too many folks attending BAA IPTs and dozens of folks whom I see in the field, and on BPN, are–out of ignorance–using the wrong gear especially when it comes to tripods and more especially, tripod heads… Please know that I am always glad to answer your gear questions via e-mail.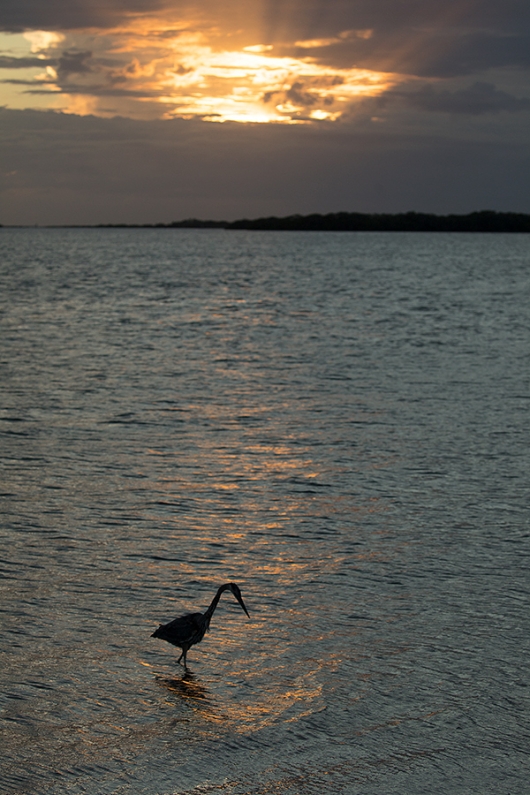 This image was created on the late afternoon of Friday, October 13 with the hand held Canon EF 100-400mm f/4.5-5.6L IS II USM lens (at 112mm) and my favorite bird photography camera, the Canon EOS 5D Mark IV. ISO 800. Evaluative metering -2/3 stop: 1/2,000 sec. at f/6.3 in Av mode. AWB.
Center AF point/AI Servo/Expand/Rear Button AF and recompose.
FocusTune/LensAlign Micro Adjustment: -2.
Great Blue Heron sunrise scenic with god-rays.
Your browser does not support iFrame.
My Critique
The JPEG above represents the RAW file converted straight up in ACR (with no adjustments). The image overall is way too dark because of the underexposure that was needed to hold back the bright sections of the sky … As both the bird and the god rays are a bit too centered, I wish that I had moved two steps to my right so that the bird would have been closer to the lower left corner and the god rays closer to the upper right corner. I created the image at K-7600 to juice up the colors but the underexposure muted those quite a bit. I converted the image in DPP 4 and optimized it in Photoshop. I will share it with you here in a few days.
The First-Ever RAW File/Image Optimization Challenge
If you would like to take a crack at this image please click here to download the RAW file. Save the image to your hard drive, convert it in the program of your choice, and then optimize it with the program of your choice. save the TIF. Then create a sharpened 900 pixel tall JPEG and shoot it to me via e-mail.
Assuming that I receive at least a few decent images, I will publish at least the best one here on Friday along with my optimized version.
If at least a few folks give it a try, we can play this game again. If not — well, you can figure it out. Those who try will wind up learning a ton. And who knows, they may create an image that is stronger than mine 🙂
More 100-400 II Versatility
Note here that I used the hand held Canon EF 100-400mm f/4.5-5.6L IS II USM lens at the wide end to create a scenic (without having to run back to the car for a shorter lens). The focal length range (with or without the Canon Extender EF 1.4X III), its relatively light weight, and its amazing close focus (down to less than one meter) make this the most versatile lens you will ever own. In addition, it is quite an excellent flight lens; being able to zoom out on close-flying pelicans and gulls can be a huge plus. Lastly, as we saw the other day, you can add a few extension tubes and use the 1-4II to photograph very small flowers.
If In Doubt …
If in doubt about using the BAA B&H affiliate link correctly, you can always start your search by clicking here. Please note that the tracking is invisible. Web orders only. Please, however, remember to shoot me your receipt via e-mail.
Please Remember to use my Affiliate Links and to Visit the New BAA Online Store 🙂
To show your appreciation for my continuing efforts here, we ask, as always, that you get in the habit of using my B&H affiliate links on the right side of the blog for all of your photo and electronics purchases. Please check the availability of all photographic accessories in the New BIRDS AS ART Online Store, especially the Mongoose M3.6 tripod head, Wimberley lens plates, Delkin flash cards and accessories, and LensCoat stuff.
As always, we sell only what I have used, have tested, and can depend on. We will not sell you junk. We know what you need to make creating great images easy and fun. And please remember that I am always glad to answer your gear questions via e-mail.
I would of course appreciate your using our B&H affiliate links for all of your major gear, video, and electronic purchases. For the photographic stuff mentioned in the paragraph above, and for everything else in the new store, we, meaning BAA, would of course greatly appreciate your business. Here is a huge thank you to the many who have been using our links on a regular basis and those who will be visiting the New BIRDS AS ART Online Store as well.
Amazon.com
Those who prefer to support BAA by shopping with Amazon may use the logo link above.
Amazon Canada
Many kind folks from north of the border, eh, have e-mailed stating that they would love to help us out by using one of our affiliate links but that living in Canada and doing so presents numerous problems. Now, they can help us out by using our Amazon Canada affiliate link by starting their searches by clicking here.
Facebook
Be sure to like and follow BAA on Facebook by clicking on the logo link upper right. Tanks a stack.
Typos
In all blog posts and Bulletins, feel free to e-mail or to leave a comment regarding any typos or errors. Just be right :).