Stuff
Wednesday was one of those Roseanne Roseannadanna "It's always something" days. It began when I could not turn off the pool's underwater lights. I had turned them on for my very late swim on Tuesday. Then several electrical outlets in my office (in the new rooms in the back of the house) went dead. We tried all the circuit breakers in the garage with no luck. Then, just as I was about to dial Fletcher Electric Jim somehow remembered that the electrical panel for the addition were under a large canvas print of a Sandhill Crane with two chicks on the nest. It was the breaker.
Then when I went to work on this partially prepared blog I learned that the server that hosts both my blog and BPM was down. I tried getting in touch with Peter Kes for hours but he had gone to bed early (in Switzerland).
Things are looking better for Thursday as when I awoke both the BAA blog and BPN were back up and running.
I did get a fair amount of work done on the 5D Mark IV User's Guide and will do more on it today. Still, the woods are lovely, dark and deep.
but I have promises to keep, and miles to go before I sleep. Robert Frost. BTW, it is a chilly 53 degrees here at Indian Lake Estates, FL this morning.
The Streak
Today makes ninety-one days in a row with a new educational blog post! This one took about 90 minutes to prepare over two days. With all of my upcoming free time (or not …), the plan right now is to break the current record streak of 480 … Good health and good internet connections willing.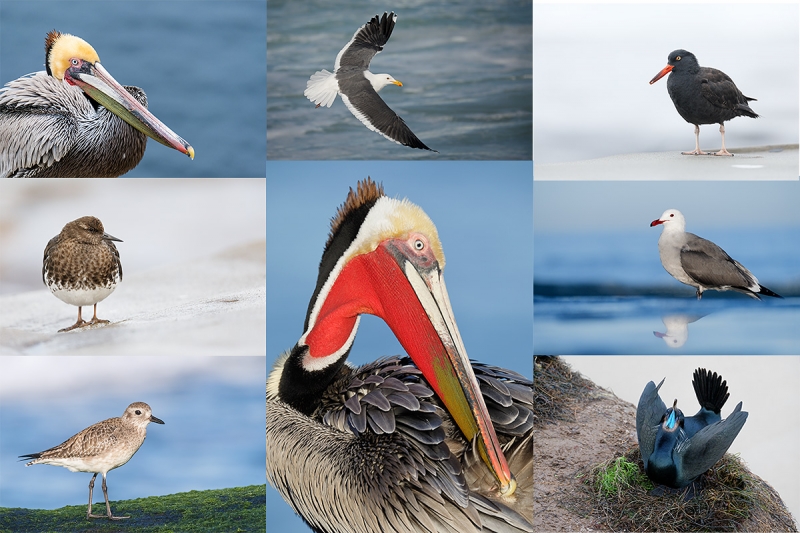 2017 in San Diego was a very good year ….
2018 San Diego 3 1/2-DAY BIRDS AS ART IPT #2: Sunday, JAN 28 thru and including a morning session on Wednesday, JAN 31, 2018: 3 1/2 days: $1699. Limit: 8: Openings: 6
Meet and Greet at 6:30pm on the evening before the IPT begins; Saturday, Jan 27, 2018.
San Diego IPT #2: Shorter and Less Expensive!
I am offering a free morning session on SAT 27 JAN for all who register.
Click here for details.
Booking.Com
Booking.Com came through for me twice again recently with both the DeSoto Fall IPT and next July's UK Puffins, Gannets, and Bempton Pre-trip room reservations. And all the rates were great. If you'd like to give Booking.Com a shot, click here and you will earn a $25 reward. Thanks to the many who have already tried and used this great service.
Gear Questions and Advice
Too many folks attending BAA IPTs and dozens of folks whom I see in the field, and on BPN, are–out of ignorance–using the wrong gear especially when it comes to tripods and more especially, tripod heads… Please know that I am always glad to answer your gear questions via e-mail.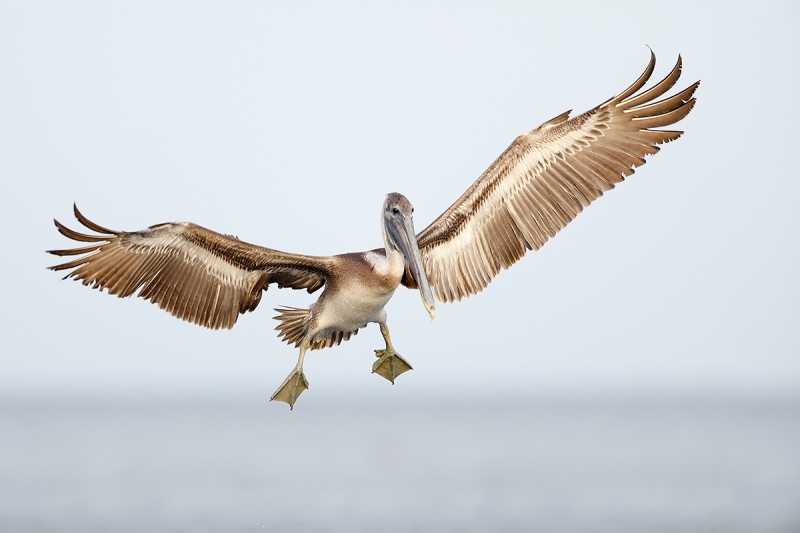 This image was created on Sunday morning, October 22 with the Induro GIT304L Grand Series 3 Stealth Carbon Fiber Tripod/Mongoose M3.6-mounted Canon EF 600mm f/4L IS II USM lens and my favorite bird photography camera, the Canon EOS 5D Mark IV. ISO 800. Evaluative metering +2 1/3 stops of the light grey sky: 1/1600 sec. at f/4 in Manual mode. AWB.
The center AF point/AI Servo/Manual selection/Shutter Button AF as originally framed (see below) was active at the moment of exposure. The selected AF point was placed squarely on the leading edge of the base of the bird's right wing and thus was slightly beyond the plane of the bird's eye. None-the-less, the image is acceptably sharp. The selected AF point should have been squarely placed on the bird's face or upper breast (at worst). Chalk it up to the ravages of age 🙂
FocusTune/LensAlign Micro Adjustment: +2.
Brown Pelican, immature braking to land
Your browser does not support iFrame.
Major or Minor Screw-Up by Yours Truly?
I thought that I had had a pretty darned good morning last Sunday at Desoto, but when I went to edit my images in Photo Mechanic, I noted the none of the photos that I made with my 600II appeared to be in sharp focus. In fact, they all looked like garbage. I wondered if my 600II had somehow been damaged. I did notice also that all of the image files were RAW + JPEG. I never set RAW plus JPEG: .CR2+jpg in Photo Mechanic, and R+J in DPP 4. That's when I realized that the AFA settings for my 600 II had disappeared from my #1 5D IV body. That probably courtesy of Canon repairs.
After getting a perfect (but mostly insignificant) +2 with the 600 alone I realized that the lens was sharp and performing perfectly. Next I viewed the images enlarged in DPP 4 and they looked fine and sharp … So, anyhooo, I went back to Photo Mechanic and tried viewing the images smaller by changing the zoom from 1 to 2. I do not quite understand how or why that worked, but presented smaller, the images looked fine and I was able to judge the sharpness as I usually do. If I zoomed in on the image in PM, it was back to garbage time. Small RAW produces junk files as compared to the superb image quality of a sharp 5D IV large RAW file …
As the image above looks great as presented, I consider the Small RAW debacle a minor screw-up at worse. Scroll down to see more on this topic in the What do you do with your images ??? item below.
Notice
Notice with the soft light in the white sky image above that underwing detail of the fully and perfectly outspread wings of the braking pelican is perfectly and evenly lit. On sunny days, 99% of similar images will show at least some unpleasing shadows on the underwings. That is one reason that I love soft light for flight.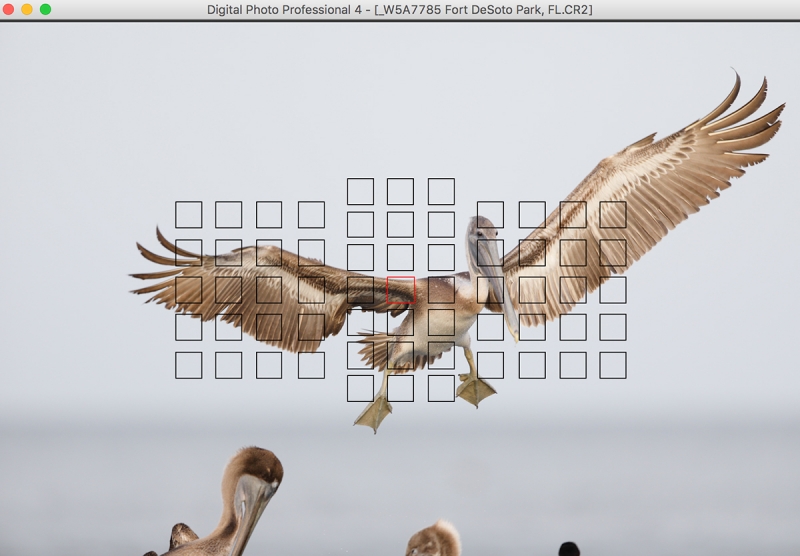 This is a DPP 4 Screen Capture showing the full frame original and the selected AF point.
Your browser does not support iFrame.
A DPP 4 Show Focus Point Screen Capture
In the DPP 4 Show Focus Point screen capture for today's featured image we can see that because of declining strength, hand-eye coordination, and fine motor skills, I failed to get the selected AF point on the "bird's face, neck, or upper breast" (as I always advise). 🙂 If I had nailed this bird with the AF point right between its eyeballs the pelican would have been perfectly framed and I would have eliminated most if not all of the pelican heads at the bottom. That's why God invented Photoshop. After converting the Small RAW file in DPP 4 I moved the bird in the frame using techniques from APTATS I and then eliminated the extraneous heads using the Patch Tool, Content Aware Fill, and the Clone Stamp Tool. Lastly I sharpened the bird's face with a Contrast Mask.
What do you do with your images ???
In nature photography today, the income derived from leasing one-time (and other) rights to publish images in books, calendars, and on the web has declined more than 90% as compared to what it was 15 years ago. It has gotten to the point that the potential value of having a large, sharp, high quality image file has dropped to pennies. Over the past decade, the income produced by my favorite two hundred images is negligible at best. At least for BIRDS AS ART, the best images that I produce are used almost exclusively here on the blog where their direct value is pretty much zero. But their indirect value is as advertising. If I were not consistently producing good numbers of excellent images on a weekly basis then fewer folks would be attracted to the blog; my Instructional Photo-Tours would not be nearly as successful as they are (despite the fact that everyone who owns a camera is now running photo tours); the Used Gear page would not be the huge success that it is; the sale of merchandise in the BIRDS AS ART Online Store would be a fraction of what it is today — thanks so much for your patronage there; and the sale of educational books, PDFs, and videos would drop precipitously.
My point is that a good 1200 pixel wide JPEG is far more valuable to me than a 70mb perfectly optimized TIF file. So aside from being what is, the Small RAW file episode did not bother me one bit. In fact, doing The Work on "I shouldn't have screwed up" would lead to these turnarounds: "I should have screwed up." How is that more true than the original stressful thought? Because I did screw up. That is the reality. In addition, if I had not "screwed up" you would never have been reading this Small RAW blog post 🙂 Peace of mind is a wonderful thing.
Learn about The Work of Byron Katie here.
So what do you do with your images? Do you really need super-sharp thirty to fifty megabyte RAW files? What is the end product of your photographic efforts? Please feel free to share what you do with your images by leaving a comment below. And do feel free to leave a link to an online gallery of your best work.
with love, artie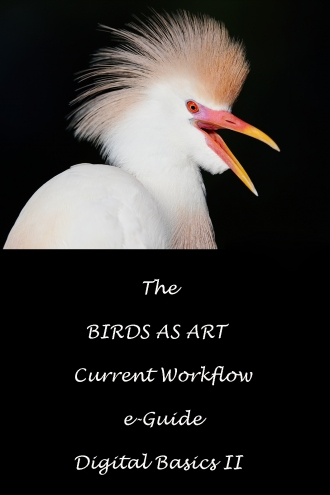 The BIRDS AS ART Current Workflow e-Guide (Digital Basics II) will teach you an efficient Mac/Photo Mechanic/Photoshop workflow that will make it easy for you to make your images better in Photoshop (rather than worse). That true whether you convert your images in DPP 4 or ACR. See the blog post here to learn lots more and to read a free excerpt.
You can order your copy from the BAA Online Store here, by sending a Paypal for $40 here, or by calling Jim or Jennifer weekdays at 863-692-0906 with your credit card in hand.
The BIRDS AS ART Current Workflow e-Guide (Digital Basics II)
Everything mentioned above is covered in detail in the BIRDS AS ART Current Workflow e-Guide (Digital Basics II), an instructional PDF that is sent via e-mail. Learn more and check out the free excerpt in the blog post here. The new e-Guide reflects my Macbook Pro/Photo Mechanic/DPP 4/Photoshop workflow. Do note that you will find the RGB Curves Adjustment Color Balancing tutorial only in the new e-guide. Note: folks working on a PC and/or those who do not want to miss anything Photoshop may wish to purchase the original Digital Basics along with DB II while saving $15 by clicking here to buy the DB Bundle.
The two most recent and many of the older MP4 Photoshop Tutorial videos releases go hand and hand with the information in DB II):
Folks who learn well by following along rather than by reading can check out the complete collection of MP 4 Photoshop Tutorial Videos by clicking here.
You can learn how and why I and other discerning Canon shooters convert nearly all of their Canon digital RAW files in DPP 4 using Canon Digital Photo Professional in the DPP 4 RAW conversion Guide here. And you can learn advanced Quick Masking and advanced Layer Masking techniques in APTATS I & II. You can save $15 by purchasing the pair. Folks can learn sophisticated sharpening and (NeatImage) Noise Reduction techniques in the The Professional Post Processing Guide by Arash Hazeghi and yours truly.
If In Doubt …
If in doubt about using the BAA B&H affiliate link correctly, you can always start your search by clicking here. Please note that the tracking is invisible. Web orders only. Please, however, remember to shoot me your receipt via e-mail.
Please Remember to use my Affiliate Links and to Visit the New BAA Online Store 🙂
To show your appreciation for my continuing efforts here, we ask, as always, that you get in the habit of using my B&H affiliate links on the right side of the blog for all of your photo and electronics purchases. Please check the availability of all photographic accessories in the New BIRDS AS ART Online Store, especially the Mongoose M3.6 tripod head, Wimberley lens plates, Delkin flash cards and accessories, and LensCoat stuff.
As always, we sell only what I have used, have tested, and can depend on. We will not sell you junk. We know what you need to make creating great images easy and fun. And please remember that I am always glad to answer your gear questions via e-mail.
I would of course appreciate your using our B&H affiliate links for all of your major gear, video, and electronic purchases. For the photographic stuff mentioned in the paragraph above, and for everything else in the new store, we, meaning BAA, would of course greatly appreciate your business. Here is a huge thank you to the many who have been using our links on a regular basis and those who will be visiting the New BIRDS AS ART Online Store as well.
Amazon.com
Those who prefer to support BAA by shopping with Amazon may use the logo link above.
Amazon Canada
Many kind folks from north of the border, eh, have e-mailed stating that they would love to help us out by using one of our affiliate links but that living in Canada and doing so presents numerous problems. Now, they can help us out by using our Amazon Canada affiliate link by starting their searches by clicking here.
Facebook
Be sure to like and follow BAA on Facebook by clicking on the logo link upper right. Tanks a stack.
Typos
In all blog posts and Bulletins, feel free to e-mail or to leave a comment regarding any typos or errors. Just be right :).