Stuff
Having stayed up late to watch the end of the Monday Night Football game I stayed in on Tuesday morning despite what turned out to be pretty good weather: clear skies with light southwest winds. I relaxed for most of the morning, paid a visit to crack A.R.T. chiropractor Dr. Dan Holland at True Sports Care in Nesconset, and then headed back to Heckscher State Park to photograph gulls in the big puddle in Parking Field 7. After being oh for six in search of the lingering Hudsonian Godwit I had pretty much given up on seeing or photographing the bird. This tale is continued in the Finally! I am nothing if not … feature below.
I was glad to learn yesterday that Robert Blanke sold his Canon EOS-1DX Mark II professional digital camera body in like-new condition for the BAA record low/shock the world price of $3999 an hour after it was listed!
If you are interested in joining the Fort DeSoto Early Winter IPT at this late date, please shoot me an e-mail or call me on my cell at 863-221-2372 (and leave a message if I do not pick up). The details are below.
The Streak
Today makes one hundred seventeen days in a row with a new educational blog post! This one took less than an hour to prepare. With all of my upcoming free time (or not …), the plan right now is to break the current record streak of 480 … Good health and good internet connections willing.
Used Gear Sales
Things have been picking up on the Used Gear Page recently after a two-month downturn, especially with long glass. You can see the complete updated listings here.
Recent Sales
Robert Blanke sold his Canon EOS-1DX Mark II professional digital camera body in like-new condition for the BAA record low/shock the world price of $3999 an hour after it was listed.
Chesley Swann sold a Canon EF 100-400 f/4.5-5.6L IS Zoom lens (the original 1-4) in excellent condition for the very low price of $529 in mid-November.
Mike Lawie sold his Canon EOS 7D Mark II body in near-mint condition for the BAA record-low price of $923 and his Canon EF 24-105mm f/4L IS USM zoom lens in excellent condition also for a BAA record low price: $448. Both in mid-November.
Gary Wade sold his Canon EF 400mm f/2.8L IS II USM Lens in near-mint condition for the record-low BAA price of $7449 in mid-November.
Multiple IPT veteran Shelly Goldstein sold his Canon EF 500mm f/4L IS USM Super Telephoto Lens (the "old five") in excellent condition for the $3899 a week after it was listed.
Peter Noyes sold his Nikon D-810 Digital SLR Camera Body in excellent condition for $1499 two hours after it was listed.
Multiple IPT veteran Shelly Goldstein sold his Canon EF 600mm f/4L IS II USM Super Telephoto lens in like-new condition for $9,399 in early November before it was even listed …
IPT veteran Duncan Douglas sold his Canon EF 500mm f/4L IS USM Super Telephoto Lens (the "old five") in early November for #3699.
Booking.Com
Booking.Com came through for me twice again recently with both the DeSoto Fall IPT and next July's UK Puffins, Gannets, and Bempton Pre-trip room reservations. And all the rates were great. If you'd like to give Booking.Com a shot, click here and you will earn a $25 reward. Thanks to the many who have already tried and used this great service.
Gear Questions and Advice
Too many folks attending BAA IPTs and dozens of folks whom I see in the field, and on BPN, are–out of ignorance–using the wrong gear especially when it comes to tripods and more especially, tripod heads… Please know that I am always glad to answer your gear questions via e-mail. Those might include system, camera body, accessory, and lens choices and decisions.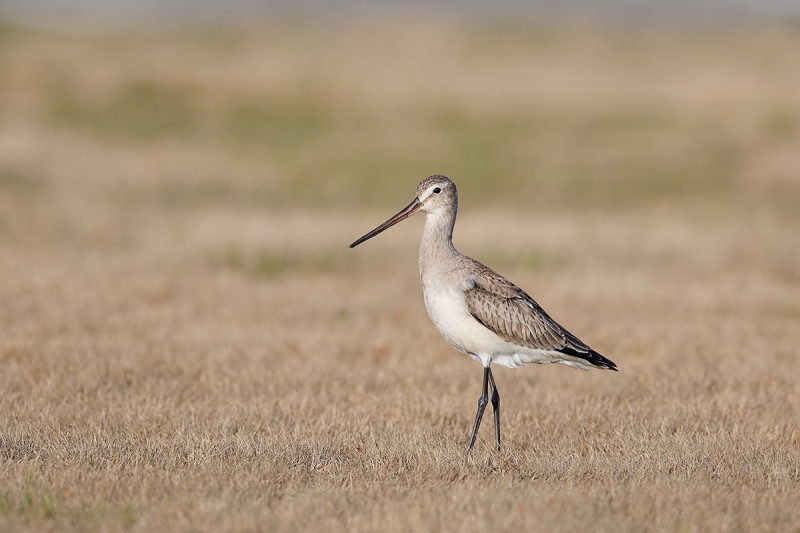 This image was created on the afternoon of Tuesday, November 21 at Heckscher State Park, Long Island, NY with the Induro GIT304L Grand Series 3 Stealth Carbon Fiber Tripod/Mongoose M3.6-mounted Canon EF 600mm f/4L IS II USM lens, the Canon Extender EF 1.4X III, and my favorite shorebird photography camera body, the Canon EOS 5D Mark IV. ISO 800. Evaluative metering + 2/3 stop as framed: 1/1600 sec. at f/7.1 in Av mode. Cloudy WB in light cloudy conditions.
LensAlign/FocusTune micro-adjustment: -2.
Center AF point/AI Servo/Expand/Shutter Button AF was active at the moment of exposure. The selected AF point was on the front of the bird's breast as originally framed, right on the same plane as the bird's face and eye.
Hudsonian Godwit, worn juvenile plumage.
Be sure to click on the image to enjoy the larger version.
Your browser does not support iFrame.
Finally! I am nothing if not …
Continued from Stuff: The hard to find godwit was last seen at Field 7; I was thisclose to driving by Field 6 when I arrived at Heckscher. But at the last second, I said, "What the heck" and turned into Field 6. As I pulled up to the basketball courts — the spot where the bird had been hanging out for more than three weeks, I was happy to see a single worn juvenile Hudsonian Godwit feeding in the short grass. Better yet, two women out on a health walked passed within 15 feet of the object of my desire; the bird hardly noticed. I grabbed my 500 II; my 1.4XIII TC was already in place so I stuck my 2X III TC in my coat pocket and mounted the 5D Mark IV, grabbed my Induro GIT 304L tripod with a Mongoose M3.6 on it, and headed around the bird to get on sun angle. I opted not to put the lens hood on the 500 II as it was quite windy.
The bird had flown a short distance to some really nice grass. I had already lowered the tripod to sitting height so once my faint shadow was pointed at the bird I sat, adjusted the height of the tripod legs, and went to work. As I was getting in place I had put the camera into Av mode at ISO 800 and added 2/3 stop of light for the dried grasses. Today's featured image was the fourth photo that I created just as the bird had paused and posed. I stayed with the bird for about 15 minutes eventually getting a lot closer, that after I had switched out the 1.4X for the 2X. But by then the bird was in some pretty grungy-looking grass and that fourth, smaller in the frame image, turned out to be my very favorite by far. The habitat is likely quite similar to the habitat in Chile or Argentina where this species winter on grasslands. It is another example of my developing taste for wider rather than tighter images.
After six tries I had pretty much given up but wound up succeeding; I am nothing if not persistent and determined. Today's featured image is a small crop of the original from below and behind the bird. Thanks again to Isaac Grant for helping me keep tabs on this bird and to David La Magna for is help as well. Sometimes it takes a village. 🙂
ps: the gull photography got really good when the sun came back out. Photos soon.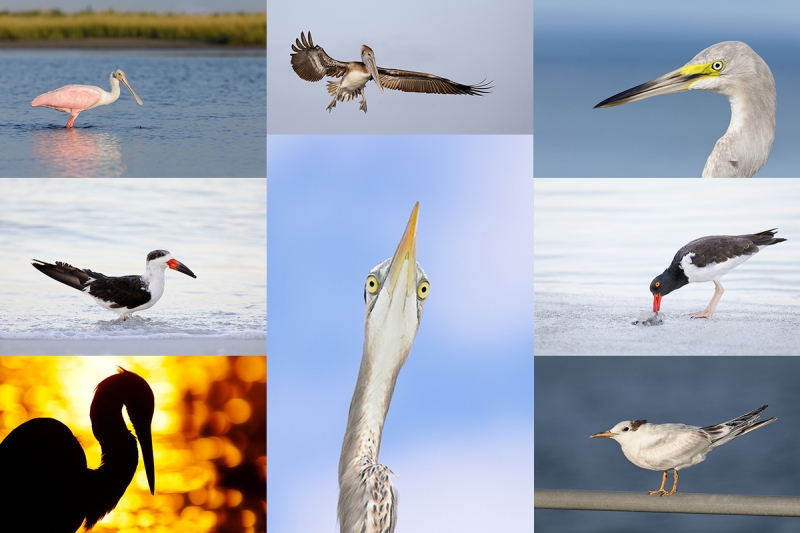 Recent Fort DeSoto Images
From bottom left clockwise back to center: Great Egret, blasting sunrise highlights; Black Skimmer, winter plumage in pre-dawn light; Roseate Spoonbill foraging; Brown Pelican, juvenile landing; hybrid heron X egret???; American Oystercatcher feeding; Royal Tern, worn juvenile; Great Blue Heron from below.
You can see a composite of more recent images in the DeSoto Sucked This Past Weekend blog post here.
Fort DeSoto Early Winter IPT. 3 1/2 days: $1599
Saturday DEC 2 (afternoon session) through the full day on Tuesday DEC 5, 2017. Meet and Greet Introduction on SAT DEC 2, 2017
With no water in Estero Lagoon, Corkscrew Swamp and Anhinga Trail total busts for many years, and Ding Darling NWR managed into oblivion, Fort DeSoto has emerged as the premier bird photography location in the state. Join me in early winter to escape the cold weather and photograph lots of tame terns, gulls, herons, egrets (including Reddish Egret), shorebirds (including and especially Marbled Godwit), Osprey, and Brown Pelican. Long-billed Curlew, Wood Stork, and Roseate Spoonbill all range somewhere between likely and possible.
Learn to get the right exposure every time, to approach free and wild (and often tame!) birds, and to design a pleasing image. And learn the location of my new Fort DeSoto hotspot along with my favorite sunset location (sky conditions permitting). To register call Jim or Jen at the office at 863-692-0906 or shoot me an e-mail.
DeSoto IPT Details
This IPT will include four 3 hour afternoon sessions, three 3 1/2 hour morning sessions, three lunches, and after-lunch image review and Photoshop sessions. To ensure early starts, breakfasts will be your responsibility. Dinners are on your own so that we can get some sleep.
Because of the narrow time frame, your $499 non-refundable deposit can be paid not by credit card. Call Jim or Jennifer at the office with a credit card at 863-692-0906 to register. Your balance must be paid by check once you sign up. The balance check (made out to "BIRDS AS ART) should me mailed to us at BIRDS AS ART, PO Box 7245, Indian Lake Estates, FL, 33855. Please print, complete, and sign the form that is linked to here and shoot it to us along with your balance check. If you have any questions, please feel free to contact me via e-mail.
Canon lens rentals are available on a limited basis: 600 II, 500 II, 400 DO II, and 200-400 f/4 with Internal TC.
If In Doubt …
If in doubt about using the BAA B&H affiliate link correctly, you can always start your search by clicking here. Please note that the tracking is invisible. Web orders only. Please, however, remember to shoot me your receipt via e-mail.
Please Remember to use my Affiliate Links and to Visit the New BAA Online Store 🙂
To show your appreciation for my continuing efforts here, we ask, as always, that you get in the habit of using my B&H affiliate links on the right side of the blog for all of your photo and electronics purchases. Please check the availability of all photographic accessories in the New BIRDS AS ART Online Store, especially the Mongoose M3.6 tripod head, Wimberley lens plates, Delkin flash cards and accessories, and LensCoat stuff.
As always, we sell only what I have used, have tested, and can depend on. We will not sell you junk. We know what you need to make creating great images easy and fun. And please remember that I am always glad to answer your gear questions via e-mail.
I would of course appreciate your using our B&H affiliate links for all of your major gear, video, and electronic purchases. For the photographic stuff mentioned in the paragraph above, and for everything else in the new store, we, meaning BAA, would of course greatly appreciate your business. Here is a huge thank you to the many who have been using our links on a regular basis and those who will be visiting the New BIRDS AS ART Online Store as well.
Amazon.com
Those who prefer to support BAA by shopping with Amazon may use the logo link above.
Amazon Canada
Many kind folks from north of the border, eh, have e-mailed stating that they would love to help us out by using one of our affiliate links but that living in Canada and doing so presents numerous problems. Now, they can help us out by using our Amazon Canada affiliate link by starting their searches by clicking here.
Facebook
Be sure to like and follow BAA on Facebook by clicking on the logo link upper right. Tanks a stack.
Typos
In all blog posts and Bulletins, feel free to e-mail or to leave a comment regarding any typos or errors. Just be right :).