Stuff
I got to the cliffs early on Sunday morning and enjoyed another great morning. Although I am sure that they had not, it seemed that everyone had; all of the photographers stayed well back and to the right for the first hour. Heck, it was the nicest, friendliest group of photographers I have ever run into at La Jolla. It was great also to see Patrick Sparkman. Condolences to him and to Robin to his Mom and the rest of the family on the recent loss of Patrick's Dad.
I meet the first San Diego IPT group at 7pm on Sunday night.
The Streak
Today makes one hundred sixty-eight days in a row with a new educational blog post! This one took about 90 minutes to prepare including the time spent optimizing the image. With all of my upcoming free time (or not …), the plan right now is to break the current record streak of 480 … Good health and good internet connections and my continuing insanity willing.
Featured Listing
Canon EF 600mm f/4L IS II USM Lens
BAA Record-Low, Shock-the-world priced
Walt Anderson is offering a barely used EF 600mm f/4L IS II USM lens in mint to like-new condition with extras for the BAA record low price of $9395.00. The sale includes the LensCoat that has protected his 600 since day one, a RRS stuff foot (installed), the original foot, the lens trunk, the original box and everything that came in it: front cover, rear cap, manuals, & the rest, and insured ground shipping via major courier to US addresses only. Your item will not ship until your personal of certified check clears unless other arrangements are made.
Please contact Walt via e-mail or by phone at 1-847-721-8319 (Central time).
WMD: Weapon of Mass Destruction!
Walt, a long time BAA friend and an IPT veteran as well, is the inventor of the Better Beamer Flash Extender, the very first BAA mail order item. When it comes to taking care of his gear, Walt is fastidious.
The 600 II is the state of the art super-telephoto for birds, nature, wildlife, and sports. If I can get it to a location, it is my go-to weapon. It is fast and sharp and deadly alone or with either TC. With a new one going for $11,499, you can save a cool $2,005.00 by grabbing Walt's might-as-well-be-new lens right now. artie
Booking.Com
Booking.Com came through for me twice again recently with both the DeSoto Fall IPT and next July's UK Puffins, Gannets, and Bempton Pre-trip room reservations. And all the rates were great. If you'd like to give Booking.Com a shot, click here and you will earn a $25 reward. Thanks to the many who have already tried and used this great service.
Gear Questions and Advice
Too many folks attending BAA IPTs and dozens of folks whom I see in the field, and on BPN, are–out of ignorance–using the wrong gear especially when it comes to tripods and more especially, tripod heads… Please know that I am always glad to answer your gear questions via e-mail. Those questions might deal with systems, camera bodies, accessories, and/or lens choices and decisions.
More on the 1DX II and Me Questions
Lots of folks have been asking what happened to my 5D Mark IV bodies 🙂
Mark Harrington
January 13, 2018 at 10:45 am
Artie, are you giving up on the 5D Mk IV?
Arthur Morris/BIRDS AS ART
January 13, 2018 at 3:11 pm
Hi Mark, Good question but not at all. Canon replaced my oil spattered 1DX II with a new one. I had my first oil spatter on the brand new body after 18 frames … I want to use it to see how bad it gets. There is, however, no denying the killer AF. And the frame rate is addictive … But the 5D Mark IV image files are clearly superior. Lots more on the 1DX II soon.
with love, artie
Via e-mail from Hossam Sadak:
Happy New year and hope all is well.I have been following your blog for a long time, and am a big fan. I noticed your comments re: oil spatter on sensor of your 1DX II, and your switch to the 5DIV (two for the price of one 1DxII!). I recently traded in my 1DX and bought my second 5DIV during the holiday sales because I found oil spatter issues with my 1DX and after four tries with Canon, I was not happy with the results.
I now see that you are posting images with 1DX II on the blog. Are you back to the 1DxII? What about the 5DIV?
Thanks
Hossam
My Revised Reply
Hi Hossam, Thanks for writing. I had heard of oil spatter problems with some 1DX bodies but fortunately never experienced it myself. Canon replaced my badly oil spattered 1DX II with a new one. I had my what I assumed to be the first oil spatter on the brand new body after 18 frames … I want to keep using it to see how bad it gets. There is, however, no denying the killer AF and with what I understand to be more battery power allotted to AF, the AF system does perform superbly. And the frame rate is addictive … But the 5D Mark IV image files are clearly superior. Lots more on the 1DX II soon.
with love, artie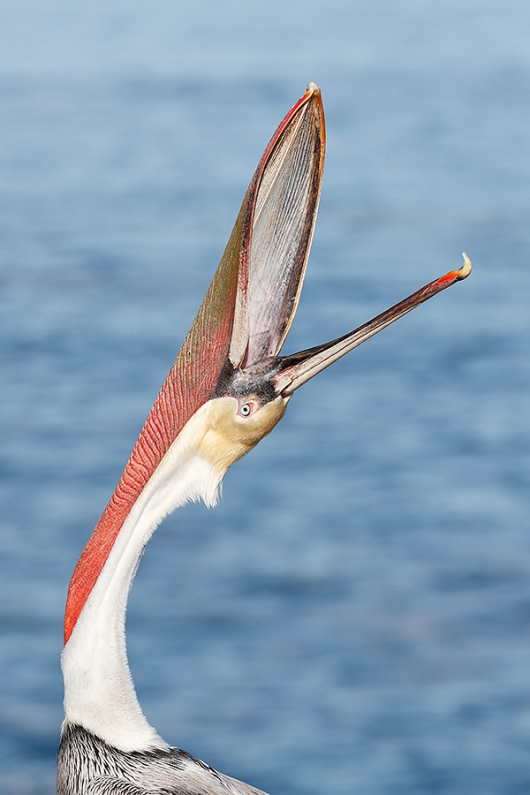 This image was created on morning of Saturday, January 13 at La Jolla, CA with the hand held Canon EF 100-400mm f/4.5-5.6L IS II USM lens, the Canon Extender EF 1.4X III (at 328mm), and the blazingly fast Canon EOS-1D X Mark II. ISO 400. Evaluative metering +1/3 stop: 1/640 sec. at f/10. AWB at 8:37am on a clear morning.
LensAlign/FocusTune micro-adjustment: +2.
The AF Area Selection Mode for this image is classified information. You can likely figure it out if you study the DPP 4 screen capture below.
Brown Pelican, Pacific race in pre-breeding plumage, head throw
Your browser does not support iFrame.
Success with Action
Saturday was a great morning for heads throws so I concentrated on them. With only a few birds up top, things were easier than normal; isolating single birds was a snap and you did not have to guess which one out of 25 was gonna do a head throw next; there were only three or four candidates. 🙂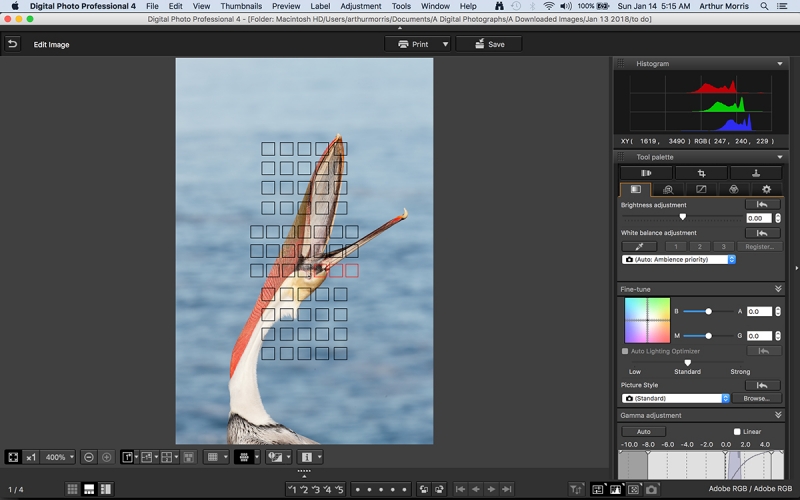 DPP 4 Screen Capture for Brown Pelican head throw
Be sure to click on the image to see the larger size with more histogram detail.
Your browser does not support iFrame.
The DPP 4 Screen Capture for Today's Featured Image
Note the pretty darned good early morning light histogram, again reflected in the red-rich RGB values: R=241, G=232, B=215. The active AF points are illuminated in red. Lastly, note that I cropped with the 2X3 proportion pre-set from the bottom right to the upper left to tighten up the image design.
The Image Optimization
After converting the image in DPP 4 I brought the TIF into Photoshop and and executed the 2X3 crop mentioned above. I have rarely been using my Nik Color Efex Pro Detail Extractor/Tonal Contrast recipes lately but this image needed it; my 30/30 recipe did a good job with the darker tones of the bill pouch and the inside of the bill pouch. The WHITEs got a bit dark so I erased the effect there with the addition of a Regular Layer Mask.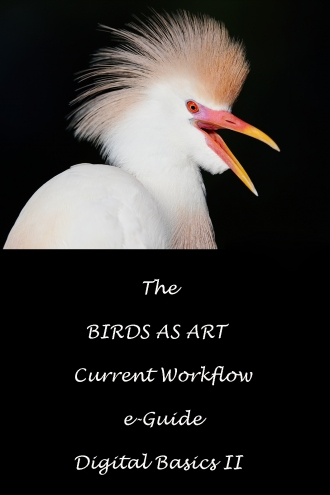 The BIRDS AS ART Current Workflow e-Guide (Digital Basics II) will teach you an efficient Mac or PC/Photo Mechanic/Photoshop workflow that will make it easy for you to make your images better in Photoshop (rather than worse). That true whether you convert your images in DPP 4 or ACR. See the blog post here to learn lots more and to read a free excerpt.
You can order your copy from the BAA Online Store here, by sending a Paypal for $40 here, or by calling Jim or Jennifer weekdays at 863-692-0906 with your credit card in hand.
The BIRDS AS ART Current Workflow e-Guide (Digital Basics II)
Your guessed it, everything mentioned above (and tons more) is covered in detail in the BIRDS AS ART Current Workflow e-Guide (Digital Basics II), an instructional PDF that is sent via e-mail. Learn more and check out the free excerpt in the blog post here. While the new e-Guide reflects my Macbook Pro/Photo Mechanic/DPP 4/Photoshop workflow, folks using a PC and/or BreezeBrowser will also benefit greatly by studying the material on DB II. Do note that you will find the RGB Curves Adjustment Color Balancing tutorial only in the new e-guide. Note: folks working on a PC and/or those who do not want to miss anything Photoshop may wish to purchase the original Digital Basics along with DB II while saving $15 by clicking here to buy the DB Bundle.
The two most recent and many of the older MP4 Photoshop Tutorial videos releases go hand and hand with the information in DB II):
Folks who learn well by following along rather than by reading can check out the complete collection of MP 4 Photoshop Tutorial Videos by clicking here.
You can learn how and why I and other discerning Canon shooters convert nearly all of their Canon digital RAW files in DPP 4 using Canon Digital Photo Professional in the DPP 4 RAW conversion Guide here. And you can learn advanced Quick Masking and advanced Layer Masking techniques in APTATS I & II. You can save $15 by purchasing the pair. Folks can learn sophisticated sharpening and (NeatImage) Noise Reduction techniques in the The Professional Post Processing Guide by Arash Hazeghi and yours truly.
Help Support the Blog
Please help support my (stupendous) efforts here on the blog by remembering to click on the logo link above each time that you shop Amazon. That would be greatly appreciated. There is no problem using your Prime account; just click on the link and log into your Prime account. With love, artie
If In Doubt …
If in doubt about using the BAA B&H affiliate link correctly, you can always start your search by clicking here. Please note that the tracking is invisible. Web orders only. Please, however, remember to shoot me your receipt via e-mail.
Please Remember to use my Affiliate Links and to Visit the New BAA Online Store 🙂
To show your appreciation for my continuing efforts here, we ask, as always, that you get in the habit of using my B&H affiliate links on the right side of the blog for all of your photo and electronics purchases. Please check the availability of all photographic accessories in the New BIRDS AS ART Online Store, especially the Mongoose M3.6 tripod head, Wimberley lens plates, Delkin flash cards and accessories, and LensCoat stuff.
As always, we sell only what I have used, have tested, and can depend on. We will not sell you junk. We know what you need to make creating great images easy and fun. And please remember that I am always glad to answer your gear questions via e-mail.
I would of course appreciate your using our B&H affiliate links for all of your major gear, video, and electronic purchases. For the photographic stuff mentioned in the paragraph above, and for everything else in the new store, we, meaning BAA, would of course greatly appreciate your business. Here is a huge thank you to the many who have been using our links on a regular basis and those who will be visiting the New BIRDS AS ART Online Store as well.
Facebook
Be sure to like and follow BAA on Facebook by clicking on the logo link upper right. Tanks a stack.
Typos
In all blog posts and Bulletins, feel free to e-mail or to leave a comment regarding any typos or errors. Just be right :).