Stuff
The first San Diego IPT group enjoyed a second sensational morning with the pelicans on the cliffs of La Jolla. Isolating single birds was much more difficult than it was yesterday as there were about five times as many birds. But that made for better flight photography. After seeing some of my super-tight images at lunch several in the group vowed to go to longer effective focal lengths on Wednesday. 🙂
There is only one slot left on the San Diego IPT #2 …
The Streak
Today makes one hundred seventy days in a row with a new educational blog post! This one took about 90 minutes to prepare including the time spent optimizing the image. With all of my upcoming free time (or not …), the plan right now is to break the current record streak of 480 … Good health and good internet connections and my continuing insanity willing.
Booking.Com
Booking.Com came through for me twice again recently with both the DeSoto Fall IPT and next July's UK Puffins, Gannets, and Bempton Pre-trip room reservations. And all the rates were great. If you'd like to give Booking.Com a shot, click here and you will earn a $25 reward. Thanks to the many who have already tried and used this great service.
Gear Questions and Advice
Too many folks attending BAA IPTs and dozens of folks whom I see in the field, and on BPN, are–out of ignorance–using the wrong gear especially when it comes to tripods and more especially, tripod heads… Please know that I am always glad to answer your gear questions via e-mail. Those questions might deal with systems, camera bodies, accessories, and/or lens choices and decisions.
More on my 1DX II
I may have jumped to conclusions when I stated that my brand new (replaced by Canon) 1DX II showed the first oil spatter after 18 frames … It seems that there is not an oil spatter problem with the new body. That said my original 1DX II was a dust magnet and so is my replacement. I cleaned the sensor of the replacement body with the big blower brush and got rid of all the dust spots but two. And heck, they might have been new ones …
There is, however, no denying the killer accurate AF. And the blazingly fast frame rate is addictive … But the 5D Mark IV image files are clearly superior. Lots more on the 1DX II soon.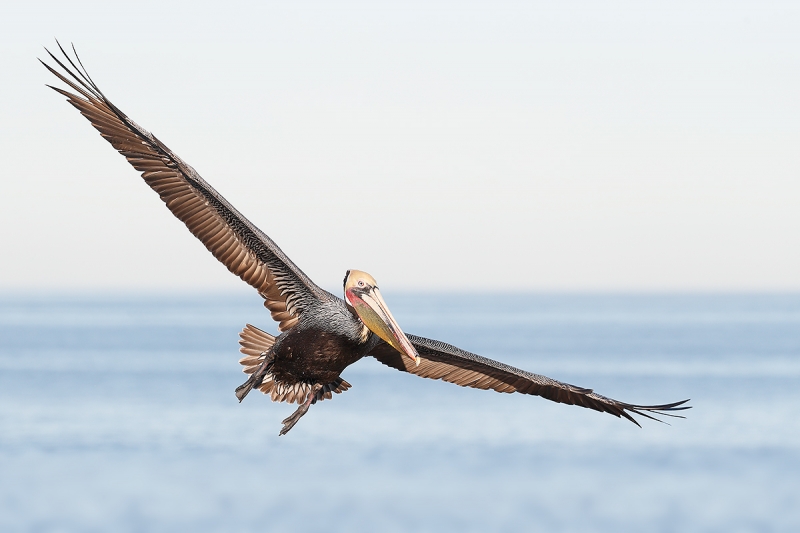 This image was created on Day one of the first San Diego IPT — the morning of Monday, January 15 at La Jolla, CA. I used the hand held Canon EF 100-400mm f/4.5-5.6L IS II USM lens (at 200mm) and the blazingly fast Canon EOS-1D X Mark II. ISO 800. Evaluative metering + 1 stop off the sky: 1/2000 sec. at f/5.6 in Manual mode. AWB at 7:53am on a clear morning.
LensAlign/FocusTune micro-adjustment: extrapolated to -2.
One AF point up from the center AF point/AI Servo/Shutter button AF as originally framed. The AF Area selection mode for this image is classified. The selected AF point was on the rear crown as originally framed.
Brown Pelican, Pacific race in pre-breeding plumage in flight
Your browser does not support iFrame.
When in Rome, Do As Arash Does (if you wanna be a good flight photographer …)
I am on a two part mission to become a better flight photographer. Part two will shock a lot of folks. Part one began when Arash Hazeghi kindly sent me a copy of his Birds in Flight Photography: Basics for Canon EOS Users/2017 edition. I had pretty much quit using my 1dX Mark II when I came across this chart in Arash's e-Guide: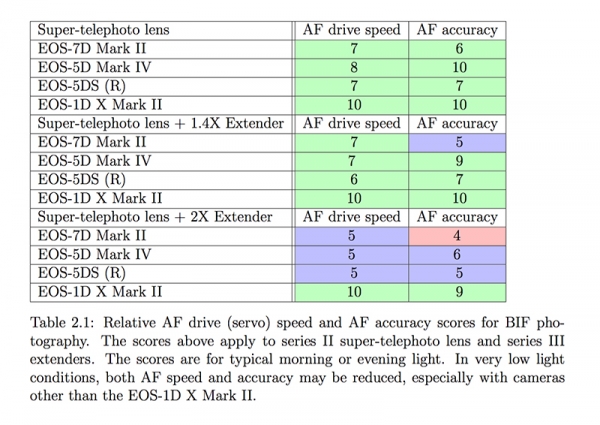 AF Comparison Chart for Four Canon Camera Bodies with Series II Super-telephotos with and without Series III Teleconverters
Inspired by Arash …
At that point, I was inspired to go back to my 1DX II for flight and action. As it turned out, the replacement body (as noted above) does not at present (after 2812 frames) seem to have oil spatter problems. How did I set up my 1DX II for flight photography? The way that Arash suggests in his guide. The biggest change for me was his preferred AF Area Selection mode. I have been doing things his way for more than two weeks now and have been consistently making some of the best flight images in my career …
Birds in Flight Photography: Basics for Canon EOS Users/2017 edition: $55.00
If Arash's guide helped me a ton, imagine what it could do for you. You can learn more or order your copy here. Please note that this guide will not be updated for future Canon bodies.
Arash Hazeghi
Arash Hazeghi, Ph.D. is an electron device engineer. He received his MS.c. and Ph.D. degrees in Electrical Engineering in 2006 and 2011, from Stanford University, Stanford, California. His pioneering research on Carbon Nanotubes and quantum capacitance have been cited many times. He is currently focused on the development of cutting edge non-volatile memory technologies such as the ones used in imaging cards for DSLR cameras.
In his free time, Arash enjoys photographing avian species in their natural habitat and in flight: these are very challenging subjects. He has been working on hand held super-telephoto technique to capture dynamic, highly-detailed in-flight images of many different avian species. His birds in flight images, featured numerous times on the web, in printed media, as well as in prestigious museums and art galleries have inspired many photographers. Arash's work was recently on display at the San Diego Natural History Museum for a period of 8 months. His work has also been featured many times in the annual publications of NANPA (North American Nature Photographer's Association).
He is an Moderator in the Avian Forum on BirdPhotographers.Net and a premier photographer at 500px.com. He is the co-author of the Canon DPP 4 Raw Conversion Guide and the Post Processing Guide with Arthur Morris, which detail RAW conversion and post processing techniques for both professional and the enthusiast photographers. This guide is a result of extensive field experience in making in-flight images with various Canon equipment. The author wishes that every photographer finds this guide useful and effective in improving the quality of their photos.
I will add that Arash's images of birds in flight amaze many. I will be sharing some of them here soon. For faster results, go to BPN and do a search for his name and follow his started threads … artie
The San Diego Site Guide
Whether you are visiting San Diego for photography for the first time or live in the area and have done the pelicans many dozens of times, you will learn a ton by studying the San Diego Site Guide. Why spend days stumbling around when you can know exactly where and when to be depending on the wind direction and sky conditions? In addition to the pelican primer, there is great info on the best beaches for the gorgeous gulls, on Marbled Godwit, on the lower cliffs, Lesser Scaup, and Wood and Ring-necked Ducks as well.
Learn more or purchase your copy here.
Help Support the Blog
Please help support my (stupendous) efforts here on the blog by remembering to click on the logo link above each time that you shop Amazon. That would be greatly appreciated. There is no problem using your Prime account; just click on the link and log into your Prime account. With love, artie
If In Doubt …
If in doubt about using the BAA B&H affiliate link correctly, you can always start your search by clicking here. Please note that the tracking is invisible. Web orders only. Please, however, remember to shoot me your receipt via e-mail.
Please Remember to use my Affiliate Links and to Visit the New BAA Online Store 🙂
To show your appreciation for my continuing efforts here, we ask, as always, that you get in the habit of using my B&H affiliate links on the right side of the blog for all of your photo and electronics purchases. Please check the availability of all photographic accessories in the New BIRDS AS ART Online Store, especially the Mongoose M3.6 tripod head, Wimberley lens plates, Delkin flash cards and accessories, and LensCoat stuff.
As always, we sell only what I have used, have tested, and can depend on. We will not sell you junk. We know what you need to make creating great images easy and fun. And please remember that I am always glad to answer your gear questions via e-mail.
I would of course appreciate your using our B&H affiliate links for all of your major gear, video, and electronic purchases. For the photographic stuff mentioned in the paragraph above, and for everything else in the new store, we, meaning BAA, would of course greatly appreciate your business. Here is a huge thank you to the many who have been using our links on a regular basis and those who will be visiting the New BIRDS AS ART Online Store as well.
Facebook
Be sure to like and follow BAA on Facebook by clicking on the logo link upper right. Tanks a stack.
Typos
In all blog posts and Bulletins, feel free to e-mail or to leave a comment regarding any typos or errors. Just be right :).