Stuff
The last morning of the first San Diego IPT was our first cloudy one. We went down the hill to work the Brandt's Cormorants. The original group of seven participants had dwindled to three, numbers reduced by the flu and by family and travel plans. Now that the first IPT is over I should have some free time to edit more than 10,000 images that I created during the 4 1/2 day IPT. Stay tuned for info on next year's San Diego IPT; there will be only one.
The 2nd San Diego IPT is now a sell-out and there are only two slots left on the Spoonbill Boat IPT. The Master Classes will be announced soon.
This Just In!
After my plea for Nikon help on Friday afternoon, I spent an hour on the phone and on FaceTime with IPT veteran and blog regular Krishna Prasad Kotti. He kindly and generously helped me set up the new Nikon camera. When I first picked it up I felt hopelessly overwhelmed. Right now I am confident that I can head out tomorrow morning and start making great images with the new rig. Huge thanks Krishna! The process was actually much easier than I thought it would be and — thanks to Krishna — I am able to comfortably navigate the menus! I am excited.
The Streak
Today makes one hundred seventy-three days in a row with a new educational blog post! This one took about 90 minutes to prepare including the time spent optimizing the image. With all of my upcoming free time (or not …), the plan right now is to break the current record streak of 480 … Good health and good internet connections and my continuing insanity willing.
Booking.Com
Booking.Com came through for me twice again recently with both the DeSoto Fall IPT and next July's UK Puffins, Gannets, and Bempton Pre-trip room reservations. And all the rates were great. If you'd like to give Booking.Com a shot, click here and you will earn a $25 reward. Thanks to the many who have already tried and used this great service.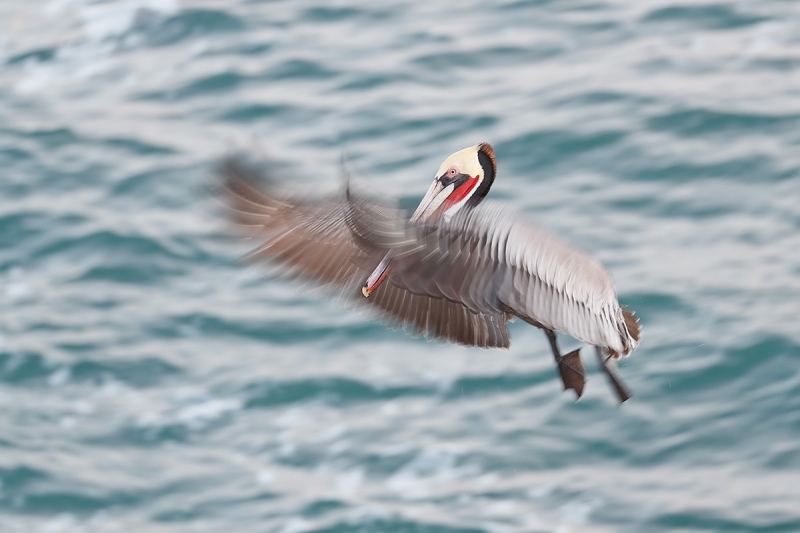 This image was created on the morning of Thursday, January 18 at La Jolla, CA with the hand held Canon EF 100-400mm f/4.5-5.6L IS II USM lens (at 286mm) and the blazingly fast Canon EOS-1D X Mark II. ISO 1600 (set by ISO Safety Shift). Evaluative metering + 1 1/3 stops: 1/100 sec. at f/5.6 in Tv mode. AWB at 6:5am in predawn light.
LensAlign/FocusTune micro-adjustment: extrapolated to -3.
One AF point up from the center AF point AI Servo/Surround/Shutter button AF was active at the moment of exposure. Click on the image to enjoy a larger version.
On-camera fill flash at -1 stop with the fabulous Godox VING V860IIC TTL Li-Ion Flash Kit for Canon Cameras
Brown Pelican, Pacific race, pre-dawn flight blur
Your browser does not support iFrame.
1/100 second Miracle
Don't ask me how I wound up at 1/100 sec. I often try flying bird blurs at 1/30 or 1/60 sec. At 1/125 second you can get a nice blur with birds at fairly close range and on rare occasion, get the eye sharp. Remember that in most cases the bird needs to be flapping in order for you to create a pleasing blur. I was using my tried and true pre-dawn Tv mode blur technique: Tv mode and dial in the correct EC (exposure compensation). I set Safety Shift to ISO on all of my Canon camera bodies so that I do not have to waste time setting Auto ISO. Today's featured image was a one shot wonder. It looked nice enough on the back of the camera to share with several of the folks in the group to show them what I was trying to do. I never bother to check for sharpness in the field; I do not want to miss the next fly-by. I never expected the eye to be razor sharp at 1/100 sec. hoping instead that the eye and the face might be just sharp enough to make the image worth processing.
When I saw the image on my laptop at lunch I was stunned.
The flash here helped to render the eye and face sharp but it is not a classic flash blur. In a classis flash blur the flash is set to a higher power and produces one sharp correctly exposed image of the bird atop the blurred image.
A Guide to Pleasing Blurs
Learn everything there is to know about creating pleasingly blurred images in A Guide to Pleasing Blurs by Denise Ippolito and yours truly. This 20,585 word, 271 page PDF is illustrated with 144 different, exciting, and artistic images. The guide covers the basics of creating pleasingly blurred images, the factors that influence the degree of blurring, the use of filters in creating pleasing blurs, and a great variety of both in-the-field and Photoshop techniques that can be used to create pleasingly blurred images.
Artie and Denise will teach you many different ways to move your lens during the exposure to create a variety of pleasingly blurred images of flowers and trees and water and landscapes. They will teach you to recognize situations where subject movement can be used to your advantage to create pan blurs, wind blurs, and moving water blurs. They will teach you to create zoom-blurs both in the field and during post-processing. Artie shares the techniques that he has used and developed for making blurred images of flocks of geese in flight at his beloved Bosque del Apache and Denise shares her flower blur magic as well as a variety of creative Photoshop techniques that she has developed.
With the advent of digital capture creating blurred images has become a great and inexpensive way to go out with your camera and have fun. And while many folks think that making successful blurred images is the result of being a sloppy photographer, nothing could be further from the truth. In "A Guide to Pleasing Blurs" Artie and Denise will help you to unleash your creative self.
The Godox Flash/Save $300!
The Godox VING V860IIC TTL Li-Ion Flash Kit for Canon Cameras is simply amazing. Priced at exactly $300 less than the Canon Speedlite 600EX II-RT, the Godox flash is a virtual replica of the top of the line Canon 600 EX II-RT. I will soon be publishing a simple guide to using the Godox flash for bird photography. In the meantime you can learn everything there is to know about using flash for bird photography in the Flash Simplified section of The Art of Bird Photography II (ABP II: 916 pages, 900+ images on CD only): ETTL flash as fill, flash as main light techniques, high speed synch flash (available on the Godox flash) and manual flash. Plus tons more!
Dealing With Flash Eye
In the Before frame you can see the deleterious effect of flash on a bird's pupil. To repair the eye I selected it with a Quick Mask, placed the selection on its own layer, hit Command U (Hue-Saturation) on a layer, desaturated the image 100%, and moved the lightness slider all the way to the left to darken the pupil. It was still too light so I went to Tim Grey Dodge and Burn and made it nice and black. While I was there I lightened the iris to white. All that after converting the image in DPP 4 and executing a crop from below and behind the bird.
Almost forgot: I selected the head and the base of the bill with the Quick Selection Tool, placed the selection on it's own layer, and applied my NIK Color EFEX Pro 30/30 Detail Extractor/Tonal Contrast recipe. Folks with sharp eyes viewing the Before and After animated GIF can note the effects of NeatImage noise reduction on the background especially. I applied 95% NI noise reduction to the background and only 50% NI noise reduction the bird's head and upper bill using the technique detailed in the The Professional Post Processing Guide by Arash Hazeghi and yours truly.
Note: the posterization on the pelican's crown is the unavoidable result of the creation of the animated GIF.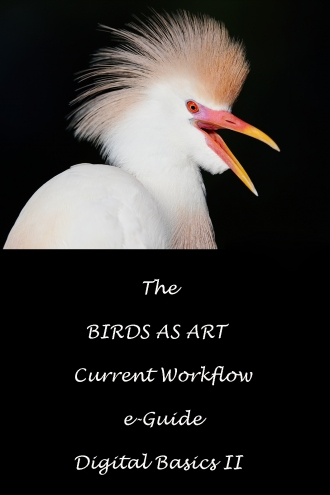 The BIRDS AS ART Current Workflow e-Guide (Digital Basics II) will teach you an efficient Mac or PC/Photo Mechanic/Photoshop workflow that will make it easy for you to make your images better in Photoshop (rather than worse). That true whether you convert your images in DPP 4 or ACR. See the blog post here to learn lots more and to read a free excerpt.
You can order your copy from the BAA Online Store here, by sending a Paypal for $40 here, or by calling Jim or Jennifer weekdays at 863-692-0906 with your credit card in hand.
The BIRDS AS ART Current Workflow e-Guide (Digital Basics II)
Your guessed it, everything mentioned above (and tons more) is covered in detail in the BIRDS AS ART Current Workflow e-Guide (Digital Basics II), an instructional PDF that is sent via e-mail. Learn more and check out the free excerpt in the blog post here. While the new e-Guide reflects my Macbook Pro/Photo Mechanic/DPP 4/Photoshop workflow, folks using a PC and/or BreezeBrowser will also benefit greatly by studying the material on DB II. Do note that you will find the RGB Curves Adjustment Color Balancing tutorial only in the new e-guide. Note: folks working on a PC and/or those who do not want to miss anything Photoshop may wish to purchase the original Digital Basics along with DB II while saving $15 by clicking here to buy the DB Bundle.
The two most recent and many of the older MP4 Photoshop Tutorial videos releases go hand and hand with the information in DB II):
Folks who learn well by following along rather than by reading can check out the complete collection of MP 4 Photoshop Tutorial Videos by clicking here.
You can learn how and why I and other discerning Canon shooters convert nearly all of their Canon digital RAW files in DPP 4 using Canon Digital Photo Professional in the DPP 4 RAW conversion Guide here. And you can learn advanced Quick Masking and advanced Layer Masking techniques in APTATS I & II. You can save $15 by purchasing the pair. Folks can learn sophisticated sharpening and (NeatImage) Noise Reduction techniques in the The Professional Post Processing Guide by Arash Hazeghi and yours truly.
Help Support the Blog
Please help support my (stupendous) efforts here on the blog by remembering to click on the logo link above each time that you shop Amazon. That would be greatly appreciated. There is no problem using your Prime account; just click on the link and log into your Prime account. With love, artie
If In Doubt …
If in doubt about using the BAA B&H affiliate link correctly, you can always start your search by clicking here. Please note that the tracking is invisible. Web orders only. Please, however, remember to shoot me your receipt via e-mail.
Please Remember to use my Affiliate Links and to Visit the New BAA Online Store 🙂
To show your appreciation for my continuing efforts here, we ask, as always, that you get in the habit of using my B&H affiliate links on the right side of the blog for all of your photo and electronics purchases. Please check the availability of all photographic accessories in the New BIRDS AS ART Online Store, especially the Mongoose M3.6 tripod head, Wimberley lens plates, Delkin flash cards and accessories, and LensCoat stuff.
As always, we sell only what I have used, have tested, and can depend on. We will not sell you junk. We know what you need to make creating great images easy and fun. And please remember that I am always glad to answer your gear questions via e-mail.
I would of course appreciate your using our B&H affiliate links for all of your major gear, video, and electronic purchases. For the photographic stuff mentioned in the paragraph above, and for everything else in the new store, we, meaning BAA, would of course greatly appreciate your business. Here is a huge thank you to the many who have been using our links on a regular basis and those who will be visiting the New BIRDS AS ART Online Store as well.
Facebook
Be sure to like and follow BAA on Facebook by clicking on the logo link upper right. Tanks a stack.
Typos
In all blog posts and Bulletins, feel free to e-mail or to leave a comment regarding any typos or errors. Just be right :).