Stuff
The last two days have been busy, chaotic, and exciting. Even I have been impressed by the reach of the blog — at 3:55am Pacific time on Wednesday, January 24, 2018 I have sold all but a single listed Canon item (with several folks interested in the 70-200mm f/4L IS). Thanks to all who purchased my stuff at the give-away prices. I have a private client this morning and look forward to being joined by my new friend Lee Sommie midday tomorrow. Lee is signed up for San Diego #2.
Coming on Thursday
Coming on Thursday, a blog post entitled "Canon Does Not Suck." So stay tuned.
Late Registration Discount
Due to a cancellation, there is a single opening on the second San Diego IPT. I am offering a $200 discount on the course fee. It is mandatory that you get in touch via e-mail or call me on my cell at 863-221-2372. Scroll down here for details on San Diego #2.
The Streak
Today makes one hundred seventy-seven days in a row with a new educational blog post! This one took more than two hours to prepare including the time spent optimizing the image. With all of my upcoming free time (or not …), the plan right now is to break the current record streak of 480 … Good health and good internet connections and my continuing insanity willing.
Booking.Com
Booking.Com came through for me twice again recently with both the DeSoto Fall IPT and next July's UK Puffins, Gannets, and Bempton Pre-trip room reservations. And all the rates were great. If you'd like to give Booking.Com a shot, click here and you will earn a $25 reward. Thanks to the many who have already tried and used this great service.
Gear Questions and Advice
Too many folks attending BAA IPTs and dozens of folks whom I see in the field, and on BPN, are–out of ignorance–using the wrong gear especially when it comes to tripods and more especially, tripod heads… Please know that I am always glad to answer your gear questions via e-mail. Those questions might deal with systems, camera bodies, accessories, and/or lens choices and decisions.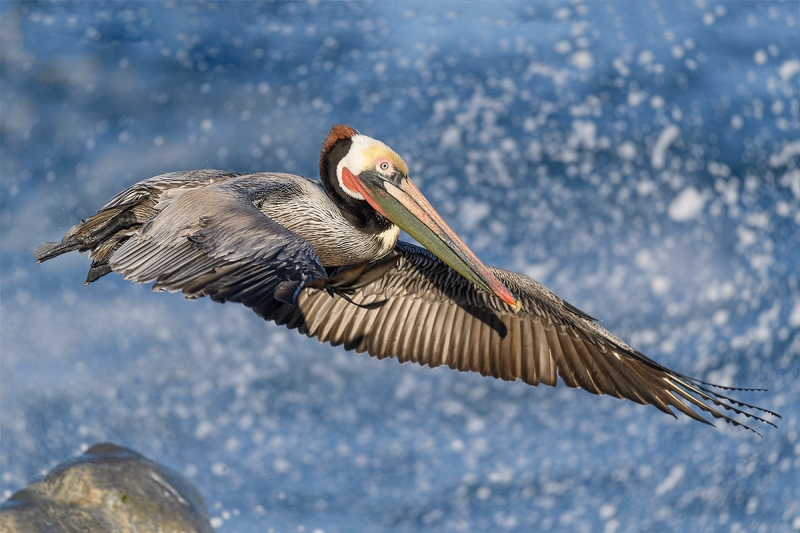 This image was created on January 22 at La Jolla, CA with the hand held Nikon AF-S NIKKOR 200-500mm f/5.6E ED VR lens (at 440mm) and the blazingly fast professional digital camera body, the Nikon D5 DSLR camera body with dual XQD slots). ISO 400. Matrix metering probably +2/3 stop: 1/200 sec. at f/5.6 in Manual mode. AWB at 7:52am on a mostly clear sunny morning.
Center Group Shutter Button AF. Click on the image to enjoy a larger version.
Brown Pelican, Pacific race, taking flight.
Your browser does not support iFrame.
The Dramatic Take-off Image
I tried and failed for decades to create images like this with my Canon gear. Do understand that many others, more skilled than I, have made images like this with their Canon gear. With my new Nikon gear I now feel that I at least have a good chance. That gives me more confidence to at least try in difficult or even near-impossible situations.
It took me a while to realize that when a big wave hit a pelican or two would take flight. I finally figured it out with this image. There is an amazing Content Aware Fill story that goes with this photo. I will share in a future blog post.
Why I Switched From Canon to Nikon
I was one of the original 55 Canon Explorers of Light. After speaking with Dave Metz (who was then with Canon) at some photographic event, I was invited into the program — probably in 1996 or so — by Michael Newler (aka "Captain Explorer.") It was quite an honor. I served in that role for about eighteen years. Canon was exceedingly generous. Right after I signed up I did a commercial for the EOS-1V film body that aired worldwide. At some point Michael left Canon and Dave Metz took over the EoL program. When Dave moved on, Steven Inglima assumed leadership of the program. Michael, Dave, and Steve were all good to me. Unbelievably good to me. When I submitted no end of speaking gigs for EoL approval, Michael liked to argue, Dave seemed like a tough guy but had a heart of gold beneath that facade, and Steve liked to ask questions. That said, those three wonderful gentlemen approved everything single thing that I proposed. Heck, they often lined up speaking gigs for me and sent me on the next plane. That support included two major exhibits of my work, the first at the Peterson Institute in Jamesburg, NY, and the second at the National Zoo in Washington, part of the Smithsonian. Canon sponsored both of those exhibits to the tune of $30,000.
About three or four years ago, Steven Inglima called me. Steve never called me. He was going on and on about nothing and suddenly it dawned on me: I was being let go as an Explorer. And that's what happened. As a result of political BS at Canon. Steve fought hard to keep me in the program. In about a year he was fired too. He did get one concession. I, and the other photographers who were let go, were OKed to use the title Canon Explorer of Light Emeritus. And the plan was that while we would not have formal Canon contracts, that EoL would continue to support our speaking endeavors on Canon's behalf. That worked for a total of two events. But the new team at EoL steadfastly refused to support my exhibit at the San Diego Natural History Museum. B&H came to the rescue. Canon EoL did support the slide program that opened the exhibit. And one more speaking gig in South Florida. I submitted a request for support for a speaking engagement near Denver but they never responded. When the gentleman trying to arrange the program wrote them, they responded with a simple answer. "No."
I opted to choose the high road. I continued to support Canon on the blog most every day of the year. I had a great 18 year run with EoL and Canon's generosity was unparalleled. So thanks again to Michael, Dave, and Steven, to good friends, the technical advisors Rudy Winston and Chuck Westfall, and to Canon USA and Canon Japan.
For years I had seen the great flight and action images of some of the top bird photographers made with Nikon gear. I simply assumed that they were more talented than I. When I heard recently that BPN Avian Moderator Doug Brown of Albuquerque, NM, had switched, that got me thinking; Doug is a quite competent flight photographer. As I was no longer an EoL in any way, shape or form, I decided to borrow some Nikon gear and see if it was any better for flight and action. From the first moment that I acquired focus on a bird in flight three days ago on January 20, I thought "This is different. This is much, much better." Like Canon, the system acquired focus quickly. The difference, for me at least, was that the system would hold focus perfectly even with bird flying in front of a cliff or just over the ocean. Talk honestly to any top bird photographer who uses Canon gear and they will voice their frustrations. "I was locked on and then had to bump the focus. AF keeps going to the background. More than half of my flight images are not sharp on the eye." There is none of that with the D5. I probably created 100,000 images of birds flying right at me at 60 mph with my Canon gear. 99.99% of them were sharp. Sharp on the feet. For me, Canon AF simply could not keep up. Some of the very best Canon flight photographers have had success in this area with their cameras set up perfectly for flight. But never me. With Nikon this situation is a piece of cake. I will share a Brandt's Cormorant image with you here soon.
Before I even saw the images on my laptop I realized that I would almost surely be switching. Once I saw the consistently sharp results on my Macbook Pro with Retina Display, I was convinced: for me, photographing birds in flight with Nikon gear would be a huge improvement, the chance to be the flight photographer I always wanted to be. With the Canon gear I rarely made more than two or three images of a given bird on a flight pass. Several times in the past few days with the Nikon gear I have created 12- and 15-frame flight sequences with all of the images well-framed and sharp on the eye. AF is that sure even when and if the AF Group cluster is nowhere near the bird's face, head, or neck. There is no way in the world that I could have created today's featured image with my Canon gear. Others maybe, but not me. I look forward to thousands more quick-grab and take-off images in my Nikon future.
If Canon versus Nikon for flight photography were a championship prize fight, they would be best to stop the bout at the weigh-in …Unless you totally screw-up there is no need at all to bump the focus. The whole Nikon thing has been like a re-birth.
I thought on the dilemma for about a day and then decided to go all-in by selling off my Canon gear, most of it in a single afternoon.
Folks have asked if my decision was vengeful in any way, if it was politically motivated, if I was now under contract with Nikon, or if it had to do with my being let go by Canon as an EoL. The honest answers are no, no, no, and no. In The Work (The Work of Byron Katie) we learn to ask if the thing that we fear the most (being let go as an Explorer) could possibly be the best thing that could have happened … In this tale, that has been exactly the case.
Other factors include Canon's continued denial of oil spatter on the sensor problems with individual EOS-1DX Mark II bodies (like my first one) and problems with folks using Canon Repair centers. No worries on that though; I have heard that Nikon repair service is much worse. 🙂
What would I have done if I had learned that Nikon was the best system for me while I was still an Explorer of Light? That is a very tough question and I am a very loyal man, but boy, I would have been very tempted to end my relationship with Canon …
I have enjoyed the firestorm on the blog and on my two Facebook pages and have enjoyed the challenge of learning to work with an entirely new system. And most of all, I have been having a ton of fun.
Summing up I can only say that I switched knowing that Nikon was better for me at this point in my life. Please do not be fooled into thinking that the Nikon system is dead solid perfect; there are many things that bug me. I will be sharing those with you in future blog posts.
Many fear that I will quit teaching folks about Canon on the blog. That will not be true. If I never posted a single Nikon image I could do a blog post every day for the rest of my life with as yet unpublished Canon images. That said, the switch will allow me to broaden my horizons and become an even stronger teacher. Wait till I learn my two new camera bodies and learn how to zoom out with the 200-500!
Those who have read this far would likely enjoy reading my replies to various comments in the last three or four Nikon-related blog posts …
Nikon Menu Help Needed
If you know how I can assign Focus Stop to the AF ON button please leave a comment.
The San Diego Site Guide
Whether you are visiting San Diego for photography for the first time or live in the area and have done the pelicans many dozens of times, you will learn a ton by studying the San Diego Site Guide. Why spend days stumbling around when you can know exactly where and when to be depending on the wind direction and sky conditions? In addition to the pelican primer, there is great info on the best beaches for the gorgeous gulls, on Marbled Godwit, on the lower cliffs, Lesser Scaup, and Wood and Ring-necked Ducks as well.
Learn more or purchase your copy here.
Help Support the Blog
Please help support my (stupendous) efforts here on the blog by remembering to click on the logo link above each time that you shop Amazon. That would be greatly appreciated. There is no problem using your Prime account; just click on the link and log into your Prime account. With love, artie
If In Doubt …
If in doubt about using the BAA B&H affiliate link correctly, you can always start your search by clicking here. Please note that the tracking is invisible. Web orders only. Please, however, remember to shoot me your receipt via e-mail.
Please Remember to use my Affiliate Links and to Visit the New BAA Online Store 🙂
To show your appreciation for my continuing efforts here, we ask, as always, that you get in the habit of using my B&H affiliate links on the right side of the blog for all of your photo and electronics purchases. Please check the availability of all photographic accessories in the New BIRDS AS ART Online Store, especially the Mongoose M3.6 tripod head, Wimberley lens plates, Delkin flash cards and accessories, and LensCoat stuff.
As always, we sell only what I have used, have tested, and can depend on. We will not sell you junk. We know what you need to make creating great images easy and fun. And please remember that I am always glad to answer your gear questions via e-mail.
I would of course appreciate your using our B&H affiliate links for all of your major gear, video, and electronic purchases. For the photographic stuff mentioned in the paragraph above, and for everything else in the new store, we, meaning BAA, would of course greatly appreciate your business. Here is a huge thank you to the many who have been using our links on a regular basis and those who will be visiting the New BIRDS AS ART Online Store as well.
Facebook
Be sure to like and follow BAA on Facebook by clicking on the logo link upper right. Tanks a stack.
Typos
In all blog posts and Bulletins, feel free to e-mail or to leave a comment regarding any typos or errors. Just be right :).