Stuff
I enjoyed a great session with private client Brian Goebel this morning at La Jolla and another great lunch at Rubio's! I spent the afternoon unpacking and trying to set up the brand new Nikon D850 DSLR that I got from Bedford Camera via next day Fed Ex. Thanks to the BAA Blog, all six D-850s that Steve Elkins had in stock sold in hours. Sometimes the power of the blog amazes even me …
There are still two openings on the Spoonbill IPT. Click here for details. If anyone would like to join me for 1 1/2 days on the Spoonbill Boat on February 19th and the morning of the 20ieth, please e-mail for details.
Late Registration Discount
Due to a cancellation, there is a single opening on the second San Diego IPT. I am offering a $200 discount on the course fee. It is mandatory that you get in touch via e-mail or call me on my cell at 863-221-2372. Scroll down here for details on San Diego #2.
The Streak
Today makes one hundred seventy-eight days in a row with a new educational blog post! This one took about an hour to prepare. With all of my upcoming free time (or not …), the plan right now is to break the current record streak of 480 … Good health and good internet connections and my continuing insanity willing.
Booking.Com
Booking.Com came through for me twice again recently with both the DeSoto Fall IPT and next July's UK Puffins, Gannets, and Bempton Pre-trip room reservations. And all the rates were great. If you'd like to give Booking.Com a shot, click here and you will earn a $25 reward. Thanks to the many who have already tried and used this great service.
Gear Questions and Advice
Too many folks attending BAA IPTs and dozens of folks whom I see in the field, and on BPN, are–out of ignorance–using the wrong gear especially when it comes to tripods and more especially, tripod heads… Please know that I am always glad to answer your gear questions via e-mail. Those questions might deal with systems, camera bodies, accessories, and/or lens choices and decisions.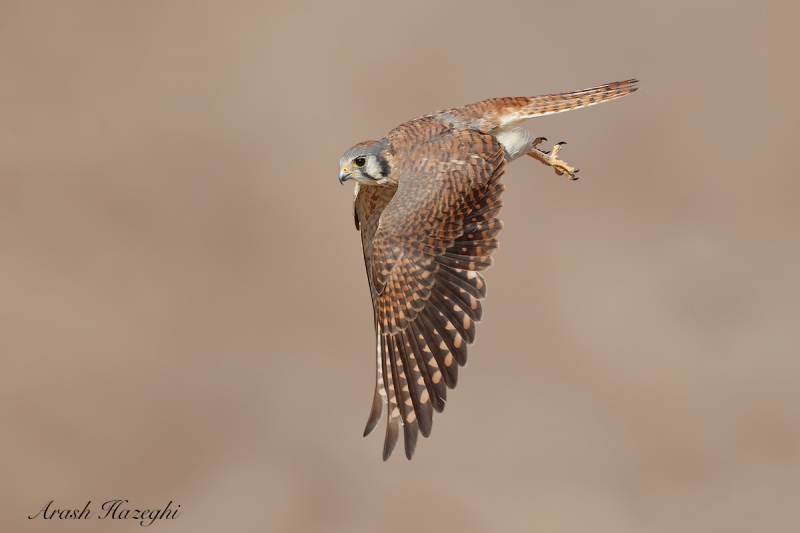 This image was made by Arash Hazeghi from his SUV with the lens that is for sale below, the hand held Canon EF 600mm f/4L IS II USM lens (with the blazingly fast Canon EOS-1D X Mark II.) ISO 640: 1/4000 sec. at f/5.6.
You might consider this as Exhibit A in the matter of Canon does not suck … See what others had to say about this image in the BPN post here.
American Kestrel diving
Image courtesy of and copyright 2017: Arash HAzeghi
Your browser does not support iFrame.
Brand New Listings
Canon EF 600mm f/4L IS II USM Lens
BPN Avian Moderator Arash Hazeghi is offering a Canon EF 600mm f/4L IS II USM lens in excellent plus condition for $9450.00. The lens has had LensCoat on it since day one and thus there are no marks on the lens barrel. The glass is perfect. This lens has created many award winning images for me; it is tack sharp with 1.4X III and 2X III, and the focus is fast and smooth. There are some tiny marks on the groove at the base of the hood (from normal use) caused by mounting and un-mounting the hood. There are a couple of small marks on the hood but it's on the paint finish; the carbon fiber is intact. The bottom of the lens foot has a couple of marks from mounting the lens on tripod. Your item will not ship until your check clears unless other arrangements are made.
Please contact Arash via e-mail.
WMD: Weapon of Mass Destruction!
The 600 II is a state of the art super-telephoto lens for birds, nature, wildlife, and sports. If I can get it to a location, it was my go-to long lens for more than a decade. It is fast and sharp and deadly alone or with either TC. With a new one going for $11,499, you can save a cool $2,049.00 by grabbing Arash's lens right now. artie
Canon EF 400mm f/4 IS II DO USM Lens
Price reduced $100 on January 25, 2018
BPN Avian Moderator Arash Hazeghi is offering a Canon 400mm f/4 IS II DO USM lens in like-new condition but for a few tiny scratches on the lens foot the low price of $5,799.00 (was $5899.00). The sale includes a Lens Coat, the the lens trunk, the lens strap, the padded fabric front lens cover, the rear lens cap, the original box and everything that came in it, and insured ground shipping via major courier to US addresses only. Your item will not ship until your check clears unless other arrangements are made.
Please contact Arash via e-mail.
I own the 400 DO II and find a way to take it on most trips. I take it to Scotland and Nickerson Beach and San Diego. It has served as my big gun in the Galapagos and on Southern Ocean (the Falklands and South Georgia) trips. It is a killer for flight with or without the 1.4X III TC. I used it most recently in San Diego for the ducks and the White Pelicans with both the 1.4X and the 2X III TCs. And I am planning on using it as my big gun and ship photography lens on next October's hoped for Emperor Penguin chicks trip … No guarantees there. And really skilled folks have had amazing success hand holding it for flight and for action. With this lens in high demand and new ones selling for $6899, Arash's lens is a great buy that will save you a smooth a $1,100!. artie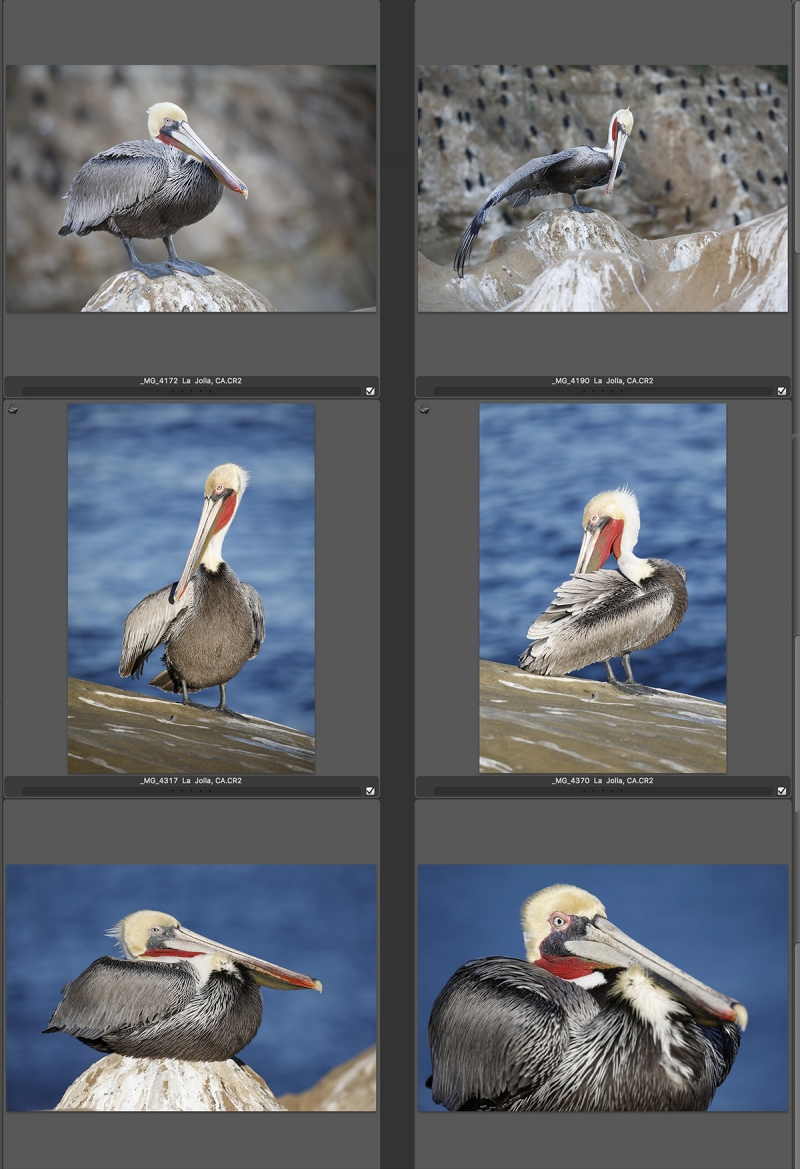 All of the images above were created by Brian Goebel on the morning of Wednesday, January 24, 2018. He used the hand held Canon EF 100-400mm f/4.5-5.6L IS II USM lens and the Canon EOS 5D Mark IV. The last three images in the Photo Mechanic composite were made with the Canon Extender EF 1.4X III in place. All with Evaluative metering in Manual mode and AWB.
Brown Pelicans, Pacific race
Images courtesy of and copyright 2018: Brian Goebel
Your browser does not support iFrame.
My Morning with Brian Goebel
I was hired by Celeste Banks of Guy Carpenter & Company, LLC of Seattle, to provide a morning of photography instruction for Brian Goebel of Huntington Beach, California. CA. Celeste learned of me two years ago when she visited my exhibit at the San Diego Natural History Museum. Brian recently retired as an actuary from Molina Healthcare and the folks at Carpenter thanked him with the gift of a morning photo session with yours truly. It was obvious from the get-go that Brian was a super-nice guy who was anxious to learn.
He has been photographing for a while but had never concentrated much on birds. He showed up with a 5D IV, a 100-400 II, the 1.4X III TC, and good hand holding techniques. He had no clue on getting the right exposure, had never worked in Manual mode, and had no clue on either the AF Area Selection Modes or moving the AF points. He was a quick study. In 30 minutes he had mastered getting the right exposure by using the histogram and checking for blinkies. I showed him how to work in Manual mode, explained the AF Area Selection Modes, and discussed the importance of moving the AF points around to get the composition that you want. I also explained the importance of Orientation-linked AF Points and AF Area Selection modes. I set him up with Surround for horizontals and Upper Large Zone for verticals. It seemed like no time at all until he started making great images. Above are my favorite six of his images from our morning together.
All six images had data in the right-hand box of the histogram and all were tack sharp.
If you own a 5D Mark IV and were confused by any of the stuff above that I taught Brian, you would likely benefit by getting a copy of the Canon 5D Mark IV User's Guide and studying it.
Canon Surely Does Not Suck: Part I of Many
Yes, my instruction helped Brian immensely, but the reason that I started the Canon Surely Does Not Suck series with this little tale is because it shows that the Canon system is an excellent one with an accurate AF system for all types of general photography. That Canon stuff is easy to use and is capable of creating high quality image files. All that even for a relative bird photography beginner. In addition, the light weight of the 100/400 II/5D IV rig makes it easy for most folks to hand hold successfully for extended shooting sessions. There will be lots more on this topic coming soon.
Your Favorite?
Which of Brian's six images is your favorite? Do let us know why you made your pick.
First Nikon System Issue
I encountered some serious problems acquiring focus when using the 200-500 with the TCE 14 and the D5. Strangely enough, those problems exist only with static subjects! I've tried group, d9, and single point with similar results. Stranger still is the fact that even when I manually pre-focus and get the AF right on the bird's eye, the system sometimes searches hopelessly. Even in high contrast situations. Any and all advice or comments are welcome.
Help Support the Blog
Please help support my (stupendous) efforts here on the blog by remembering to click on the logo link above each time that you shop Amazon. That would be greatly appreciated. There is no problem using your Prime account; just click on the link and log into your Prime account. With love, artie
If In Doubt …
If in doubt about using the BAA B&H affiliate link correctly, you can always start your search by clicking here. Please note that the tracking is invisible. Web orders only. Please, however, remember to shoot me your receipt via e-mail.
Please Remember to use my Affiliate Links and to Visit the New BAA Online Store 🙂
To show your appreciation for my continuing efforts here, we ask, as always, that you get in the habit of using my B&H affiliate links on the right side of the blog for all of your photo and electronics purchases. Please check the availability of all photographic accessories in the New BIRDS AS ART Online Store, especially the Mongoose M3.6 tripod head, Wimberley lens plates, Delkin flash cards and accessories, and LensCoat stuff.
As always, we sell only what I have used, have tested, and can depend on. We will not sell you junk. We know what you need to make creating great images easy and fun. And please remember that I am always glad to answer your gear questions via e-mail.
I would of course appreciate your using our B&H affiliate links for all of your major gear, video, and electronic purchases. For the photographic stuff mentioned in the paragraph above, and for everything else in the new store, we, meaning BAA, would of course greatly appreciate your business. Here is a huge thank you to the many who have been using our links on a regular basis and those who will be visiting the New BIRDS AS ART Online Store as well.
Facebook
Be sure to like and follow BAA on Facebook by clicking on the logo link upper right. Tanks a stack.
Typos
In all blog posts and Bulletins, feel free to e-mail or to leave a comment regarding any typos or errors. Just be right :).