Stuff
I got a lot accomplished on Saturday though I am not sure what. I did swim more than a half mile on Friday and Saturday in a fairly cold pool. On Sunday I will be micro-adjusting my Nikon gear and continue working on the Gatorland and DeSoto IPT announcements. On Friday, I sent out the advance Master Class info to those who requested it. It looks as if three of the eight slots are spoken for. Please shoot me an e-mail if you are interested.
There are two openings on the spoonbill IPT. Click here for complete info. If anyone would like to join me shooting spoonbills for 1 1/2 days, February 19 (full day) and February 20 (morning session only), please get in touch via e-mail.
Thanks to the many who commented on yesterday's Ethigul Questions blog post. I spent more than an hour responding to comments there. I have decided that I will no longer be feeding bread to ducks or gulls but in the future will bait some photographic subjects with more suitable food choices. You might say that that post opened up a big can of worms, or a big loaf of bread …
The Streak
Today makes one hundred eighty-eight days in a row with a new educational blog post! This one took about 45 minutes to prepare. With all of my upcoming free time (or not …), the plan right now is to break the current record streak of 480 … Good health and good internet connections and my continuing insanity willing.
Booking.Com
Booking.Com came through for me twice again recently with both the DeSoto Fall IPT and next July's UK Puffins, Gannets, and Bempton Pre-trip room reservations. And all the rates were great. If you'd like to give Booking.Com a shot, click here and you will earn a $25 reward. Thanks to the many who have already tried and used this great service.
Gear Questions and Advice
Too many folks attending BAA IPTs and dozens of folks whom I see in the field, and on BPN, are–out of ignorance–using the wrong gear especially when it comes to tripods and more especially, tripod heads… Please know that I am always glad to answer your gear questions via e-mail. Those questions might deal with systems, camera bodies, accessories, and/or lens choices and decisions.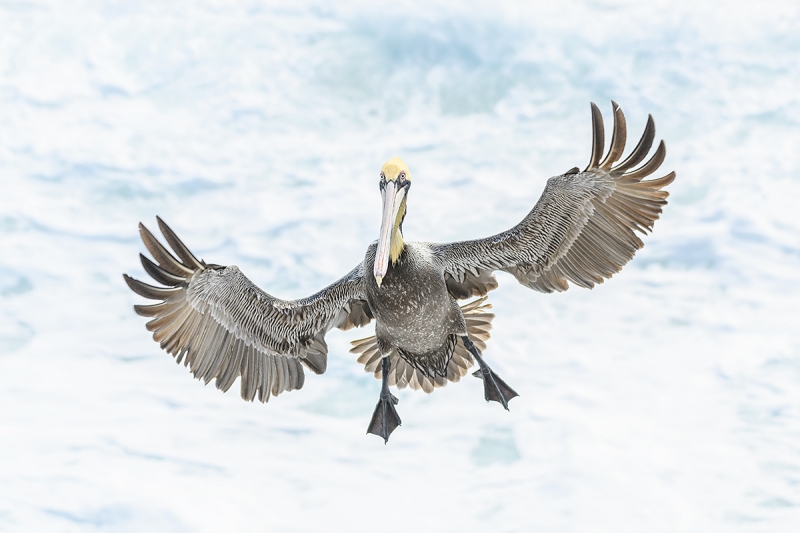 This image was created on January 20 at La Jolla, CA with the hand held Nikon AF-S NIKKOR 200-500mm f/5.6E ED VR lens (at 500mm) and the blazingly fast professional digital camera body, the Nikon D5 DSLR camera body with dual XQD slots). ISO 800. Matrix metering probably +1 stop: 1/2500 sec. at f/5.6 in Manual mode. Cloudy WB at 8:25am on a cloudy morning.
Center Group (grp)/Shutter Button AF. Click on the image to enjoy a larger version.
Brown Pelican, Pacific race landing
Your browser does not support iFrame.
Nikon D5 or D-850?
Thanks to Ivan Kuraev for this e-mail:
Hi Artie, It's been fun reading some of your impressions of your new Nikon gear. Now that you've had a week or two with both bodies, how do you feel the AF performance compares between the D5 and D850? Do you find yourself getting as many keepers with the D850, or is the D5 a noticeable cut above? Ivan
I had the D5 first and shot with it until I got my D-850. Those first few days were great fun. I was blown away by the ability of the AF to lock onto subjects flying against backgrounds other than sky and stay locked on effortlessly. And almost all of the images were sharp on the eye no matter where I had the center grp AF points. As with today's image. How did it get the eyes sharp when the four Group AF points were on the ocean. When I got the D-850 we had fewer pelican flight chances. And though I had the battery grip then, I did not have the hard to find BL-5 battery door to get up to 9 fps. The image files of the D-850 are far superior to those of the D5.
Comparing AF on the two bodies is hard to do because of the difference in frame rate. The 12 fps of the D5 gives me supreme confidence when photographing birds in flight. I was often able to frame the subject and create some 10-15 frame sequences with the birds in the frame and sharp on the eye. With the slower 7 fps of the D-850 I have been unable to do that. Thus, the flight images with the D5 are a bit sharper overall than those made with the D-850. How much of that is because of my somewhat lack of confidence in the D-850, how much is due to the difference in frame rate, and how much might be due to slight differences in the AF systems? I do not know.
Once I got my hands on the D-850 I used it a lot more than I used the D5, captivated by those high quality image files and my desire to learn more about the camera. I was able to get a BL-5 battery door last week so the next time I use my D-850 it will be at 8 fps. I am bringing both bodies on my Cayman Brac trip and should have lots of flight action with the Brown Boobies. I will use both bodies for flight photography and will try to get a better handle on things.
Note: the image of the landing adult gull featured in the Splash Landing blog post here was created with the D-850. It was quite popular and some folks commented on the amazing sharpness. In fact, however, sharp focus on the eye was just a bit off. The Eye Doctor work that I did made the image look super sharp. (I lightened the iris, darkened the pupil, and sharpened the eye and face with a Contrast Mask. See more on that stuff below.
Right now I am leaning towards keeping the D5 though I will have the option to return it as a loaner when I get back from Cayman Brac; time will tell …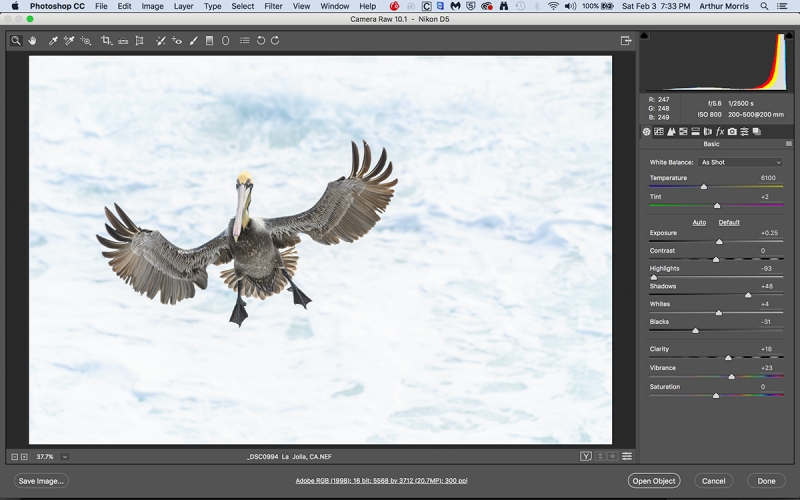 The ACR Screen Capture for Today's Featured Image
Do click on the image so that you can read the fine print.
Your browser does not support iFrame.
The ACR Screen Capture for Today's Featured Image
Above is the The ACR screen capture for today's featured image after I made my adjustments. Note that in most case I am fine going with higher RGB values for the WHITEs with Nikon than I did with Canon. And note that the four center group AF points were nowhere near the bird at the moment of exposure. But that the image is super-sharp on the bird's eyes.
The bird was a bit dark before the adjustments. I brought the converted image into Photoshop and executed the crop to center the bird in the frame. Then I selected the bird with the Quick Selection Tool, put that on a layer, and applied my NIK Color Efex Pro 30/30 recipe. As usual, I lightened the irises and blackened the pupils using Tim Grey Dodge and Burn and selectively applied a Contrast Mask to the face and the bill.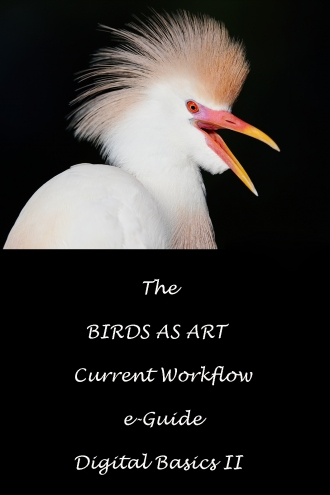 The BIRDS AS ART Current Workflow e-Guide (Digital Basics II) will teach you an efficient Mac or PC/Photo Mechanic/Photoshop workflow that will make it easy for you to make your images better in Photoshop (rather than worse). That true whether you convert your images in DPP 4 or ACR. See the blog post here to learn lots more and to read a free excerpt.
You can order your copy from the BAA Online Store here, by sending a Paypal for $40 here, or by calling Jim or Jennifer weekdays at 863-692-0906 with your credit card in hand.
The BIRDS AS ART Current Workflow e-Guide (Digital Basics II)
Your guessed it, everything mentioned above including making ACR conversions (and tons more) is covered in detail in the BIRDS AS ART Current Workflow e-Guide (Digital Basics II), an instructional PDF that is sent via e-mail. Learn more and check out the free excerpt in the blog post here. While the new e-Guide reflects my Macbook Pro/Photo Mechanic/DPP 4/Photoshop workflow, folks using a PC and/or BreezeBrowser will also benefit greatly by studying the material on DB II. Do note that you will find the RGB Curves Adjustment Color Balancing tutorial only in the new e-guide. Note: folks working on a PC and/or those who do not want to miss anything Photoshop may wish to purchase the original Digital Basics along with DB II while saving $15 by clicking here to buy the DB Bundle.
The two most recent and many of the older MP4 Photoshop Tutorial videos releases go hand and hand with the information in DB II):
Folks who learn well by following along rather than by reading can check out the complete collection of MP 4 Photoshop Tutorial Videos by clicking here.
You can learn how and why I and other discerning Canon shooters convert nearly all of their Canon digital RAW files in DPP 4 using Canon Digital Photo Professional in the DPP 4 RAW conversion Guide here. Yes, I still have many Canon images to work on. 🙂 And you can learn advanced Quick Masking and advanced Layer Masking techniques in APTATS I & II. You can save $15 by purchasing the pair. Folks can learn sophisticated sharpening and (NeatImage) Noise Reduction techniques in the The Professional Post Processing Guide by Arash Hazeghi and yours truly.
Help Support the Blog
Please help support my (stupendous) efforts here on the blog by remembering to click on the logo link above each time that you shop Amazon. That would be greatly appreciated. There is no problem using your Prime account; just click on the link and log into your Prime account. With love, artie
If In Doubt …
If in doubt about using the BAA B&H affiliate link correctly, you can always start your search by clicking here. Please note that the tracking is invisible. Web orders only. Please, however, remember to shoot me your receipt via e-mail.
Please Remember to use my Affiliate Links and to Visit the New BAA Online Store 🙂
To show your appreciation for my continuing efforts here, we ask, as always, that you get in the habit of using my B&H affiliate links on the right side of the blog for all of your photo and electronics purchases. Please check the availability of all photographic accessories in the New BIRDS AS ART Online Store, especially the Mongoose M3.6 tripod head, Wimberley lens plates, Delkin flash cards and accessories, and LensCoat stuff.
As always, we sell only what I have used, have tested, and can depend on. We will not sell you junk. We know what you need to make creating great images easy and fun. And please remember that I am always glad to answer your gear questions via e-mail.
I would of course appreciate your using our B&H affiliate links for all of your major gear, video, and electronic purchases. For the photographic stuff mentioned in the paragraph above, and for everything else in the new store, we, meaning BAA, would of course greatly appreciate your business. Here is a huge thank you to the many who have been using our links on a regular basis and those who will be visiting the New BIRDS AS ART Online Store as well.
Facebook
Be sure to like and follow BAA on Facebook by clicking on the logo link upper right. Tanks a stack.
Typos
In all blog posts and Bulletins, feel free to e-mail or to leave a comment regarding any typos or errors. Just be right :).