Stuff
On Sunday morning I micro-adjusted my two Nikon bodies with the 200-500. I used my LensAlign Mark II set-up. Once that is done both Nikon bodies do the grunt work automatically by comparing the Live View focus with the phase detection AF that we use most of the time. This results in a savings of literally hours of work. To confirm my results I went to FocusTune and ran an AFC test that did just that. There will be a free tutorial on micro-adjusting the D5 and the D-850 coming soon. Right after lunch I micro-adjusted my 24-120mm. I was hoping that it would cloud up later in the afternoon and it did just that so I was able to head outside, set up my lighting gear and the LensAlign Mark II target, and adjust both bodies with the NIKON TCE 14 at 700mm. I will relive the whole experience in a coming blog post.
I enjoyed a cold 1/2 mile plus swim late in the day.
I was glad to learn very recently of the following:
IPT veteran and dear friend Patrick Sparkman sold his Canon EF 600mm f/4L IS II USM lens in near-excellent condition for $8800, his Canon EF 24-70mm f/2.8L II USM lens in like-new condition for $1250, his Canon TS-E 24mm f/3.5L II Tilt-Shift lens in like-new condition for $1250, two 1.4X II and two 2X III TCs in excellent condition for $285 each, and two Canon EOS 5D Mark IV DSLR camera bodies in excellent to like-new condition, each for $2550. All within two days of being listed.
Gerald Barrack sold his Canon EOS 5D Mark III digital camera body (with extras) in excellent to near-mint condition for $1,200.00 in mid-January.
Steve Ellis sold a his AF-S NIKKOR 80-400mm f/4.5-5.6 G ED VR lens in near-mint condition for $1499 in mid-January.
There are two openings on the spoonbill IPT. Click here for complete info. If anyone would like to join me shooting spoonbills for 1 1/2 days, February 19 (full day) and February 20 (morning session only), please get in touch via e-mail.
Today I unpack the big box that I sent from San Diego and will get started on getting my fire sale gear to the proper buyers once their checks have cleared.
The Streak
Today makes one hundred eighty-nine days in a row with a new educational blog post! This one took about two hours to prepare. With all of my upcoming free time (or not …), the plan right now is to break the current record streak of 480 … Good health and good internet connections and my continuing insanity willing.
Canon EF 500mm f/4L IS USM Lens (the "old five") with extras!
Price reduced $100 on 4 FEB 2018.
Greg Morris is offering a Canon EF 500mm f/4L IS USM lens in very good plus condition for $3600 (was $3700). The lens was cleaned and checked by Canon in December 2017 and the lens mount was replaced. The sale includes a Canon Extender EF 1.4X II, a Canon Extender EF 2X II (both in like new condition with caps and pouches), the rear lens cap, the lens trunk, the leather front lens cover, and insured ground shipping via major courier to US addresses only.
Your item will not ship until your check clears unless other arrangements are made.
Please contact Greg via or e-mail by phone at 1-580-678-5929 (Central time).
The 500mm f/4 lenses have been the world's most popular telephoto lenses for birds, nature, wildlife, and sports for many decades. I owned and used and loved my "old five" for many years. If you don't have the cash for the 500 II and can handle the additional 1 1/2 pounds, then this is your best super-telephoto option. Most everyone can produce sharp images with this lens and a 1.4X TC. Folks with good to excellent sharpness techniques can do the same with a 2X TC. With the new 500 II selling for $8,999 you can save a neat $5299.00 by grabbing Greg's lens (plus the two TCs!) artie
ps: The Series II TCs work perfectly well with the older super telephoto lenses; the series III TCs are best when working with the newer Series II lenses.
Booking.Com
Booking.Com came through for me twice again recently with both the DeSoto Fall IPT and next July's UK Puffins, Gannets, and Bempton Pre-trip room reservations. And all the rates were great. If you'd like to give Booking.Com a shot, click here and you will earn a $25 reward. Thanks to the many who have already tried and used this great service.
Gear Questions and Advice
Too many folks attending BAA IPTs and dozens of folks whom I see in the field, and on BPN, are–out of ignorance–using the wrong gear especially when it comes to tripods and more especially, tripod heads… Please know that I am always glad to answer your gear questions via e-mail. Those questions might deal with systems, camera bodies, accessories, and/or lens choices and decisions.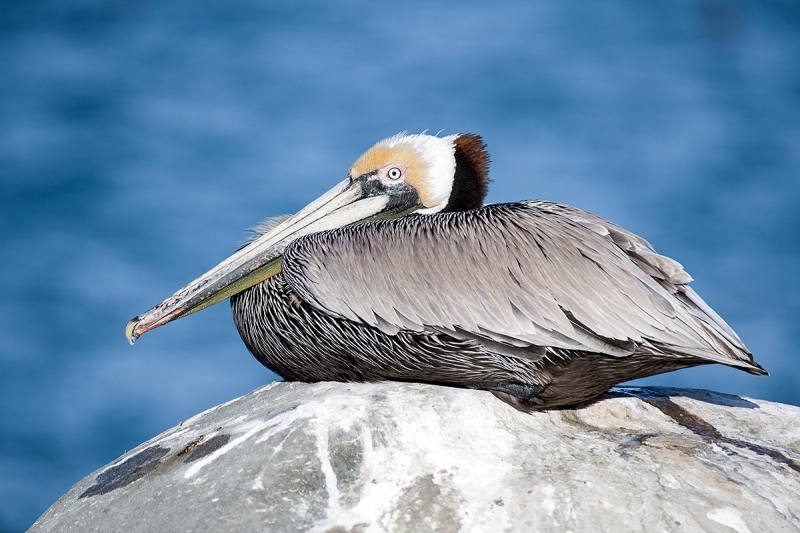 This image was created on the afternoon of January 26 on the 2nd San Diego IPT with the hand held Nikon AF-S NIKKOR 200-500mm f/5.6E ED VR lens (at 480mm) and the mega mega-pixel Nikon D850 DSLR.. ISO 400. Matrix metering: 1/1200 sec. at f/6.3 in Manual mode was about zero EC as framed. AWB at 3:40pm in late afternoon light.
d-9/Shutter Button AF with the AF points on the pelican's face. Click on the image to enjoy a larger version.
Brown Pelican, Pacific race, resting
Your browser does not support iFrame.
My Nikon Exposure Confusion
Good Nikon Exposure Questions Left in Blog Post Comments
Jeff Friedhoffer
In the Trying to Explain … blog post here, blog regular Jeff Friedhoffer wrote on January 30, 2018 at 12:21 pm:
Artie, As usual a beautiful picture. Have a question about the picture captions. Why are you now writing "Matrix metering probably -1/3 stop as framed: 1/2500 sec. at f/6.3 in Manual mode"? The word "probably" did not occur in captions of Canon pix. What is the significance of "probably" is this context.
Thanks, Jeff
David Policansky
IPT veteran and blog regular David Policansky commented (in part) on the Scratching Perfection blog post here):
February 1, 2018 at 12:54 pm.
I do have a question, though. Since you've been using your new Nikon (gear), the words "about" and "probably" show up in your descriptions of the exposures you use. I don't remember that you ever used those words when you were shooting Canon. Can you explain? David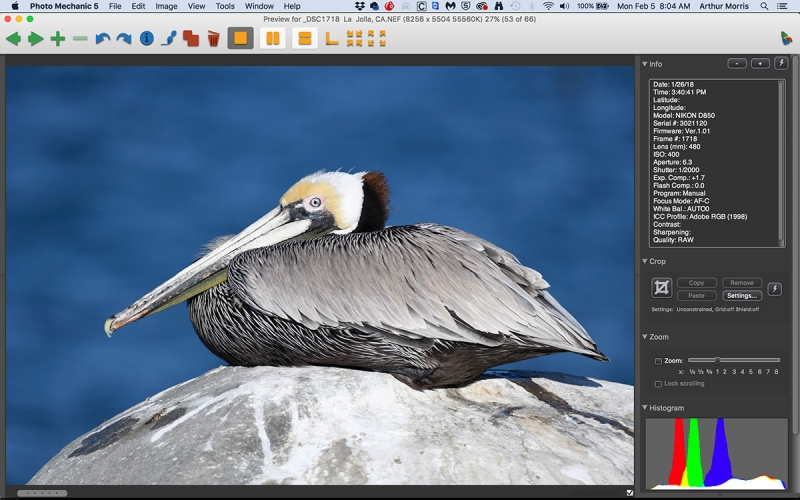 The EXIF for today's featured image
Please click on the image so that you can read the fine print.
Your browser does not support iFrame.
The EXIF for Today's Featured Image
Note in the EXIF for today's featured image that the +1.7 EC that I had been using that morning to create some pleasing blurs in S mode (Tv in Canon), was still in effect even though I was in Manual mode. Nikon folks need to get in the habit of setting the EC back to zero when switching from any automatic exposure mode back to Manual mode. Read more below. And learn.
My Promised Response
There are several reasons that I am not quite yet spot-on when commenting on the exposure compensations used to create my Nikon images. But there is a huge lesson at the end for everyone …
1-Matrix metering and exposure compensations (ECs) with Nikon are all new to me. Since I work in Manual mode about 90% of the time, and since Nikon (like Canon) does not show the actual EC in the EXIF, my exposure comments for now need to include the words "probably" or "about." Things are slightly different with Nikon's Matrix metering than with Canon's evaluative metering and I am still learning the fine points.
2- With Nikon though my increments for everything exposure are set to 1/3 stop, the analogue scale reads in 1/6 stops. The analogue scale on the D5 show +/- three stops. On the D-850 the scale only shows +/- two stops. The latter is one of many things not to like about Nikon … More coming soon.
3- I did not realize at first that if you set an EC when working in an automatic mode that the Nikon bodies will apply that left-over EC when you are working in Manual mode! Canon does not work that way. Prior to creating this image I had been working in S (shutter priority with Nikon, Tv with Canon) and had set the EC to +1.7. So when I created today's featured image I was confused by the fact that the analogue scale showed something close to -2 stops EC. With Canon I would have been somewhere close to zero EC. Why did I need close to -2 stops? Because I had to counteract the effect of the left over +1.7 EC … Once I realized that after the fact with this image, I realized that the same thing had been happening for days because I was often shooting high ISO flight in S mode in the pre-dawn with +1 EC set.

Note: I have long stated that by enabling either EC or Auto ISO when working in Manual mode that the photographer gives up all the control that comes with working in Manual mode. I hate it 🙂
Over time as I become more familiar with Matrix metering and remember to put the EX back to zero, I will become as familiar with my new system as I was with my Canon gear and will be able to include more specific EC comments in the educational captions that accompany posted images.
The Huge Lesson for Everyone
At this point you should be asking, "How in the world did artie consistently come up with perfect exposures when he did not realize that the forgotten +1.7 or +1 ECs were affecting his exposures when he was working in Manual mode?"
The answer is a simple one: I determined my exposures by looking at the histogram and the blinkies … Just as I have been teaching everyone here to do for years. I will have lots more to say on the subject of comparing Nikon histograms with Canon histograms in future blog posts.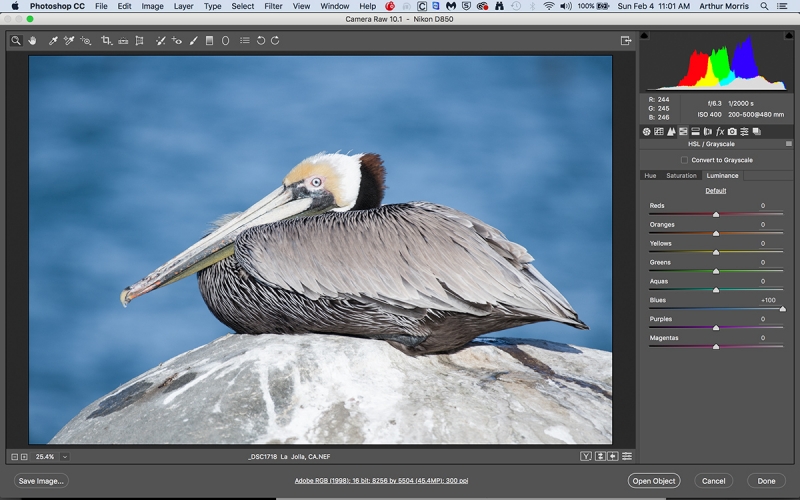 An ACR HSL/Grayscale Screen Capture
Your browser does not support iFrame.
ACR HSL/Grayscale Tip
As I was exposing to prevent over-exposing the WHITEs (by checking the histogram and checking for blinkies) the BLUEs in today's featured image were much too dark. To lighten only the BLUEs I went to the HSL/Grayscale tab during the RAW conversion in ACR, clicked on the Luminance tab, and moved the slider to +100.
Help Support the Blog
Please help support my (stupendous) efforts here on the blog by remembering to click on the logo link above each time that you shop Amazon. That would be greatly appreciated. There is no problem using your Prime account; just click on the link and log into your Prime account. With love, artie
If In Doubt …
If in doubt about using the BAA B&H affiliate link correctly, you can always start your search by clicking here. Please note that the tracking is invisible. Web orders only. Please, however, remember to shoot me your receipt via e-mail.
Please Remember to use my Affiliate Links and to Visit the New BAA Online Store 🙂
To show your appreciation for my continuing efforts here, we ask, as always, that you get in the habit of using my B&H affiliate links on the right side of the blog for all of your photo and electronics purchases. Please check the availability of all photographic accessories in the New BIRDS AS ART Online Store, especially the Mongoose M3.6 tripod head, Wimberley lens plates, Delkin flash cards and accessories, and LensCoat stuff.
As always, we sell only what I have used, have tested, and can depend on. We will not sell you junk. We know what you need to make creating great images easy and fun. And please remember that I am always glad to answer your gear questions via e-mail.
I would of course appreciate your using our B&H affiliate links for all of your major gear, video, and electronic purchases. For the photographic stuff mentioned in the paragraph above, and for everything else in the new store, we, meaning BAA, would of course greatly appreciate your business. Here is a huge thank you to the many who have been using our links on a regular basis and those who will be visiting the New BIRDS AS ART Online Store as well.
Facebook
Be sure to like and follow BAA on Facebook by clicking on the logo link upper right. Tanks a stack.
Typos
In all blog posts and Bulletins, feel free to e-mail or to leave a comment regarding any typos or errors. Just be right :).