Stuff
I got an absolute ton of work done yesterday. First I unpacked the huge box of Canon gear that I sent home from San Diego via Fed-Ex ground. Then I searched and sorted through old e-mails, figured out who should get what, and compiled a detailed list in Excel. Jen came by on Sunday night to assemble the checks that were deposited on Monday. And Jim helped a ton by finding the original product boxes, lens cover, chargers, lens trunks and cases, and other related items. Then he began packing up each item. He shipped the items that were paid for via credit card.
In the afternoon I arranged all of my January images into two folders, PHX to transfer and San Diego 2018 to Transfer. That done I did my second edit of each of those folders. I wound up deleting nearly 1,000 of the remaining Phoenix images and 3,000 of the remaining San Diego images. The final tallies: 126 keepers from my nine days in Phoenix and 602 from three weeks of photography in San Diego.
I enjoyed a cold 1/2 mile plus swim late in the day.
I was glad to learn that IPT veteran and dear friend Patrick Sparkman sold the last item listed in his recent Canon fire sale blog post, the Canon EF 16-35mm f/4L IS USM lens in like-new condition for $699 three days after it was listed.
There are still two openings on the spoonbill IPT. Click here for complete info. If anyone would like to join me shooting spoonbills for 1 1/2 days, February 19 (full day) and February 20 (morning session only), please get in touch via e-mail.
Tomorrow I fly to Miami, Grand Cayman, and Cayman Brac for a week of photographing the nesting Brown Boobies. Today I pack 🙂
Arna Lee Morris
I learned yesterday of the death of my younger sister Arna Lee Morris at age 63. Arna was a sweet kid and like my Mom, was always looking to help others. She was not, however, capable of taking care of herself. When my parents moved from Brooklyn to San Diego in 1969, Arna was not happy about losing all of her high school friends. She rebelled by turning to drugs and drinking and other illicit behaviors. She wound up marrying three guys named Richard. Richard the First and Richard the Third were really bad folks. Richard the Second was the best of the lot; when he left Arna to live with his mother in Oregon he stole Arna's beloved new Toyota truck …
After each divorce Arna would show up at my parents' house in San Diego with a stack of medical and car bills. Each time my parents took her in and paid all of her debts. Arna had long been diagnosed as bi-polar and after Richard III gave her some hallucinogenic drugs she was found several times wandering around in the desert near her home naked. That marriage ended when Richard III dropped Arna off at a public restroom in Pacific Beach and called my Mom to tell her that Arna was "lost." She was found in a men's room praying to a bottle of urine and taken to rehab. Once again my parents took her in. They built an extra room on the house for Arna. Arna worked part time at Jack Murphy stadium doing accounting in the catering department.
Several weeks before the death of my beloved second wife, the late Elaine Belsky Morris in 1994, my Mom called me and said that Arna wanted to come to Florida to help Elaine die. My first thought was "Why would I want my loose cannon sister to come to Florida at such a stressful time?" I relented and Arna was amazing, a saint. She knew how to support Elaine when she was standing and she was helpful and supportive to me. I could never thank her enough for those amazing two weeks.
After my Dad's death in 2001, Mom and Arna moved back east. My Mom bought a condo in Holbrook where she lived until her death in March of 2017. By this time, Arna had become morbidly obese. I remember trying to encourage her to lose weight, to eat healthy, and to exercise. All for naught. Arna had her first stroke while my Mom was still alive. Again I offered advice and told her that I would pay for consulting sessions with Dr. Cliff Oliver and would pay for the supplements that would help her recover. Arna celebrated that first stroke by gaining 30 pounds in a month and going back to drinking lots of wine.
After my Mom died Arna had another more serious stroke. My older sister Ilene sold her home and moved into my Mom's house with Arna with her husband David. Then Arna had a third stroke. She wound up in a rehab home. When she arrived she was able to get around on a walker. We all encouraged her to get out of bed as much as possible, to do as many of the daily activities as possible, and to tackle her rehab with a vengeance. Arna pretty much stayed in bed and often skipped her rehab sessions because she was tired. He condition worsened as expected. Two nights ago my daughter Alissa Facetimed me while visiting Arna. She showed me on her phone to Arna who said out loud in a fairly strong voice, "Arthur, my brother, I love you." Alissa and Ilene were amazed as that was the first time she had spoken audibly in a week.
The next night the nursing home called saying that they needed to bring Arna to the hospital. Ilene told them that there were papers in place that prevented that. She and Alissa went to visit in the pouring rain and realized that the end was near. Arna died the next morning as Ilene was on her way. Simply put, Arna died from being obese.
I did The Work on Arna many months ago: "Arna should listen to me. Arna should accept my offers of help. Arna should lose weight and exercise." The Work helped me find peace with what was going on. Arna was on the path that she had chosen. And thus, I am at peace with Arna's passing. Part of The Work is learning not to be so judgmental. Above, I was simply stating the facts of Arna's life.
My sister Ilene and her family and her extended family will miss Arna. As will my two daughters and their families. And I will miss her too. She was a good egg.
The Streak
Today makes one hundred ninety days in a row with a new educational blog post! This one took about three hours to prepare. With all of my upcoming free time (or not …), the plan right now is to break the current record streak of 480 … Good health and good internet connections and my continuing insanity willing.
Booking.Com
Booking.Com came through for me twice again recently with both the DeSoto Fall IPT and next July's UK Puffins, Gannets, and Bempton Pre-trip room reservations. And all the rates were great. If you'd like to give Booking.Com a shot, click here and you will earn a $25 reward. Thanks to the many who have already tried and used this great service.
Gear Questions and Advice
Too many folks attending BAA IPTs and dozens of folks whom I see in the field, and on BPN, are–out of ignorance–using the wrong gear especially when it comes to tripods and more especially, tripod heads… Please know that I am always glad to answer your gear questions via e-mail. Those questions might deal with systems, camera bodies, accessories, and/or lens choices and decisions.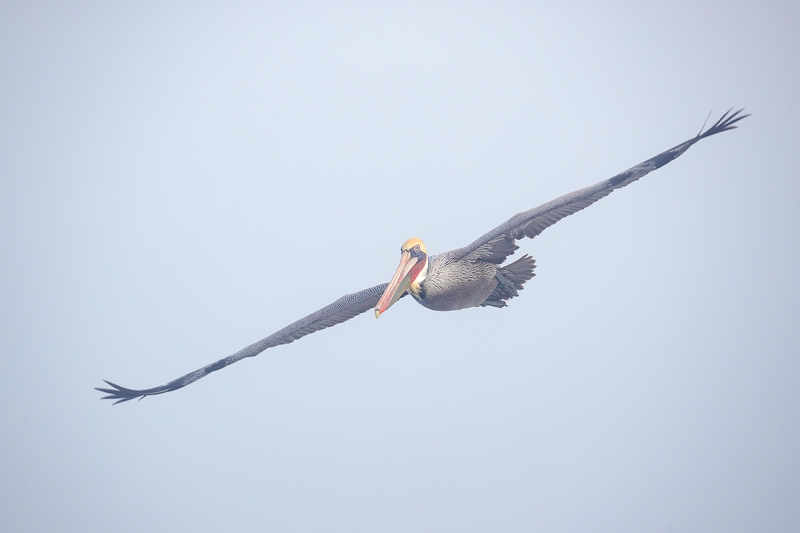 This image was created on Day three of the first San Diego IPT — the morning of Wednesday, January 17 at La Jolla, CA. I used the hand held Canon EF 100-400mm f/4.5-5.6L IS II USM lens (at 286mm) and the blazingly fast Canon EOS-1D X Mark II. ISO 1000. Evaluative metering +3 stops off the foggy sky: 1/1250 sec. at f/5.6 in Manual mode. AWB at 8:48 am on a very foggy morning.
LensAlign/FocusTune micro-adjustment: extrapolated to -3.
AI Servo/Shutter button AF as originally framed. The AF information including and especially the AF Area selection mode for this image is classified.
Please click on the image to enjoy a larger, inexplicably sharper version.
Brown Pelican, Pacific race, breeding plumage in flight
Your browser does not support iFrame.
Ironic …
I find it somewhat ironic that just before I tried the Nikon gear and switched I figured out the very best way to maximize AF performance with my 5D IV and my 1DX III bodies … More on that very soon.
The Optimized Image
Plus three off the sky was a perfect exposure as the WHITEs on the neck came in at R=240, G= 241, B=242 so I converted the image straight up in DPP 4. Since I have not done any Canon RAW conversions in a while, I forgot to enter my 1DX Mark III ISO 1000 recipe … That resulted in a ton of vignetting when I ran Dehaze (as seen below) and led to some neat lessons for you and for me. As below. When I went back and re-converted the image in DPP 4 and applied 1DX Mark III ISO 1000 recipe, the vignetting was completely eliminated by the Lens Correction settings.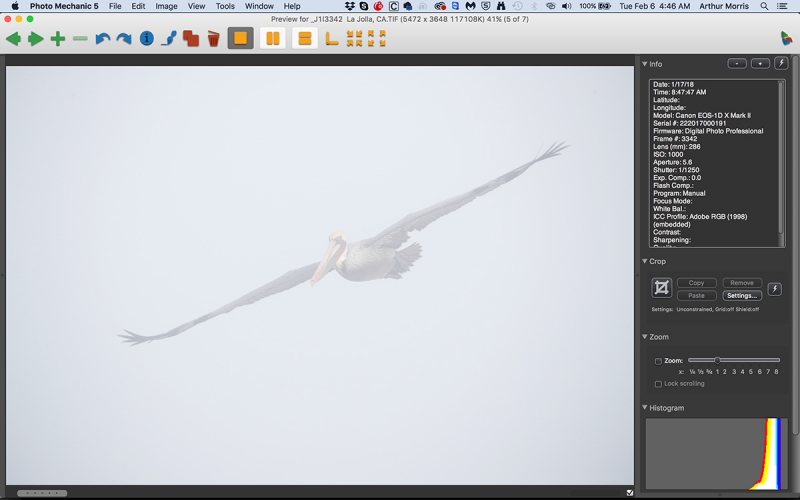 Photo Mechanic Screen Capture for Brown Pelican, Pacific race, breeding plumage in flight
Your browser does not support iFrame.
Photo Mechanic Screen Capture
Above we can see the foggy original before the crop. Note that even though there seems to be some room on the right side of the histogram, increasing the exposure would have left the WHITEs on the neck too bright. A simple Levels Adjustment in Photoshop improved the image quite a bit and eliminated most of the foggy look.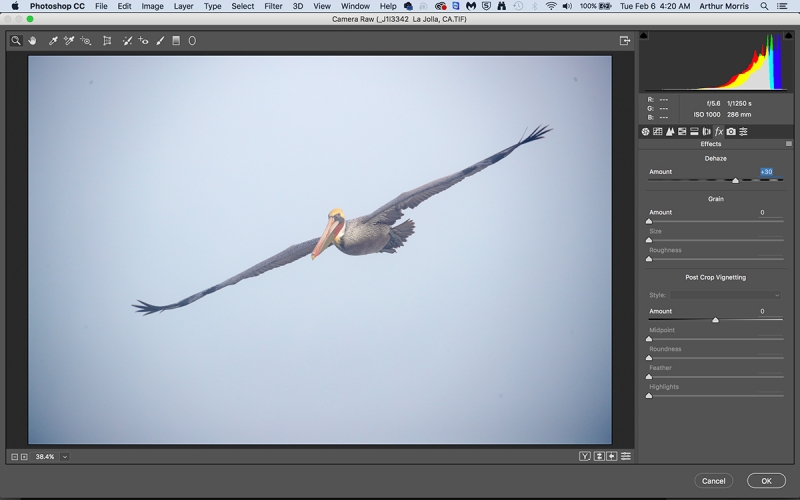 Brown Pelican, Pacific race, breeding plumage in flight
Your browser does not support iFrame.
The Camera RAW Filter
As noted here previously and as detailed in the Current Workflow e-Guide, you can run the Camera RAW Filter on TIFF files in Photoshop by hitting Filter > Camera RAW Filter. To totally eliminate the foggy look, I clicked on the Effects tab (the fx symbol, third from the end of the row) and applied Dehaze at +30 to boost the colors (as seen above). Since I forgot to apply my 1DX MarK II ISO 1000 recipe, this resulted in big-time vignetting …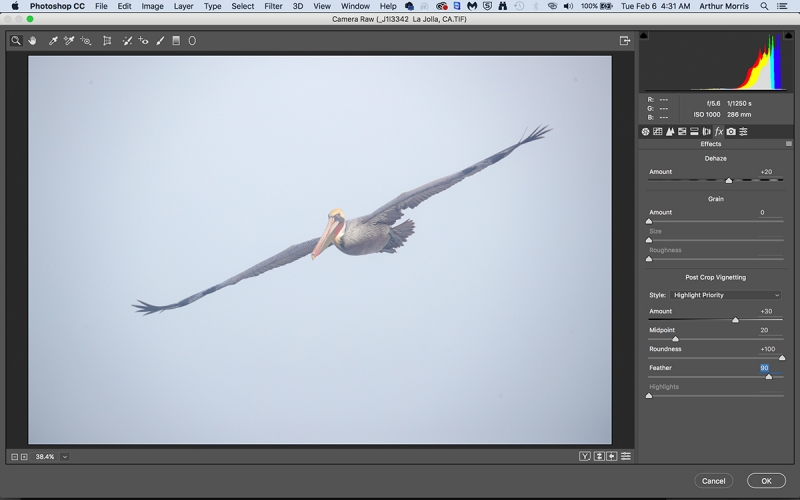 Brown Pelican, Pacific race, breeding plumage in flight
Your browser does not support iFrame.
Eliminating the Vignetting
I first moved the amount slider to +30 to eliminate the vignetting and then, for the first time ever, decided to mess around with the three sliders below. Moving the Midpoint to the left to 20, the Roundness slider to the right to +100, and feather slider to the right to 90 helped smooth things out nicely. Remember that if I had not forgotten to apply my 1DX II ISO 1000 recipe during the RAW conversion in DPP 4 that all of this extra work would not have been necessary. That is just one of the reasons that I love DPP 4 for my Canon images. Note, however, that I learned a ton as a result of my screw-up.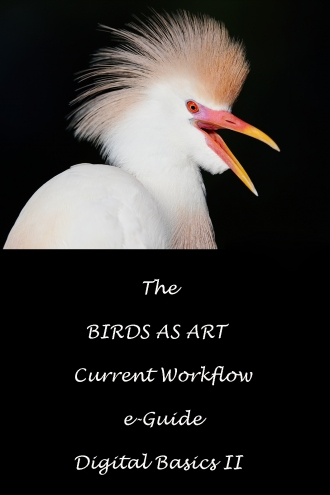 The BIRDS AS ART Current Workflow e-Guide (Digital Basics II) will teach you an efficient Mac or PC/Photo Mechanic/Photoshop workflow that will make it easy for you to make your images better in Photoshop (rather than worse). That true whether you convert your images in DPP 4 or ACR. See the blog post here to learn lots more and to read a free excerpt.
You can order your copy from the BAA Online Store here, by sending a Paypal for $40 here, or by calling Jim or Jennifer weekdays at 863-692-0906 with your credit card in hand.
The BIRDS AS ART Current Workflow e-Guide (Digital Basics II)
Your guessed it, everything mentioned above (except for the Roundness and Feather sliders on the Effects tab) and tons more is covered in detail in the BIRDS AS ART Current Workflow e-Guide (Digital Basics II), an instructional PDF that is sent via e-mail. Learn more and check out the free excerpt in the blog post here. While the new e-Guide reflects my Macbook Pro/Photo Mechanic/DPP 4/Photoshop workflow, folks using a PC and/or BreezeBrowser will also benefit greatly by studying the material on DB II. Do note that you will find the RGB Curves Adjustment Color Balancing tutorial only in the new e-guide. Note: folks working on a PC and/or those who do not want to miss anything Photoshop may wish to purchase the original Digital Basics along with DB II while saving $15 by clicking here to buy the DB Bundle.
The two most recent and many of the older MP4 Photoshop Tutorial videos releases go hand and hand with the information in DB II):
Folks who learn well by following along rather than by reading can check out the complete collection of MP 4 Photoshop Tutorial Videos by clicking here.
You can learn how and why I and other discerning Canon shooters convert nearly all of their Canon digital RAW files in DPP 4 using Canon Digital Photo Professional in the DPP 4 RAW conversion Guide here. Yes, I still have many Canon images to work on. 🙂 And you can learn advanced Quick Masking and advanced Layer Masking techniques in APTATS I & II. You can save $15 by purchasing the pair. Folks can learn sophisticated sharpening and (NeatImage) Noise Reduction techniques in the The Professional Post Processing Guide by Arash Hazeghi and yours truly.
Help Support the Blog
Please help support my (stupendous) efforts here on the blog by remembering to click on the logo link above each time that you shop Amazon. That would be greatly appreciated. There is no problem using your Prime account; just click on the link and log into your Prime account. With love, artie
If In Doubt …
If in doubt about using the BAA B&H affiliate link correctly, you can always start your search by clicking here. Please note that the tracking is invisible. Web orders only. Please, however, remember to shoot me your receipt via e-mail.
Please Remember to use my Affiliate Links and to Visit the New BAA Online Store 🙂
To show your appreciation for my continuing efforts here, we ask, as always, that you get in the habit of using my B&H affiliate links on the right side of the blog for all of your photo and electronics purchases. Please check the availability of all photographic accessories in the New BIRDS AS ART Online Store, especially the Mongoose M3.6 tripod head, Wimberley lens plates, Delkin flash cards and accessories, and LensCoat stuff.
As always, we sell only what I have used, have tested, and can depend on. We will not sell you junk. We know what you need to make creating great images easy and fun. And please remember that I am always glad to answer your gear questions via e-mail.
I would of course appreciate your using our B&H affiliate links for all of your major gear, video, and electronic purchases. For the photographic stuff mentioned in the paragraph above, and for everything else in the new store, we, meaning BAA, would of course greatly appreciate your business. Here is a huge thank you to the many who have been using our links on a regular basis and those who will be visiting the New BIRDS AS ART Online Store as well.
Facebook
Be sure to like and follow BAA on Facebook by clicking on the logo link upper right. Tanks a stack.
Typos
In all blog posts and Bulletins, feel free to e-mail or to leave a comment regarding any typos or errors. Just be right :).