Stuff
All in all we had a great first day on Cayman Brac. Photography was difficult. We traversed jagged limestone cliffs with treacherous footing. It was so windy when I created today's featured image that I was lucky to get one centered in the frame. The coast ran east/west so getting on perfect sun angle was close to impossible. Photographing the dark brown and gleaming white birds in bright, usually off-angled light was a huge challenge. And most of the nest sites were in sheltered or cluttered locations. But heck, it was only the first day and yet, we all made some great images. The birds, especially the males in breeding plumage, are gorgeous.
As often happens, a major screw-up led to some really good photographs and a ton of learning on my part. I will share some of that with you here today and some more in future blog posts. Exhausted from the previous day's travel I took a long midday nap. After visiting the cliffs in the morning we visited some beach-nesting boobies with chicks in the afternoon. The beach was paved with small limestone boulders and big chunks of coral but still, the going was easier than it had been in the morning. At the last spot we visited there was a bird with a large chick and a nest-building pair that provided lots of action. Both of these situations were pretty much wide open.
The Streak
Today makes one hundred ninety-three days in a row with a new educational blog post! I started work on this blog post on Thursday afternoon and finished and published it just before 4:45am on Friday. In all, this one took about 75 minutes to prepare. With all of my upcoming free time (or not …), the plan right now is to break the current record streak of 480 … Good health and good internet connections and my continuing insanity willing.
Canon EF 500mm f/4L IS USM Lens (the "old five")
Sold Instantly!
Gary Meyer is offering a Canon EF 500mm f/4L IS USM lens in near-mint condition for the really great and lowest ever BAA price of $3458.00. The sale includes the original box, the rear lens cap, the lens trunk, the tough front lens cover, a Canon EF Extender 1.4X III, a Canon EF Extender 2X III (both with the original boxes and pouches and both in mint condition) and insured ground shipping via major courier to US addresses only. Your item will not ship until your check clears unless other arrangements are made.
Please contact Gary via e-mail or by phone or text at 1-612-221-0150 (Central time).
The 500mm f/4 lenses have been the world's most popular telephoto lenses for birds, nature, wildlife, and sports for many decades. I owned and used and loved my "old five" for many years. If you don't have the cash for the 500 II and can handle the additional 1 1/2 pounds, then this is your best super-telephoto option. Most everyone can produce sharp images with this lens and a 1.4X TC. Folks with good to excellent sharpness techniques can do the same with a 2X TC. With the new 500 II selling for $8,999 you can save a bundle by grabbing Gary's nearly perfect lens at a great low price along with two almost brand new Series III TCs! It is the condition of all the gear and the extras that makes this offering special. artie
Booking.Com
Booking.Com came through for me twice again recently with both the DeSoto Fall IPT and next July's UK Puffins, Gannets, and Bempton Pre-trip room reservations. And all the rates were great. If you'd like to give Booking.Com a shot, click here and you will earn a $25 reward. Thanks to the many who have already tried and used this great service.
Gear Questions and Advice
Too many folks attending BAA IPTs and dozens of folks whom I see in the field, and on BPN, are–out of ignorance–using the wrong gear especially when it comes to tripods and more especially, tripod heads… Please know that I am always glad to answer your gear questions via e-mail. Those questions might deal with systems, camera bodies, accessories, and/or lens choices and decisions.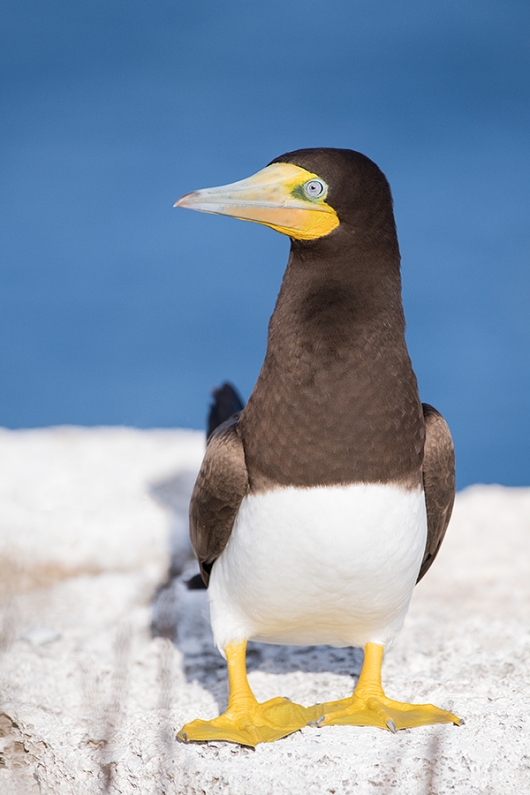 This image was created on my first morning on Cayman Brac with the hand held Nikon AF-S NIKKOR 200-500mm f/5.6E ED VR lens (at 500mm) with the mega mega-pixel Nikon D850. ISO 800. Matrix metering at about +1.3 stops off the blue sky: 1/2000 sec. at f/6.3 was a big over-exposure … Learn why below.
D-25 shutter button AF was active at the moment of exposure.
AF micro-adjustment: -1.
Brown Booby, breeding plumage male
Your browser does not support iFrame.
Screwing Up (and then learning a ton) in a Very Challenging Situation …
I risked life and limb just to get anywhere near sun angle. Had I moved one more inch to the right to get the sun directly behind me, I would have been in the ocean and on the rocks about 150 feet below. And try as I might, I could not get tall enough to eliminate the few scraggly branches at the bottom of the frame. But still, it was a gorgeous bird.
After my test frame, the image looked very bright on my rear LCD but there were no blinkies. This same situation persisted throughout the morning, but i trusted the blinkies. When I started reviewing my images in Photo Mechanic, I saw tons of blasting blinkies. I was baffled as I had previously set up the camera so that highlight alert was working on the small JPEG in the view with both the luminosity and the three RGB histograms. So I put the card back in the camera and found that blinkies on the small JPEG had been mysteriously turned off. Heck, I do not even know how to turn them off. So, I turned them back on as Krishna Prasad Kotti had previously taught me to do: as long as you have highlight alert turned on, you can turn the blinkies on in the small JPEG as described above by pressing the minus magnify button and then pressing the right arrow. I did that and the blinkies re-appeared. Lots of big blinkies.
Krishna: the only thing done differently was that I added the grip to get to 9fps. Do you have any idea how blinkies on the small JPEG might have gotten turned off? (I forgot to note that they were working during our pre-dawn landscape session so it could not have been the grip …)
In any case, that screw-up enabled me to learn that the D-850 has tremendous dynamic range. With today's featured image I was easily able to restore the blown highlights by first moving the Exposure slider to the left and then doing the same with the Highlight slider (all in ACR). With my best flight image, the WHITEs were so badly blown that that approach did not work. But I did come up with a new solution, one that I will share with you here soon.
Help Support the Blog
Please help support my (stupendous) efforts here on the blog by remembering to click on the logo link above each time that you shop Amazon. That would be greatly appreciated. There is no problem using your Prime account; just click on the link and log into your Prime account. With love, artie
If In Doubt …
If in doubt about using the BAA B&H affiliate link correctly, you can always start your search by clicking here. Please note that the tracking is invisible. Web orders only. Please, however, remember to shoot me your receipt via e-mail.
Please Remember to use my Affiliate Links and to Visit the New BAA Online Store 🙂
To show your appreciation for my continuing efforts here, we ask, as always, that you get in the habit of using my B&H affiliate links on the right side of the blog for all of your photo and electronics purchases. Please check the availability of all photographic accessories in the New BIRDS AS ART Online Store, especially the Mongoose M3.6 tripod head, Wimberley lens plates, Delkin flash cards and accessories, and LensCoat stuff.
As always, we sell only what I have used, have tested, and can depend on. We will not sell you junk. We know what you need to make creating great images easy and fun. And please remember that I am always glad to answer your gear questions via e-mail.
I would of course appreciate your using our B&H affiliate links for all of your major gear, video, and electronic purchases. For the photographic stuff mentioned in the paragraph above, and for everything else in the new store, we, meaning BAA, would of course greatly appreciate your business. Here is a huge thank you to the many who have been using our links on a regular basis and those who will be visiting the New BIRDS AS ART Online Store as well.
Facebook
Be sure to like and follow BAA on Facebook by clicking on the logo link upper right. Tanks a stack.
Typos
In all blog posts and Bulletins, feel free to e-mail or to leave a comment regarding any typos or errors. Just be right :).