Stuff
We were hoping that Saturday morning on the spoonbill boat would be as great as Friday morning had been. We actually did better in the pre-dawn with blurs but after a good start, the spoonbills disappointed. And the pelicans were not much better. We did very well with flight on both species of vultures while learning a lot about exposing the undersides shots correctly on a sunny blue sky day.
Very few folks took a stab at figuring out the focal length use for yesterday's laughing Wood Stork image. There are lots of clues both in the EXIF and in my response to Adam's comment. All are invited to re-visit and see if they can figure things out … Put on your thinking caps and click here to give it a much appreciated try.
The group enjoyed our Thank You dinner at the fabulous Thai Legacy Restaurant in Brandon on Saturday evening.
The Streak
Today makes two hundred nine days in a row with a new educational blog post! This one took about 50 minutes to prepare. With all of my upcoming free time (or not…), the plan right now is to break the current record streak of 480 … Good health and good internet connections and my continuing insanity willing.
Booking.Com
Several folks on the Spoonbill IPTs used the Booking.Com link below and got great rates and saved a handsome $25.00 in the process. If you too would like to give Booking.Com a shot, click here and to earn a $25 reward on your first booking. Thanks to the many who have already tried and used this great service.
Gear Questions and Advice
Too many folks attending BAA IPTs and dozens of folks whom I see in the field, and on BPN, are–out of ignorance–using the wrong gear especially when it comes to tripods and more especially, tripod heads… Please know that I am always glad to answer your gear questions via e-mail. Those questions might deal with systems, camera bodies, accessories, and/or lens choices and decisions.
Mongoose Warning
Right now the BAA Online Store has just two Mongoose M3.6.heads in stock. A price increase is coming. You can figure out the rest.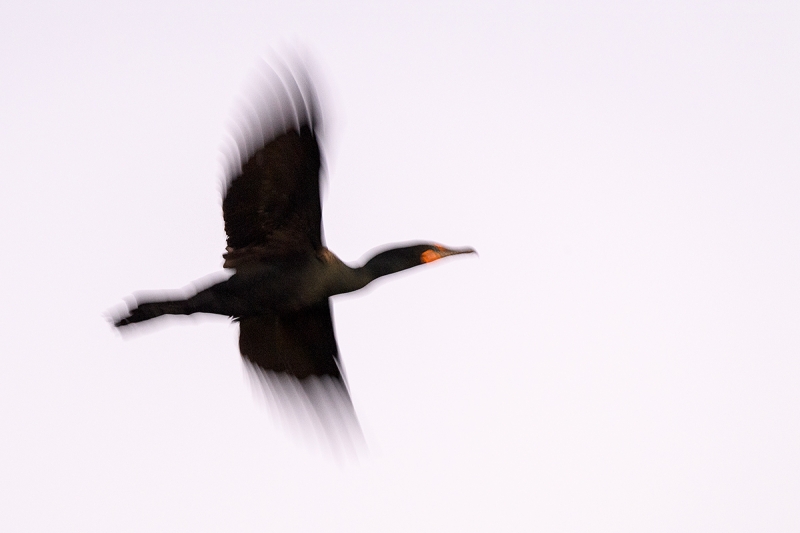 This image was created on the second morning of the second spoonbill IPT, Saturday, February 24, 2018. I used the hand held Nikon AF-S NIKKOR 200-500mm f/5.6E ED VR lens (at 500mm) and the and the blazingly fast professional digital camera body, the Nikon D5 DSLR camera body with dual XQD slots). ISO 1800. Matrix metering +1.0 stops: 1/30 sec. at f/5.6 in S mode — (Shutter priority, TV mode in Canon). K 7690 at 6:43am with clouds on the eastern horizon.
Group/Shutter Button AF. Click on the image to enjoy a larger version.
Double-crested Cormorant pre-dawn blur
Your browser does not support iFrame.
Necessity, the Mother of Invention
If you want to try to create sharp images in the pre-dawn, you will be working with ISOs in the 4,000 to 25,600 plus range. In general: not pretty. Learning to create pleasing blurs on the other hand allows you to work with much more manageable ISOs. Heck, on Saturday morning I wound up all the way down to ISO 400. As there is no ISO Safety Shift with Nikon, you need to use Auto ISO in these situations. You pick the shutter speed and set the EC and the camera sets the ISO. You must remember to turn off Auto ISO with Nikon else you will mess yourself up badly. This does not occur with Canon as long as you are properly using ISO Safety Shift (as detailed in our Canon camera body User's guides.
Om most IPTs folks are thrilled to learn the techniques used to create pleasing per-dawn blurs, and are often amazed and thrilled with the results. For many, learning to create this one type of pleasing blurs is a really eye opener.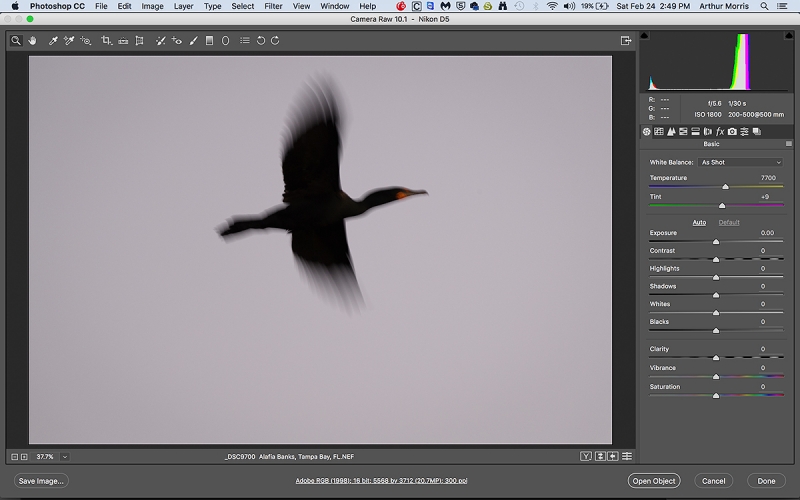 The ACR Defaults for today's featured image
Plus One Stop Was a Huge Underexposure. Why?
So why did I have the EC set to only plus one stop when it is obvious with the grey sky — (see the ACR default screen capture above) that more than plus two stops would have been correct? Simple. It was a compromise. We had some orange in the sky and at +2 stops it was well over-exposed. We had lots of birds (like this one) flying against dull grey skies where +2 or even plus more would have been perfect. And we had birds behind us in the blue/pink purple where +2 would have been right on. So I went with +1 as a compromise because the birds were fling all over the place and coming from every which way. After I bit, I upped my compromise EC to +1 1/3 stops. In addition, as I would be creating silhouettes against a bright sky, that noise would not be much of a problem.
Note that even with my new gear I still have problems keeping the bird in the center of the frame when panning.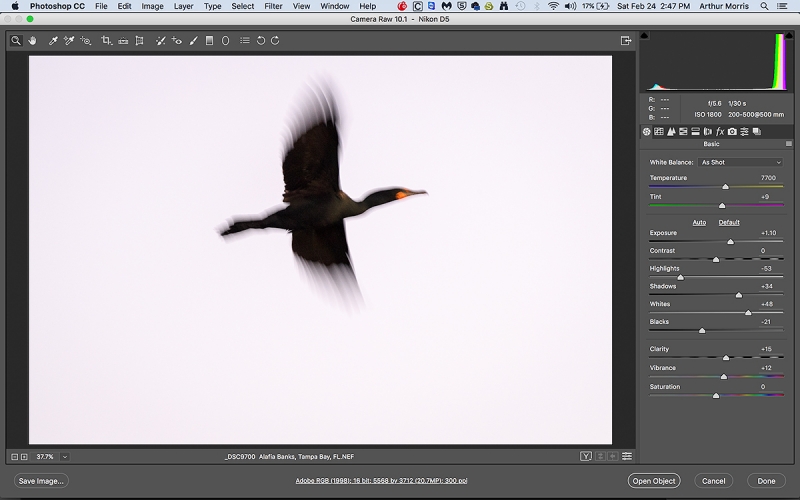 My ACR settings for today's featured image
ACR
It has been great getting back to using ACR for my NEF files. One major change is that I usually start with the White slider. But with well underexposed images like today's featured photo, I have found that it is best to first brighten things up by moving the Exposure slider to the right and then adjusting the White and Black sliders. Click on the screen capture above so that you can study the fine print to see where I went with the various sliders. Once I converted and cropped the image the only thing of note that I did was to tone down a bright orange patch on the bird's gular region. We did that by painting a small Quick Mask of the area, going back into ACR (hit Filter > Camera RAW filter), and then going to the HSL tab and reducing the Luminance and Saturation of the Orange channel.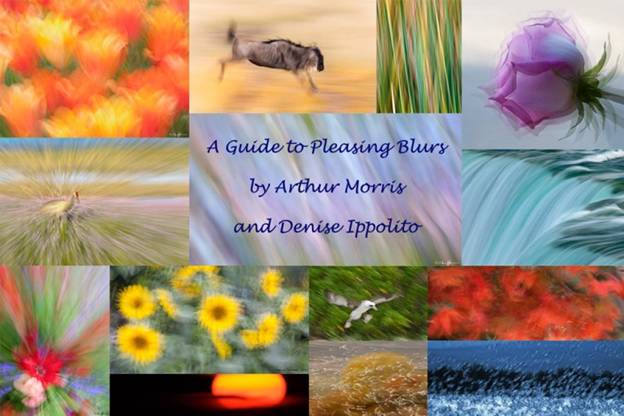 Learn the secrets of creating contest winning images in our "A Guide to Pleasing Blurs."
A Guide to Pleasing Blurs
In our A Guide to Pleasing Blurs by Denise Ippolito and yours truly, we discuss just about every technique ever used mankind to create pleasingly blurred image. Ninety-nine point nine percent of pleasing blurs are not happy accidents. You can learn pretty much everything that there is to know about creating them in this instructive, well written, easy to follow guide.
Help Support the Blog
Please help support my (stupendous) efforts here on the blog by remembering to click on the logo link above each time that you shop Amazon. That would be greatly appreciated. There is no problem using your Prime account; just click on the link and log into your Prime account. With love, artie
If In Doubt …
If in doubt about using the BAA B&H affiliate link correctly, you can always start your search by clicking here. Please note that the tracking is invisible. Web orders only. Please, however, remember to shoot me your receipt via e-mail.
Please Remember to use my Affiliate Links and to Visit the New BAA Online Store 🙂
To show your appreciation for my continuing efforts here, we ask, as always, that you get in the habit of using my B&H affiliate links on the right side of the blog for all of your photo and electronics purchases. Please check the availability of all photographic accessories in the New BIRDS AS ART Online Store, especially the Mongoose M3.6 tripod head, Wimberley lens plates, Delkin flash cards and accessories, and LensCoat stuff.
As always, we sell only what I have used, have tested, and can depend on. We will not sell you junk. We know what you need to make creating great images easy and fun. And please remember that I am always glad to answer your gear questions via e-mail.
I would of course appreciate your using our B&H affiliate links for all of your major gear, video, and electronic purchases. For the photographic stuff mentioned in the paragraph above, and for everything else in the new store, we, meaning BAA, would of course greatly appreciate your business. Here is a huge thank you to the many who have been using our links on a regular basis and those who will be visiting the New BIRDS AS ART Online Store as well.
Facebook
Be sure to like and follow BAA on Facebook by clicking on the logo link upper right. Tanks a stack.
Typos
In all blog posts and Bulletins, feel free to e-mail or to leave a comment regarding any typos or errors. Just be right :).