Stuff
I am finishing this blog post on Tuesday evening in hopes of sleeping late on Wednesday. The shoulder felt a lot better as Tuesday wore on. I got lots of work accomplished with travel plans for the lucky Falklands IPT (sold out for forever) group and will be doing the same for the long sold out UK Puffins and Gannets IPT over the next few days.
I spoke to Cliff Oliver and described what was going on with my left arm and shoulder. He felt that it was likely that I have a tear in one of the four rotator cuff muscles. He suggested a few alternative treatments and is 100% sure that I can heal up without surgery. I spoke to Amy Novotny on FaceTime and she had me try a few different test positions and feels that it is very likely that my rotator cuff is intact and that I just need to keep icing and keep up with my ballon exercise protocol. Both conversations buoyed me.
The Streak
Today makes two hundred twenty-six days in a row with a new educational blog post! This one took about two hours to prepare. With all of my upcoming free time (or not…), the plan right now is to try to break the current record streak of 480 … Good health and good internet connections and my continuing insanity willing.
Money Saving Reminder
If you need a hot photo item that is out of stock at B&H, would enjoy free overnight shipping, and would like a $50 discount on your first purchase, click here to order and enter the coupon code BIRDSASART at checkout. If you are looking to strike a deal on Canon or Nikon gear (including the big telephotos) or on a multiple item order, contact Steve Elkins via e-mail or on his cell at (479) 381-2592 (Eastern time) and be sure to mention your BIRDSASART coupon code and use it for your online order. Patrick Sparkman saved $350 on a recent purchase!
The Nikon D850/D5 Focus Fine-tune Guide
I will be working on a Nikon D850/D5 Focus Fine-tune Guide soon as my replacement D5 arrives provided that my shoulder continues to improve. There is lots of mis-information out there on Nikon Automatic AF Fine-tune. Working with Patrick Sparkman, we perfected a method of using the Focus Peaking feature available only on the D850 to quickly and accurately micro-adjust all of your lenses and TC-Es with your D-850. Both Nikon Automatic AF Fine-tune and D850 Focus Peaking AF Fine-tune require a LensAlign Mark II kit so that you can obtain accurate results. I learned recently that the Nikon D500 DSLR does offer Automatic AF Fine-tune.
Folks who use one of my links to purchase a Nikon D850, a Nikon D5 DSLR Camera (Body Only, Dual XQD Slots), a Nikon D500 DSLR , or any Nikon gear totaling more than $2,000 will receive the new guide free. I hope to have it finished in two weeks but don't hold me to it 🙂
The Used Gear Page
Action on the Used Gear Page recently has been fantastic. You can see all current listings here.
Canon EF 70-200mm f/2.8L IS II USM
Jim Brennan is offering a used Canon EF 70-200mm f/2.8L IS II USM lens in excellent plus condition for only $1,219.00. The sale includes the front and rear lens caps, ET-87 Lens Hood, LZ1326 Lens case and strap, Lens Quick Guide, Warranty card, CD, and the original box and packaging. I am the original owner and bought the lens new in November of 2012. I am a non smoker, the glass is free of scratches, haze, and fungus. The body is in beautiful condition with no dents, dings, scratches, or paint chips missing. There are minor signs of wear on bottom of lens foot, and signs of wear around a couple of the screws where lens collar rotates around body. All switches function as they should and zoom ring rotates smoothly. This lens is very sharp. Photos are available upon request. The sale includes insured shipping via UPS ground to US addresses only. I will only accept personal checks or a certified check unless other arrangements are made. The items will not ship until buyer's check clears my bank; signature required upon delivery.
Please contact Jim e-mail or by cellphone: 1-(609) 432-9210 (Eastern time).
The 70-200mm f/2.8L IS II is an amazingly versatile lens; I made a zillion great images with it when I was using Canon. It works well with both the 1.4X III and the 2X III TCs, even with the 7D II! It is easily hand holdable. It is great for tame birds, landscapes, urbex, indoor stuff likes concerts and recitals, and just about anything you want to photograph. A new 70-200 II currently sells for $1,949 so you can save a cool $730 by buying Jim's lens at a great low price. artie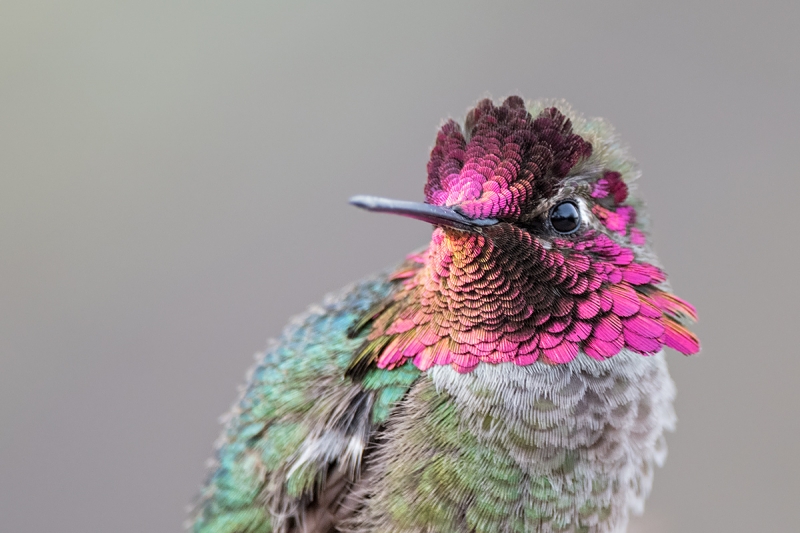 This image was created at the Gilbert Water Ranch Alafia Banks on the morning of Friday, March 9, 2018. The camera was the Nikon D850. ISO 800. Matrix metering at zero: 1/125 sec. at f/6.3. AUTO2 WB at 7:48am on a cloudy morning.
Click on the image to see a larger version.
Anna's Hummingbird, male with gorget lit up
Your browser does not support iFrame.
The Questions
In the Sharpness and Image Quality, Focal Length, and Cropping Quiz … blog post here I asked the following:
What focal length do you think was used to create today's featured image?
What percentage of the original pixels do you think the image above represents?
a- 10.3%< (a huge crop)/li>
b- 24.7% (a very large crop)
c- 39.5% (a large crop)
d- 53.1% (a very healthy crop)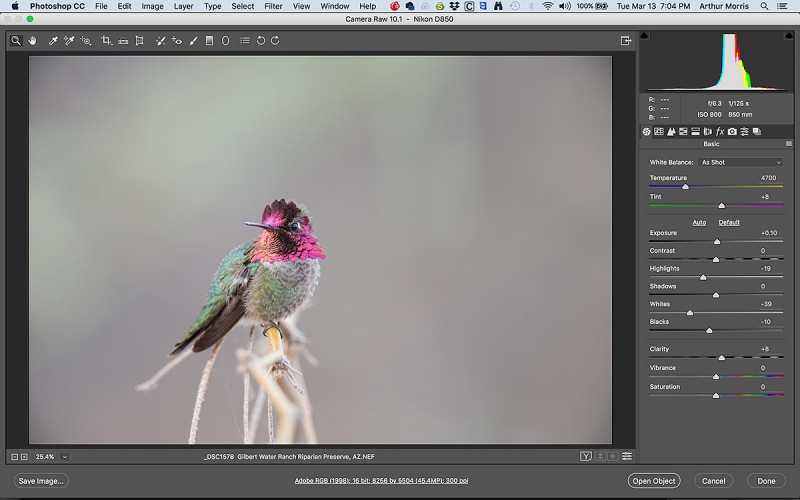 The full frame original …
Your browser does not support iFrame.
The Answers
Immediately above is the full frame original image capture. More than a few folks correctly thought that I was using the Nikon AF-S NIKKOR 600mm f/4E FL ED VR lens and the Nikon AF-S Teleconverter TC-14E III, with the Nikon D850. And they were correct.
As for the crop, I trapped almost everyone by putting the seemingly impossible correct answer as choice a- 10.3%< (a huge crop). Only Galapagos Photo Cruise veteran Dietmar Haenchen nailed the crop answer when he posted: Since we are dealing with a very small bird, I guess you used the long end of the 80-400 and used a huge crop (a). If my guess is right, I would say that the image quality is amazingly good. This would be a great statement for the camera and lens. Overall, not considering the my guessed crop factor, the sharpness and image quality still is very good.
Though he guessed the wrong lens his guess was not a bad one. Why? The magnification of the Nikon 600mm is 0.14X. The magnification of the Nikon AF-S NIKKOR 80-400mm f/4.5-5.6G ED VR lens is 0.2X. All that I needed to do was get closer — perched hummers are often ridiculously tame — and the bird would have occupied a larger part of the original frame. If you are having trouble understanding how a 400mm lens can have a greater magnification than a 600mm lens the answer lies in the minimum focusing distances of the two lenses: 1.75 meters (5.74 feet) for the 80-400, and 4.4 meters (14.4 feet) for the 600mm.
Dietmar was 100% correct with his comments on the sharpness and image quality; even I was amazed.
The Pixel Math
The pixel dimensions of the converted, flattened 8-bit TIFF file are 8526 px X 5504 px = 130 M. The pixel dimensions of the cropped flattened 8-bit TIFF file are 2647 px X 1764 px = 13.4 M. So the cropped file represents only 10.3% of the original file. It is hard to believe how well image quality held up when 89.7% of the original pixels were cropped away and discarded …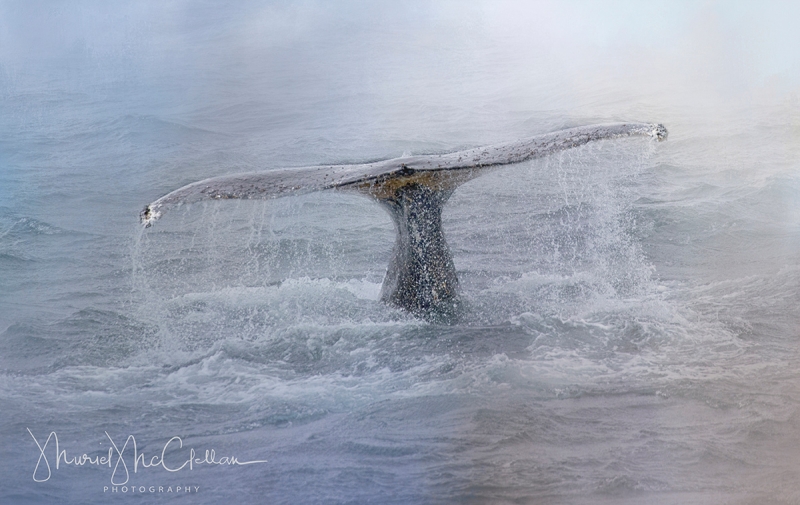 This image was created by friend/client Muriel McClellan on a recent Antarctica photo cruise with the hand held Canon EF 100-400mm f/4.5-5.6L IS II USM lens (at 400mm) and the Canon EOS 5D Mark IV. ISO 800. Evaluative metering (probably at about -1/3 stop as framed: 1/2000 sec. at f/5.6 in Manual mode. The EXIF shows Custom WB; I have no idea where that came from …
Image #1: Humpback Whale tail with texture from Daily Textures' wildlife package
Your browser does not support iFrame.
My Favorite Whale Tail
Thanks again to multiple IPT veteran Muriel McClellan for sharing her whale tale images with the group. Like many of the folks who commented I liked them both. By I felt that Image #1 (above) was by far the stronger image. Why? I liked the tighter framing of the tale and the water dripping off the tail is fabulous. But the magical, almost mystical mood created in part by Muriel's choice of texture and her handling of the background tonalities put #1 over the top for me. Lots of folks who commented agreed with me and almost as many preferred Image #2. If you missed the original A Whale of a Tale. Or the Tails of Whales? blog post you can click here to see both images.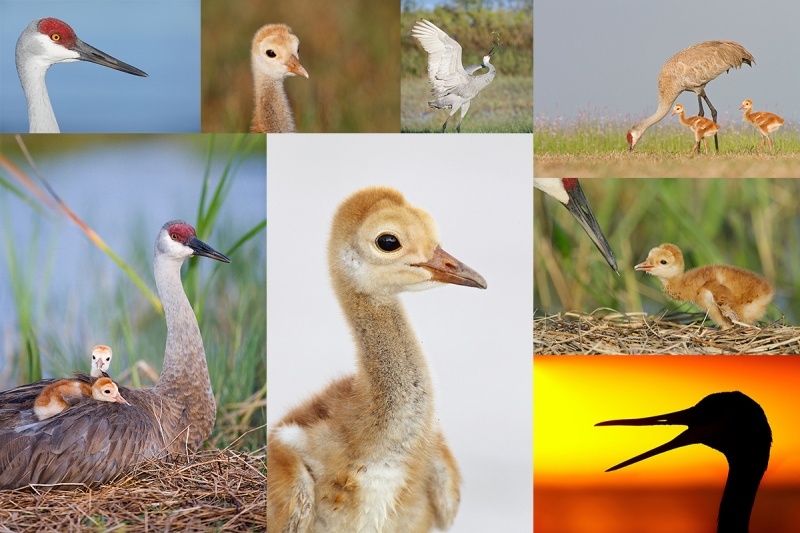 Early Spring Photo Opportunities at ILE
BIRDS AS ART first-ever Master Class
Master Class Session 2. Two Full and two Half Days/Friday afternoon, March 30 through lunch on Monday, April 2, 2018. Limit: 4/Openings 3.
The Master Classe will be a small group — strictly limited to four photographers — with the first folks who register having the option of staying at my home ($50/night) or at a chain motel in nearby Lake Wales. Live, think, and breathe photography from Friday afternoon through lunch on Monday (late-morning); all meals included. There will be three afternoon photo sessions (FRI – SUN) hopefully with glorious sunsets like the ones you saw one the blog in December we should have good opportunities with the cranes even in the afternoon. We will enjoy three morning photography sessions (SAT – MON) with the main subjects being tame Sandhill Cranes almost surely with chicks or colts. Also vultures and Cattle Egrets and more. Limpkins are possible. Intermediate telephoto lenses are fine for the cranes, even the chicks at times. A 500 or 600mm lens would be best for many of the situations that we will encounter.
During the day we will sit together around my dining room table and pick everyone's keepers and enjoy guided Photoshop sessions. On Monday before lunch, folks can make a single large print of their favorite image from the weekend. If you so choose, I will micro-adjust one of your lenses (at one focal length with your #1 camera body–Canon or Nikon) during a group instructional session. All will be welcome to practice what they have learned during the breaks using my set-up and my lighting gear.
To register, please first shoot me an e-mail to check on availability. Then you will be instructed to call Jim or Jen at 863-692-0906 during weekday business hours (except for Friday afternoons) to leave you non-refundable (unless the session sells out) $500 deposit. Only the deposit may be left on credit card. Balances must be paid by check immediately after you register (unless you wish to pay by credit card plus 4% to cover our fees).
I hope that you can join me on this new adventure.
with love, artie
ps: bring your bathing suit if you would like to try my pool.
Help Support the Blog
Please help support my (stupendous) efforts here on the blog by remembering to click on the logo link above each time that you shop Amazon. That would be greatly appreciated. There is no problem using your Prime account; just click on the link and log into your Prime account. With love, artie
If In Doubt …
If in doubt about using the BAA B&H affiliate link correctly, you can always start your search by clicking here. Please note that the tracking is invisible. Web orders only. Please, however, remember to shoot me your receipt via e-mail.
Please Remember to use my Affiliate Links and to Visit the New BAA Online Store 🙂
To show your appreciation for my continuing efforts here, we ask, as always, that you get in the habit of using my B&H affiliate links on the right side of the blog for all of your photo and electronics purchases. Please check the availability of all photographic accessories in the New BIRDS AS ART Online Store, especially the Mongoose M3.6 tripod head, Wimberley lens plates, Delkin flash cards and accessories, and LensCoat stuff.
As always, we sell only what I have used, have tested, and can depend on. We will not sell you junk. We know what you need to make creating great images easy and fun. And please remember that I am always glad to answer your gear questions via e-mail.
I would of course appreciate your using our B&H affiliate links for all of your major gear, video, and electronic purchases. For the photographic stuff mentioned in the paragraph above, and for everything else in the new store, we, meaning BAA, would of course greatly appreciate your business. Here is a huge thank you to the many who have been using our links on a regular basis and those who will be visiting the New BIRDS AS ART Online Store as well.
Facebook
Be sure to like and follow BAA on Facebook by clicking on the logo link upper right. Tanks a stack.
Typos
In all blog posts and Bulletins, feel free to e-mail or to leave a comment regarding any typos or errors. Just be right :).