Stuff
My shoulder is feeling a bit better each day but it continues to bother me after five or so hours of sound sleep. So I get up and ice it and then go back to sleep. I went into town to get my teeth cleaned in the morning and blew up lots of balloons during the rest of the day. My exercise regimen right now includes ten different positions and takes about an hour if I do them back to back to back … I do them two or three times a day.
My D5 arrives tomorrow so I will be getting started on the Nikon AF Fine-tune Guide.
The Streak
Today makes two hundred twenty-seven days in a row with a new educational blog post! This one took about an hour and a half to prepare. With all of my upcoming free time (or not…), the plan right now is to try to break the current record streak of 480 … Good health and good internet connections and my continuing insanity willing.
Money Saving Reminder
If you need a hot photo item that is out of stock at B&H, would enjoy free overnight shipping, and would like a $50 discount on your first purchase, click here to order and enter the coupon code BIRDSASART at checkout. If you are looking to strike a deal on Canon or Nikon gear (including the big telephotos) or on a multiple item order, contact Steve Elkins via e-mail or on his cell at (479) 381-2592 (Eastern time) and be sure to mention your BIRDSASART coupon code and use it for your online order. Patrick Sparkman saved $350 on a recent purchase!
The Nikon D850/D5 Focus Fine-tune Guide
I will be working on a Nikon D850/D5 Focus Fine-tune Guide soon as my replacement D5 arrives provided that my shoulder continues to improve. There is lots of mis-information out there on Nikon Automatic AF Fine-tune. Working with Patrick Sparkman, we perfected a method of using the Focus Peaking feature available only on the D850 to quickly and accurately micro-adjust all of your lenses and TC-Es with your D-850. Both Nikon Automatic AF Fine-tune and D850 Focus Peaking AF Fine-tune require a LensAlign Mark II kit so that you can obtain accurate results. I learned recently that the Nikon D500 DSLR does offer Automatic AF Fine-tune.
Folks who use one of my links to purchase a Nikon D850, a Nikon D5 DSLR Camera (Body Only, Dual XQD Slots), a Nikon D500 DSLR , or any Nikon gear totaling more than $2,000 will receive the new guide free. I hope to have it finished in two weeks but don't hold me to it 🙂
The Used Gear Page
Action on the Used Gear Page recently has been fantastic. You can see all current listings here.
Canon EOS-1D X Professional Digital Camera Body & and a Canon EF 50mm f/1.8 II Lens
Katherine Tryon is offering a Canon EOS-1D X in excellent condition (with less than 16,000 shutter actuations) and a Canon EF 50mm f/1.8 II lens for the very fair price of $2324.00. The sale includes the lens strap, an extra LP-E4N battery (new-in-box), the battery charger, the manuals, the protective battery caps, the original box, and insured ground shipping via UPS to US addresses only. Your item will not ship until your check clears unless other arrangements are made.
Please contact Katherine via e-mail by phone at 1-904-613-9756 (Eastern time).
Two 1DX bodies severed admirably as my workhorse digital camera bodies for several years when I was using Canon gear. The original 1DX has a superb AF system and produces high quality image files. It is fabulous for photographing birds in flight and in action. Some folks wish that they had kept there 1DX bodies and not upgraded to the 1DX Mark II. artie
Amy Says …
I received this e-mail from physiotherapist Amy Novotny on March 10:
Artie, You have been one of my favorite patients. It has been a gift to work with you and meet you. Thank you for trusting me enough to follow my guidance. Keep it up. 🙂 Amy
I wrote back and asked her to write up something simple describing my case and my progress. Here is her reply:
When I first met artie in January, he was desperate for help physically. At that time, he walked on his toes very unsteadily. He was not able to touch his knees together and leaned forward at his hips as though he might fall over at any time. He had numerous complaints of pain and limited motion throughout his body–left knee, low back, mid back, right shoulder, tingling in his hands, hip/buttocks with driving– to name a few. His ribs did not move at all, neither did his hips or pelvis because his back was so locked up. He was not able to squat and was told that he needed a knee replacement. After the first set of eight treatments, he left the clinic able to sit pain free to drive 25-30 minutes, he was able to squat to touch the floor (rather than having to bend over at the waist). He had days with no low back or left knee pain and his shoulder motion improved. He returned for nine more treatments in March and had slight regressions but was able to maintain a lot of his rib and upper body mobility. The focus became on his lower body and unlocking his hips from his low back to allow them to shift and move so as to allow for a normal walking pattern. We achieved that and I taught him how to walk again. He returned home pain free throughout his body. His case is one of my proudest as I could not have done this without his hard work and complete follow through with my instructions. Congratulations Artie!
Amy Novotny, PT, DPT
DHT Physical Therapy, Chandler, AZ 85224. 480-963-9339
Arizona Highways Photo Workshops Volunteer Trip Leader
My Thoughts
Even though Amy stated clearly from the get-go that my body was a wreck with nothing working the way it should, I did not think that I was that bad. And I do feel that I was desperate; I had had previous successes with a variety of alternative medicine treatments over the years and once I heard of Muriel McClellan's elimination of her bone-on-bone knee pain I was looking for a miracle. With Amy's help, I am well on my way. I just made plans to return to PHX for additional visits 30 APR through 10 MAY of this year.
The straw that broke the camel's back was a visit to a local orthopedic surgeon. At the end of my session he said to me, "I am a great surgeon. I don't need your business. I am doing 20 knee replacements every week. But as a friend, I must advise that you have knee replacement surgery as soon as possible …" I bought my first plane ticket to Phoenix the next day. 🙂
The Situation
You have a fairly distant and thus small-in-the-frame subject in lovely habitat. You need and want to keep the bird on one side of the frame or another. What is the best AF strategy to use? Note: If you are working with a sleeping or resting bird, you choice of AF Point or AF-area mode with Nikon (AF Area Selection mode in Canon) really does not matter. If you can get an AF point on the bird you can stay in C — Continuous (AI Servo in Canon) and use just about any AF area, even single point. If there is not an AF point in the array that covers the bird you will need to go to Single (One-shot in Canon), switch to rear button focus, or use Focus Lock (as I do with Nikon via the AF-ON button). Problems arise when the bird is walking or swimming or foraging as in today's featured image. And that goes double when the are constantly changing direction …
Small-in-the-Frame AF Tip for Nikon
When I first tried figuring out how to tackle this situation with my new Nikon gear, I went with either d-25 or d-72. The problem was that with so many AF points — 153 I think, 55 of those selectable — it simply took to long to move the array from one side of the frame to the other — ten taps I believe. When I encountered today's Black-necked Stilt moving left and then right and the back the other way, I decided to experiment with 3D. This activates all 153 AF points and lets you pick one of the 55 selectable as your starting point. I went with the center AF point and was fairly amazed that when I re-framed the subject the AF point did a great job of staying right where I had placed it. So if I acquired focus with 3D with the center AF point on the bird's neck and re-framed to move the bird to one side of the frame of the other, AF held accurately most of the time on the bird's neck. And this worked well whether the bird was moving right or left. I will admit that not every image was perfectly sharp on the eye but the compositional freedom offered by 3D in this specific situation was fabulous. And I wound up keeping 20 very sharp images.
Small-in-the-Frame AF Tip for Canon
In the same situation with Canon I would have immediately gone to Large Zone AF. It does a great job of acquiring and holding focus with birds on one side of the frame or the other. I would need to switch from left Large Zone to right Large Zone as the bird changed direction but doing so requires only two taps of the joystick. I will admit that I almost never tried 61-Point AF with Canon; it is most similar to Nikon's 3D.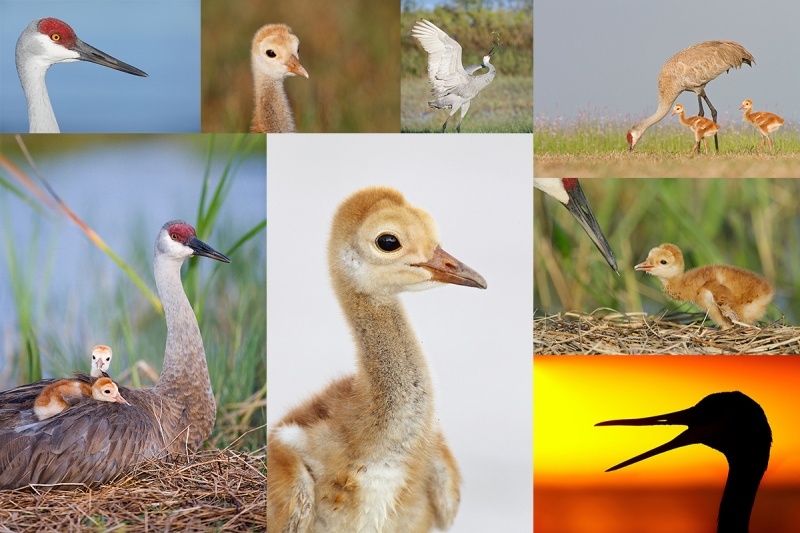 Early Spring Photo Opportunities at ILE
BIRDS AS ART first-ever Master Class
Master Class. Two Full and two Half Days/Friday afternoon, March 30 through lunch on Monday, April 2, 2018. Limit: 4/Openings 3.
The Master Classe will be a small group — strictly limited to four photographers — with the first folks who register having the option of staying at my home ($50/night) or at a chain motel in nearby Lake Wales. Live, think, and breathe photography from Friday afternoon through lunch on Monday (late-morning); all meals included. There will be three afternoon photo sessions (FRI – SUN) hopefully with glorious sunsets like the ones you saw one the blog in December we should have good opportunities with the cranes even in the afternoon. We will enjoy three morning photography sessions (SAT – MON) with the main subjects being tame Sandhill Cranes almost surely with chicks or colts. Also vultures and Cattle Egrets and more. Limpkins are possible. Intermediate telephoto lenses are fine for the cranes, even the chicks at times. A 500 or 600mm lens would be best for many of the situations that we will encounter.
During the day we will sit together around my dining room table and pick everyone's keepers and enjoy guided Photoshop sessions. On Monday before lunch, folks can make a single large print of their favorite image from the weekend. If you so choose, I will micro-adjust one of your lenses (at one focal length with your #1 camera body–Canon or Nikon) during a group instructional session. All will be welcome to practice what they have learned during the breaks using my set-up and my lighting gear.
To register, please first shoot me an e-mail to check on availability. Then you will be instructed to call Jim or Jen at 863-692-0906 during weekday business hours (except for Friday afternoons) to leave you non-refundable (unless the session sells out) $500 deposit. Only the deposit may be left on credit card. Balances must be paid by check immediately after you register (unless you wish to pay by credit card plus 4% to cover our fees).
I hope that you can join me on this new adventure.
with love, artie
ps: bring your bathing suit if you would like to try my pool.
Help Support the Blog
Please help support my (stupendous) efforts here on the blog by remembering to click on the logo link above each time that you shop Amazon. That would be greatly appreciated. There is no problem using your Prime account; just click on the link and log into your Prime account. With love, artie
If In Doubt …
If in doubt about using the BAA B&H affiliate link correctly, you can always start your search by clicking here. Please note that the tracking is invisible. Web orders only. Please, however, remember to shoot me your receipt via e-mail.
Please Remember to use my Affiliate Links and to Visit the New BAA Online Store 🙂
To show your appreciation for my continuing efforts here, we ask, as always, that you get in the habit of using my B&H affiliate links on the right side of the blog for all of your photo and electronics purchases. Please check the availability of all photographic accessories in the New BIRDS AS ART Online Store, especially the Mongoose M3.6 tripod head, Wimberley lens plates, Delkin flash cards and accessories, and LensCoat stuff.
As always, we sell only what I have used, have tested, and can depend on. We will not sell you junk. We know what you need to make creating great images easy and fun. And please remember that I am always glad to answer your gear questions via e-mail.
I would of course appreciate your using our B&H affiliate links for all of your major gear, video, and electronic purchases. For the photographic stuff mentioned in the paragraph above, and for everything else in the new store, we, meaning BAA, would of course greatly appreciate your business. Here is a huge thank you to the many who have been using our links on a regular basis and those who will be visiting the New BIRDS AS ART Online Store as well.
Facebook
Be sure to like and follow BAA on Facebook by clicking on the logo link upper right. Tanks a stack.
Typos
In all blog posts and Bulletins, feel free to e-mail or to leave a comment regarding any typos or errors. Just be right :).