Stuff
The shoulder is getting a little bit better each day but abduction of the left arm is greatly restricted and when I try, the pain is a pain 🙂 Especially at night, even when I am doing nothing. My replacement D5 arrived today. Two folks have signed up for Gatorland #2 so we will have late stay for that Thursday night. More reason to join. See the details below.
The Streak
Today makes two hundred twenty-eight days in a row with a new educational blog post! This one took about an hour and a half to prepare. With all of my upcoming free time (or not…), the plan right now is to try to break the current record streak of 480 … Good health and good internet connections and my continuing insanity willing.
Money Saving Reminder
If you need a hot photo item that is out of stock at B&H, would enjoy free overnight shipping, and would like a $50 discount on your first purchase, click here to order and enter the coupon code BIRDSASART at checkout. If you are looking to strike a deal on Canon or Nikon gear (including the big telephotos) or on a multiple item order, contact Steve Elkins via e-mail or on his cell at (479) 381-2592 (Eastern time) and be sure to mention your BIRDSASART coupon code and use it for your online order. Patrick Sparkman saved $350 on a recent purchase!
The Nikon D850/D5 Focus Fine-tune Guide
I will start working on the Nikon D850/D5 Focus Fine-tune Guide tomorrow. There is lots of mis-information out there on Nikon Automatic AF Fine-tune. Working with Patrick Sparkman, we developed a way of using that feature effectively. Patrick was on a roll and perfected a method for using the Focus Peaking feature available only on the D850 to quickly and accurately micro-adjust all lenses and TC-Es with your D-850. Both Nikon Automatic AF Fine-tune and D850 Focus Peaking AF Fine-tune require a LensAlign Mark II kit so that you can obtain accurate results. I learned recently that the Nikon D500 DSLR does offer Automatic AF Fine-tune.
Folks who use one of my links to purchase a Nikon D850, a Nikon D5 DSLR Camera (Body Only, Dual XQD Slots), a Nikon D500 DSLR , or any Nikon gear totaling more than $2,000 will receive the new guide free. I hope to have it finished in two weeks but don't hold me to it 🙂
The Used Gear Page
Action on the Used Gear Page recently has been fantastic. You can see all current listings here.
Fujifilm X-Pro2 Mirrorless Digital Camera plus two-lens package!
Top BAA Used Gear page seller Jim Keener is offering a Fujifilm X-Pro2 Mirrorless Digital Camera in like-new condition ($1699 new), a Fujifilm XF 23mm f/2 R WR (Black) Lens in like-new condition ($449 new), and a Fujifilm XF 50mm f/2 R WR (Black) Lens (also $449 new) in like-new condition for the amazing low giving-it-away price of $1699.00. The sale includes the front cap, five Fujifilm batteries, the charger, the original box, the camera strap, and insured ground shipping via major courier to the 48 contiguous states only. The camera will not ship until your check clears. No PayPal.
Please contact Jim via e-mail or by phone at 310-741-7435 (9am-9pm Mountain time).
The long-awaited successor to Fujifilm's first X-series mirrorless digital camera, the X-Pro2 sports a high-resolution X-Trans CMOS III sensor and redeveloped X-Processor Pro, along with the tested rangefinder-inspired design now synonymous with the X-Pro system. Now weighing in at 24.3MP, the APS-C CMOS sensor incorporates the proprietary X-Trans technology and its randomized pixel array to afford a high degree of sharpness and accurate color reproduction, along with high expanded sensitivity to ISO 51200. When paired with the X-Processor Pro, the camera is capable of recording stills at up to 8 fps and Full HD 1080p video at 60 fps, along with quick focusing and overall performance speeds. Unique among camera designs, the X-Pro2 is also heavily characterized by its Advanced Hybrid Multi Viewfinder that blends both optical and electronic viewing methods into a single, switchable finder, giving you the best of both worlds in regard to clear viewing and the ability to preview exposure settings prior to shooting. Cementing its place as a professional tool, the X-Pro2 also features a robust, weather-sealed body design accented by a range of physical controls for intuitive handling in any condition. B&H
With this package going for $2597.00 new grabbing it now will save you nearly $1K! With the body in like-new condition it's as if you are getting the two lenses free. artie
Booking.Com
Several folks on the Spoonbill IPTs used the Booking.Com link below and got great rates and saved a handsome $25.00 in the process. If you too would like to give Booking.Com a shot, click here and to earn a $25 reward on your first booking. Thanks to the many who have already tried and used this great service.
Gear Questions and Advice
Too many folks attending BAA IPTs and dozens of folks whom I see in the field, and on BPN, are–out of ignorance–using the wrong gear especially when it comes to tripods and more especially, tripod heads… Please know that I am always glad to answer your gear questions via e-mail. Those questions might deal with systems, camera bodies, accessories, and/or lens choices and decisions.
The Situation
The beach where these birds nested was strewn with jagged limestone rocks. Getting down on your belly was not possible. Sitting required you to clear an area of rocks to avoid puncturing your butt. But when I was seated, the background was plain ugly: green grass interspersed with white limestone rocks and boulders. Along with lots of plastic trash, more than I have seen anywhere in the world. I knew that I needed to get lower to take advantage of the gorgeous green background provided by a relatively distant beach bush. What to do?
How I Got Low When I Could Not Get Low …
I came up with a plan that involved trying something that I had never tried before. First I set my exposure manually. Then I lowered my Induro GIT 204 tripod so that the lens was about six inches off the ground. Then I pulled out the large (moveable) rear LCD screen and tilted it up. Next I turned on Live View and set up Touch Shutter by tapping the visible icons upper left. I framed the shot, tightened the tripod controls a bit, and began making photos by tapping the rear LCD where I wanted to focus. I am not sure how I wound up at f/11 but it turned out to be a blessing. For the most part the big chick was just sitting there. When it yawned, its head came up a bit so I raised the lens just a bit and tapped the rear LCD to focus and fire. I nearly clipped the upper mandible in the NEF file but was easily able to add canvas above and right using John Haedo Content Aware Fill (as detailed in Digital Basics II). The small aperture helped to ensure that the eye was sharp even though the system focused where I tapped, on the lower mandible. And the bush was far enough away to remain pleasingly out of focus. This technique is great with static subject but less than elegant or ideal when the bird moves. I got lucky with today's featured image. I love to put on my thinking cap in the field and come up with effective new techniques. 🙂
The Induro GIT 204
I recently discovered the Induro GIT 204, the smaller, lighter cousin of the GIT 304L. The 204 folds down to 21 inches for easy packing and at 4.2 pounds (but rated to hold 44 pounds of gear), makes an ideal travel tripod for folks using intermediate telephoto lenses like the Canon 100-400 II, the Canon 300mm f/4L IS, the Nikon 80-400mm VR, and the Nikon 200-500. All of those and the rest of the versatile intermediate telephoto lenses available today do best when your tripod is topped by a Mongoose M3.6. And the GIT 204 is priced at only $525.00, $124 less than its larger, six-inch taller cousin, the GIT 304L. I brought the 204 to Cayman Brac and used it with the 200-500 most often with the TCE-14III and always once the sun had disappeared behind the taller houses each afternoon; it performed superbly. The booby chicks were so cute that we often stayed to photograph them until well after sunset. I will be bringing the 204 on my next Southern Oceans adventure, (October 2018) for the Emperor Penguin chicks — we hope. B&H does not carry the GIT 204; you can order yours by clicking here right now; there are only four left in stock.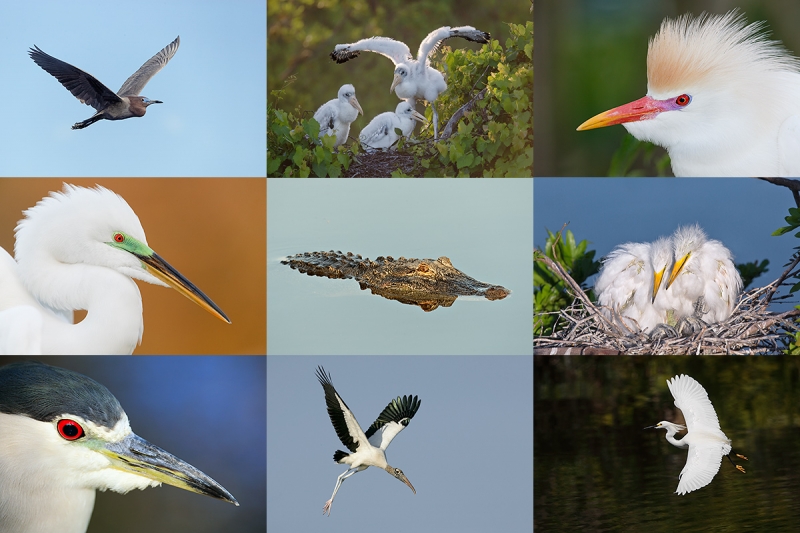 Tame birds in breeding plumage are great fun.
Gatorland IPT #2. Sunrise: 6:48am. Sunset: 7:58pm.
3 1/2 DAYs: THURS 26 APR through and including the morning of SUN 29 APR. $1599. Limit 5 photographers/Openings 3.
(2 1/2 DAY option) FRI 27 APR through and including the morning of SUN 29 APR. $1199.
Must purchase Gatorland Photographers Pass. Click here for details. All early entry. Late stays Thursday, Friday and Saturday. Gatorland IPT #2 should have lots of chicks, and lots of birds in breeding plumage. We will get to photograph Great Egret, Snowy Egret, Tricolored Heron, and Wood Stork. The Cattle Egrets in full breeding plumage will be present in good numbers. Learn my Gatorland strategy, to get the right exposure, flight photography techniques, my secret Gatorland spots, how to see the best situations (nobody is better at that than me), and how to make great images in extremely cluttered situations.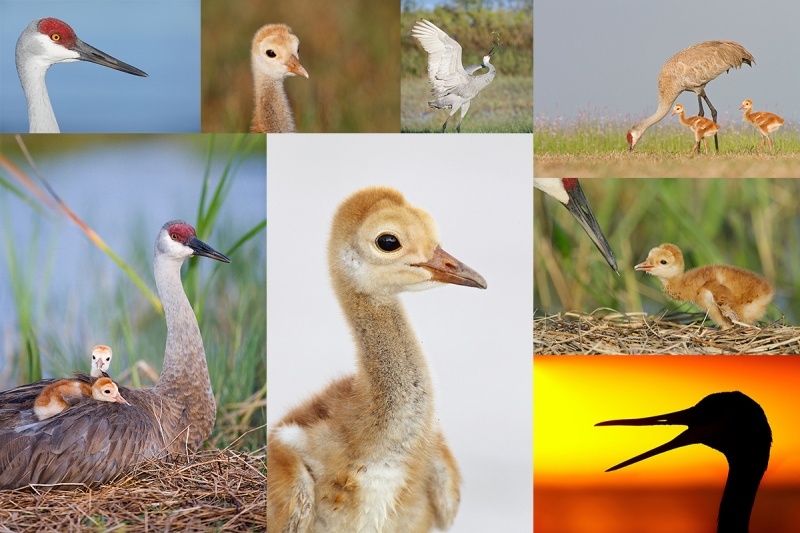 Early Spring Photo Opportunities at ILE
BIRDS AS ART first-ever Master Class
Master Class. Two Full and two Half Days/Friday afternoon, March 30 through lunch on Monday, April 2, 2018. Limit: 4/Openings 3.
The Master Classe will be a small group — strictly limited to four photographers — with the first folks who register having the option of staying at my home ($50/night) or at a chain motel in nearby Lake Wales. Live, think, and breathe photography from Friday afternoon through lunch on Monday (late-morning); all meals included. There will be three afternoon photo sessions (FRI – SUN) hopefully with glorious sunsets like the ones you saw one the blog in December we should have good opportunities with the cranes even in the afternoon. We will enjoy three morning photography sessions (SAT – MON) with the main subjects being tame Sandhill Cranes almost surely with chicks or colts. Also vultures and Cattle Egrets and more. Limpkins are possible. Intermediate telephoto lenses are fine for the cranes, even the chicks at times. A 500 or 600mm lens would be best for many of the situations that we will encounter.
During the day we will sit together around my dining room table and pick everyone's keepers and enjoy guided Photoshop sessions. On Monday before lunch, folks can make a single large print of their favorite image from the weekend. If you so choose, I will micro-adjust one of your lenses (at one focal length with your #1 camera body–Canon or Nikon) during a group instructional session. All will be welcome to practice what they have learned during the breaks using my set-up and my lighting gear.
To register, please first shoot me an e-mail to check on availability. Then you will be instructed to call Jim or Jen at 863-692-0906 during weekday business hours (except for Friday afternoons) to leave you non-refundable (unless the session sells out) $500 deposit. Only the deposit may be left on credit card. Balances must be paid by check immediately after you register (unless you wish to pay by credit card plus 4% to cover our fees).
I hope that you can join me on this new adventure.
with love, artie
ps: bring your bathing suit if you would like to try my pool.
Help Support the Blog
Please help support my (stupendous) efforts here on the blog by remembering to click on the logo link above each time that you shop Amazon. That would be greatly appreciated. There is no problem using your Prime account; just click on the link and log into your Prime account. With love, artie
If In Doubt …
If in doubt about using the BAA B&H affiliate link correctly, you can always start your search by clicking here. Please note that the tracking is invisible. Web orders only. Please, however, remember to shoot me your receipt via e-mail.
Please Remember to use my Affiliate Links and to Visit the New BAA Online Store 🙂
To show your appreciation for my continuing efforts here, we ask, as always, that you get in the habit of using my B&H affiliate links on the right side of the blog for all of your photo and electronics purchases. Please check the availability of all photographic accessories in the New BIRDS AS ART Online Store, especially the Mongoose M3.6 tripod head, Wimberley lens plates, Delkin flash cards and accessories, and LensCoat stuff.
As always, we sell only what I have used, have tested, and can depend on. We will not sell you junk. We know what you need to make creating great images easy and fun. And please remember that I am always glad to answer your gear questions via e-mail.
I would of course appreciate your using our B&H affiliate links for all of your major gear, video, and electronic purchases. For the photographic stuff mentioned in the paragraph above, and for everything else in the new store, we, meaning BAA, would of course greatly appreciate your business. Here is a huge thank you to the many who have been using our links on a regular basis and those who will be visiting the New BIRDS AS ART Online Store as well.
Facebook
Be sure to like and follow BAA on Facebook by clicking on the logo link upper right. Tanks a stack.
Typos
In all blog posts and Bulletins, feel free to e-mail or to leave a comment regarding any typos or errors. Just be right :).