Stuff
Tuesday was a dark stormy day in central Florida. My shoulder is actually showing significant improvement. Many of the simple everyday movements that had caused me pain for the past nine days are becoming easier to do. Range of motion is still quite restricted but I am pretty sure that the light that I see at the end of the tunnel is not an oncoming train.
My Recipe
Codfish Curry
The starred ingredients all have anti-inflammatory properties.
5 oz codfish — 5 oz sweet potato * — diced onion * — smashed garlic * — 4 oz. almond milk — curry powder *
Bake the sweet potato at 425 for 40 minutes and then cut into chunks. Sautée the onion and garlic in olive oil. Dump everything into a casserole dish and sprinkle with lots of curry powder. Salt to taste. Bake at 425 degrees for 25 minutes. Sweeten with a bit of stevia. Serve with a side dish of unsweetened applesauce. Yummy! And easy on my blood sugar levels. You can of course substitute the protein of your choice.
The Streak
Today makes two hundred thirty-three days in a row with a new educational blog post! This one took less than 90 minutes to prepare. With all of my upcoming free time (or not…), the plan right now is to try to break the current record streak of 480 … Good health and good internet connections and my continuing insanity willing.
Lots More to Learn
Read my replies to many of the comments on the Getting Close and Tall for a Reason: Blackground! blog post here. There is almost always a ton to learn by re-visiting the Comments section of each blog post.
A Nikon Camera Body Question
Is there a switch or button on the D5 and/or the D850 that you can use to switch from AF-S (Single servo AF for static subjects) to AF-C (Full time servo AF for moving subjects)? I remember seeing a C/S switch on older Nikon camera bodies but … As I never use AF-S I set a-10 under the CUSTOM SETTING MENU to AF-C. The name for a-10 is Autofocus mode restrictions. The name makes no sense to me … All help and/or explanations would be greatly appreciated.
Money Saving Reminder
If you need a hot photo item that is out of stock at B&H, would enjoy free overnight shipping, and would like a $50 discount on your first purchase, click here to order and enter the coupon code BIRDSASART at checkout. If you are looking to strike a deal on Canon or Nikon gear (including the big telephotos) or on a multiple item order, contact Steve Elkins via e-mail or on his cell at (479) 381-2592 (Eastern time) and be sure to mention your BIRDSASART coupon code and use it for your online order. Patrick Sparkman saved $350 on a recent purchase!
The Used Gear Page
Action on the Used Gear Page recently has been fantastic. You can see all current listings here.
Recent Sales
Jim Brennan sold his Canon EF 70-200mm f/2.8L IS II USM lens in excellent plus condition for only $1,219.00 on the first day of listing.
Jim Burns recently sold his EOS-1D Mark IV body in excellent plus condition for a BAA record low $998; not sure exactly when 🙂
David Solis sold a brand new Sanho HyperDrive Colorspace UDMA 3 1 TB wireless photo/video memory card backup for $399.00 after being contacted on the first day of listing.
David Solis sold his Canon EF 300 mm f/2.8L IS USM (the original version) lens in excellent plus condition for $2399.00 after being contacted on the first day of listing.
David Solis sold his Canon EF 500 mm f/4L IS USM (the "old five") in excellent plus condition with perfect glass for the BAA record low price of $3399.00.
Les Greenberg sold his Canon EF 70-200mm f/2.8L IS II USM zoom lens in mint condition to a local buyer and is sending me a check for 2 1/2% of the original asking price of $1599.
Joel Williams sold his Fujifilm XF 50 f/2 R WR lens in like-new condition for only $299 in early March.
Rajat Kapoor sold his Canon EF 100-400mm f/4.5-5.6L IS USM lens (the "old 1-4") in near-mint condition the first day is was listed for $649.
Jim Brennan sold his Canon EF 500mm f/4L IS USM lens (the "old five") in near-mint condition and a Canon EF 1.4 III teleconverter in very good condition for $3,599.00 right after listing them in early March.
Gary Meyer sold his Canon EOS 7D Mark II in near-mint condition for $798 soon after it was listed in early March.
In addition, the sale of John Norris's Canon 1DX Mark II — premium kit — (with less than 2,000 actuations!) in like-new condition but for a few small scuff marks for top left and bottom right for the BAA record-low price of $3,996.00 became pending on the first day it was listed.
DJI Phantom 4 Pro Quadcopter
Jim Keener is offering a lightly used DJI Phantom 4 Pro Quadcopter in like-new condition $999.00. The sale includes the original product box, the instruction manual, and insured ground shipping by major courier to US addresses only. The drone was flown only five times for about 30 minutes each flight. It is very much fun to use and produces exceptional video. Personal checks only. No PayPal. Your item will not be shipped until your check clears.
Please contact Jim via e-mail or by phone at 310-741-7435 (9am-9pm Mountain time).
The Phantom 4 Pro from DJI boasts a 3-axis-stabilized gimbal camera with a 20MP, 1″ CMOS sensor capable of shooting up to 4K/60fps video and well as photo bursts at up to 14 fps. The hull has been updated from the previous Phantom 4, now featuring magnesium alloy construction for increased rigidity and reduced weight. The FlightAutonomy system adds dual rear-vision sensors plus infrared sensing for a total of five directions of obstacle sensing and four directions of obstacle avoidance. Compared to the Phantom 4 Advanced variant, the Pro features the noted four, rather than two, directions of obstacle avoidance and offers a 5.8 GHz channel for the Lightbridge link, in addition to 2.4 GHz. B&H
Folks who fly quadcopters are reminded to take care when flying them around wildlife. To put it simply, I have seen birds and animals freaked out by these devices flown too closely. artie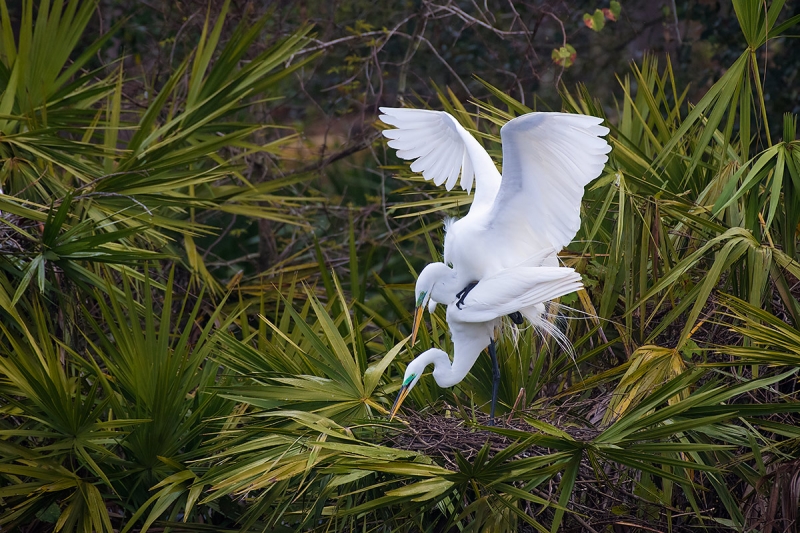 This image was created on February 17, 2018 at Gatorland with the Induro GIT 304L/Mongoose M3.6-mounted Nikon AF-S NIKKOR 200-500mm f/5.6E ED VR lens (at 500mm) and the mega mega-pixel Nikon D850 DSLR.. ISO 800. Matrix metering probably at +1/3 stop as originally framed: 1/1600 sec. at f/6.3 in Manual mode. WB: AUTO0 at 9:02am on a foggy morning.
Center Group/Shutter Button AF as originally framed; the diamond pattern was on the male's shoulder. Click on the image to enjoy a larger version.
Image #1: Great Egret pair copulating at the nest
Your browser does not support iFrame.
………………………………………………………………………………………………………………………………………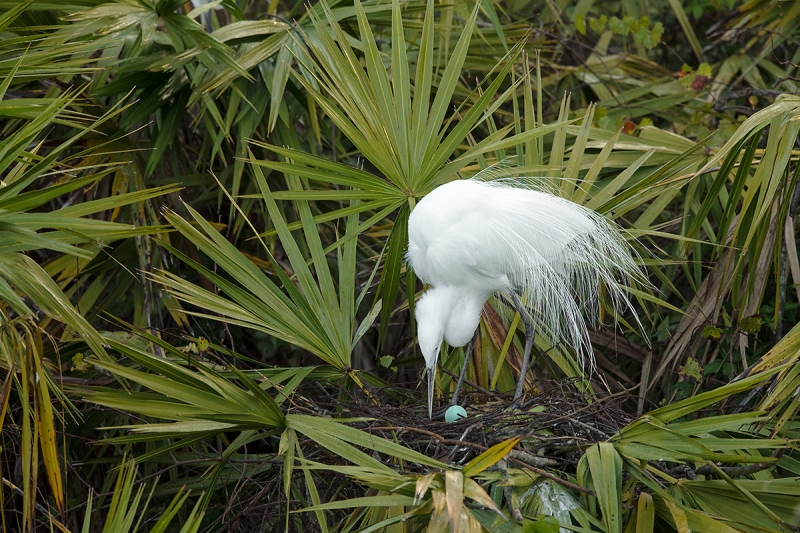 This image was created at Gatorland on the morning of February 22, 2018 with the Induro GIT 304L/Mongoose M3.6-mounted Nikon AF-S NIKKOR 600mm f/4E FL ED VR lens, the Nikon AF-S Teleconverter TC-14E III, and the Nikon D850. ISO 1250. Matrix metering +2/3 stop as originally framed: 1/500 sec. at f6.3. Cloudy WB at 7:28am in the shade.
Center Group (grp) shutter Button AF with the AF cluster centered on the bird's neck.
AF Fine-tune: +5. (Please see and carefully read Nikon Focus Fine-tune Guide item below). Click on the image to see a larger version.
Image #2: Great Egret with single egg in nest
Your browser does not support iFrame.
My Choice
In the Intimate Views blog post here, I asked which of the two images above was your favorite. Most folks preferred the second image for its intimacy. Only Jordan Cait of Toronto agreed with me in feeling that Image #1 was the stronger of the two. I like it best in part because Image #2 had a pretty bad BLUE/CYAN cast (that I had missed during post-processing). In addition there were the two very good head angles to go with the raised wing pose of the male. Just my two cents.
Blemished or Un-blemished?
In the Blemished or Un-blemished? blog post here, I far preferred the unblemished version. Why not?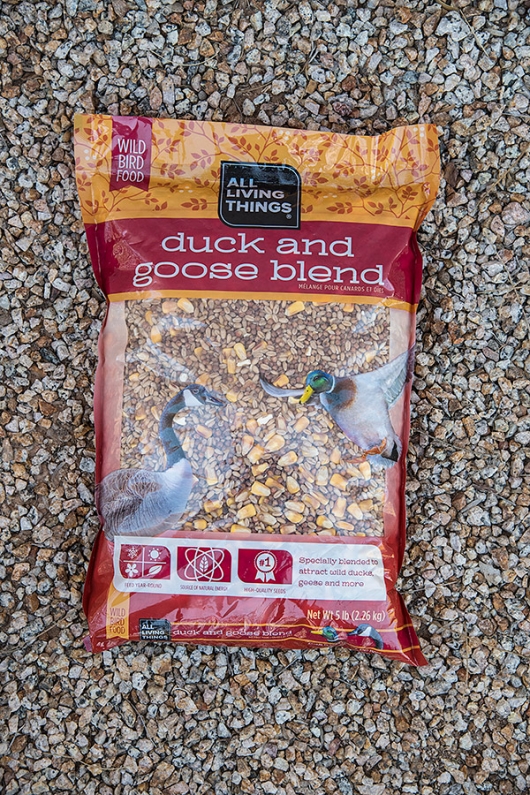 Duck and Goose Feed
Your browser does not support iFrame.
In the Is Everything Just Ducky? Moral and Ethical Bird Photography Questions … blog post here, agreement was pretty much unanimous in feeling that if feeding is permitted and the food is healthy that baiting ducks to fly in and provide flight and other photographic opportunities was just fine. I of course feel exactly the same.
Many folks flew off course as far as their comments regarding entering photos of baited birds in major photographic competitions. The last time I looked, baiting of any kind was either permitted (with the exception of live bait) or simply not mentioned. The BBC contest's only restriction is that if a subject has been baited that that fact should be revealed. I know for a fact that that is — for whatever reason — often not what happens.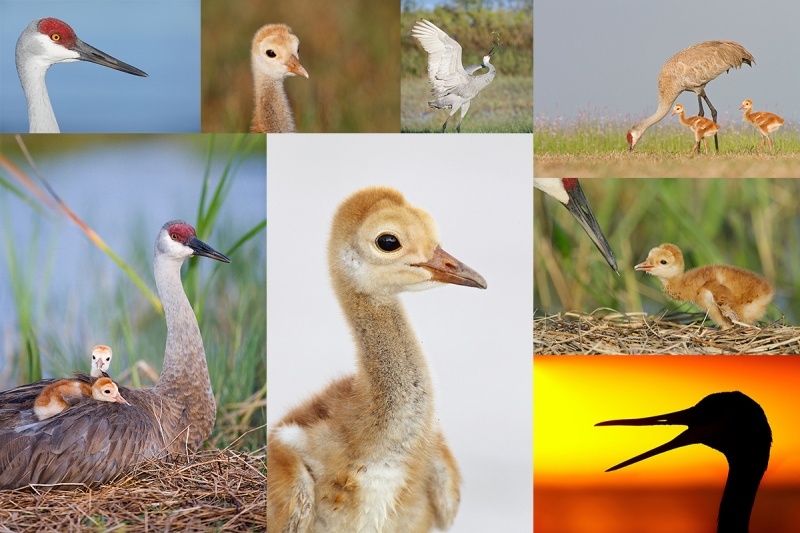 Early Spring Photo Opportunities at ILE
BIRDS AS ART First-ever Master Class
Master Class. Two Full and two Half Days/Friday afternoon, March 30 through lunch on Monday, April 2, 2018: $1999.00. Limit: 4/Openings 3.
The Master Classe will be a small group — strictly limited to four photographers — with the first folks who register having the option of staying at my home ($50/night) or at a chain motel in nearby Lake Wales. Live, think, and breathe photography from Friday afternoon through lunch on Monday (late-morning); all meals included. There will be three afternoon photo sessions (FRI – SUN) hopefully with glorious sunsets like the ones you saw one the blog in December we should have good opportunities with the cranes even in the afternoon. We will enjoy three morning photography sessions (SAT – MON) with the main subjects being tame Sandhill Cranes almost surely with chicks or colts. Also vultures and Cattle Egrets and more. Limpkins are possible. Intermediate telephoto lenses are fine for the cranes, even the chicks at times. A 500 or 600mm lens would be best for many of the situations that we will encounter.
During the day we will sit together around my dining room table and pick everyone's keepers and enjoy guided Photoshop sessions. On Monday before lunch, folks can make a single large print of their favorite image from the weekend. If you so choose, I will micro-adjust one of your lenses (at one focal length with your #1 camera body–Canon or Nikon) during a group instructional session. All will be welcome to practice what they have learned during the breaks using my set-up and my lighting gear.
To register, please first shoot me an e-mail to check on availability. Then you will be instructed to call Jim or Jen at 863-692-0906 during weekday business hours (except for Friday afternoons) to leave you non-refundable (unless the session sells out) $500 deposit. Only the deposit may be left on credit card. Balances must be paid by check immediately after you register (unless you wish to pay by credit card plus 4% to cover our fees).
I hope that you can join me on this new adventure.
with love, artie
ps: bring your bathing suit if you would like to try my pool.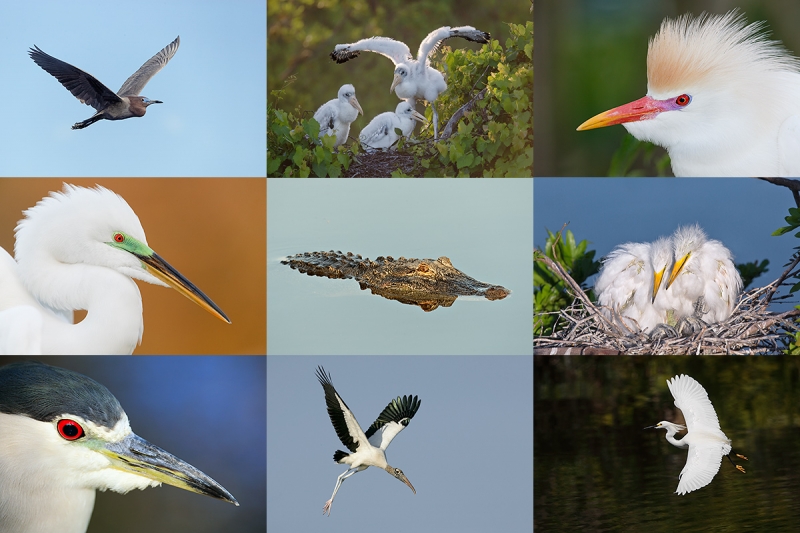 Tame birds in breeding plumage and chicks are great fun.
Gatorland IPT #2. Sunrise: 6:48am. Sunset: 7:58pm.
3 1/2 DAYs: THURS 26 APR through and including the morning of SUN 29 APR. $1599. Limit 5 photographers/Openings: 3.
Must purchase Gatorland Photographers Pass. Click here for details. All early entry. Late stays Thursday, Friday and Saturday. Gatorland IPT #2 should have lots of chicks, and lots of birds in breeding plumage. We will get to photograph Great Egret, Snowy Egret, Tricolored Heron, and Wood Stork. The Cattle Egrets in full breeding plumage will be present in good numbers. Learn my Gatorland strategy, to get the right exposure, flight photography techniques, my secret Gatorland spots, how to see the best situations (nobody is better at that than me), and how to make great images in extremely cluttered situations.
Help Support the Blog
Please help support my (stupendous) efforts here on the blog by remembering to click on the logo link above each time that you shop Amazon. That would be greatly appreciated. There is no problem using your Prime account; just click on the link and log into your Prime account. With love, artie
If In Doubt …
If in doubt about using the BAA B&H affiliate link correctly, you can always start your search by clicking here. Please note that the tracking is invisible. Web orders only. Please, however, remember to shoot me your receipt via e-mail.
Please Remember to use my Affiliate Links and to Visit the New BAA Online Store 🙂
To show your appreciation for my continuing efforts here, we ask, as always, that you get in the habit of using my B&H affiliate links on the right side of the blog for all of your photo and electronics purchases. Please check the availability of all photographic accessories in the New BIRDS AS ART Online Store, especially the Mongoose M3.6 tripod head, Wimberley lens plates, Delkin flash cards and accessories, and LensCoat stuff.
As always, we sell only what I have used, have tested, and can depend on. We will not sell you junk. We know what you need to make creating great images easy and fun. And please remember that I am always glad to answer your gear questions via e-mail.
I would of course appreciate your using our B&H affiliate links for all of your major gear, video, and electronic purchases. For the photographic stuff mentioned in the paragraph above, and for everything else in the new store, we, meaning BAA, would of course greatly appreciate your business. Here is a huge thank you to the many who have been using our links on a regular basis and those who will be visiting the New BIRDS AS ART Online Store as well.
Facebook
Be sure to like and follow BAA on Facebook by clicking on the logo link upper right. Tanks a stack.
Typos
In all blog posts and Bulletins, feel free to e-mail or to leave a comment regarding any typos or errors. Just be right :).