Stuff
I began working on this blog post on the way up to the airport on Monday evening. I took the 4am shuttle to the airport and was at the gate early blowing up balloons. I purchased 4 ounces of stale pistachio nuts for the bargain price of $8.51; that is $34.04 per pound! I was at the gate early and after connecting at Dallas Love Field we arrived on time at PHX Sky Harbor. I wound up getting three treatment sessions (because of cancellations) and the shoulder is feeling somewhat better. Not good, just better. 🙂 MRI late on Wednesday.
I can't believe that I forgot to mention that I finished the Nikon Autofocus Focus Fine-tune e-Guide several days ago. I still need to put the finishing touches on it and create the PDF but it is functionally finished. It is currently out for review and should be in the BAA Online Store within a week. It will sell for $30. More soon. See below for the details. If you would like to receive the MS Word file give Jim a buzz at 863-692-0906 and have him run your credit card for $30. He will contact me and I will shoot you the link. I would love to hear about anything that is unclear or does not make sense.
There are lots of new Sale Pendings on the Used Gear Page here as the action continues to be hot and heavy.
The Streak
Today makes two hundred forty-eight days in a row with a new educational blog post! This one took about 90 minutes in all to prepare including the time spent on the image optimization. With all of my upcoming free time (or not…), the plan right now is to try to break the current record streak of 480 … Good health and good internet connections and my continuing insanity willing.
Canon EOS 40D/EF 28-135mm IS Zoom Lens Kit (with extras)
Price Reduction
David Solis is offering a Canon EOS 40D/EF 28-135 mm IS USM kit with both items in excellent condition for the amazing, ridiculously low price of $249 (was $349.00.) With the camera body the sale includes the original box, the front body cap, LCD screen protectors, and one Delkin 16 GB (60 MB/s, 450x) compact flash card. With the lens the sale includes the front lens cap, the lens hood — EW-78B II — in good condition, a B+W 72mm 010 (UV) filter, a Tiffen 72mm circular polarizer filter, a Tarmac soft pouch 3-filter holder, the user manuals, the EOS Digital Solution Disk, four Canon BP-511A camera batteries, two Canon CG-580 battery chargers, the interface & video cables, a new Canon camera strap, and the BG-E2n battery grip, the 6-AA-battery magazine — BGM-E2 — as an alternative to using two camera batteries, and insured ground shipping via UPS to U.S. addresses only. Photos are available on request. Your purchase will not ship until your check clears the bank.
Please contact David via e-mail or phone at 1-(505) 699-4968 (Mountain time Zone). No text messages please.
The 40D was Denise Ippolito's favorite camera body. She rued the day that she sold it to get the original 7D. The 40D has an excellent AF system and produces clean 10.1 megapixel files. The 28-135 was the forerunner of the two versions of the 24-105L IS zooms. I used my 28-135 for many years to create a variety of B-roll images, most notably was one of a baby Common Raven in a nest below the roadway of a bridge in Nome, AK. Several folks held my ankles as I hung over the side to get the image. This kit would make a great starter rig for beginning photographers of any age. artie
BIRDS AS ART
BIRDS AS ART is registered in the U.S. Patent and Trademark Office.
Money Saving Reminder
If you need a hot photo item that is out of stock at B&H, would enjoy free overnight shipping, and would like a $50 discount on your first purchase, click here to order and enter the coupon code BIRDSASART at checkout. If you are looking to strike a deal on Canon or Nikon gear (including the big telephotos) or on a multiple item order, contact Steve Elkins via e-mail or on his cell at (479) 381-2592 (Eastern time) and be sure to mention your BIRDSASART coupon code and use it for your online order. Patrick Sparkman saved $350 on a recent purchase!
Booking.Com
Several folks on the Gatorland IPT used the Booking.Com link below and got great rates and saved a handsome $25.00 in the process. If you too would like to give Booking.Com a shot, click here and to earn a $25 reward on your first booking. Thanks to the many who have already tried and used this great service.
Gear Questions and Advice
Too many folks attending BAA IPTs and dozens of folks whom I see in the field, and on BPN, are–out of ignorance–using the wrong gear especially when it comes to tripods and more especially, tripod heads… Please know that I am always glad to answer your gear questions via e-mail. Those questions might deal with systems, camera bodies, accessories, and/or lens choices and decisions.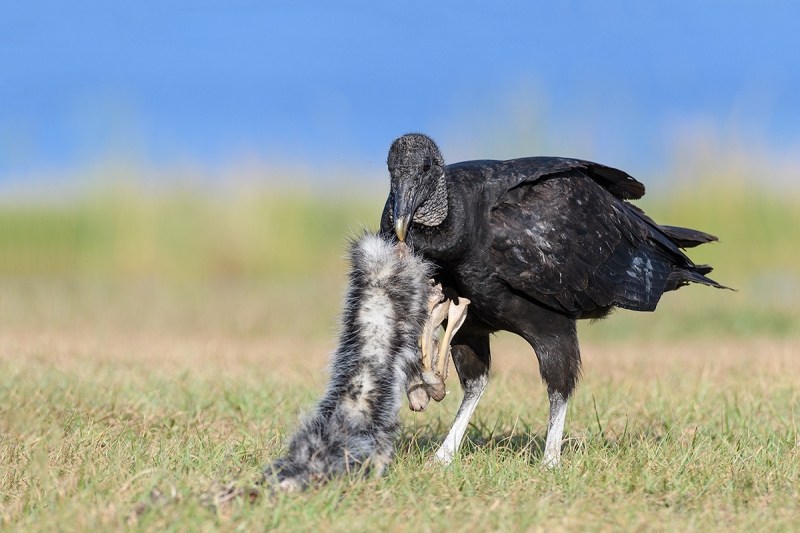 This image was created on Monday April 2 with the Induro GIT 304L/Mongoose M3.6-mounted Nikon AF-S NIKKOR 200-500mm f/5.6E ED VR lens (at 500mm) and the blazingly fast professional digital camera body, the Nikon D5 DSLR camera body with dual XQD slots). ISO 1600. Matrix metering +1 stop as originally framed: 1/1000 sec. at f/9 in Manual mode. AUTO1 WB at 9:00am on a clear morning.
Group/Shutter Button AF. Click on the image to enjoy a larger version.
Nikon Automatic Fine-tune value/Focus Tune AFC test value: +3.
Black Vulture scavenging opossum carcass
Your browser does not support iFrame.
The Situation
I found the fresh-dead, road-killed opossum on Sunday morning on the way down to the lake after our sunrise tree-scape session. I placed it in the south field sure that the birds would respond within the hour but that did not happen. I did not photograph on Sunday afternoon. By Monday morning the vultures had dragged what was left of the carcass — not much, down the slope to the canal. There were about 25 birds on it when I arrived. I grabbed the carcass and moved it up onto the grass and then drove away. When I returned in 15 minutes the birds were already dining. With my bad left wing working off the tripod is much easier than hand holding so I set up the 200-500/D5 combo and slowly made my way down the slope towards the canal. This has two advantages:
1-The birds are much less threatened than if you were standing at full height on the field.
2-You can get some really sweet backgrounds including the deep blue water of the lake. By getting just a bit higher or lower you can choose from a variety of almost endless perspectives. I do need to take care to avoid the getting any of the white buildings on the far shore in the frame.
I went with the D5 over the D850 because I was hoping for some action and some flight opportunities. One out of two ain't bad.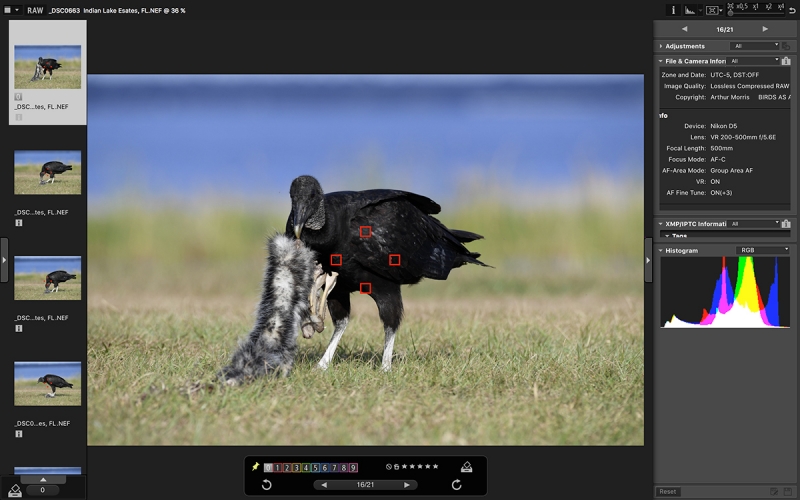 Nikon ViewNX-i Screen Capture
Your browser does not support iFrame.
Nikon ViewNX-i
I learned recently that I can get all the EXIF that I need and also see the focus points as well in Nikon ViewNX-i, a free download. ViewNX-i refreshes automatically and but Nikon Capture NX-D does not. Do understand that I use Nikon ViewNX-i only to garner the info that I need to make the blog posts more educational; I do not do any RAW (NEF) conversions in either of the programs that I mentioned.
What We Can Learn from the Screen Capture
1- Note the absolutely perfect histogram.
2- Note the Nikon automatic fine-tune value/FocusTune AFC test value: +3. With the D5 I do the Automatic Fine-tuning and then follow-that up with a LensAlignFocusTune Autofocus Consistency (AFC) test. The results usually differ by one or two points. I always go with the best AFC test value. When I first started doing the Focus peaking AF Fine-tune with my D850 I would run a LensAlignFocusTune Autofocus Consistency (AFC) test as a follow-up. As the results matched almost perfectly — always within one point at most — I no longer do the follow-up test; I trust Focus peaking AF Fine-tune completely.
3- Note that with the bird angled toward me and the the Group AF points centered on the bird's shoulder, focus on the eye was razor sharp because the shoulder and the near-eye were on the same plane.
4-Note that with the bird jerking backwards as it tugged on the carcass the framing was less than perfect. I cropped from below and behind the bird and then expanded the canvas left and above and filled in the new canvas using Content Aware Fill. With the dark blue strip leaving somewhat of a mess I cleaned the new sky up with the Patch Tool.
The Nikon Autofocus Focus Fine-tune e-Guide
There is lots of mis-information out there on Nikon Automatic AF Fine-tune. Working with Patrick Sparkman, we developed a way of using that feature most effectively. Patrick was on a roll and perfected a method for using the Focus Peaking feature available only on the D850 to quickly and accurately micro-adjust all lenses and TC-Es with the D-850. Both Nikon Automatic AF Fine-tune and D850 Focus Peaking AF Fine-tune require a LensAlign Mark II kit so that you can obtain accurate results. I learned recently that the Nikon D500 DSLR and the older D7500 both offer Automatic AF Fine-tune.
Folks who use one of my links to purchase a Nikon D850, a Nikon D5 DSLR Camera (Body Only, Dual XQD Slots), a Nikon D500 DSLR , or any Nikon gear totaling more than $2,000 will receive the new guide free.
IPT Stuff
All IPTs include an introductory briefing before the IPT begins so you know what to expect, frequent in-the-field instruction and guidance (priceless), image editing and small group Photoshop instruction during and after lunch. Breakfasts are on your own so that we can get in the field early. Lunches are on me. Dinners are on your own as well so that we can get to bed as the days in spring will be long.
Rides with the leader are available on a limited basis for $50/day.
Registering for an IPT
To register for an IPT call Jim or Jen in the office at 863-692-0906 from Monday morning through Friday lunch with your credit card in hand to leave your $500 non-refundable deposit. Balances may not be paid by credit card so you will be asked to send a check for your balance along with the signed paperwork that you will find here.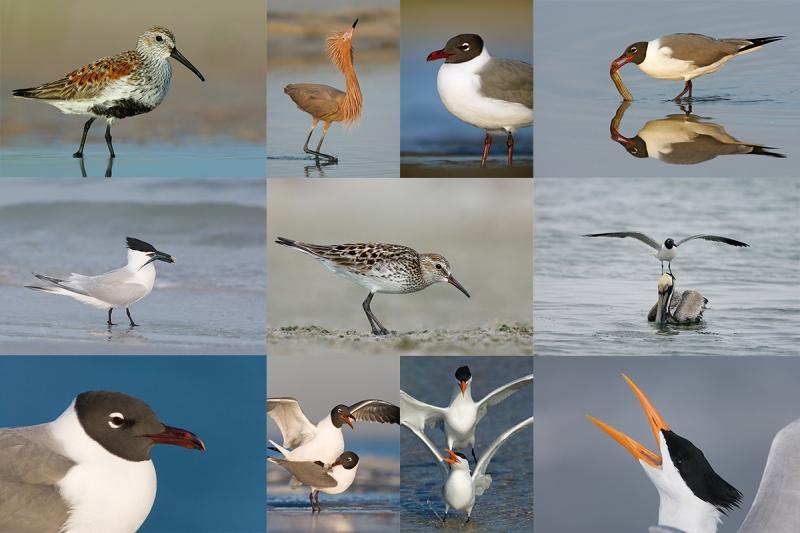 Spring at DeSoto is often magical
DeSoto IPT #1 Sunrise: 7:07 am. Sunset: 6:22pm.
3 1/2 DAYS: SUN 15 APR thru the morning session on WED 18 APR: $1599. Limit 5 photographers.
You must purchase a season Parking Pass in advance for early entry. Click here and scroll down for info. If you are not a local, the six month pass if fine. Best to order by mail. Join me to photograph a wide variety of birds of the shore including pelicans, gulls, terns, sandpipers, oystercatchers, heron, egrets, and night-herons. Many in full breeding plumage. Most are ridiculously tame. Osprey likely. Learn to get the right exposure, flight photography techniques, my secret DeSoto locations, how to see the best situations (nobody is better at that than me), and how to make great images in extremely cluttered situations. Enjoy some great sunrises and sunsets.
Which will offer better opportunities, Desoto #1 or DeSoto #2? I have no idea. Both have the potential to be great.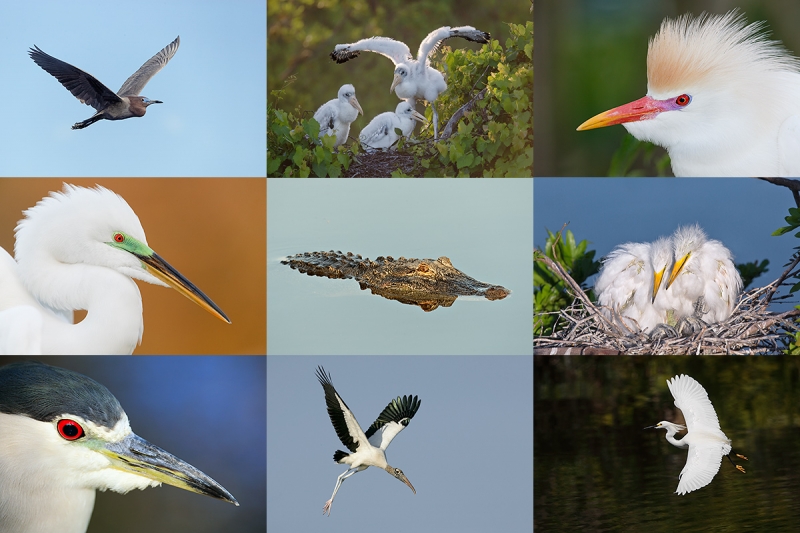 Tame birds in breeding plumage and heron and egret chicks are great fun.
Gatorland IPT #2. Sunrise: 6:48am. Sunset: 7:58pm.
3 1/2 DAYs: THURS 26 APR through and including the morning of SUN 29 APR. $1599. Limit 5 photographers.
(2 1/2 DAY option) FRI 27 APR through and including the morning of SUN 29 APR. $1199.
Must purchase Gatorland Photographers Pass. Click here for details. All early entry. Late stays Thursday, Friday and Saturday. Gatorland IPT #2 should have lots of chicks, and lots of birds in breeding plumage. We will get to photograph Great Egret, Snowy Egret, Tricolored Heron, and Wood Stork. The Cattle Egrets in full breeding plumage will be present in good numbers. Learn my Gatorland strategy, to get the right exposure, flight photography techniques, my secret Gatorland spots, how to see the best situations (nobody is better at that than me), and how to make great images in extremely cluttered situations.
Help Support the Blog
Please help support my (stupendous) efforts here on the blog by remembering to click on the logo link above each time that you shop Amazon. That would be greatly appreciated. There is no problem using your Prime account; just click on the link and log into your Prime account. With love, artie
If In Doubt …
If in doubt about using the BAA B&H affiliate link correctly, you can always start your search by clicking here. Please note that the tracking is invisible. Web orders only. Please, however, remember to shoot me your receipt via e-mail.
Please Remember to use my Affiliate Links and to Visit the New BAA Online Store 🙂
To show your appreciation for my continuing efforts here, we ask, as always, that you get in the habit of using my B&H affiliate links on the right side of the blog for all of your photo and electronics purchases. Please check the availability of all photographic accessories in the New BIRDS AS ART Online Store, especially the Mongoose M3.6 tripod head, Wimberley lens plates, Delkin flash cards and accessories, and LensCoat stuff.
As always, we sell only what I have used, have tested, and can depend on. We will not sell you junk. We know what you need to make creating great images easy and fun. And please remember that I am always glad to answer your gear questions via e-mail.
I would of course appreciate your using our B&H affiliate links for all of your major gear, video, and electronic purchases. For the photographic stuff mentioned in the paragraph above, and for everything else in the new store, we, meaning BAA, would of course greatly appreciate your business. Here is a huge thank you to the many who have been using our links on a regular basis and those who will be visiting the New BIRDS AS ART Online Store as well.
Facebook
Be sure to like and follow BAA on Facebook by clicking on the logo link upper right. Tanks a stack.
Typos
In all blog posts and Bulletins, feel free to e-mail or to leave a comment regarding any typos or errors. Just be right :).