Stuff
On Monday afternoon we almost left the lagoon right after we got there as there was not much around. But we persisted and were rewarded with some great stuff on Marbled Godwit, Laughing Gull, and White Ibis. And Norm Steffen got a really neat image of a Black-bellied Plover tugging on a very long worm. We returned to the same spot early on Tuesday morning and began with a silhouetted dancing reddish Egret. Next was a handsome, fishing Tricolored Heron in breeding plumage and a foraging Black-necked Stilt. Then we made a wiggle and visited Heustis Beach for some flight photography and some point-blank Royal Tern and Laughing Gull head portraits. Anita North made a really neat series of a young Laughing Gull landing with a rather large fresh-caught fish!
I was in some pain most of the day from my inguinal hernia and was able to arrange to see Dr. Howard on Wednesday morning; he removed my gall bladder in emergency surgery in October 2016. Five days later I flew to South America on an eleven week photography journey. I am hoping to have the hernia repaired on Thursday April 19 … Again, lunch at the Neptune Grill was superb. I celebrated my upcoming surgery with a slice of their amazing peanut butter pie! Out of necessity, I cancelled the Gatorland IPT; it is the second time in 25 years that I cancelled an IPT due to health problems. You gotta love it.
The Streak
Today makes two hundred sixty-two days in a row with a new educational blog post! This one took less than an hour to prepare including the time spent on the image optimization. With all of my upcoming free time (or not…), the plan right now is to try to break the current record streak of 480 … Good health and good internet connections and my continuing insanity willing.
Selling Your Used Photo Gear Through BIRDS AS ART
Selling your used (or like-new) photo gear through the BAA Blog is a great idea. We charge only a 5% commission. One of the more popular used gear for sale sites charged a minimum of 20%. Plus assorted fees! Yikes. They went out of business. And e-Bay fees are now up to 13%. The minimum item price here is $500 (or less for a $25 fee). If you are interested please scroll down here or shoot us an e-mail with the words Items for Sale Info Request cut and pasted into the Subject line :). Stuff that is priced fairly — I offer pricing advice to those who agree to the terms — usually sells in no time flat. Over the past year, we have sold many dozens of items. Do know that prices on some items like the EOS-1D Mark IV, the old Canon 100-400, the old 500mm, the EOS-7D and 7D Mark II and the original 400mm DO lens have been dropping steadily. You can always see the current listings by clicking on the Used Photo Gear tab on the orange-yellow menu bar near the top of each blog post page.
BIRDS AS ART
BIRDS AS ART is registered in the U.S. Patent and Trademark Office.
Money Saving Reminder
If you need a hot photo item that is out of stock at B&H, would enjoy free overnight shipping, and would like a $50 discount on your first purchase, click here to order and enter the coupon code BIRDSASART at checkout. If you are looking to strike a deal on Canon or Nikon gear (including the big telephotos) or on a multiple item order, contact Steve Elkins via e-mail or on his cell at (479) 381-2592 (Eastern time) and be sure to mention your BIRDSASART coupon code and use it for your online order. Patrick Sparkman saved $350 on a recent purchase!
Booking.Com
Several folks on the Gatorland IPT used the Booking.Com link below and got great rates and saved a handsome $25.00 in the process. If you too would like to give Booking.Com a shot, click here and to earn a $25 reward on your first booking. Thanks to the many who have already tried and used this great service.
Gear Questions and Advice
Too many folks attending BAA IPTs and dozens of folks whom I see in the field, and on BPN, are–out of ignorance–using the wrong gear especially when it comes to tripods and more especially, tripod heads… Please know that I am always glad to answer your gear questions via e-mail. Those questions might deal with systems, camera bodies, accessories, and/or lens choices and decisions.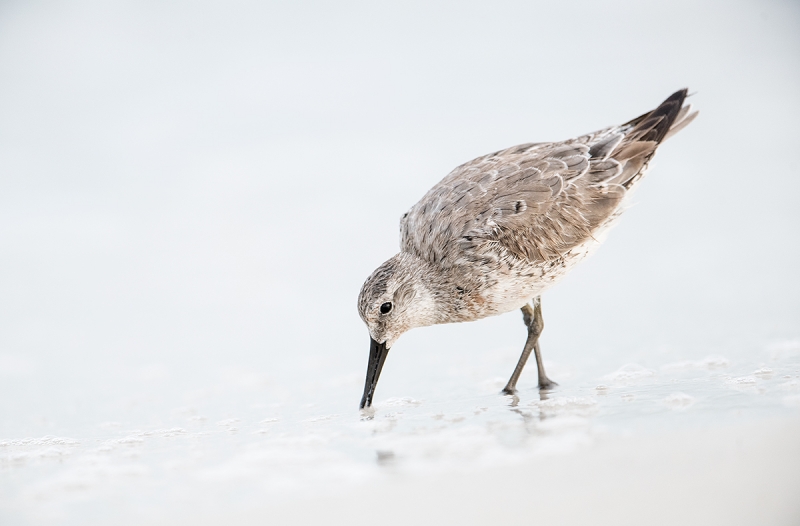 This image was created on the morning of April 15, 2018. I used the Induro GIT 304L/Mongoose M3.6-mounted Nikon AF-S NIKKOR 600mm f/4E FL ED VR lens, the Nikon AF-S Teleconverter TC-14E III, and the Nikon D850. ISO 1600. Matrix metering +2 stops as framed: 1/800 sec. at f/6.3. AUTO1 WB at 8:00am in a dark, stormy conditions.
Center Group (grp) AF point/Shutter button AF was active at the moment of exposure. The array was centered on the bird's face. Click on the image to see a larger version
Focus peaking AF Fine-tune: +4.
Image #1: Red Knot, very worn first winter plumage
Your browser does not support iFrame.
First Winter Plumage
The Red Knot above is still in first basic (or first winter) plumage. Note that all of the upperparts feathers are plain gray. Note also that the feathers on the bird's back and the uppermost row of wing coverts are in relatively decent shape but that the lower two rows of coverts are worn and frayed. The decent looking feathers were molted in in fall as part of the bird's first winter plumage. Th worn, frayed feathers are retained juvenile feathers thus they look like a mess. Some are worn down to the feather shafts. The very few orange feathers on the chin and the sides of the upper breast are the beginnings of the molt to breeding or alternate plumage.
Compare the plumage of the bird above with the more colorful plumage of the bird in the next photo.
Anything Funky Above?
If you can spot any major Photoshop funkiness in Image #1 above, please leave a comment. I will reveal the major changes here soon.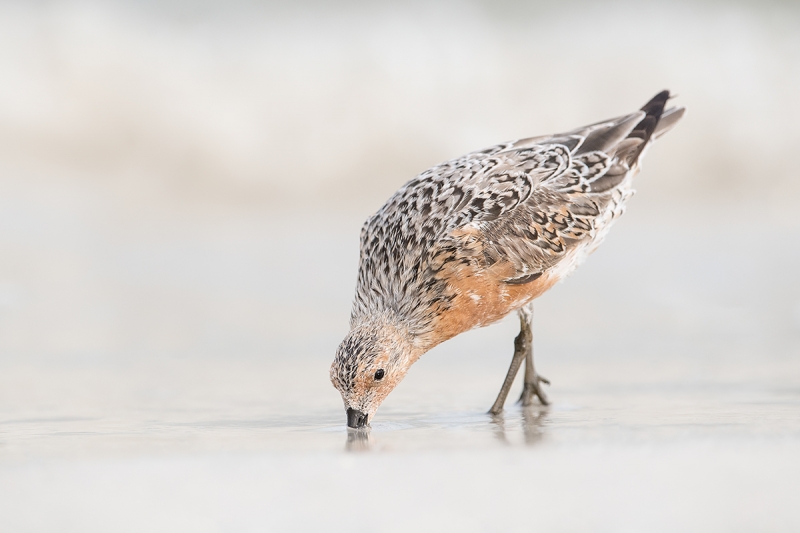 This image was also created on the morning of April 15, 2018. I used the Induro GIT 304L/Mongoose M3.6-mounted Nikon AF-S NIKKOR 600mm f/4E FL ED VR lens and the Nikon D850. ISO 640. Matrix metering +1 stop as framed: 1/1000 sec. at f/6.3. AUTO1 WB at 8:57am in cloudy, partly bright conditions.
One AF point down from the center AF d-9/Shutter button AF was active at the moment of exposure. The was selected AF point was on the side of the bird's upper back/rear neck, right on the same plane as the bird's face. Click on the image to see a larger version.
Focus peaking AF Fine-tune: +6.
Red Knot, molting into breeding (alternate) plumage/strong>
Your browser does not support iFrame.
Breeding or Alternate Plumage
Shorebirds in alternate (or breeding or summer) plumage feature bright colorful feathers often with distinctive patterning. The knot in Image #2 has begun to molt into its handsome alternate plumage. Many of the gray winter feathers have been replaced by colorful, patterned feathers, some with dark anchor-shapes on a field of orange. The breast feathers are orange. In two two three weeks the molt will be complete, the feathers of the upperparts will become spangled black and brown and silver, and the covert feathers with the anchor-shaped marks will wear and become brighter. Soon thereafter the birds will head north on an evening south wind and fly to their breeding grounds on Banks, Baffin, and Victoria Islands above the arctic circle in the far north of Canada.
Shorebirds: Beautiful Beachcombers
If you are interested in learning to identify and age all of the common North American shorebirds and learn about their amazing migrations, their breeding biology, their feeding habits, and everything else you might have wanted to learn on the way to the nearest mudflats, get yourself a copy of my softcover book, Shorebirds: Beautiful Beachcombers.
The Nikon Autofocus Focus Fine-tune e-Guide
There is lots of mis-information out there on Nikon Automatic AF Fine-tune. Working with Patrick Sparkman, we developed a way of using that feature most effectively. Patrick was on a roll and perfected a method for using the Focus Peaking feature available only on the D850 to quickly and accurately micro-adjust all lenses and TC-Es with the D-850. Both Nikon Automatic AF Fine-tune and D850 Focus Peaking AF Fine-tune require a LensAlign Mark II kit so that you can obtain accurate results. I learned recently that the Nikon D500 DSLR and the older D7500 both offer Automatic AF Fine-tune.
Folks who use one of my links to purchase a Nikon D850, a Nikon D5 DSLR Camera (Body Only, Dual XQD Slots), a Nikon D500 DSLR , or any Nikon gear totaling more than $2,000 will receive the new guide free.
Help Support the Blog
Please help support my (stupendous) efforts here on the blog by remembering to click on the logo link above each time that you shop Amazon. That would be greatly appreciated. There is no problem using your Prime account; just click on the link and log into your Prime account. With love, artie
If In Doubt …
If in doubt about using the BAA B&H affiliate link correctly, you can always start your search by clicking here. Please note that the tracking is invisible. Web orders only. Please, however, remember to shoot me your receipt via e-mail.
Please Remember to use my Affiliate Links and to Visit the New BAA Online Store 🙂
To show your appreciation for my continuing efforts here, we ask, as always, that you get in the habit of using my B&H affiliate links on the right side of the blog for all of your photo and electronics purchases. Please check the availability of all photographic accessories in the New BIRDS AS ART Online Store, especially the Mongoose M3.6 tripod head, Wimberley lens plates, Delkin flash cards and accessories, and LensCoat stuff.
As always, we sell only what I have used, have tested, and can depend on. We will not sell you junk. We know what you need to make creating great images easy and fun. And please remember that I am always glad to answer your gear questions via e-mail.
I would of course appreciate your using our B&H affiliate links for all of your major gear, video, and electronic purchases. For the photographic stuff mentioned in the paragraph above, and for everything else in the new store, we, meaning BAA, would of course greatly appreciate your business. Here is a huge thank you to the many who have been using our links on a regular basis and those who will be visiting the New BIRDS AS ART Online Store as well.
Facebook
Be sure to like and follow BAA on Facebook by clicking on the logo link upper right. Tanks a stack.
Typos
In all blog posts and Bulletins, feel free to e-mail or to leave a comment regarding any typos or errors. Just be right :).