Stuff
I am using Tramadol for pain relief. Once the powerful stuff in me that was left over from the surgery began to wear off, I have had a bit of pain, especially when standing up or sitting down (as is expected from inguinal hernia surgery). I slept only about 3 or four hours on Thursday night but caught up during the day on Friday taking many long drowsy naps, again as expected. All in all I am feeling pretty good. I did many hours of work on the Used Gear Page and am almost caught up …
I sold Anita North's 1DX Mark II in excellent plus condition with extras and 247,000 shutter actuations for $3399 before it was even listed. (Anita is way trigger-happy but the 1DX II shutter is rated to 800,000 actuations.)
The Streak
Today makes two hundred sixty-five days in a row with a new educational blog post! This one took two hours to prepare including the time spent on the image optimization. With all of my upcoming free time (or not…), the plan right now is to try to break the current record streak of 480 … Good health and good internet connections and my continuing insanity willing.
Rain Gear Help Needed
If you have rain gear (top and bottom) that you love, that is rugged, that is not rubberized, and that actually keeps you dry even when sitting in a puddle, please do share. And please be specific. A link is fine.
Thanks to the Patient
With the injured shoulder, the recently concluded DeSoto IPT, and the hernia surgery, I have gotten more than a bit behind on e-mails, especially some Used Gear Sales business. Many thanks for your patience. I will have lots of time to rest for the next week and will be catching up.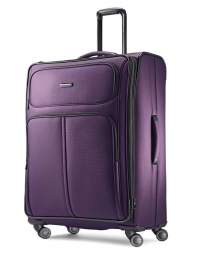 Samsonite 29″ Spinner Luggage
I use and depend on two Samsonite 29″ Spinners for my world travels; they usually go at 49 1/2 pounds each … Put them back to back with the handles pulled out and you can push or pull them anywhere with a fairly smooth surface. That leaves one hand free to pull your Think Tank Roller (the larger AIRPORT SECURITY™ V3.0 or the slightly smaller AIRPORT INTERNATIONAL™ V3.0 — I own both, the Security for maximum loads or the International when traveling light). The roomy and amazing Think Tank URBAN DISGUISE® 60 CLASSIC (V3.0) shoulder bag has a sleeve on it that slides onto the extended handle of your carry-on roller. Click here to order your Think Tank stuff and receive a free gift.
The Samsonite Spinners are available in three colors. Click here to order your pair from Amazon. Or click on this link for lots more spinner options.
Dark-siders: Please Do Not Take This Personally
I have been saying this for a while: after many years in the business of brokering used gear sales, one pattern that I have seen is that most Nikon folks think that there stuff is worth a lot more than it actually is. That especially with regard to the sale of the older 600mm lenses, some of which weigh in the 12-14 pound range. If you can shed any light as to why this might be the case, I'd love to hear from you.
Selling Your Used Photo Gear Through BIRDS AS ART
Selling your used (or like-new) photo gear through the BAA Blog is a great idea. We charge only a 5% commission. One of the more popular used gear for sale sites charged a minimum of 20%. Plus assorted fees! Yikes. They went out of business. And e-Bay fees are now up to 13%. The minimum item price here is $500 (or less for a $25 fee). If you are interested please scroll down here or shoot us an e-mail with the words Items for Sale Info Request cut and pasted into the Subject line :). Stuff that is priced fairly — I offer pricing advice to those who agree to the terms — usually sells in no time flat. Over the past year, we have sold many dozens of items. Do know that prices on some items like the EOS-1D Mark IV, the old Canon 100-400, the old 500mm, the EOS-7D and 7D Mark II and the original 400mm DO lens have been dropping steadily. You can always see the current listings by clicking on the Used Photo Gear tab on the orange-yellow menu bar near the top of each blog post page.
New Listings
Canon EF 70-200mm f/2.8 L IS USM Lens
Ron Gates is offering a Canon EF 70-200mm f/2.8 L IS USM lens (the original version) in excellent condition for $899.00. There are a few nicks on the tripod collar. The sales includes the front and rears lens covers, the tough fabric zippered case, and insured ground shipping via major courier.
Please contact Ron via e-mail or by phone at 972-890-4105 (Central time.)
I owned and used this lens, the original IS version of the incredibly versatile 70-200 for birds and wildlife and landscapes and Urbex for many years with both teleconverters. It was great indoors for events like granddaughter Maya's dance recitals. A new copy of the 70-200 II currently sells for $1,949 so you can save a small fortune by grabbing Ron's lens. artie
Canon EOS-1D X
Ron Gates is also offering a Canon EOS-1D X in near-mint condition for $2499. The sale includes the original box and everything that came in it and insured ground shipping via major courier.
Please contact Ron via e-mail or by phone at 972-890-4105 (Central time.)
Two 1DX bodies served admirably as my workhorse digital camera bodies for several years when I was using Canon gear. The original 1DX has a superb AF system and produces high quality image files. It is fabulous for photographing birds in flight and in action. Some folks wish that they had kept there 1DX bodies and not upgraded to the 1DX Mark II. artie
Canon EOS 7D
Ron Gates is also offering a Canon EOS 7D in near-mint condition for $350. The sale includes the strap, the front body cap, the battery charger, the instruction manuals, and insured ground shipping via major courier.
Please contact Ron via e-mail or by phone at 972-890-4105 (Central time.)
Ron's used Canon EOS 7D would make a great and inexpensive starter camera body for anyone wishing to explore the possibilities of digital photography. artie
Canon MT-24EX Macro Twin Lite
Ron Gates is also offering a MT-24EX Macro Twin Lite in excellent condition for $499. The sale includes the original box, the instruction manual, and insured ground shipping via major courier.
Please contact Ron via e-mail or by phone at 972-890-4105 (Central time.)
I owned and used my Macro Twin Lite with my Canon 180mm macro lens for years. artie
Some Used Gear Comments
#1: I have been surprised that the items listed below did not sell quickly.
#2: I have been fairly criticized at times for encouraging folks to price their gear too low. That often when several items sell on the first day of listing …
#3: But many of you may not know that I almost always suggest a range of prices and give folks the final say. What often happens is that when the pick the higher price the stuff does not sell … And most of the time when they go with the lower price the stuff sells very quickly. I have learned that there is a very fine line. That said, there have been rare times when the seller opted for the highest price and the item sold quickly. In those cases I love to apologize for being wrong.
Price Reductions!
Nikkor 28-300mm 3.5-5.6 G ED VR Lens
Price reduced $100 on April 20, 2018!
Steve Ellis is offering a used Nikkor 28-300mm 3.5-5.6 G ED VR lens in excellent condition for $499 (was $599). The lens has some very minor wear on the finish. The sale includes the original box, soft case, manual, lens hood, front and rear lens caps, and insured shipping via UPS Ground to US addresses only. Personal checks only; the lens will be shipped only after your check clears.
Contact Steve via e-mail or call him at 1-203-247-4912 (Eastern time zone).
The 28-300 focal length range makes this lens very versatile. It is a great travel and B roll lens and a great lens to have at Bosque. It sells new at B&H for $964.95. artie
Tamron SP 150-600 f/5.6-6.5 Di VC USD
Price reduced $100 on April 20, 2018
Margaret Page is offering a Tamron SP 150-600mm f/5-6.3 Di VC USD lens for Canon in like-new condition (used only once) for the ridiculously low price of $599 (was $699). The sale includes the lens hood, the soft case, the front and rear caps, the instruction sheet, the original box are included, and insured ground shipping via UPS. Your item will not ship until your check clears unless other arrangements are made.
Please contact Margaret via e-mail or by phone at 706-761-5555 (Eastern time).
Several folks on IPTs have used this lens and made lots of sharp images. A telling factor is that there are no used copies of this lens available on eBay or in the B&H Used Gear listings. artie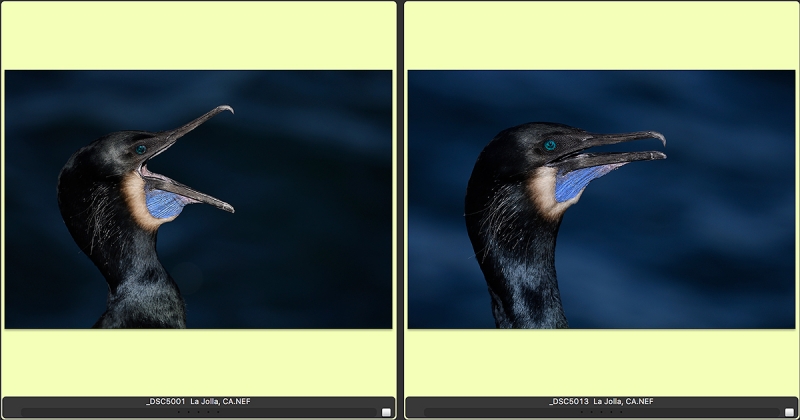 These two images were created on the 2nd San Diego IPT on the morning of January 31 at La Jolla, CA with the hand held Nikon AF-S NIKKOR 200-500mm f/5.6E ED VR lens (at 500mm) and the mega mega-pixel Nikon D850 DSLR.. ISO 400. Matrix metering -2/3 stop.
Image 5001: 1/2500 sec. at f/6.3. Image 5013: 1/2000 sec. at f/7.1. Both in Manual mode. AUTO0 WB at 10:20am on a clear day.
One to the left and one up from the center Group (grp)/Shutter Button/Continuos (AI Servo in Canon) AF was active at the moment of exposure. In each image the upper AF point in the array just below and in front of the bird's eye. Clicking on the image for a larger version will make it easier to compare.
Brandt's Cormorant, gular panting
Your browser does not support iFrame.
5001 Versus 5013
First, be sure to click on the image to see the larger version that will make it easier to compare the two.
1-What is the single thing about image 5001 that is much better than in image 5013?
2-What is the single thing about image 5013 that is much better than in image 5001?
3-Which image would you choose to optimize?
4-What is the best anything goes plan for optimizing 5001?
Help Support the Blog
Please help support my (stupendous) efforts here on the blog by remembering to click on the logo link above each time that you shop Amazon. That would be greatly appreciated. There is no problem using your Prime account; just click on the link and log into your Prime account. With love, artie
If In Doubt …
If in doubt about using the BAA B&H affiliate link correctly, you can always start your search by clicking here. Please note that the tracking is invisible. Web orders only. Please, however, remember to shoot me your receipt via e-mail.
Please Remember to use my Affiliate Links and to Visit the New BAA Online Store 🙂
To show your appreciation for my continuing efforts here, we ask, as always, that you get in the habit of using my B&H affiliate links on the right side of the blog for all of your photo and electronics purchases. Please check the availability of all photographic accessories in the New BIRDS AS ART Online Store, especially the Mongoose M3.6 tripod head, Wimberley lens plates, Delkin flash cards and accessories, and LensCoat stuff.
As always, we sell only what I have used, have tested, and can depend on. We will not sell you junk. We know what you need to make creating great images easy and fun. And please remember that I am always glad to answer your gear questions via e-mail.
I would of course appreciate your using our B&H affiliate links for all of your major gear, video, and electronic purchases. For the photographic stuff mentioned in the paragraph above, and for everything else in the new store, we, meaning BAA, would of course greatly appreciate your business. Here is a huge thank you to the many who have been using our links on a regular basis and those who will be visiting the New BIRDS AS ART Online Store as well.
Facebook
Be sure to like and follow BAA on Facebook by clicking on the logo link upper right. Tanks a stack.
Typos
In all blog posts and Bulletins, feel free to e-mail or to leave a comment regarding any typos or errors. Just be right :).