Stuff
I did manage to to get another two hours of sleep on Wednesday evening. John Dupps and I were first into Gatorland on Thursday morning. We had some spiffy Cattle Egrets but wound up spending most of the morning photographing small Snowy Egret chicks. We were the first ever to enjoy a late-stay on a Thursday. Things were slow but as the sun got closer to the horizon the action improved and we even enjoyed some excellent high ISO flight photography. John Dupps and Jim Dolgin were both on last year's DeSoto IPT. Jim got in late today. John and I got back to the hotel a bit after 8pm. They went to dinner and I went to bed 🙂
I'd love to here from you on the flipper or no flipper sea lion question posed in yesterday's blog post here. Right now, opinion seems to be split about fifty/fifty.
I Just Love When This Happens, and It Happens Often
I love when folks leave a comment that asks a question. I try to respond most comments and I try to respond to all questions. At times, I respond to a question with another question. And often my question remains unanswered. I ask that if you ask a question that you check back to see if I responded and keep the conversation going.
Here is a perfect example from the Spring Shorebird Plumage Lessons Part II blog post here:
Jack Goodman
April 18, 2018 at 10:43 am.
Artie, When shooting birds on the shore or in flight, why not use spot meetering instead of guessing at an exposure adjustment. Or maybe bracketing?
Jack
I thought, "what great questions" and posted a question for Jack in return just 40 minutes later:
Arthur Morris/BIRDS AS ART
April 18, 2018 at 11:23 am.
What would you spot meter? And once you had that reading, how would you compensate?
with love, artie
Never heard back from Jack Goodman 🙂
The Streak
Today makes two hundred seventy-one days in a row with a new educational blog post! This one about 90 minutes to prepare including the time spent on the image optimization. With all of my upcoming free time (or not…), the plan right now is to try to break the current record streak of 480 … Good health and good internet connections and my continuing insanity willing.
Thanks to the Patient
With the injured shoulder, the recently concluded DeSoto IPT, and the hernia surgery, I have gotten more than a bit behind on e-mails, especially some Used Gear Sales business. Many thanks for your patience. I have had lots of time to rest lately and am almost caught up.
Dark-siders: Please Do Not Take This Personally
I have been saying this for a while: after many years in the business of brokering used gear sales, one pattern that I have seen is that most Nikon folks think that their stuff is worth a lot more than it actually is. That especially with the potential sales of the older 600mm lenses, some of which weigh in the 12-14 pound range. If you can shed any light as to why this might be the case, I'd love to hear from you.
Selling Your Used Photo Gear Through BIRDS AS ART
Selling your used (or like-new) photo gear through the BAA Blog is a great idea. We charge only a 5% commission. One of the more popular used gear for sale sites charged a minimum of 20%. Plus assorted fees! Yikes. They went out of business. And e-Bay fees are now up to 13%. The minimum item price here is $500 (or less for a $25 fee). If you are interested please scroll down here or shoot us an e-mail with the words Items for Sale Info Request cut and pasted into the Subject line :). Stuff that is priced fairly — I offer pricing advice to those who agree to the terms — usually sells in no time flat. Over the past year, we have sold many dozens of items. Do know that prices on some items like the EOS-1D Mark IV, the old Canon 100-400, the old 500mm, the EOS-7D and 7D Mark II and the original 400mm DO lens have been dropping steadily. You can always see the current listings by clicking on the Used Photo Gear tab on the orange-yellow menu bar near the top of each blog post page.
Recent Listings
Nikon Gear/Priced to Sell!
Nikon AF-S VR Zoom-NIKKOR 200-400mm f/4G IF ED Lens
Massive Price Drop of $845.00!
Multiple IPT veteran Sam Hogue who was on the last Japan IPT is offering a used Nikon AF-S VR Zoom-NIKKOR 200-400mm f/4G IF ED lens in excellent condition for the BAA record low price by far of $1850 (was $2695). The sale includes a LensCoat, a RRS mounting plate, the front cover, the rear cap, the original felt lined, padded lens bag, and insured shipping via UPS Priority. Your item will not ship until your check clears unless other arrangements are made.
Please contact Sam via e-mail­­­.
This versatile lens is now priced to sell instantly. artie
Canon EF 24-105 f/4L IS Lens (the original version)
Gary Meyer is also offering a Canon EF 24-105 f/4L IS Lens (the original version) in mint condition for the BAA record-low price of $447.00. The sale includes the front and rear caps, the soft lens pouch, and insured ground shipping via UPS. Your item will not ship until your check clears unless other arrangements are made.
Please contact Gary via e-mail.
When I shot Canon, I rarely made a trip or headed out to the beach without my 24-105 in my Xtra-hand vest. Whenever I'd leave this amazingly versatile B-roll lens behind, I'd wind up regretting it. I use it for bird-scapes, photographer-scapes, landscapes, mini-macro scenes that included bird feathers, dead birds, and nests with eggs (the latter only when and if the nest can be photographed without jeopardizing it), and just about anything else that catches my eye. While I am nowhere near as good as Denise Ippolito is with this lens, I have made lots of good and saleable images with mine, the old version. artie
BIRDS AS ART
BIRDS AS ART is registered in the U.S. Patent and Trademark Office.
Money Saving Reminder
If you need a hot photo item that is out of stock at B&H, would enjoy free overnight shipping, and would like a $50 discount on your first purchase, click here to order and enter the coupon code BIRDSASART at checkout. If you are looking to strike a deal on Canon or Nikon gear (including the big telephotos) or on a multiple item order, contact Steve Elkins via e-mail or on his cell at (479) 381-2592 (Eastern time) and be sure to mention your BIRDSASART coupon code and use it for your online order. Patrick Sparkman saved $350 on a recent purchase!
Booking.Com
Several folks on the DeSoto IPT used the Booking.Com link below, got great rates, and saved a handsome $25.00 in the process. If you too would like to give Booking.Com a shot, click here and to earn a $25 reward on your first booking. Thanks to the many who have already tried and used this great service.
Gear Questions and Advice
Too many folks attending BAA IPTs and dozens of photographers whom I see in the field and on BPN, are–out of ignorance–using the wrong gear especially when it comes to tripods and more especially, tripod heads… Please know that I am always glad to answer your gear questions via e-mail. Those questions might deal with systems, camera bodies, accessories, and/or lens choices and decisions.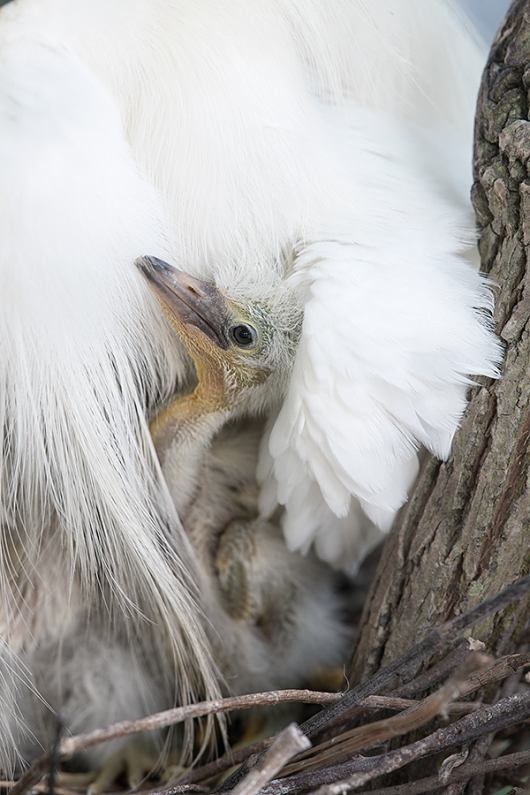 This image was created on the 1st morning of the Gatorland IPT with the Induro GIT 304L/Mongoose M3.6-mounted Nikon AF-S NIKKOR 200-500mm f/5.6E ED VR lens (at 500mm) and the mega mega-pixel Nikon D850 DSLR.. ISO ??? Matrix metering at zero: 1/80 sec. at f/6.3 in Manual mode. AUTO1WB at 9:26am in the shade on a clear, sunny day.
One up from the center, d-25, Shutter Button/Continuous (AI Servo in Canon) AF was active at the moment of exposure. The selected AF point was right below the chick's eye as originally framed.
Snowy Egret, chick in the nest, nestled in parent's feathers …
Your browser does not support iFrame.
The Situation
John Dupps and I were photographing two fairly open Snowy Egret nests with relatively small lenses. I was using my 200-500 with the full frame D-850, he was using his 200500 with the crop factor D-500. As he approached I said to him, ISO 1000, 1/500 sec. at f/6.3 looks good. And it did. He continued to use those setting with good results. But for me, the situation seemed to be getting darker and darker as the nest fell into deep shade. While working in Manual mode I kept raising my ISO and lowering my shutter speed but my images continued to look about one stop or more underexposed. John went to 1/500 sec. at f/6.3 and raised his ISO to 1250. I was baffled as to how the two cameras could be acting so different.
Nikon Dummy Quiz …
Try as I might, I could not come up with a good reason for the huge discrepancy. At the height of the insanity I set ISO 6400 at 1/80 sec. Yet my images were at least a stop under-exposed. John continued to work at ISO 1250, 1/500 sec., at f/6.3 and kept producing great images with perfect histograms. Somewhat exasperated I took a close look at my settings and when I realized what I had been doing wrong I gave myself a bang on the forehead with the heel of my right hand …
The original for today's featured image which was one of the mystifying series, was indeed more than a stop underexposed. I made a long series of images at shutter speeds of from 1/320 down to 1/60 sec. Most were unsharp as the small egret chicks begged and fed. I was lucky that the image that I chose for the blog was sharp at 1/80 sec. Live and learn. I do not think that I will ever make the same mistake again. If you can figure out what my error was please do leave a comment.
Help Support the Blog
Please help support my (stupendous) efforts here on the blog by remembering to click on the logo link above each time that you shop Amazon. That would be greatly appreciated. There is no problem using your Prime account; just click on the link and log into your Prime account. With love, artie
If In Doubt …
If in doubt about using the BAA B&H affiliate link correctly, you can always start your search by clicking here. Please note that the tracking is invisible. Web orders only. Please, however, remember to shoot me your receipt via e-mail.
Please Remember to use my Affiliate Links and to Visit the New BAA Online Store 🙂
To show your appreciation for my continuing efforts here, we ask, as always, that you get in the habit of using my B&H affiliate links on the right side of the blog for all of your photo and electronics purchases. Please check the availability of all photographic accessories in the New BIRDS AS ART Online Store, especially the Mongoose M3.6 tripod head, Wimberley lens plates, Delkin flash cards and accessories, and LensCoat stuff.
As always, we sell only what I have used, have tested, and can depend on. We will not sell you junk. We know what you need to make creating great images easy and fun. And please remember that I am always glad to answer your gear questions via e-mail.
I would of course appreciate your using our B&H affiliate links for all of your major gear, video, and electronic purchases. For the photographic stuff mentioned in the paragraph above, and for everything else in the new store, we, meaning BAA, would of course greatly appreciate your business. Here is a huge thank you to the many who have been using our links on a regular basis and those who will be visiting the New BIRDS AS ART Online Store as well.
Facebook
Be sure to like and follow BAA on Facebook by clicking on the logo link upper right. Tanks a stack.
Typos
In all blog posts and Bulletins, feel free to e-mail or to leave a comment regarding any typos or errors. Just be right :).