Stuff
Wednesday was another cold day with fierce winds. In the morning, we headed down the coast to Nesseby to look for Little Stint. On the way, we saw several Rough-legged Hawks (Rough-legged Buzzards on this side of the Atlantic). Right off the bat I spotted a Little Stint, the first one I had seen since the one I saw at Jamaica Bay Wildlife Refuge in Queens, New York in July 1983. This species is an extreme rarity in North America. But alas, it was — though we split up and tried for two hours — impossible to get anywhere near the birds. In the afternoon we headed back to the kittiwake colony at Ekkeroy.
The weather has been borderline brutal with gale force winds as strong as 9 kilometers per second (if I am understanding correctly). Where oh where is the arctic summer?
That's Two
I was pleased to learn yesterday that Lyle Bown signed up for the 2019 San Diego IPT. That makes two.
BIRDS AS ART
BIRDS AS ART is registered in the U.S. Patent and Trademark Office.
Selling Your Used Photo Gear Through BIRDS AS ART
Selling your used (or like-new) photo gear through the BAA Blog is a great idea. We charge only a 5% commission. One of the more popular used gear for sale sites charged a minimum of 20%. Plus assorted fees! Yikes. They went out of business. And e-Bay fees are now up to 13%. The minimum item price here is $500 (or less for a $25 fee). If you are interested please scroll down here or shoot us an e-mail with the words Items for Sale Info Request cut and pasted into the Subject line :). Stuff that is priced fairly — I offer pricing advice to those who agree to the terms — usually sells in no time flat. Over the past year, we have sold many dozens of items. Do know that prices on some items like the EOS-1D Mark IV, the old Canon 100-400, the old 500mm, the EOS-7D and 7D Mark II and the original 400mm DO lens have been dropping steadily. You can always see the current listings by clicking on the Used Photo Gear tab on the orange-yellow menu bar near the top of each blog post page.
Seven D850s Available Right Now!
Contact Steve below to get yours.
Money Saving Reminder
If you need a hot photo item that is out of stock at B&H, would enjoy free overnight shipping, and would like a $50 discount on your first purchase, click here to order and enter the coupon code BIRDSASART at checkout. If you are looking to strike a deal on Canon or Nikon gear (including the big telephotos) or on a multiple item order, contact Steve Elkins via e-mail or on his cell at (479) 381-2592 (Eastern time) and be sure to mention your BIRDSASART coupon code and use it for your online order. Patrick Sparkman saved $350 on a recent purchase!
Booking.Com
Several folks on the DeSoto IPT used the Booking.Com link below, got great rates, and saved a handsome $25.00 in the process. If you too would like to give Booking.Com a shot, click here and to earn a $25 reward on your first booking. Thanks to the many who have already tried and used this great service.
Gear Questions and Advice
Too many folks attending BAA IPTs and dozens of photographers whom I see in the field and on BPN, are–out of ignorance–using the wrong gear especially when it comes to tripods and more especially, tripod heads… Please know that I am always glad to answer your gear questions via e-mail. Those questions might deal with systems, camera bodies, accessories, and/or lens choices and decisions.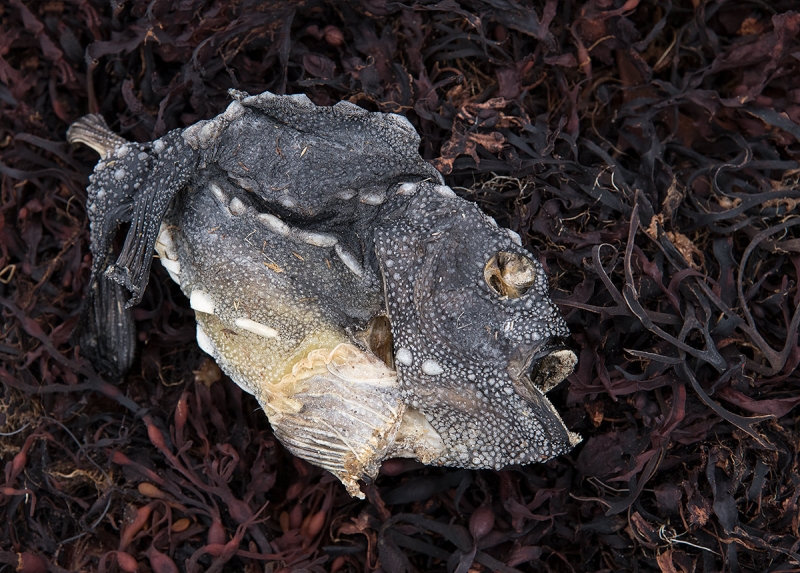 This image was created at Nesseby, Norway on June 6, 2018. I used the hand held Nikon AF-S NIKKOR 24-120mm f/4G ED VR lens (at 120mm) and the Nikon D850. ISO 800. Matrix metering minus 1 1/3 stops: 1/400 sec. at f/8. CLOUDY WB at 10:00am on a cloudy morning.
One to the right of the center AF point/D-9/Continuous (AI Servo in Canon)/Shutter button AF was active at the moment of exposure. The selected AF point was on the gill plate just behind the fishes eye. Click on the image to see a larger version.
Focus peaking AF Fine-tune: +1. See the Nikon AF Fine-tune e-Guide here.
Your browser does not support iFrame.
Blackdrops I
I found this well preserved fish carcass (ID welcome) on a photo walk behind our hotel in Vadso. I picked it up and put it in the pocket of the red parka I got on my first trip to the Southern Ocean in 2006. Could it be that long ago? Then I tossed it under the back seat of the van in hopes of remembering it when I spotted a pleasing background. That happened at Nesseby after two hours of bird photography during which time I created zero images. 🙂 That Amy had mentioned that she was getting tired of smelling the dead fish helped to motivate me. When I saw some patches of clean sand on the beach I walked to the van and grabbed the 24-120 and the fish carcass, placed the fish on the sand, figured the exposure, and created some images. All were pretty blah. On the way back to the van I noted the dark, mahogany-colored seaweed, placed the fish on that, and made some more images. The looked amazing on the back of the camera and pretty neat on the laptop as well.
The key to the success of this image was a result of the really, really dark background.
It was so windy as I was making the images that it was hard to get a solid stance, and when I looked down to try to frame the image, my eyes watered so badly that the fish looked totally out-of-focus. That forced me to rely completely on the AF system. This worked out quite well though the framing was a challenge. With images like these I always struggle with how much if at all to angle the subject in the frame …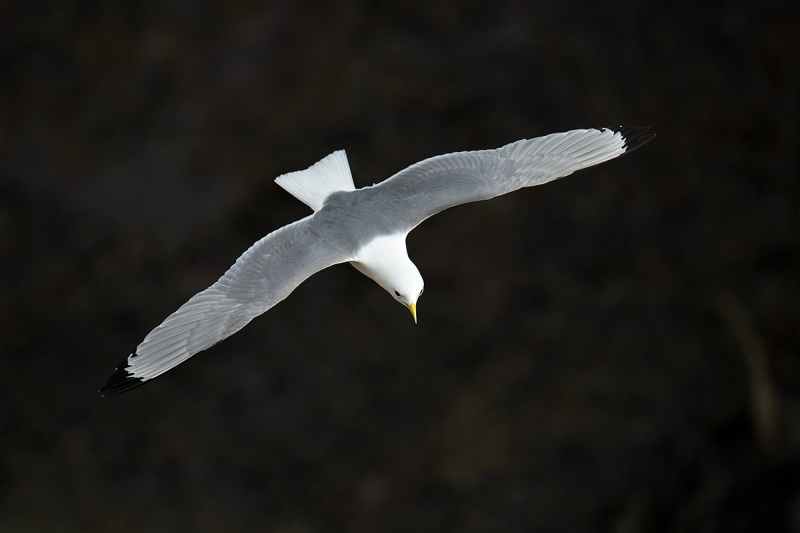 This image was created at Ekkeroy, Norway on June 6, 2018. I used the hand held Nikon AF-S NIKKOR 80-400mm f/4.5-5.6G ED VR lens (at 400mm) with the Nikon D850. ISO 1000. Matrix metering plus 1 2/3 stops off the grey sky was about -1 stop as framed: 1250 sec. at f/6.3. CLOUDY WB at 10:00am on a cloudy morning.
Center Group (grp)/Continuous (AI Servo in Canon)/Shutter button AF was active at the moment of exposure. The array was centered on bird's back just behind and to the left of it's head.
Focus peaking AF Fine-tune: +5. See the Nikon AF Fine-tune e-Guide here.
Your browser does not support iFrame.
Blackdrops II
With the west wind and a faint sun in the western sky, I thought that we might do well at Ekkeroy by taking the high road at the top of the cliff so that we would be looking down on the kittiwake colony and on the birds in flight. On our first visit we photographed from the beach. Things worked out quite well and we did not get blown off the cliff.
The dramatic black background here was a conscious choice. I'd follow the birds as they turned and glided in the wind until they were set against a single large, dark, seaweed covered rock shelf. You had to be quick because as they angled in toward the cliff they would soon disappear behind the top of the cliff. Understandably, we did not want to get too close to the edge.
Surprisingly both Amy (D500 and 200-500 with back button focus) and Anita (D850 and 200-500 and shutter button AF) were having trouble acquiring and maintaining focus. I had little trouble doing that with the 80-400 VR/D850 combo. If the birds are close, I much prefer the 80-400 over the 200-500 as it is much lighter (3.45 lbs. for the 80-400 vs. 4.6 lbs. for the 2-5). Conditions were extremely tough because of the high winds and the birds' erratic flight. It is hard to believe how much lighter the 80-400 seems to be considering that the difference in weight is only a bit more than one pound. But in addition to the lighter weight of the 80-400, its smaller size and bulk makes it easier to handle in the wind. To that end I removed the lens hood that can act like a sail in the wind. I also recommend removing the tripod collar from the 80-400 and the 200-500 when you know you will be hand holding to minimize the weight. For me, every ounce matters.
Summing Up
Black backgrounds can offer work quite well for nature photographers so be on the lookout for them!
Help Support the Blog
Please help support my efforts here on the blog by remembering to click on the logo link above each time that you shop Amazon. That would be greatly appreciated. There is no problem using your Prime account; just click on the link and log into your Prime account. With love, artie
If In Doubt …
If in doubt about using the BAA B&H affiliate link correctly, you can always start your search by clicking here. Please note that the tracking is invisible. Web orders only. Please, however, remember to shoot me your receipt via e-mail.
Please Remember to use my Affiliate Links and to Visit the New BAA Online Store 🙂
To show your appreciation for my continuing efforts here, we ask, as always, that you get in the habit of using my B&H affiliate links on the right side of the blog for all of your photo and electronics purchases. Please check the availability of all photographic accessories in the New BIRDS AS ART Online Store, especially the Mongoose M3.6 tripod head, Wimberley lens plates, Delkin flash cards and accessories, and LensCoat stuff.
As always, we sell only what I have used, have tested, and can depend on. We will not sell you junk. We know what you need to make creating great images easy and fun. And please remember that I am always glad to answer your gear questions via e-mail.
I would of course appreciate your using our B&H affiliate links for all of your major gear, video, and electronic purchases. For the photographic stuff mentioned in the paragraph above, and for everything else in the new store, we, meaning BAA, would of course greatly appreciate your business. Here is a huge thank you to the many who have been using our links on a regular basis and those who will be visiting the New BIRDS AS ART Online Store as well.
Facebook
Be sure to like and follow BAA on Facebook by clicking on the logo link upper right. Tanks a stack.
Typos
In all blog posts and Bulletins, feel free to e-mail or to leave a comment regarding any typos or errors. Just be right :).