Stuff
When I dropped Anita off at the loon nest by Gednje, we noted that their was no loon on the nest and no loons on the small lake. The pair had lost its egg. She opted to stay and see what she could find. I drove a short distance and found the dirt road depicted on the map below. Read on to see how I fared in my search for a Dotterel.
As I type on Friday, June 22, we are well into Finland, about an hour from the Ivalo Airport. We fly to Helsinki tonight for 2 days of R&R.
My rehab is going well and Amy has me walking a lot. From Tuesday through Thursday I walked 12.9 miles, a good deal of that over rough terrain and/or uphill. The best news? My knee is feeling pretty darned good.
To see some of the spectacular scenery on the way to Batsfjord and Berlevag (in northern Norway), check out Amy's blog here.
PHOTOEXPO 2018
If you missed yesterday's announcement and live anywhere within driving or flying distance of Memphis, TN, click here.
BIRDS AS ART
BIRDS AS ART is registered in the U.S. Patent and Trademark Office.
Selling Your Used Photo Gear Through BIRDS AS ART
Selling your used (or like-new) photo gear through the BAA Blog is a great idea. We charge only a 5% commission. One of the more popular used gear for sale sites charged a minimum of 20%. Plus assorted fees! Yikes. They went out of business. And e-Bay fees are now up to 13%. The minimum item price here is $500 (or less for a $25 fee). If you are interested please scroll down here or shoot us an e-mail with the words Items for Sale Info Request cut and pasted into the Subject line :). Stuff that is priced fairly — I offer pricing advice to those who agree to the terms — usually sells in no time flat. Over the past year, we have sold many dozens of items. Do know that prices on some items like the EOS-1D Mark IV, the old Canon 100-400, the old 500mm, the EOS-7D and 7D Mark II and the original 400mm DO lens have been dropping steadily. You can always see the current listings by clicking on the Used Photo Gear tab on the orange-yellow menu bar near the top of each blog post page.
New Listing
Canon EF 16-35mm f/2.8L IS III USM Lens
Top BAA used gear seller Jim Keener is offering a Canon EF 16-35mm f/2.8L IS III USM Lens in like-new condition for the BAA record low price of $1349.00. The sale includes the soft lens case, the front and rear lens caps, the hood, the original box, and insured ground shipping via to continental US addresses only. The package will not ship until your check clears.
Please contact Jim via e-mail or by phone at 310-741-7435 (9am-9pm Mountain time).
Characterized by a revamped optical design, the EF 16-35mm f/2.8L III USM from Canon is a workhorse wide-angle zoom and member of the well-regarded L-series of lenses. Featuring a series of specialized elements, this lens utilizes a trio of aspherical elements and two ultra-low dispersion glass elements to control a variety of aberrations for high sharpness and clarity. Both SWC and ASC coatings have also been applied to the elements in order to reduce lens flare and ghosting for increased contrast and color accuracy.
Complementing its optical prowess, a ring-type Ultrasonic Motor offers fast, smooth, and near-silent autofocus performance, which is further benefitted by full-time manual focus operation and an internal focusing design. The lens is both water and dust-resistant, and fluorine coatings have also been applied to the front and rear elements to protect against fingerprints and smudges from affecting image quality.
This wide-angle 16-35mm zoom lens is compatible with full-frame Canon EF-mount DSLRs, as well as APS-C-sized models where it will provide a 25.6-56mm equivalent focal length range. The constant f/2.8 maximum aperture offers consistent performance and excellent light transmission throughout the zoom range. Two large-diameter glass-molded dual-surface aspherical elements and one ground aspherical element help to minimize distortions and spherical aberrations throughout the zoom range in order to maintain edge-to-edge sharpness and illumination. Two ultra-low dispersion elements are used to minimize chromatic aberrations as well as eliminate color blurring around the edges of subjects. Both a Subwavelength Coating (SWC) and an Air Sphere Coating (ASC) have been applied to lens elements to reduce backlit flaring and ghosting for maintained light transmission and high contrast in strong lighting conditions. A ring-type Ultrasonic Motor (USM), along with an internal focusing system, high-speed CPU, and optimized AF algorithms, are employed to deliver fast, precise, and near-silent autofocus performance as well as full-time manual focus override.
As a member of the esteemed L-series, this lens is sealed against dust and moisture for working in inclement environmental conditions. Protective fluorine coating has been applied to the front bulbous element to resist fingerprints and smudges and to make cleaning significantly easier. Rounded nine-blade diaphragm contributes to a pleasing out of focus quality that benefits the use of shallow depth of field and selective focus techniques. B&H
In short, the 16-35 III is Canon's premier wide angle landscape zoom lens. artie
One Nikon D850 Available Right Now!
Contact Steve below to get yours tomorrow.
Money Saving Reminder
If you need a hot photo item that is out of stock at B&H, would enjoy free overnight shipping, and would like a $50 discount on your first purchase, click here to order and enter the coupon code BIRDSASART at checkout. If you are looking to strike a deal on Canon or Nikon gear (including the big telephotos) or on a multiple item order, contact Steve Elkins via e-mail or on his cell at (479) 381-2592 (Eastern time) and be sure to mention your BIRDSASART coupon code and use it for your online order. Patrick Sparkman saved $350 on a recent purchase!
Booking.Com
Several folks on the DeSoto IPT used the Booking.Com link below, got great rates, and saved a handsome $25.00 in the process. If you too would like to give Booking.Com a shot, click here and to earn a $25 reward on your first booking. Thanks to the many who have already tried and used this great service.
Gear Questions and Advice
Too many folks attending BAA IPTs and dozens of photographers whom I see in the field and on BPN, are–out of ignorance–using the wrong gear especially when it comes to tripods and more especially, tripod heads… Please know that I am always glad to answer your gear questions via e-mail. Those questions might deal with systems, camera bodies, accessories, and/or lens choices and decisions.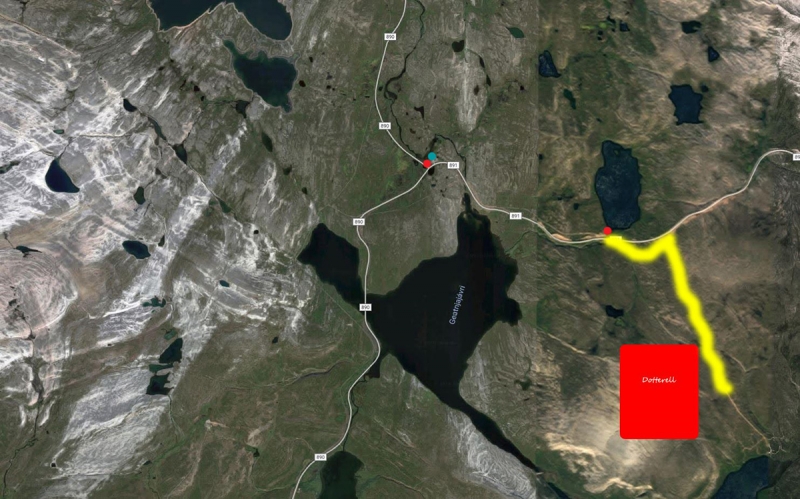 Rich Steel map
Thanks to Rich Steel!
Thanks to blog regular and UK friend Rich Steel who provided us with a ton of information that served as the basis for our Veranger/Ruff adventure. I very much wanted to see Dotterel, a plover that nests in rocky areas on the high tundra. When I mentioned that Dotterel was still on my most wanted list — a potential life bird for me — he kindly sent me the well-marked map of the Gednje junction that you see above.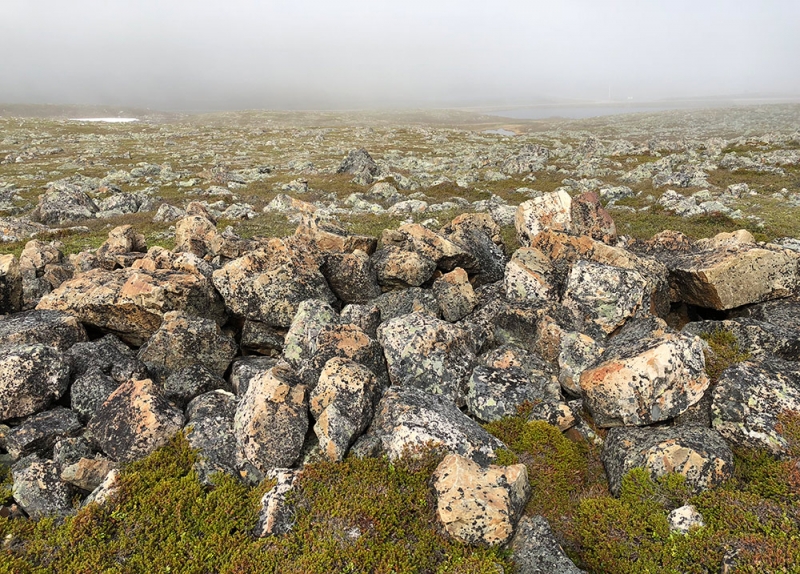 Image #1: Rock pile and rocky and landscape
Hand held i-Phone 8+ image.
Arriving
When I found the dirt road, I noted that there was a steep downhill portion of loose dirt and rocks before it headed uphill. As it turned out, if I had taken the vehicle, there was plenty of room to turn around. But as we rented a very large VW van, I opted to park along the side of the main road and hike up giving myself more chances of seeing a Dotterel. Heck, other birders had mentioned that they had seen nesting pairs on the exact same hill along the exact same dirt road. I was hopeful. I thought that if I took the van down the slope that I could probably get back up to the road, but in such a wilderness without cell phone coverage "probably" just does not cut it.
I set out on foot traveling light with the hand held 200-500 and the D850 and the 1.4X TC-E in my pocket. Once I crossed the stream it was almost all uphill. As seen in the image above, the terrain was very rocky.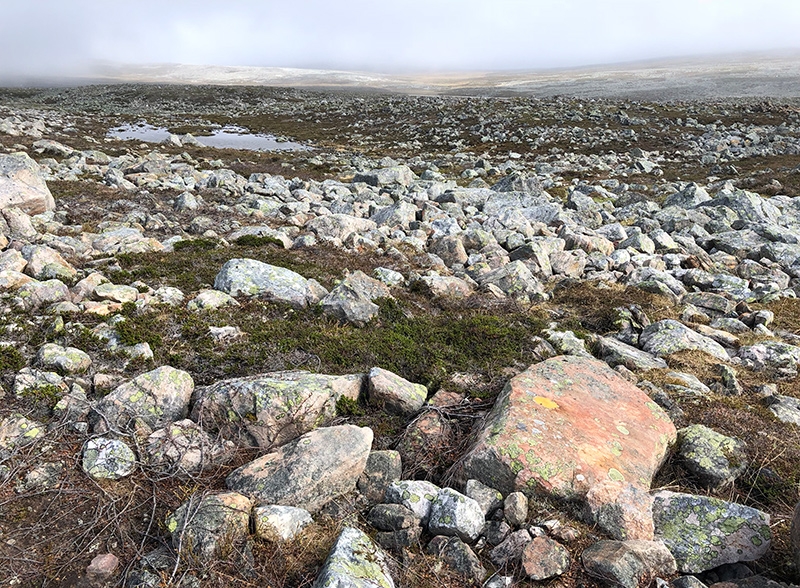 Image #2: Rocks and landscape with pretty lichen rock in the corner
Hand held i-Phone 8+ image.
Landscape Tip
Though I am not much of a landscape photographer, I do know that placing something nifty in a foreground corner of the image can often be a nice plus. So that is what I did with the distinctive salmon-colored rock in Image #2. As I made my way up the hill through the rock habitat I took lots of detours by meandering through the rock-studded landscape, searching all the while for a nesting pair of Dotterel.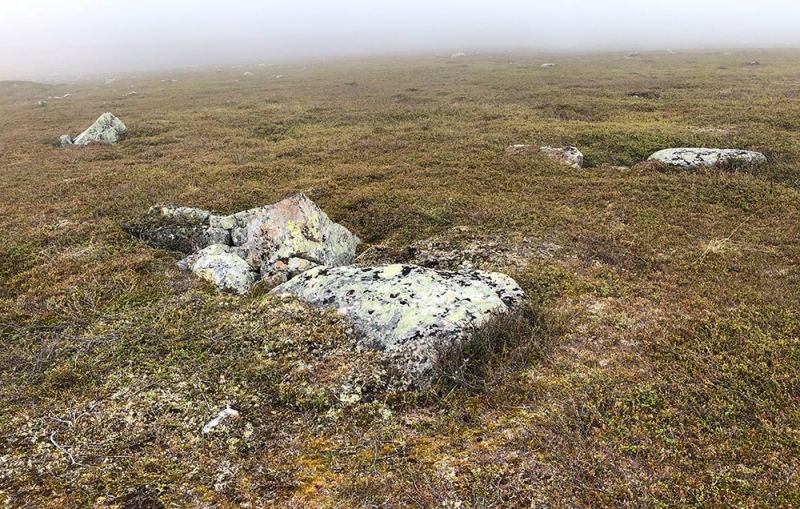 Image #3: Tundra landscape
Hand held i-Phone 8+ image.
One-half Mile From the Road
Once I made it about 1/2 mile up the hill, the landscape became much more gentle with fewer rocks. I continued to walk the habitat in search of the distinctive little plovers …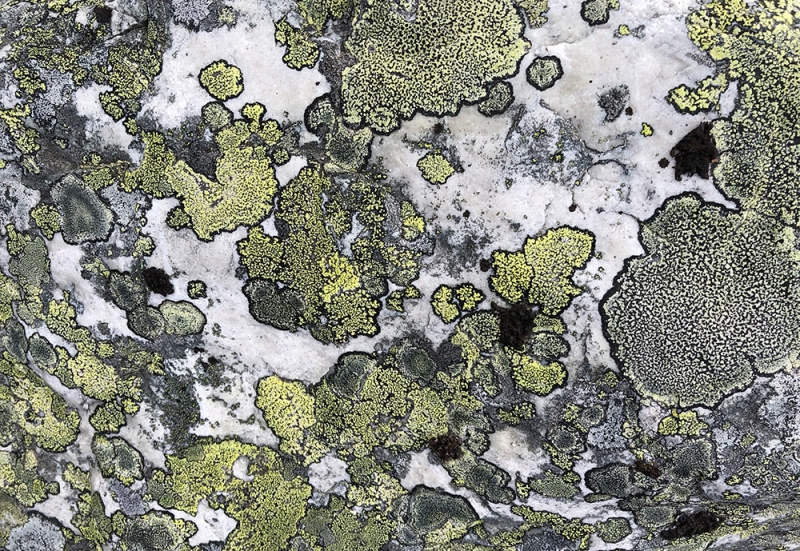 Green and black lichens
Image #4: Green and black lichens
Hand held i-Phone 8+ image.
Lichen City
Once I started heading back downhill I continued criss-crossing the likely rocky habitat. Without success. And as I did, I began taking more and more notice of the really cool patterns formed by lichens of various colors. So I got out my cell phone and went to work. There is something very freeing about working with such a small, light rig that is quite capable of creating some very nice images. The green and black motif as seen in Image #5 was both very common and — with its infinitely differing patterns, very striking.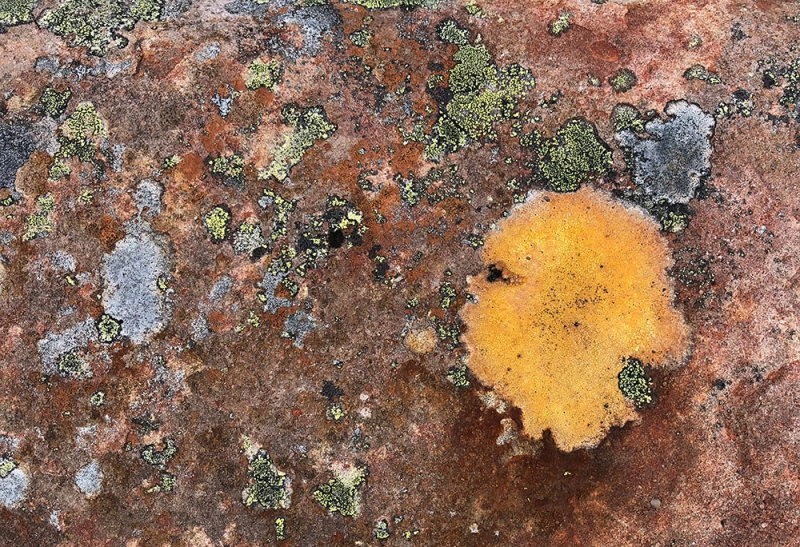 Image #5: Large yellow lichen
Hand held i-Phone 8+ image.
i-Phone for Macro
Even without and additional apps, the i-Phones have pretty decent macro capabilities; the are able to focus within inches of the subject. And going from 1X to 2X gives you even more magnification.
The Face?
Do you see one face in the image above? Which way is it facing? What or who does it remind you of?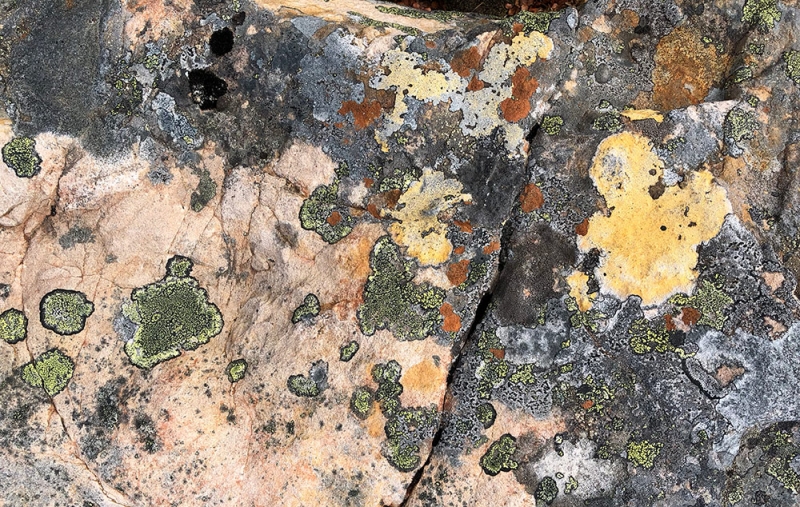 Image #6: Lichen watercolor
Hand held i-Phone 8+ image.
Lichen Watercolor
Image #6, the lichen watercolor, turned out to be my favorite lichen image by far. Do you agree or disagree? Either way, please let us know why.
By the Way
By the way, I never did turn up a Dotterel. But the lichens were beautiful, I enjoyed a great two mile walk, and had a ton of fun with my i-phone.
Help Support the Blog
Please help support my efforts here on the blog by remembering to click on the logo link above each time that you shop Amazon. That would be greatly appreciated. There is no problem using your Prime account; just click on the link and log into your Prime account. With love, artie
If In Doubt …
If in doubt about using the BAA B&H affiliate link correctly, you can always start your search by clicking here. Please note that the tracking is invisible. Web orders only. Please, however, remember to shoot me your receipt via e-mail.
Please Remember to use my Affiliate Links and to Visit the New BAA Online Store 🙂
To show your appreciation for my continuing efforts here, we ask, as always, that you get in the habit of using my B&H affiliate links on the right side of the blog for all of your photo and electronics purchases. Please check the availability of all photographic accessories in the New BIRDS AS ART Online Store, especially the Mongoose M3.6 tripod head, Wimberley lens plates, Delkin flash cards and accessories, and LensCoat stuff.
As always, we sell only what I have used, have tested, and can depend on. We will not sell you junk. We know what you need to make creating great images easy and fun. And please remember that I am always glad to answer your gear questions via e-mail.
I would of course appreciate your using our B&H affiliate links for all of your major gear, video, and electronic purchases. For the photographic stuff mentioned in the paragraph above, and for everything else in the new store, we, meaning BAA, would of course greatly appreciate your business. Here is a huge thank you to the many who have been using our links on a regular basis and those who will be visiting the New BIRDS AS ART Online Store as well.
Facebook
Be sure to like and follow BAA on Facebook by clicking on the logo link upper right. Tanks a stack.
Typos
In all blog posts and Bulletins, feel free to e-mail or to leave a comment regarding any typos or errors. Just be right :).