Stuff
Despite the fact that the UK is in the midst of a virtually unprecedented period of clear blue skies day after day, things have been going great on the UK pre-trip. Summers in the UK are usually cloudy and misty, perfect for seabird photography … Each day we have figured out something new about Bempton Cliffs: where to be on what light on what wind. Thanks to BPN-friend Mike Poole — more on him in a blog post soon — for sharing the Red Kite spot at Harewood with the group on Thursday past; everyone had a blast.
PHOTOEXPO 2018
If you missed the PHOTOEXPO 2018 announcement and live anywhere within driving or flying distance of Memphis, TN, click here for the info. I am still looking for a ride to Beale Street!
BIRDS AS ART
BIRDS AS ART is registered in the U.S. Patent and Trademark Office.
Selling Your Used Photo Gear Through BIRDS AS ART
Selling your used (or like-new) photo gear through the BAA Blog is a great idea. We charge only a 5% commission. One of the more popular used gear for sale sites charged a minimum of 20%. Plus assorted fees! Yikes. They went out of business. And e-Bay fees are now up to 13%. The minimum item price here is $500 (or less for a $25 fee). If you are interested please scroll down here or shoot us an e-mail with the words Items for Sale Info Request cut and pasted into the Subject line :). Stuff that is priced fairly — I offer pricing advice to those who agree to the terms — usually sells in no time flat. Over the past year, we have sold many dozens of items. Do know that prices on some items like the EOS-1D Mark IV, the old Canon 100-400, the old 500mm, the EOS-7D and 7D Mark II and the original 400mm DO lens have been dropping steadily. You can always see the current listings by clicking on the Used Photo Gear tab on the orange-yellow menu bar near the top of each blog post page.
Recent Sales
Randall Ennis sold his Canon EOS-1D Mark IV in excellent condition for $849.00 in late June.
Joel Williams sold his Sony Vario-Tessar T FE 16-35 f/4 ZA OSS lens in like-new condition for $629 (was $749) in late June, 2018.
Joel Williams also sold his Fujifilm XF 50-140mm f/2.8 R LM OIS WR lens in like-new condition for $749 (was $949) in April 2018.
Pierre Williot sold his Canon EOS 7D Mark II in like-new condition for a very fair $848.00 in late June, 2018.
Top BAA used gear seller Jim Keener sold his Canon EF 16-35mm f/2.8L IS III USM Lens in like-new condition for the BAA record low price of $1349.00 the first day it was listed in late June.
Jim Keener sold a Canon EOS 5D Mark III body in excellent condition for the BAA record-low price of $999.00 (was $1149.00) in mid-June.
Jim Keener sold a Canon EF 70-200mm f/2.8L IS II USM lens in like-new condition for the BAA record low price of $1099.00 in Early June.
Steve Traudt sold an Xtrahand Vest, the Khumbu model, size XL, in very good condition for the BAA record-low price of $179.
Jim Brennan sold a used Canon EF 17-40mm f/4L USM lens in good condition for $249.00 in late May.
Larry Padgett sold his Canon EOS 5D Mark III body in excellent condition for $1160 soon after it was listed in late May.
Charlie Curry sold his Canon 16-35mm f/2.8L II USM lens in mint condition for a BAA record-low price of $750.00 on the first day of listing in late May, 2018
Canon 300mm f/2.8 L IS USM Lens
Ray Maynard is offering a Canon 300mm f/2.8 L IS lens (the original version) in near-mint condition for the BIRDS AS ART record-low price of $2349.00. The sale includes the lens trunk, the front leather cover, the rear lens cap, the lens strap, and insured shipping via major courier to US addresses only. Your lens will not ship until your check clears unless other arrangements are made.
Please contact Ray via e-mail or by phone at 1-731-300-4141 (after noon/Central time).
The older version of the Canon 300mm f/2.8L IS is a super-sharp lens that is great for hand held flight and action photography and great as well with both teleconverters for portraits and for flight. It has long been the favorite focal length of the world's best hawk photographers. Ray's near-mint package is priced to sell immediately. artie
Canon EF 2X III Teleconverter
Ray Maynard is also offering a Canon 2X III teleconverter in near-mint condition for $329.00. The sale includes the front and rear lens caps, the pouch, and insured ground shipping via major courier to US addresses only. Your item will not ship until your check clears unless other arrangements are made.
Please contact Ray via e-mail or by phone at 1-731-300-4141 (after noon/Central time).
As folks know, when I used Canon, I used the 2X teleconverter on about 40% of the images that I made with f/4 super-telephoto lenses. artie
Ten Nikon D850s and a Nikkor AF-S 180-400mm f/4E TC1.4 FL ED VR Lens! Available Right Now!
Contact Steve below to get your D850 tomorrow. Or e-mail Steve about a special del on the big Nikon zoom lens that is especially great for a trip to Africa or the Galapagos.
Money Saving Reminder
If you need a hot photo item that is out of stock at B&H, would enjoy free overnight shipping, and would like a $50 discount on your first purchase, click here to order and enter the coupon code BIRDSASART at checkout. If you are looking to strike a deal on Canon or Nikon gear (including the big telephotos) or on a multiple item order, contact Steve Elkins via e-mail or on his cell at (479) 381-2592 (Eastern time) and be sure to mention your BIRDSASART coupon code and use it for your online order. Patrick Sparkman saved $350 on a recent purchase!
Booking.Com
Several folks on the DeSoto IPT used the Booking.Com link below for there Edinburgh hotels, got great rates, and saved a handsome $25.00 in the process. If you too would like to give Booking.Com a shot, click here and to earn a $25 reward on your first booking. Thanks to the many who have already tried and used this great service.
Gear Questions and Advice
Too many folks attending BAA IPTs and dozens of photographers whom I see in the field and on BPN, are–out of ignorance–using the wrong gear especially when it comes to tripods and more especially, tripod heads… Please know that I am always glad to answer your gear questions via e-mail. Those questions might deal with systems, camera bodies, accessories, and/or lens choices and decisions.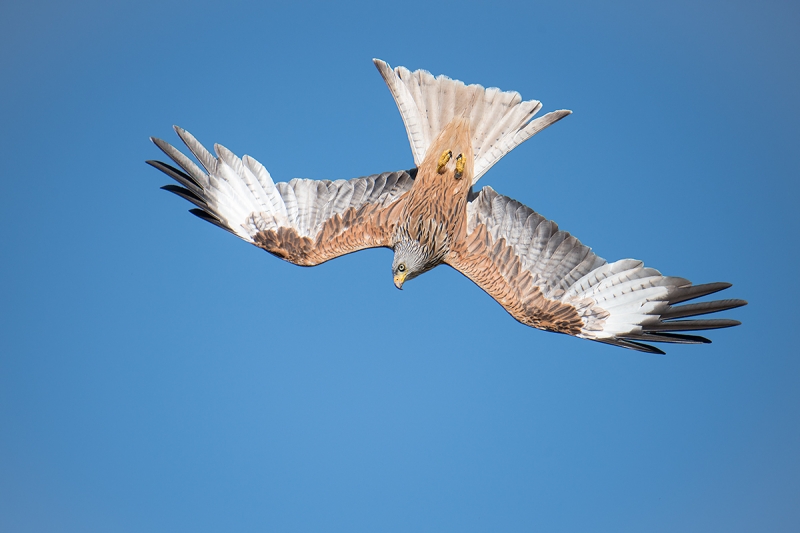 This image was created at Harewood, UK with the hand held Nikon AF-S NIKKOR 80-400mm f/4.5-5.6G ED VR lens (at 195mm) and my main Nikon D850. ISO 1000. Matrix metering +1 stop as framed: 1/3200 sec. at f/6.3 was a bit hot. NATURAL AUTO WB at 4:52pm on a clear afternoon.
Center Group (grp)/Continuous (AI Servo in Canon)/Shutter button AF as originally framed was active at the moment of exposure; this is just a small crop from below and from the left. The bird's face was centered between the upper and right-most points of the array. Click on the image to see a larger version.
Focus peaking AF Fine-tune: zero. See the Nikon AF Fine-tune e-Guide here.
Red Kite in upside down dive
Your browser does not support iFrame.
Your browser does not support iFrame.
Red Kites in the UK
Red Kite was extirpated (extinct in a given area) in England by the 1870s, in Scotland in 1886, and in Ireland by the middle of the 19th century as well. The population in Wales was down to only two breeding pairs in the early 1930s. In the mid-15th century, King James II of Scotland decreed that they should be "killed wherever possible", but they remained protected in England and Wales for the next 100 years as they kept the streets free of carrion and rotting food. But populations declined precipitously due to persecution, poisoning and de-forestation. Re-introduction programs have been very successful aided in part by various feeding programs, the most notable at Gingrin Farms, Wales. Learn more about Red Kite in the Wikipedia article here.
Upside-down Red Kite: My Finest Image in Quite Some Time?
When we arrived at the feeding site, the sky was filled with kites; a group of non-photographers had arrived an hour before to picnic and had brought some meat along for the kites. Bummer, as the birds were a bit sated. We put good sized pieces of chicken — 75 pound Sterling-worth, on the top of the garage next to the cafe. There were almost always kites circling above us so we started by concentrating on backlit images of the birds from below. Groups of five to eight birds would circle lower and lower. Then all hell would break loose. One bird — we never knew which one of course, would dive for a piece of chicken, and would be rapidly followed by four five, or six more. Exposure was a nearly impossible puzzle as we had wind against bright sun. But the biggest problem was trying to figure out which bird would dive. At this point, I figured that I would be lucky to make one decent frame with a sharp subject. As the hours wore on the light got nicer but we still struggled with exposure as the birds wheeled and twisted and dove for the chicken.
Multiple IPT veteran Anita North suggested that we cut the chicken into small pieces. See we did. Anita and Fern Chan, the wife of first-timer Bun Chan, volunteered to cut the chicken parts smaller and toss them onto the roof. The small pieces were a bit more difficult for the birds to pick up and when the missed, they would fly up, turn around, and dive toward us and toward the light. At that point we at least had a chance but it was still difficult photography. Multiple IPT veteran Paul Reinstein wound up with 40 great images by zooming out fairly wide and then cropping. I went for the gusto and was both shocked and thrilled when I saw today's featured image on the back of my camera and then again on my laptop. I think that I will end up with about five keepers. Everyone got a least a few good ones in what was an incredibly difficult situation. And all were thrilled to see these raptors wheeling and dealing at close range.
Help Support the Blog
Please help support my efforts here on the blog by remembering to click on the logo link above each time that you shop Amazon. That would be greatly appreciated. There is no problem using your Prime account; just click on the link and log into your Prime account. With love, artie
If In Doubt …
If in doubt about using the BAA B&H affiliate link correctly, you can always start your search by clicking here. Please note that the tracking is invisible. Web orders only. Please, however, remember to shoot me your receipt via e-mail.
Please Remember to use my Affiliate Links and to Visit the New BAA Online Store 🙂
To show your appreciation for my continuing efforts here, we ask, as always, that you get in the habit of using my B&H affiliate links on the right side of the blog for all of your photo and electronics purchases. Please check the availability of all photographic accessories in the New BIRDS AS ART Online Store, especially the Mongoose M3.6 tripod head, Wimberley lens plates, Delkin flash cards and accessories, and LensCoat stuff.
As always, we sell only what I have used, have tested, and can depend on. We will not sell you junk. We know what you need to make creating great images easy and fun. And please remember that I am always glad to answer your gear questions via e-mail.
I would of course appreciate your using our B&H affiliate links for all of your major gear, video, and electronic purchases. For the photographic stuff mentioned in the paragraph above, and for everything else in the new store, we, meaning BAA, would of course greatly appreciate your business. Here is a huge thank you to the many who have been using our links on a regular basis and those who will be visiting the New BIRDS AS ART Online Store as well.
Facebook
Be sure to like and follow BAA on Facebook by clicking on the logo link upper right. Tanks a stack.
Typos
In all blog posts and Bulletins, feel free to e-mail or to leave a comment regarding any typos or errors. Just be right :).