Stuff
From Dejection to Euphoria in Rough Seas …
After being weathered out of two gannet boat trips at Bempton Cliffs, the group was really looking forward to our two trips out of Dunbar, Scotland. Captain Gordon asked us to be at the dock at 7am. We were. He arrived with bad news: the weather forecast was wrong; the trip was cancelled because of the strong east winds. We hung around for a bit photographing the old castle with the kittiwake nests. Gordon hung around as well. When a prawn boat came in to unload its catch, Gordon spoke to the crew and came back smiling; the tide had turned (literally) and he felt that it would be safe to head out to bass rocks for some great flight photography action with the gannets.
It was very choppy and thus photography was difficult. So was standing. But everyone was thrilled to get out and everyone made more than a few very good images despite the tough conditions. Our Tuesday trip went as well. The day began cloudy — great, and then the sun broke through. With the west wind photography was challenging to say the least. But after the first two boxes of fish were thrown the clouds returned and we finished off the 2018 UK Puffins and Gannets IPT with a flourish.
I created 1323 images on the Monday gannet boat trip and kept 110 on the first edit. Today's featured image is one of my favorites. IPT veteran Paul Reinstein, who said after we got off of the Fisher Lassie on Monday, "That was something special,' made more than 5,500 images during the two hours of shooting. I thought that that was a lot but I learned that others created more. The winner, first time participant Bun Chan, created more than 6,000 images on Monday and more than 10,000 on Tuesday … I created about 2100 images total on the two trips.
I was glad to learn that Jim Keener sold his 1DX Mark II in near-mint condition for $3,999.00 the first day it was listed.
PHOTOEXPO 2018
If you missed the PHOTOEXPO 2018 announcement and live anywhere within driving or flying distance of Memphis, TN, click here for the info. I have rides to Beale Street for both nights. If you are attending, please stop by the BAA table for a handshake and a hug.
BIRDS AS ART
BIRDS AS ART is registered in the U.S. Patent and Trademark Office.
Selling Your Used Photo Gear Through BIRDS AS ART
Selling your used (or like-new) photo gear through the BAA Blog is a great idea. We charge only a 5% commission. One of the more popular used gear for sale sites charged a minimum of 20%. Plus assorted fees! Yikes. They went out of business. And e-Bay fees are now up to 13%. The minimum item price here is $500 (or less for a $25 fee). If you are interested please scroll down here or shoot us an e-mail with the words Items for Sale Info Request cut and pasted into the Subject line :). Stuff that is priced fairly — I offer pricing advice to those who agree to the terms — usually sells in no time flat. Over the past year, we have sold many dozens of items. Do know that prices on some items like the EOS-1D Mark IV, the old Canon 100-400, the old 500mm, the EOS-7D and 7D Mark II and the original 400mm DO lens have been dropping steadily. You can always see the current listings by clicking on the Used Photo Gear tab on the orange-yellow menu bar near the top of each blog post page.
Recent Sales
Jim Keener sold his 1DX Mark II in near-mint condition for $3,999.00 the first day it was listed.
Ray Maynard sold his Canon 1.4X III teleconverter in near-mint condition for the low price of $299.00 in late June, 2018.
Randall Ennis sold his Canon EOS-1D Mark IV in excellent condition for $849.00 in late June.
Joel Williams sold his Sony Vario-Tessar T FE 16-35 f/4 ZA OSS lens in like-new condition for $629 (was $749) in late June, 2018.
Joel Williams also sold his Fujifilm XF 50-140mm f/2.8 R LM OIS WR lens in like-new condition for $749 (was $949) in April 2018.
Pierre Williot sold his Canon EOS 7D Mark II in like-new condition for a very fair $848.00 in late June, 2018.
Top BAA used gear seller Jim Keener sold his Canon EF 16-35mm f/2.8L IS III USM Lens in like-new condition for the BAA record low price of $1349.00 the first day it was listed in late June.
Jim Keener sold a Canon EOS 5D Mark III body in excellent condition for the BAA record-low price of $999.00 (was $1149.00) in mid-June.
Jim Keener sold a Canon EF 70-200mm f/2.8L IS II USM lens in like-new condition for the BAA record low price of $1099.00 in Early June.
Steve Traudt sold an Xtrahand Vest, the Khumbu model, size XL, in very good condition for the BAA record-low price of $179.
Jim Brennan sold a used Canon EF 17-40mm f/4L USM lens in good condition for $249.00 in late May.
Larry Padgett sold his Canon EOS 5D Mark III body in excellent condition for $1160 soon after it was listed in late May.
Charlie Curry sold his Canon 16-35mm f/2.8L II USM lens in mint condition for a BAA record-low price of $750.00 on the first day of listing in late May, 2018.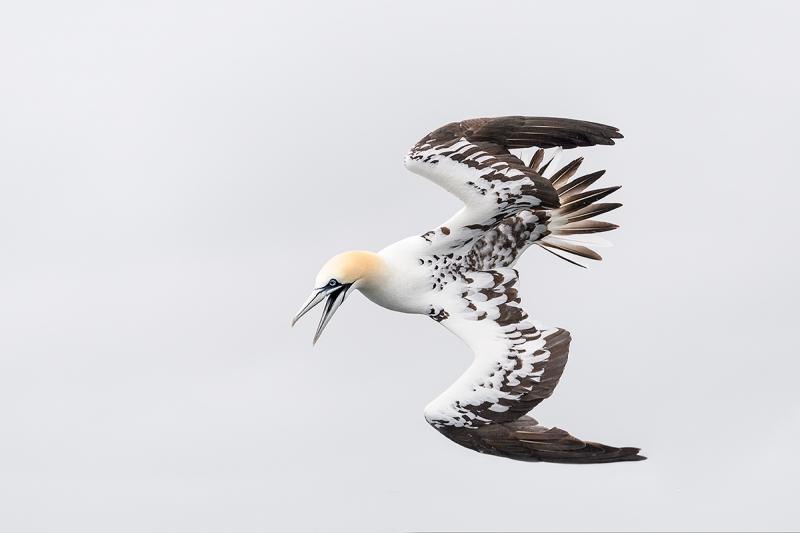 This image was created on a boat with Captain Gordon near Bass Rock, Scotland on the morning of July 9, 2018. I used the hand held Nikon AF-S NIKKOR 70-200mm f/4G ED VR lens (at 170mm) and the Nikon D5 (with Dual XQD slots). ISO 800. Matrix metering plus 3 2/3 stops off the grey sky: 1/2500 sec. at f/4.5 was a bit of an underexposure. NATURAL AUTO WB at 9:19am on a cloudy dark day.
Center Group (grp)/Continuous (AI Servo in Canon)/Shutter button AF was active at the moment of exposure. The lower AF point of the array just caught the top of the bird's head as originally framed. Click on the image to see the spectacular larger version.
Focus peaking AF Fine-tune: +4. See the Nikon AF Fine-tune e-Guide here.
Northern Gannet, top shot, three year old starting dive
Your browser does not support iFrame.
Lens Choice
I purchased the Nikon AF-S NIKKOR 70-200mm f/4G ED VR lens solely to use on the four gannet boat trips. Longer intermediate telephoto lenses like the Canon EF 100-400mm f/4.5-5.6L IS II and the Nikon AF-S NIKKOR 80-400mm f/4.5-5.6G VR cover the 150-200mm range very nicely, but they are simply too heavy to use for two hours of non-stop gannet flight photography. George Golumbeski took my advice and purchased my like-new Canon EF 70-200mm f/4L just for the gannet boat. Many folks on the trip actually went to their mid-range intermediate zooms like the Canon EF 24-105mm f/4L IS II USM and the Nikon AF-S NIKKOR 24-120mm f/4 VR. I though that the latter two were silly choices until I gave my NIKKOR 24-120mm a try on Tuesday in difficult conditions. I will share that educational story with you here in the future. One participant had to miss the second gannet boat trip because of very sore pectoral muscles that prevented her from lifting her arms …
Camera Body Choice
On Monday, day one on the Gannet boat, I went exclusively with the D5 for flight. On Tuesday, day two on the Gannet boat, I went with my souped up D850 for flight. Which performed better? As the conditions were so different I was unable to draw any firm conclusions. I can say that the D5 has a slightly faster frame rate, seems to acquire focus just a bit faster than the D850, and — when I do everything right — that the images are consistently razor sharp on the eye as the images appear on my 15inch MacBook Pro with Retina Display. Lastly, the image files from the D850 are clearly superior to the image files produced by the D5.
A Huge, Important and Almost Always Misunderstood Depth of Field Concept
This from a comment on The Best Available Subjects … blog post here.
Nikon 600mm lens at f/6.3 gets just the head in focus. The Nikon 80-400mm at f/9 looks like the whole bird is in focus. I love Nikons but I have learned that a long lens at a lower f/stop has a narrower depth of field than a shorter zoom lens at a slightly higher f/stop.
I responded:
You are missing one major point as far as depth of field goes. The greater the distance to the subject, the greater the d-o-f. If you photograph a bird with a 600mm lens and then again with the 80-400 with a 1.4X teleconverter and the bird is the same size in the frame the depth of field will be identical. Only the angle of view will be different .
The whole bird in Image #4 is in sharp focus because I was (effectively) a lot farther from the subject than I was in Image #3.
You did not, therefore, learn what you think that you learned …
with love, artie
Depth of Field and Flight Photography. Or Not …
For a gannet in flight at 35 feet the depth of field at f/4.5 with a focal length of 170mm on a full frame body is almost 3 1/2 feet, more than enough to cover the subject. Many folks like to stop down to f/8 for flight photography. This ofter requires using an ISO of 1600 or greater. I shoot flight with my f/4 lenses at f/4.5. With my effective f/5.6 lenses I also stop down just 1/3 stop to f/6.3, and the same is true when I am working with a maximum aperture of f/8. For an example of the latter, consider the 80-400 VR with the TC-E14; there I work at f/9. Stopping down 1/3 stop eliminates problems with vignetting and adds just a bit of additional sharpness without necessitating the use of the higher ISOs.
When photographing birds in flight with the whole bird in the frame there is no need at all to stop down to f/8.
Help Support the Blog
Please help support my efforts here on the blog by remembering to click on the logo link above each time that you shop Amazon. That would be greatly appreciated. There is no problem using your Prime account; just click on the link and log into your Prime account. With love, artie
If In Doubt …
If in doubt about using the BAA B&H affiliate link correctly, you can always start your search by clicking here. Please note that the tracking is invisible. Web orders only. Please, however, remember to shoot me your receipt via e-mail.
Please Remember to use my Affiliate Links and to Visit the New BAA Online Store 🙂
To show your appreciation for my continuing efforts here, we ask, as always, that you get in the habit of using my B&H affiliate links on the right side of the blog for all of your photo and electronics purchases. Please check the availability of all photographic accessories in the New BIRDS AS ART Online Store, especially the Mongoose M3.6 tripod head, Wimberley lens plates, Delkin flash cards and accessories, and LensCoat stuff.
As always, we sell only what I have used, have tested, and can depend on. We will not sell you junk. We know what you need to make creating great images easy and fun. And please remember that I am always glad to answer your gear questions via e-mail.
I would of course appreciate your using our B&H affiliate links for all of your major gear, video, and electronic purchases. For the photographic stuff mentioned in the paragraph above, and for everything else in the new store, we, meaning BAA, would of course greatly appreciate your business. Here is a huge thank you to the many who have been using our links on a regular basis and those who will be visiting the New BIRDS AS ART Online Store as well.
Facebook
Be sure to like and follow BAA on Facebook by clicking on the logo link upper right. Tanks a stack.
Typos
In all blog posts and Bulletins, feel free to e-mail or to leave a comment regarding any typos or errors. Just be right :).