Stuff
On Tuesday I tied up a lot of loose ends having to do with my Norwegian adventure and the UK Gannets and Puffins pre-trip. I will be announcing the dates for the 2019 UK Gannets and Puffins and Red Kites IPT very soon.
Long Island Small Group Instruction
I will be returning to my old haunts on Long Island from 15-27 August, prime time for bird photography. If you would like to learn to get close to shorebirds in the mud, do consider joining me.
Shorebird Sessions
Join me at the East Pond at Jamaica Bay WR (JBWR) on the ideal tides to photograph southbound migrant juvenile shorebirds. With full frame bodies, a minimum of a 500mm lens with TCs is recommended. 400mm is OK with crop factor bodies and a 1.4X TC.
Important note: The Shorebird Mornings are dependent on suitable water levels at the East Pond. If the pond is flooded, the sessions will be conducted at Nickerson Beach where we will likely encounter some shorebirds as well as the skimmer and terns.
JBWR Shorebird Morning: Friday, AUG 24, 2018. 6:00 – 9:30am plus a working brunch: $375/session. Limit 4/Openings 3.
JBWR Shorebird Morning: Saturday, AUG 25, 2018. 6:00 – 9:30am plus a working brunch: $375/session. Limit 4/Openings 3.
Please inquire via e-mail for multiple session discounts.
To register, please call Jim or Jen with your credit card in hand: 863-692-0906. I hope that you can join me.
BIRDS AS ART
BIRDS AS ART is registered in the U.S. Patent and Trademark Office.
Selling Your Used Photo Gear Through BIRDS AS ART
Selling your used (or like-new) photo gear through the BAA Blog is a great idea. We charge only a 5% commission. One of the more popular used gear for sale sites charged a minimum of 20%. Plus assorted fees! Yikes. They went out of business. And e-Bay fees are now up to 13%. The minimum item price here is $500 (or less for a $25 fee). If you are interested please scroll down here or shoot us an e-mail with the words Items for Sale Info Request cut and pasted into the Subject line :). Stuff that is priced fairly — I offer pricing advice to those who agree to the terms — usually sells in no time flat. Over the past year, we have sold many dozens of items. Do know that prices on some items like the EOS-1D Mark IV, the old Canon 100-400, the old 500mm, the EOS-7D and 7D Mark II and the original 400mm DO lens have been dropping steadily. You can always see the current listings by clicking on the Used Photo Gear tab on the orange-yellow menu bar near the top of each blog post page.
Recent Sales
IPT veteran Bill Wingfield sold a Wimberley V-2 WH-200 Gimbal Head in very good condition for a ridiculously low $299.00 and a Gitzo GT3532LS Carbon Fiber tripod in good condition for only $249.00, both in early August.
IPT veteran Bill Wingfield sold his Canon EF 70-200mm f/2.8 L IS II USM lens in excellent to near-mint condition for $1049.00 in late July 2018.
Pierre Williot sold his Canon EOS 5DS R in like-new condition for the BAA record-low-by-far price of $1999.00 (was $2399.00).
Carolyn Peterson sold a Canon GPS receiver GP-E2 for EOS camera bodies in near-mint condition for $149 in mid-July.
BAA-friend "Bug" Bob Allen sold a Canon EF 100-400mm f/4.5-5.6L IS USM Zoom lens in excellent condition for the a BAA record low price of $527.00 in mid-July.
NANPA President Don Carter sold his Canon EF 70-200mm f/4L IS USM lens in excellent condition for the BAA record-low-by-far price of $525 the first day it was listed. Yours truly sold his like-new Canon 70-200mm f/4L IS lens for $699 in late June.
Ray Maynard sold his Canon 300mm f/2.8 L IS lens (the original version) in near-mint condition for the BIRDS AS ART record-low price of $2349.000 and a Canon 2X III teleconverter in near-mint condition for $285.00 both in mid-July.
Unsolicited, via e-mail, from Pierre Williot
I would encourage anyone who wants to sell some of their photographic equipment to contact Art. High-end photographic equipment can be difficult to sell. Art, with is widely read daily posts, will allow you to sell your equipment fairly easily for a reasonable price and commission. Please, seriously consider the price that he suggests as <em>it can be hard to face the reality of the actual value of well loved equipment! Art is well aware of the current market for second-hand photographic equipment.
Money Saving Reminder
If you need a hot photo item that is out of stock at B&H, would enjoy free overnight shipping, and would like a $50 discount on your first purchase, click here to order and enter the coupon code BIRDSASART at checkout. If you are looking to strike a deal on Canon or Nikon gear (including the big telephotos) or on a multiple item order, contact Steve Elkins via e-mail or on his cell at (479) 381-2592 (Eastern time) and be sure to mention your BIRDSASART coupon code and use it for your online order. Patrick Sparkman saved $350 on a recent purchase!
Hard to Find Nikon Stuff Available Now
Steve Elkins has several Nikon D850s in stock right now. In addition, he has a Nikon AF-S NIKKOR 600mm f/4E FL ED VR lens and an AF-S 180-400mm f/4E TC1.4 FL ED VR lens in stock! E-mail Steve about a special deal on either big Nikon lens. The 180-400, like its Canon counterpart, the EF 200-400mm f/4L IS USM with Internal Extender 1.4x lens — is especially great for trips to Africa, the Southern Ocean, or the Galapagos.
Booking.Com
Several folks on the UK IPT used the Booking.Com link below for there Edinburgh hotels, got great rates, and saved a handsome $25.00 in the process. If you too would like to give Booking.Com a shot, click here and to earn a $25 reward on your first booking. Thanks to the many who have already tried and used this great service.
Gear Questions and Advice
Too many folks attending BAA IPTs and dozens of photographers whom I see in the field and on BPN, are–out of ignorance–using the wrong gear especially when it comes to tripods and more especially, tripod heads… Please know that I am always glad to answer your gear questions via e-mail. Those questions might deal with systems, camera bodies, accessories, and/or lens choices and decisions.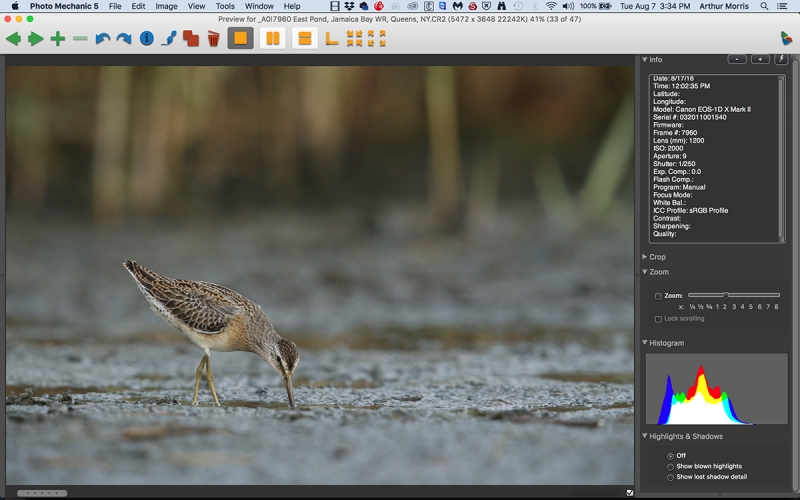 This image was created at Jamaica Bay Wildlife Refuge on August 17, 2017 with the Induro GIT 304L/Mongoose M3.6-mounted Canon EF 600mm f/4L IS II USM lens, the Canon Extender EF 2X III, and the Canon EOS-1D X Mark II. ISO 2000. Evaluative metering at zero: 1/250 sec. at f/9 in Manual mode. AWB at 8:18am on a cloudy dark morning.
One row down and two to the left of the center AF point/AI Servo (C in Nikon)/Shutter button/Expand AF was active at the moment of exposure. The selected AF point was on the bird's back.
AF micro-adjustment: fine-tune: +5. See the The LensAlign/FocusTune Micro-Adjusting Tutorial e-Guide here.
Image #1: Photo Mechanic screen capture: original Short-billed Dowitcher juvenile, underexposed original
Your browser does not support iFrame.
The Under-exposed Original
At times, it might be the best strategy to intentionally under-expose an image while maintaining a fast-enough shutter speed and opting not to set a higher ISO. As I likely did with the image above. Images created from the last several generations of digital camera bodies allow us to open up too-dark RAW files with success and without too, too much noise. The 5D IV is the best of the lot with Canon, and the Nikon D850 is even better.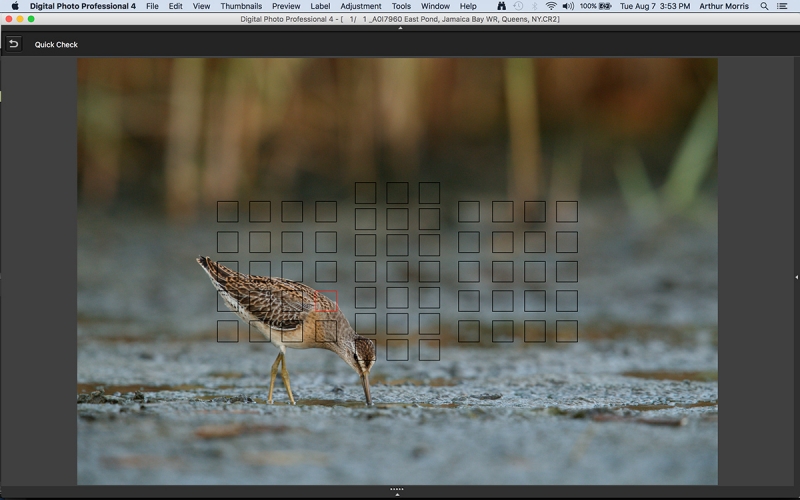 Image #2: DPP 4 screen capture: original Short-billed Dowitcher juvenile, showing the selected AF point
Your browser does not support iFrame.
A Big AF-with-TCs Edge to Canon …
As noted here before, my personal experience is that the Nikon 600 with both the TC-E14 and the TC-E17 (the 1.4X and 1.7 X TCs) as well as the 80-400 VR and the 200-500 f/5.6, both with the TC-E14, have lots of problems focusing in low light with any AF point away from the center. With the 600 and the 2X you are practically limited to the center AF point and perhaps one beyond that. With the other combinations mentioned the farther from the center AF point you venture the more problems you may run into. The Nikon reps at the Memphis EXPO explained that these problems have to do with the number and position of cross-type AF points. With the Nikon 300 an 400mm f/2.8s such problems would likely not be a problem at all. Most importantly, note that with the Canon 500s and 600s, with the 400 DO lenses, and with both 100-400 IIs, similar problems occur only rarely and then only in extreme low light/low contrast situations.
On my upcoming Long Island Visit my plan is to stick with the 600/1.4X TC with the D850 and rely on cropping while taking advantage of the superb image quality of sharp D850 files. I will bring the 1.7X and 2X TCs along and plan to further experiment with those with the 600.
Lastly, note that the use of the 1.7X or the 2X TCs with either the Nikon 80-400 or 200-500 is not recommended as you lose AF. And the same goes for using a 2XTC with the Canon 100-400s. If you are working on a tripod with a totally still subject you can get decent results with any of those combinations either by focusing manually or using Live View and focusing via contrast off the sensor.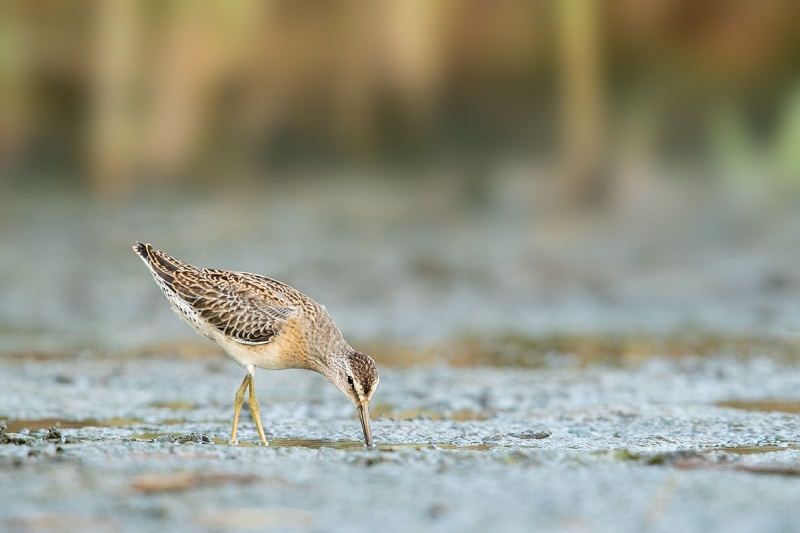 Image #3: The optimized image: original Short-billed Dowitcher in fresh juvenal plumage
Your browser does not support iFrame.
The Optimized Image
I lightened this image considerably during the RAW conversion without moving the Shadow slider at all. Contrast was increased just a bit; this is something that I do with less then one out of 100 images. In Photoshop I did a bit of mud clean-up using the Patch Tool, the Spot Healing Brush, and Content Aware Fill. For the most part I eliminated some dark or black spots or areas. Lastly I applied a 65 pixel Gaussian Blur and added a Hide-all (Inverse or Black) Mask. I painted the effect in at 100% across the top of the frame to soften the BKGR especially the too-well defined reeds in the upper right. Then I painting in the effect with a 33% Opacity brush across the middle of the image. I finished by raising the Opacity to 66% and painting the effect in on the out-of-focus ridge at the very bottom of the frame. With the latter two I made absolutely sure that I stayed away from the bird … Then a relatively small crop.
No NeatImage noise reduction was needed.
The Lesson
With the latest generations of digital camera bodies it is possible to open up (lighten) under-exposed images considerably while maintaining decent image quality. It is however, almost always best to expose to the right.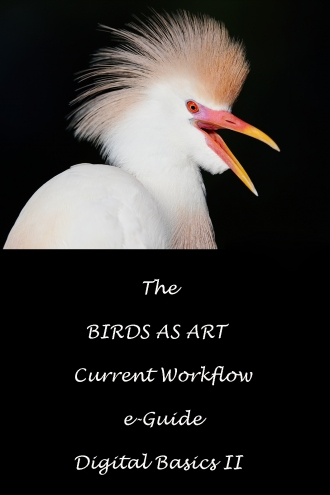 The BIRDS AS ART Current Workflow e-Guide (Digital Basics II).
You can order your copy from the BAA Online Store here, by sending a Paypal for $40 here, or by calling Jim or Jennifer weekdays at 863-692-0906 with your credit card in hand.
The BIRDS AS ART Current Workflow e-Guide (Digital Basics II)
Your guessed it, everything mentioned above and tons more is covered in detail in the BIRDS AS ART Current Workflow e-Guide (Digital Basics II), an instructional PDF that is sent via e-mail. Learn more and check out the free excerpt in the blog post here. While the new e-Guide reflects my Macbook Pro/Photo Mechanic/DPP 4/Photoshop workflow, folks using a PC and/or BreezeBrowser will also benefit greatly by studying the material on DB II. Do note that you will find the RGB Curves Adjustment Color Balancing tutorial only in the new e-guide. Note: folks working on a PC and/or those who do not want to miss anything Photoshop may wish to purchase the original Digital Basics along with DB II while saving $15 by clicking here to buy the DB Bundle.
The two most recent and many of the older MP4 Photoshop Tutorial videos releases go hand and hand with the information in DB II):
Folks who learn well by following along rather than by reading can check out the complete collection of MP 4 Photoshop Tutorial Videos by clicking here.
Though I have become more proficient converting my Nikon RAW (NEF) files in Adobe Camera Raw, I continue to optimize my Canon image in DPP 4. You can learn how and why I converted (and still convert) nearly all of my Canon digital RAW files in DPP 4 in the DPP 4 RAW Conversion Guide here. And, yes, I still have many Canon images to work on. 🙂 The RAW conversions for all three of today's featured images was straightforward once I entered my camera/ISO specific recipes (as detailed in the DPP 4 RAW Conversion Guide). You can learn advanced Quick Masking and advanced Layer Masking techniques in APTATS I & II. You can save $15 by purchasing the pair. Folks can learn sophisticated sharpening and (NeatImage) Noise Reduction techniques in the The Professional Post Processing Guide by Arash Hazeghi and yours truly.
Help Support the Blog
Please help support my efforts here on the blog by remembering to click on the logo link above each time that you shop Amazon. That would be greatly appreciated. There is no problem using your Prime account; just click on the link and log into your Prime account. With love, artie
If In Doubt …
If in doubt about using the BAA B&H affiliate link correctly, you can always start your search by clicking here. Please note that the tracking is invisible. Web orders only. Please, however, remember to shoot me your receipt via e-mail.
Please Remember to use my Affiliate Links and to Visit the New BAA Online Store 🙂
To show your appreciation for my continuing efforts here, we ask, as always, that you get in the habit of using my B&H affiliate links on the right side of the blog for all of your photo and electronics purchases. Please check the availability of all photographic accessories in the New BIRDS AS ART Online Store, especially the Mongoose M3.6 tripod head, Wimberley lens plates, Delkin flash cards and accessories, and LensCoat stuff.
As always, we sell only what I have used, have tested, and can depend on. We will not sell you junk. We know what you need to make creating great images easy and fun. And please remember that I am always glad to answer your gear questions via e-mail.
I would of course appreciate your using our B&H affiliate links for all of your major gear, video, and electronic purchases. For the photographic stuff mentioned in the paragraph above, and for everything else in the new store, we, meaning BAA, would of course greatly appreciate your business. Here is a huge thank you to the many who have been using our links on a regular basis and those who will be visiting the New BIRDS AS ART Online Store as well.
Facebook
Be sure to like and follow BAA on Facebook by clicking on the logo link upper right. Tanks a stack.
Typos
In all blog posts and Bulletins, feel free to e-mail or to leave a comment regarding any typos or errors. Just be right :).