Stuff
I picked Amy up from the airport just before lunch. You can learn about her Greenland marathon experience here. After a nap for both of us we headed out to Nickerson. The blue skies and northwest wind were pretty much perfect but for whatever reason there were only a few skimmers flying around and even fewer midair skimmer battles. When a big cloud covered the sun I headed down to the surf to try some Sanderling flock blurs, that followed by single skimmer flight blurs. By 6:30 or so, the wind switched to the northeast so we headed home for an early dinner at Alissa's house.
Great News on the Galapagos Front
Right now I have ten deposits for the 2019 Galapagos Photo Cruise so we are pretty much good to go with room for two or three more folks. If the archipelago is on your bucket list, please get in touch via e-mail with questions. If you might be registering with a friend or a spouse do ask about the two at a time discount. See the complete details here.
BIRDS AS ART
BIRDS AS ART is registered in the U.S. Patent and Trademark Office.
Selling Your Used Photo Gear Through BIRDS AS ART
Selling your used (or like-new) photo gear through the BAA Blog is a great idea. We charge only a 5% commission. One of the more popular used gear for sale sites charged a minimum of 20%. Plus assorted fees! Yikes. They went out of business. And e-Bay fees are now up to 13%. The minimum item price here is $500 (or less for a $25 fee). If you are interested please scroll down here or shoot us an e-mail with the words Items for Sale Info Request cut and pasted into the Subject line :). Stuff that is priced fairly — I offer pricing advice to those who agree to the terms — usually sells in no time flat. Over the past year, we have sold many dozens of items. Do know that prices on some items like the EOS-1D Mark IV, the old Canon 100-400, the old 500mm, the EOS-7D and 7D Mark II and the original 400mm DO lens have been dropping steadily. You can always see the current listings by clicking on the Used Photo Gear tab on the orange-yellow menu bar near the top of each blog post page.
Unsolicited, via e-mail, from Pierre Williot
I would encourage anyone who wants to sell some of their photographic equipment to contact Art. High-end photographic equipment can be difficult to sell. Art, with is widely read daily posts, will allow you to sell your equipment fairly easily for a reasonable price and commission. Please, seriously consider the price that he suggests as it can be hard to face the reality of the actual value of well loved equipment! Art is well aware of the current market for second-hand photographic equipment.
Used Gear Page News
After a month or so in the summer doldrums, sales on the Used Gear page have been picking up recently:
Pierre Williot sold his Canon EOS-1DX Mark II in mint condition with less than 75,000 actuations (rated to 400,000) for $4,199.00 in late August.
Todd Koudelka sold his Canon EF 500mm f/4L IS USM lens ("the "old five") in very good plus condition for the BAA record-low price of $3199.00.
Pierre Williot sold his canon EF 600mm f/4L IS USM lens (the original 600 IS) in very good to excellent condition for $3999.00 in mid-August.
Todd Koudelka sold a Canon EOS 5D Mark IV in near-mint condition (but for a few tiny, barely visible scratches) for the BAA record-low-by-far of $2249.00 (was $2449.00) in early August.
Ron Gates requested that the listing for his Canon 70-200mm lens be removed and kindly sent me a check for 4% of the original asking price.
Julie Brown sold her Canon EF 300mm f/2.8 L IS lens (the original version) in excellent condition for $2099 in early August.
IPT veteran Bill Wingfield sold a Wimberley V-2 WH-200 Gimbal Head in very good condition for a ridiculously low $299.00 and a Gitzo GT3532LS Carbon Fiber tripod in good condition for only $249.00, bot in early August.
IPT veteran Bill Wingfield sold his Canon EF 70-200mm f/2.8 L IS II USM lens in excellent to near-mint condition for $1049.00 in late July 2018.
Pierre Williot sold his Canon EOS 5DS R in like-new condition for the BAA record-low-by-far price of $1999.00 (was $2399.00).
Money Saving Reminder
If you need a hot photo item that is out of stock at B&H, would enjoy free overnight shipping, and would like a $50 discount on your first purchase, click here to order and enter the coupon code BIRDSASART at checkout. If you are looking to strike a deal on Canon or Nikon gear (including the big telephotos) or on a multiple item order, contact Steve Elkins via e-mail or on his cell at (479) 381-2592 (Eastern time) and be sure to mention your BIRDSASART coupon code and use it for your online order.
Booking.Com
Several folks on the UK IPT used the Booking.Com link below for there Edinburgh hotels, got great rates, and saved a handsome $25.00 in the process. If you too would like to give Booking.Com a shot, click here and to earn a $25 reward on your first booking. Thanks to the many who have already tried and used this great service.
Gear Questions and Advice
Too many folks attending BAA IPTs and dozens of photographers whom I see in the field and on BPN, are–out of ignorance–using the wrong gear especially when it comes to tripods and more especially, tripod heads… Please know that I am always glad to answer your gear questions via e-mail. Those questions might deal with systems, camera bodies, accessories, and/or lens choices and decisions.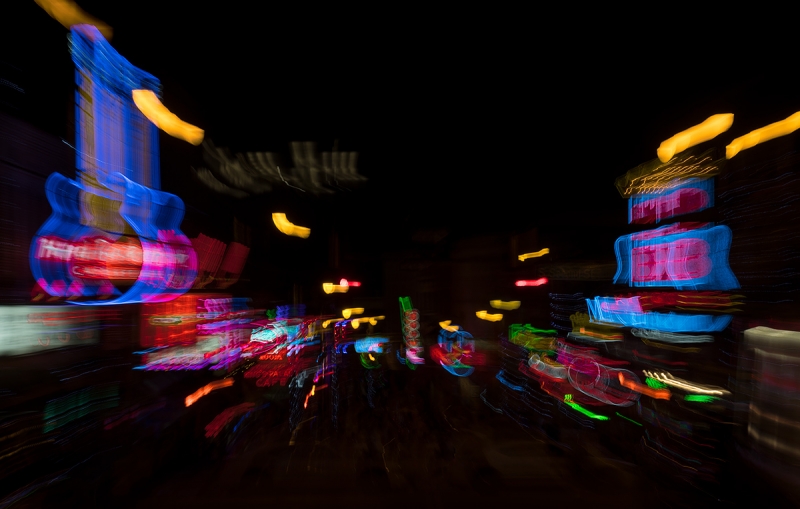 This image was created on an informal Beale Street walk in Memphis, TN on the evening of Friday, August 3. I used the hand held Nikon AF-S NIKKOR 70-200mm f/4G ED VR lens (I started at 185mm and zoomed out) and the Nikon D5 (with Dual XQD slots). AUTO ISO set ISO 64. Matrix metering at ? as framed: 1 sec. at f/22 in S (Shutter priority) mode (Tv mode with Canon). NATURAL AUTO WB at 9:18pm on a clear evening.
Left of center d-72/Continuous (AI Servo in Canon)/Shutter button AF was active at the moment of exposure.
Focus peaking AF Fine-tune: +4. See the Nikon AF Fine-tune e-Guide here.
Image #1: Beale Street lighted signs at night
Your browser does not support iFrame.
The Best EC?
Magic Night Lights Trick! blog post
here
, I asked, with regards to the image above,
What would have been the best Exposure Compensation when working in an automatic exposure mode?
I was amazed when the first to reply, Galapagos IPT veteran Dietmar Haenchen, wrote, For the exposure compensation I'd guess minus 4 stops, since much of the image is black (as it should be).
His answer was spot on correct. Way to go Dietmar.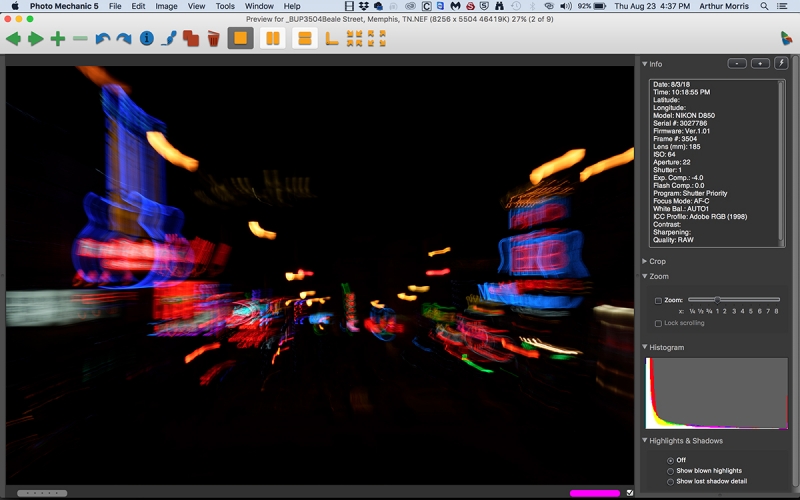 Photo Mechanic screen capture with RBG histogram for Image #1: Beale Street lighted signs at night
Your browser does not support iFrame.
The Problematic Channel
Then, in reply to a comment at the above-mentioned post, I asked, Which color channel would be the most problematic?
If you have good eyes, you can see that the RED channel is up against the highlight (right-most) axis of the histogram and actually climbs the wall a bit. This indicates that the RED channel is over-exposed, this because the REDs are so saturated. Here is my in-the-field tip: Do not worry about clipping the RED channel when photographing neon lights. If you avoid clipping the RED channel, the rest of the image will be way dark and all the colors will be turned to mud. And the same goes for vivid sunrises and sunsets. As below …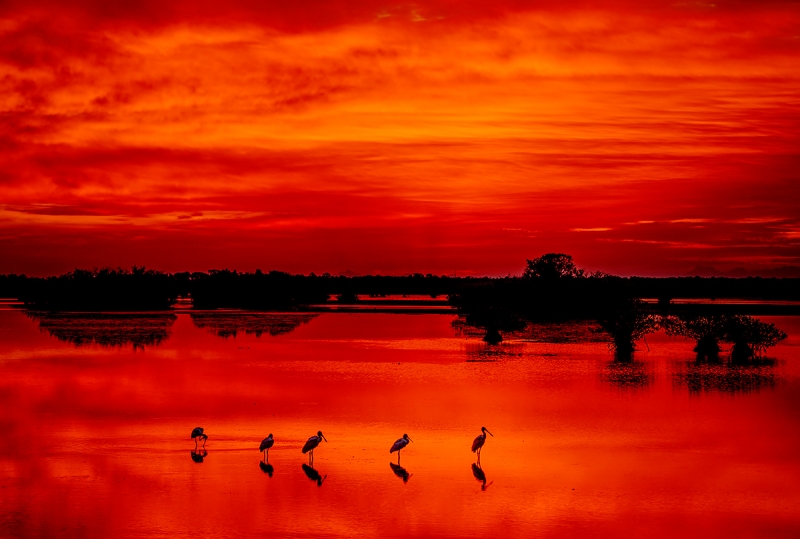 This image was created at Merritt Island NWR on the April 29, 2018, the last morning of the 2018 Non-Gatorland IPT. I used the Induro GIT 304L/Induro ballhead-mounted Nikon AF-S NIKKOR 24-120mm f/4G ED VR lens (at 105mm) and the mega mega-pixel Nikon D850. Matrix metering at zero: 1/125 sec. at f/5.6 in Manual mode. 7690K WB
Please click on the image to enjoy a larger version.
Spoonbill Sunrise
Your browser does not support iFrame.
The Situation
At my suggestion, Jim Dolgin and I abandoned Gatorland and drove over to Merritt Island NWR in the dark. I remembered that there was one very wonderful spot – not on Black Point Drive — that was often good at sunrise. If you got some color. Well, my gamble paid off. Not only did we have color, we had five spoonbills.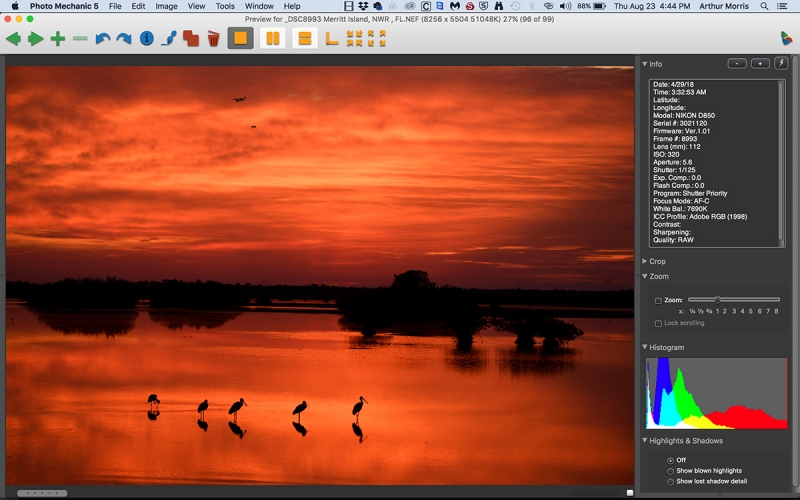 Photo Mechanic screen capture with RBG histogram for Image #2: Roseate Spoonbill Quintet/pre-dawn silhouette
Your browser does not support iFrame.
The Remedies
In the Photo Mechanic screen capture above, you can see that the RED channel is severely clipped with the RED portion of the histogram climbing completely up the highlight axis on the right. You can best deal with hot REDs during the RAW conversion either in ACR or DPP. Both have an HSL (Hue/Saturation/Luminance) tab. My first choice is to try reducing the Luminance in the REDs and the ORANGEs. Then you can reduce the Saturation of those colors just a bit if need be. If you start by reducing the Saturation in the ORANGEs and REDs the image will lose a lot of its punch. With the spoonbill image I was able to increase the Exposure after I decreased the luminance in the ORANGEs and REDs.
Once the image is converted you can further tone down the REDs in Photoshop by adding CYAN to the REDs in Selective Color.
The Lesson
It is better to clip the RED channel in the field and then deal with the hot REDs during post processing. If you underexpose enough to avoid clipping the RED channel, the rest of the image will either get very muddy of be rendered completely black. (Fine point: when photographing the somewhat muted ball of the rising sun with long focal lengths, you can underexpose to avoid clipping the REDs; this will result in a totally unnatural BLACK sky. But the results can be quite striking.
Everything above plus tons and tons more is covered in detail in Digital Basics II.
Help Support the Blog
Please help support my efforts here on the blog by remembering to click on the logo link above each time that you shop Amazon. That would be greatly appreciated. There is no problem using your Prime account; just click on the link and log into your Prime account. With love, artie
If In Doubt …
If in doubt about using the BAA B&H affiliate link correctly, you can always start your search by clicking here. Please note that the tracking is invisible. Web orders only. Please, however, remember to shoot me your receipt via e-mail.
Please Remember to use my Affiliate Links and to Visit the New BAA Online Store 🙂
To show your appreciation for my continuing efforts here, we ask, as always, that you get in the habit of using my B&H affiliate links on the right side of the blog for all of your photo and electronics purchases. Please check the availability of all photographic accessories in the New BIRDS AS ART Online Store, especially the Mongoose M3.6 tripod head, Wimberley lens plates, Delkin flash cards and accessories, and LensCoat stuff.
As always, we sell only what I have used, have tested, and can depend on. We will not sell you junk. We know what you need to make creating great images easy and fun. And please remember that I am always glad to answer your gear questions via e-mail.
I would of course appreciate your using our B&H affiliate links for all of your major gear, video, and electronic purchases. For the photographic stuff mentioned in the paragraph above, and for everything else in the new store, we, meaning BAA, would of course greatly appreciate your business. Here is a huge thank you to the many who have been using our links on a regular basis and those who will be visiting the New BIRDS AS ART Online Store as well.
Facebook
Be sure to like and follow BAA on Facebook by clicking on the logo link upper right. Tanks a stack.
Typos
In all blog posts and Bulletins, feel free to e-mail or to leave a comment regarding any typos or errors. Just be right :).