Stuff
After stops at Publix and Walmart, we got to ILE right around noon. I spent most of the rest of the day relaxing.
Great News on the Galapagos Front
Right now I have eleven folks committed to the 2019 Galapagos Photo Cruise. One participant signed up for the single supplement. That means that we will have only 12 participants, all of that just a bit better for a photographic trip. I have room for a male single. If the archipelago is on your bucket list, please get in touch via e-mail asap with questions. If you might be registering with a friend or a spouse do ask about the two at a time discount. See the complete details here.
Used Gear Page News
After a month or so in the summer doldrums, sales on the Used Photo Gear page remain brisk. There are several sales pending including the sale of my Canon 100-400 II.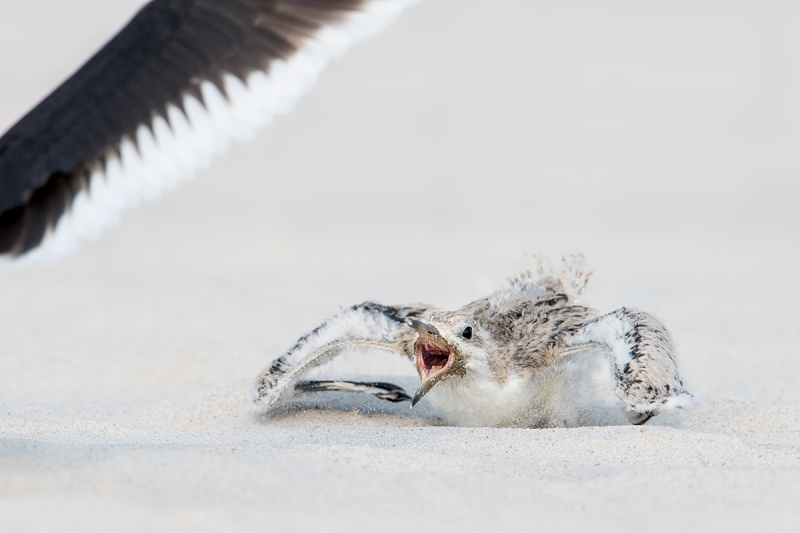 This image was created on Thursday, August 16 at Nickerson Beach. I used the Induro GIT 304L/Mongoose M3.6-mounted Nikon AF-S NIKKOR 600mm f/4E FL ED VR lens, the Nikon AF-S Teleconverter TC-17E II, and the mega mega-pixel Nikon D850 DSLR.. ISO 400. Matrix metering +2/3 stop: 1/400 sec. at f/10 in Manual mode. AUTO1 WB at 7:13am on the partly cloudy very bright morning.
One AF point below the center AF point d-9/Shutter Button/Continuous (AI Servo in Canon) AF was active at the moment of exposure. The selected AF point was squarely on the chick's face.
Phase detection AF Fine-tune value: +1. See the Nikon AF Fine-tune e-Guide here.
Image #2: Black Skimmer large chick begging/ducking!
Your browser does not support iFrame.
Detecting Photoshop Changes …
As I have proven here time after time, detecting Photoshop changes in image is very easy when you see the before and after versions. If you only see the optimized images, it is not so easy.
In the It's Not Too Late! If I've Heard It Once I've Heard it 1,000 Times. The Advantages of Standing. An Intimate Perspective from On High. And Some Nasty Post-processing Questions blog post here, I wrote:
Post-processing Questions
Is one of today's two featured images (#s 2 & 3) pretty much right out of camera? If not, which of the two had the most work done in Photoshop? If you see any telltale signs of manipulation (my favorite word!), please leave a comment and explain your proof. Remember, this stuff is much more difficult when you do not see the original 🙂 I will post JPEGs here at some point representing the full frame RAW captures for both featured images. You might be shocked. Either way. (Note: Image #2 is above. Image #3 will be covered this coming Friday.)
Nothing much jumped out to anyone who commented.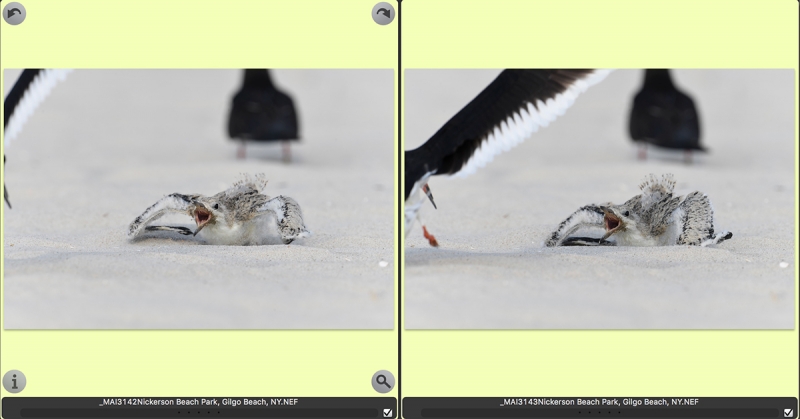 Click on the image to see more detail in the larger version.
Photo Mechanic Screen Capture
Your browser does not support iFrame.
The Truth Revealed — Part One
Not surprisingly, the two images above were created in the same tenth of one second. In the first frame, _MAI3142, the chick's face appears sharper than in the second frame, _MAI3143, in part because the shadow of the adult's wing in the second frame covers the chick's face, and possibly in part due to motion blur.
The Image Optimization
I converted the two images using the same settings. I used the first frame, MAI3142, as the base image since the chick's face was sharper and better lit. Then I created a large Quick Mask of the clean background sand in the first image and used that to cover the adult skimmer in the top right of the frame. After that, it was a simple matter of painting a Quick Mask of the wing of the adult in the second frame (with lots of surrounding sand) and putting it roughly in place using the Move Tool (V). Then I added a Hide-All (Inverse or Black) Mask and painted in (B, D) just what I needed. After a bit of foreground beach clean-up, the image optimization was complete.
Right or Wrong?
Why?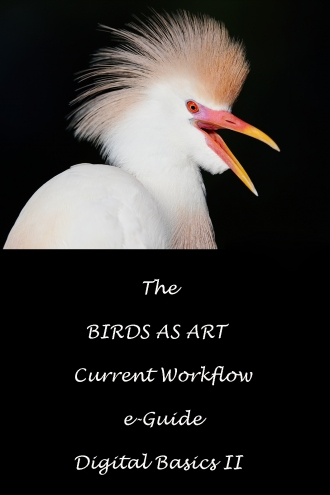 The BIRDS AS ART Current Workflow e-Guide (Digital Basics II).
You can order your copy from the BAA Online Store here, by sending a Paypal for $40 here, or by calling Jim or Jennifer weekdays at 863-692-0906 with your credit card in hand.
The BIRDS AS ART Current Workflow e-Guide (Digital Basics II)
Everything mentioned above and tons more is covered in detail in the BIRDS AS ART Current Workflow e-Guide (Digital Basics II), an instructional PDF that is sent via e-mail. Learn more and check out the free excerpt in the blog post here. While the new e-Guide reflects my Macbook Pro/Photo Mechanic/DPP 4/Photoshop workflow, folks using a PC and/or BreezeBrowser will also benefit greatly by studying the material on DB II. Do note that you will find the RGB Curves Adjustment Color Balancing tutorial only in the new e-guide. Note: folks working on a PC and/or those who do not want to miss anything Photoshop may wish to purchase the original Digital Basics along with DB II while saving $15 by clicking here to buy the DB Bundle.
The two most recent and many of the older MP4 Photoshop Tutorial videos releases go hand and hand with the information in DB II):
Folks who learn well by following along rather than by reading can check out the complete collection of MP 4 Photoshop Tutorial Videos by clicking here.
Though I have become more proficient converting my Nikon RAW (NEF) files in Adobe Camera Raw, I continue to optimize my Canon image in DPP 4. You can learn how and why I converted (and still convert) nearly all of my Canon digital RAW files in DPP 4 in the DPP 4 RAW Conversion Guide here. And, yes, I still have many Canon images to work on. 🙂 The RAW conversions for all three of today's featured images was straightforward once I entered my camera/ISO specific recipes (as detailed in the DPP 4 RAW Conversion Guide). You can learn advanced Quick Masking and advanced Layer Masking techniques in APTATS I & II. You can save $15 by purchasing the pair. Folks can learn sophisticated sharpening and (NeatImage) Noise Reduction techniques in the The Professional Post Processing Guide by Arash Hazeghi and yours truly.
Help Support the Blog
Please help support my efforts here on the blog by remembering to click on the logo link above each time that you shop Amazon. That would be greatly appreciated. There is no problem using your Prime account; just click on the link and log into your Prime account. With love, artie
If In Doubt …
If in doubt about using the BAA B&H affiliate link correctly, you can always start your search by clicking here. Please note that the tracking is invisible. Web orders only. Please, however, remember to shoot me your receipt via e-mail.
Please Remember to use my Affiliate Links and to Visit the New BAA Online Store 🙂
To show your appreciation for my continuing efforts here, we ask, as always, that you get in the habit of using my B&H affiliate links on the right side of the blog for all of your photo and electronics purchases. Please check the availability of all photographic accessories in the New BIRDS AS ART Online Store, especially the Mongoose M3.6 tripod head, Wimberley lens plates, Delkin flash cards and accessories, and LensCoat stuff.
As always, we sell only what I have used, have tested, and can depend on. We will not sell you junk. We know what you need to make creating great images easy and fun. And please remember that I am always glad to answer your gear questions via e-mail.
I would of course appreciate your using our B&H affiliate links for all of your major gear, video, and electronic purchases. For the photographic stuff mentioned in the paragraph above, and for everything else in the new store, we, meaning BAA, would of course greatly appreciate your business. Here is a huge thank you to the many who have been using our links on a regular basis and those who will be visiting the New BIRDS AS ART Online Store as well.
Facebook
Be sure to like and follow BAA on Facebook by clicking on the logo link upper right. Tanks a stack.
Typos
In all blog posts and Bulletins, feel free to e-mail or to leave a comment regarding any typos or errors. Just be right :).