Stuff
Help Still Needed With an AF-S Nikkor 500mm f/5.6 PF Lens
If you know of a camera store that has one of these lenses in stock please do not leave a comment. Please call my cell phone at 863-221-2372 or shoot me an e-mail immediately. More on this new lens soon.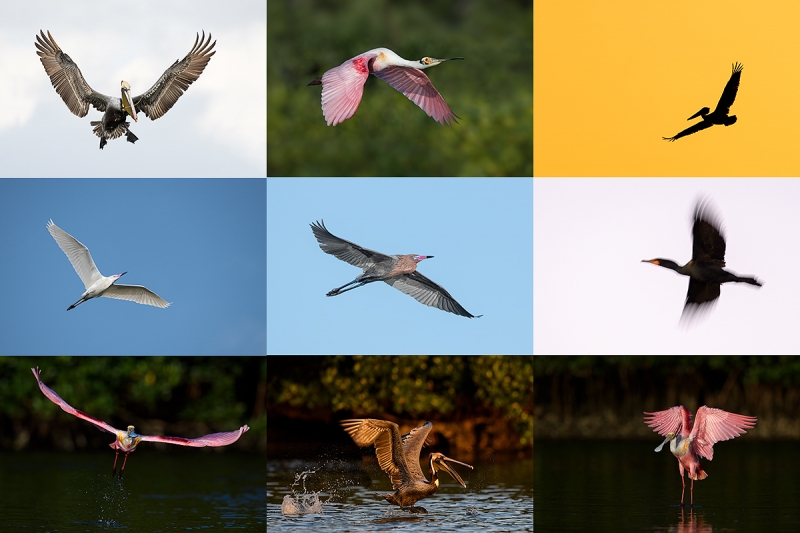 From left to to right clockwise back to the center: Brown Pelican, Roseate Spoonbill downstroke, Brown Pelican sunrise silhouette, Double-crested Cormorant pre-dawn blur, Roseate Spoonbill flapping after bath, Brown Pelican taking flight, Roseate Spoonbill taking flight, Reddish Egret white morph breeding plumage in flight, and Reddish Egret dark morph breeding plumage in flight.
All images on this card were created by me on the Hooptie Deux at Alafia Banks on the February 2018 trip.
You can click on each card to enjoy a larger version.
2019 Hooptie Deux/Roseate Spoonbill Boat 3 1/2 DAY IPT — FEB 16 thru 19, 2019: $2599.00. Limit: 5 photographers/Openings: 4. 3 1/2 days on the boat including four morning photo sessions and three afternoon sessions via customized pontoon boat.
Price per day Reduced from the 2018 rates! Please e-mail for details on IPT veteran and couples' discounts. Pro-rated options may be available …
We will be leaving the dock very early for the morning sessions (weather permitting) in hopes of photographing the pre-dawn American Crow and White Ibis blast-offs. All sessions are planned for the Alafia Banks Roseate Spoonbill Rookery. We might consider other options in the unlikely event of horrific weather. There will be lots of opportunities for flight photography of several species including and especially Roseate Spoonbill. Also likely for flight photography are nesting Brown Pelican, both morphs of Reddish Egret, Great Blue Heron, Great Egret, White and Glossy Ibises, and Double Crested Cormorant. We should have some good chances with birds carrying nesting material. This IPT includes all boat and guide fees, in the field instruction, chest waders (feel free to bring your own of course to assure a perfect fit), and three working lunches on Saturday, Sunday, and Monday. For the most part we will be standing in mid-calf to knee high water behind our tripods. We help you get in and out of the boat with your gear. This is likely not the best trip for folks with mobility or balance problems. Note however that some folks opt to stay on the boat to photograph. They usually have lots of chances for flight photography of spoonbills and other species but are almost always pretty far away from the spoonbills that land.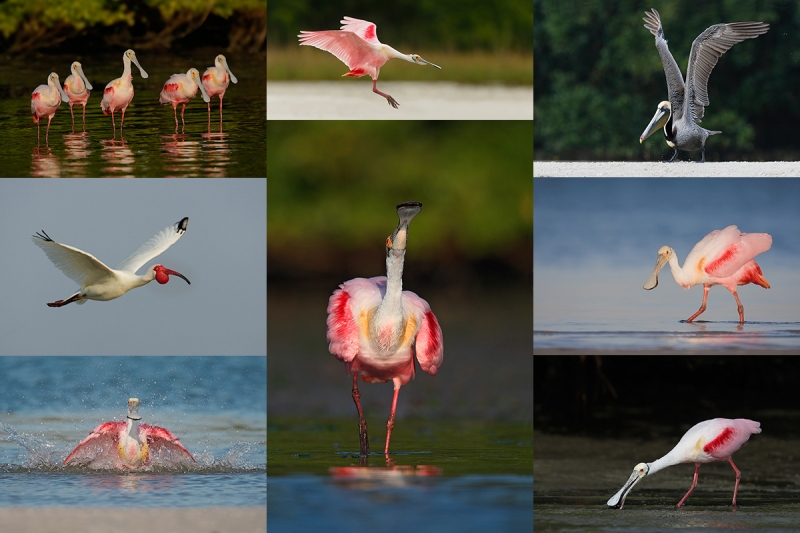 All images on this card were created by me on the Hooptie Deux at Alafia Banks
The Timing and Tides are Perfect!
I recently saw a similar trip advertised two months too late for breeding plumage spoonbills … The 2019 Hooptie Deux/Roseate Spoonbill Boat 3 1/2 DAY IPT represents an incredible opportunity to photograph Florida's most wanted species. I do hope that you can join us. There will be a meet and greet at 7:00pm sharp on the evening of Friday February 15, 2019. All of the images on the card were made on the Hooptie Duex during the last two weeks of February, prime time for the spoonies in mega-breeding plumage. Many folks have written expressing interest so please do not tarry.
Please e-mail to hold your spot. Then you may either secure your spot by calling Jim or Jennifer at the office at 863-692-0906 and leaving the $500 deposit on credit card or sending your check for payment in full to us as follows with the check made out to:
BIRDS AS ART and sent here via US mail:
BIRDS AS ART
PO BOX 7245
Indian Lake Estates, FL 33855
If you call to leave your deposit you will be asked to mail your check for the balance no later than December 15, 2018.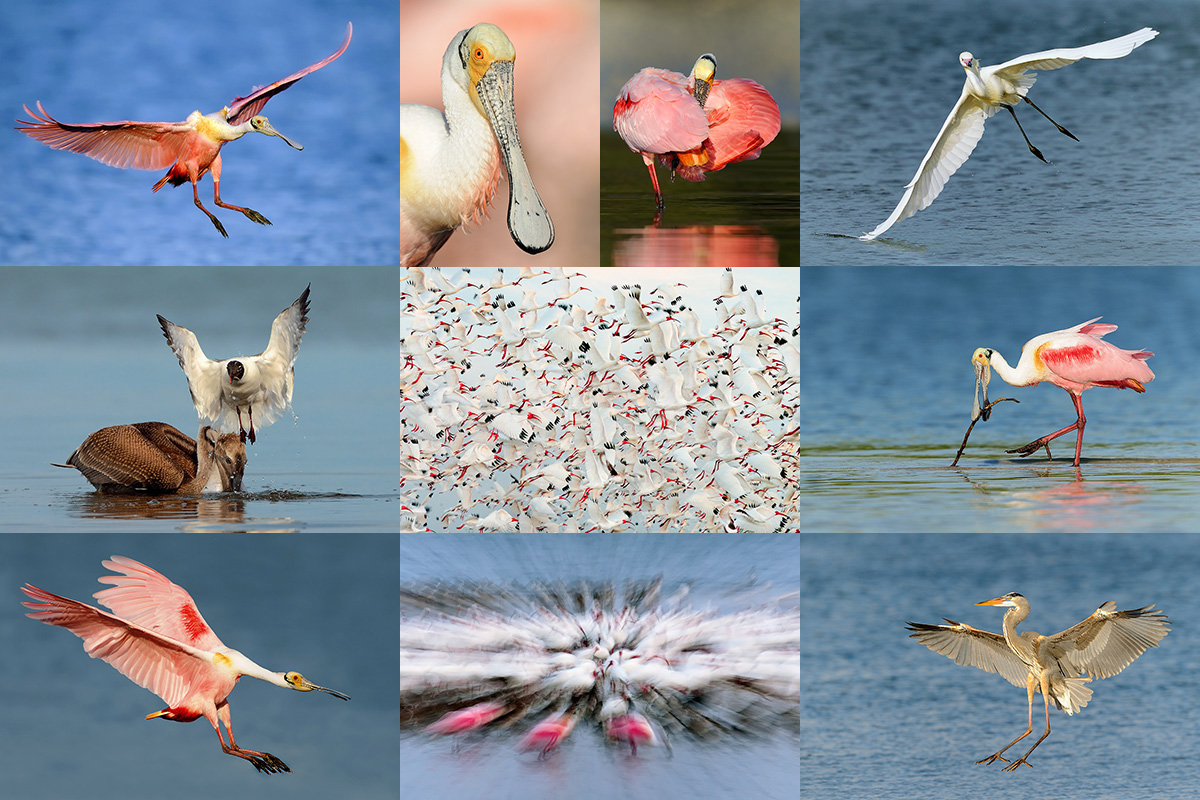 Images courtesy of our guide; copyright 2017 Captain James Shadle (aka Froggie). All of the images here were created at Alafia Banks. Card creation and design by Arthur Morris/BIRDS AS ART.
Everybody Loves Spoonbills!
Roseate Spoonbill is one of if not the most sought after avian photographic subjects in Florida. They are generally hard to find and somewhat difficult to approach. They are relatively easy to find at Alafia Banks—heck, you can't miss seeing them, but even there they can on some days be somewhat difficult to approach. On some days we may be able to get ridiculously close to them. The huge incentive to get out to Alafia Banks in mid-February is the chance to photograph this species at the height of its spectacular breeding plumage…. with long telephoto lenses. A 500 or 600 with a 1.4X TC is perfect for this trip.
Mornings to Alafia Banks for spoonbills and Brown Pelicans (with lots of flight photography often with the birds likely carrying nesting material), Double-crested Cormorants, ibises (both Glossy and White) in breeding plumage. Some of the White Ibises may be sporting their spectacular, distended, red, naked (un-feathered) throat pouches—typically larger in the females. In addition we may get to photograph egrets including Great and Reddish, both in full breeding plumage, shorebirds, and more. There will be lots of flight photography opportunities. Afternoon trips will most likely be back to Alafia Banks for the spoonbills with an option to visit a more sheltered inland rookery location for a variety of nesting birds. In the event of horrific weather artie will either take the group to Fort DeSoto or will conduct an extensive image review/Photoshop session. This IPT includes lunches on the full days with small group image sharing and review and some over-the-shoulder Photoshop instruction.
Facebook
Be sure to like and follow BAA on Facebook by clicking on the logo link upper right. Tanks a stack.
Typos
In all blog posts and Bulletins, feel free to e-mail or to leave a comment regarding any typos or errors. Just be right :).