Stuff
We are all packed and headed for the airport as I type. I fly MCO to MIA and then red-eye to EZE (Buenos Aires). Then we take a bus to AEP, the in-country Buenos Aires airport. From there we fly to Ushuaia arriving — if all goes well — at about 7:30 pm on Tuesday. A svelte 27 hours door to door. We are scheduled to board the ship on Friday afternoon. Again — if all goes well — I will be back in my home-office on the afternoon of November 2.
Just a single participant on the DeSoto winter IPT. And I do go with one. 🙂
Galapagos Photo-Cruise of a Lifetime/Limit 12/Openings: 3
Right now I have nine folks committed to the 2019 Galapagos Photo Cruise. A friend who had committed to the trip learned that he and his wife might not be able to attend. Thus, I have room for a couple or for two same-sex roommates, and for a male single. If the archipelago is on your bucket list, please get in touch via e-mail asap with questions. If you might be registering with a friend or a spouse do ask about the two at a time discount. See the complete details here.
BIRDS AS ART
BIRDS AS ART is registered in the U.S. Patent and Trademark Office.
Selling Your Used Photo Gear Through BIRDS AS ART
Selling your used (or like-new) photo gear through the BAA Blog is a great idea. We charge only a 5% commission. One of the more popular used gear for sale sites charged a minimum of 20%. Plus assorted fees! Yikes. They went out of business. And e-Bay fees are now up to 13%. The minimum item price here is $500 (or less for a $25 fee). If you are interested please scroll down here or shoot us an e-mail with the words Items for Sale Info Request cut and pasted into the Subject line :). Stuff that is priced fairly — I offer pricing advice to those who agree to the terms — usually sells in no time flat. Over the past year, we have sold many dozens of items. Do know that prices on some items like the EOS-1D Mark IV, the old Canon 100-400, the old 500mm, the EOS-7D and 7D Mark II and the original 400mm DO lens have been dropping steadily. You can always see the current listings by clicking on the Used Photo Gear tab on the orange-yellow menu bar near the top of each blog post page.
Airbnb
For the past few months, I have been hearing folks use the word Airbnb, most notably, Amy Novotny. Out of curiosity I asked a few questions. What I learned amazed me. Join Airbnb and become part of a community that connects global travelers with local hosts across the world. Find a place to stay and discover things to do. Airbnb lists more than 4.5 million homes across 200 countries; you'll find spacious, affordable options for every occasion. With Airbnb you will travel with confidence as reviews from past guests help you find the right fit. Once you do, our secure messaging makes it easy to coordinate with your host. And Airbnb support teams are available 24/7. Last night I made a reservation for an Airbnb apartment for my upcoming January San Diego visit: 13 nights with a full kitchen and two bedrooms.
Yikes. I almost forgot the best part: Airbnb rates average less than half of even the least expensive chain hotels and motels. If you would like to save $40 on your first booking sign up by using this link: Airbnb. Airbnb does charge clean-up and service fees that make short stays less attractive bargains than long stays.
Those who prefer to stay in a motel or hotel are invited to use the Booking.com link below to save $25.00.
Booking.Com
Several folks on the UK IPT used the Booking.Com link below for their Edinburgh hotels, got great rates, and saved a handsome $25.00 in the process. If you too would like to give Booking.Com a shot, click here and to earn a $25 reward on your first booking. Thanks to the many who have already tried and used this great service.
Money Saving Reminder
If you need a hot photo item that is out of stock at B&H, would enjoy free overnight shipping, and would like a $50 discount on your first purchase, click here to order and enter the coupon code BIRDSASART at checkout. If you are looking to strike a deal on Canon or Nikon gear (including the big telephotos) or on a multiple item order, contact Steve Elkins via e-mail or on his cell at (479) 381-2592 (Eastern time) and be sure to mention your BIRDSASART coupon code and use it for your online order. Steve currently has several D850s in stock along with a Nikon 600mm f/4 VR. He is taking pre-orders for the new Nikon 500 P and the Nikon Z6 mirrorless camera body.
Gear Questions and Advice
Too many folks attending BAA IPTs and dozens of photographers whom I see in the field and on BPN, are–out of ignorance–using the wrong gear especially when it comes to tripods and more especially, tripod heads… Please know that I am always glad to answer your gear questions via e-mail. Those questions might deal with systems, camera bodies, accessories, and/or lens choices and decisions.
Last Minute Miracle
In the Desperate to Give Away a Free IPT/Urgent Help Needed blog post here, I offered $500 in cash or a free DeSoto in Winter or San Diego IPT in to the first person who would loan me a Nikon AF-S NIKKOR 500mm f/5.6E PF ED VR lens. In no time at all my cell rang. It was multiple IPT veteran Michael Goodman. He was both a good man and good to go on my offer.
Soon after Michael called I got this e-mail from Jemini Joseph:
Arthur, Are u in Tampa/St. Petersburg area? I live in Lutz and own the lens. Do u consider meeting somewhere in the middle and taking the lens yourself? I'm busy with work and a little baby. I won't be able to shoot much for few weeks anyway. I can rent you the lens for your offer of $500. I won't be able to join the tour. I'm sure you won't abuse the lens. Please let me know.
A very kind offer and I could have had Jim drive over and meet him halfway. But as Micheal had been on two IPTs, he had been the first to respond, and there was no reason in the world to think that I would not have the lens by Thursday so I politely declined.
Jim prepared an United Parcel overnight airbill and printed and scanned it. We e-mailed the scan to Michael who packed the lens up safely in an old B&H box. Have you spotted the danger yet? It was the shipping box for a camera … Spotted it yet? He kindly took the box to a local Staples in New Hampshire on Wednesday afternoon and we were good to go for a Thursday delivery. With plenty of time to micro-adjust the new lens with two camera bodies, one of my two TC-E14 IIIs, and my TC-E17 II. Or not?
As you have likely figured out by now, the lens did not arrive on Thursday. I went online to track the shipment and saw the words you do not want to see:
A hazardous materials irregularity occurred with this package. We'll contact the sender with additional information.
With us preparing the label, we were both the sender and the receiver. We did receive an e-mail on the office computer from the HazMat team on Thursday afternoon:
Violation
Acct# W99F52
Tracking#: 1ZW99F520146778090
Violation: Air package with a partially covered UN3481 caution label. That label must be completely visible or completely covered up, or completely visible to travel through the UPS system.
Shipper Address: BIRDS AS ART
Consignee: JIM
BIRDS AS ART
4041 GRANADA DR
INDIAN LAKE ESTATES FL 33855
UNITED STATES
Status: Held
If held, address of pick-up location: 92 INDUSTRIAL PK DR, DOVER, NH, 03820-4332
Shippers may contact the Hazardous Material Support Center at 1-800-554-9964, 24 hours a day, Monday through Friday if they have any questions about their Hazardous Materials Regulations.
Due to your recent hazardous materials shipment violation I want to re-emphasize the importance of proper and thorough hazardous materials training with you. The DOT regulations require training every 3 years. Failure to ensure your company's hazardous materials employees have been properly trained in areas of General Awareness, Function-Specific, Safety and Security Awareness can result in fines of up to $600 per employee in each of the four areas. At UPS we offer both on-site and public hazardous materials training. For more information please go here.
Ted K.
UPS Hazardous Material Associate
So, I called Mr. K. He explained that there was a partially exposed Hazardous Materials label on the box. Ugh. Micheal had re-used an old B&H box with the label still partially visible. You would think that the folks at Staples might have picked up on that …
He told me no problema and sent a follow-up e-mail with instructions for preparing a letter to get the parcel released. Jim did a great job writing the letter that stated that there were no hazardous materials in the package and that we gave permission to UPS to re-box the parcel. We scanned the letter and sent it to Ted K. via e-mail.
I called him an hour later to see if he received it. He said that he had and that he had been in touch with his auditors who would be in 6:30pm central time and that the lens "would be on it's way that evening for Friday delivery." Or not 🙂
By midday Friday UPS tracking still showed that the lens was being held in Dover, NH for a HazMat violation. So I started calling UPS. "It made it to Philadelphia." Each time the message was the same but with a different time. 8pm on Thursday, 9:08 on Thursday, and 12:38m on Friday. YOu will get the package on Friday." So I thought that I still had hopes of getting it that Friday. But the tracking remained the same; the package was not moving. So on Friday afternoon I called Ted K. He told me that he did not know what happened but that the would contact the auditors to find out. He called back in an hour and said, "They were very busy last night and your package did not go out." It will do out tonight for Monday delivery.
Now, when I was sitting next to Jim who was filling out the label, we considered checking the box for "Saturday Delivery". "What could go wrong? we asked each other. I think that at one point we have the box checked and then un-checked it … I spent several more hours on the phone with UPS that afternoon trying to get the shipment upgraded to Saturday delivery. Sorry, no can do …
When I tracked the package late on Friday night it showed this:
Louisville, KY, United States 10/13/2018 4:37 A.M. Departure Scan
10/13/2018 1:34 A.M. Arrival Scan
And that is what it showed all day on Saturday. So early on Sunday morning, I e-mailed Jemini to explore the possibility of renting his lens and picking it up as early as possible by meeting him half way. I had of course, lost faith in UPS as my continued phone calls continued only to raise my blood pressure (not my hopes). Then my ATT e-mail went down. When service was finally restored I got this e-mail from Jemini.
Arthur, Sorry to hear that the other lens didn't work out. Hey thanks for the comment on my pictures. It means a lot since it came from you.
I'm down with flu since Friday and whole family got infected; I'm not in a shape to drive any distance. 🙁 I live close by Veterans (Suncoast Parkway or 589) and 54. I cannot leave the baby at this stage as my wife is down too. I don't want you to get infected either. Do you want it today? If I feel better I can try this afternoon or tomorrow. Where are you coming from? I don't want to make someone like Arthur Morris to drive all the way here! Please let me know if afternoon or tomorrow will work for you.
By the time I got back to him it was too late on Sunday to grab the lens as that involved a four-hour round trip. I told him to get well fast along with the rest of the family.
I kept tracking the lens all day on Sunday but it kept saying the same thing:
Louisville, KY, United States 10/13/2018 4:37 A.M. Departure Scan
10/13/2018 1:34 A.M. Arrival Scan
So I hit the sack on Sunday night still hoping to get the lens early enough on Monday to have time to micro-adjust it. At 6am on Sunday I refreshed the tracking window:
Lake Wales, FL, United States 10/15/2018 4:45 A.M. Arrival Scan
Jacksonville, FL, United States 10/15/2018 1:08 A.M. Departure Scan
Jacksonville, FL, United States 10/14/2018 5:18 P.M. Arrival Scan
I was too, too happy. The lens was at our Lake Wales UPS center. I had called our regular UPS driver on his cell on Sunday afternoon and he said that if the package arrived that I could have Jim drive into town and meet him at his first drop-off location. And, after a few Monday morning phone calls that is exactly what happened.
When Jim called me at 8:35am my heart sank. What can it be now? "This can't be the 500mm lens. The package is too small and too light."
He did not know that that was exactly why I so badly wanted to get it for the Emperor Penguin trip.
He was home before nine and I spent the rest of the morning micro-adjusting. Hooray! More on the micro-adjusting here soon.
If you had written the above in a book or a movie nobody would have believed it …
Your Story?
If you have had a Catch-22/Murphy's Law shipping nightmare, feel free to share by leaving a comment below.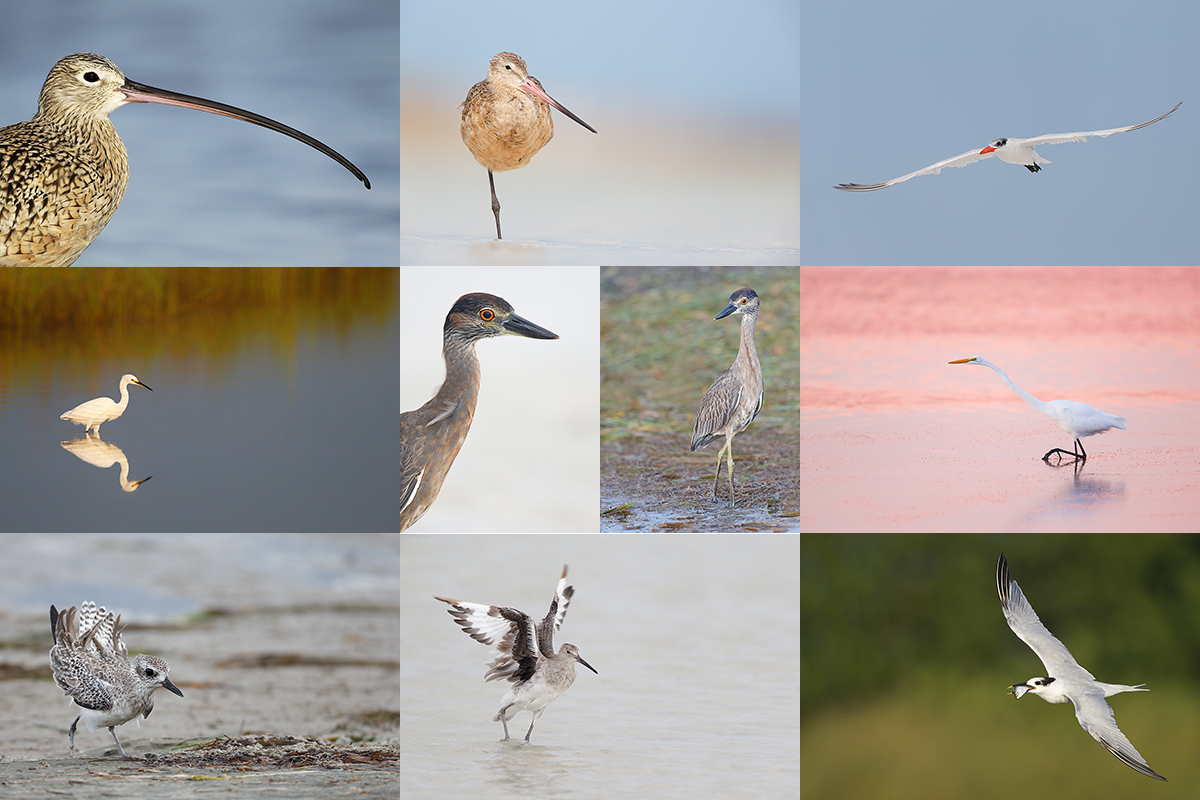 Fort DeSoto in early winter is rife with tame birds. Click on the composite to enjoy a larger version.
Clockwise from upper left to center: Long-billed Curlew, Marbled Godwit, Caspian Tern, Great Egret, Sandwich Tern with fish, Willet, Black-bellied Plover threat display, Snowy Egret, 2-year old Yellow-Crowned Night-Heron, juvenile Yellow-Crowned Night-Heron.
The 2018 Fort DeSoto Early Winter IPT/Thursday December 7 through the morning session on Monday December 10, 2018: 3 1/2 DAYS: $1549. Limit 8/Openings: 7.
Fort DeSoto, located just south of St. Petersburg, FL, is a mecca for migrant shorebirds and terns in early winter. There they join hundreds of egrets, herons, night-herons, and gulls that winter on the T-shaped peninsula. With luck, we may get to photograph two of Florida's most desirable shorebird species: Marbled Godwit and the spectacular Long-billed Curlew. Black-bellied Plover and Willet are easy, American Oystercatcher almost guaranteed. Great Egret, Snowy Egret, Great Blue Heron, Tricolored Heron, and White Ibis are easy as well and we will almost surely come up with a tame Yellow-crowned Night-Heron or two. We may very well get to see and photograph the amazing heron/egret hybrid that has been present for three year. And we should get to do some Brown Pelican flight photography. In addition, Royal, Sandwich, Forster's, and Caspian Terns will likely provide us with some good flight opportunities as well. Though not guaranteed, Roseate Spoonbill and Wood Stork might well be expected. And we will be on the lookout for a migrant passerine fallout in the event of a thunderstorm or two.
On the IPT you will learn basics and fine points of digital exposure and to get the right exposure every time after making a single test exposure, how to approach free and wild birds without disturbing them, to understand and predict bird behavior, to identify many species of shorebirds, to spot the good situations, to choose the best perspective, to see and understand the light, and to design pleasing images by mastering your camera's AF system. Most importantly you will surely learn to evaluate wind and sky conditions and understand how they affect bird photography. And you will learn how and why to work in Manual mode (even if you're scared of it).
There will be a Photoshop/image review session after lunch (included) each day. That will be followed by Instructor Nap Time.
As with the fall IPT, this one will run with only a single registrant. The best airport is Tampa (TPA). Once you register, you will receive an e-mail with the hotel information. Do know that it is always best if IPT folks stay in the same hotel (rather than at home or at a friend's place).
A $500 deposit is due when you sign up and is payable by credit card. Balances must be paid by check after you register. Your deposit is non-refundable unless the IPT sells out with eight folks so please check your plans carefully before committing. You can register by calling Jim or Jennifer during weekday business hours at 863-692-0906 with a credit card in hand or by sending a check as follows: make the check out to: BIRDS AS ART and send it via US mail here: BIRDS AS ART, PO BOX 7245, Indian Lake Estates, FL 33855. You will receive a confirmation e-mail with detailed instructions, clothing, and gear advice. Please remember that the meet and greet will take place at 7:30 on the evening of Sunday, September 23. Please shoot me an e-mail if you plan to register or if you have any questions.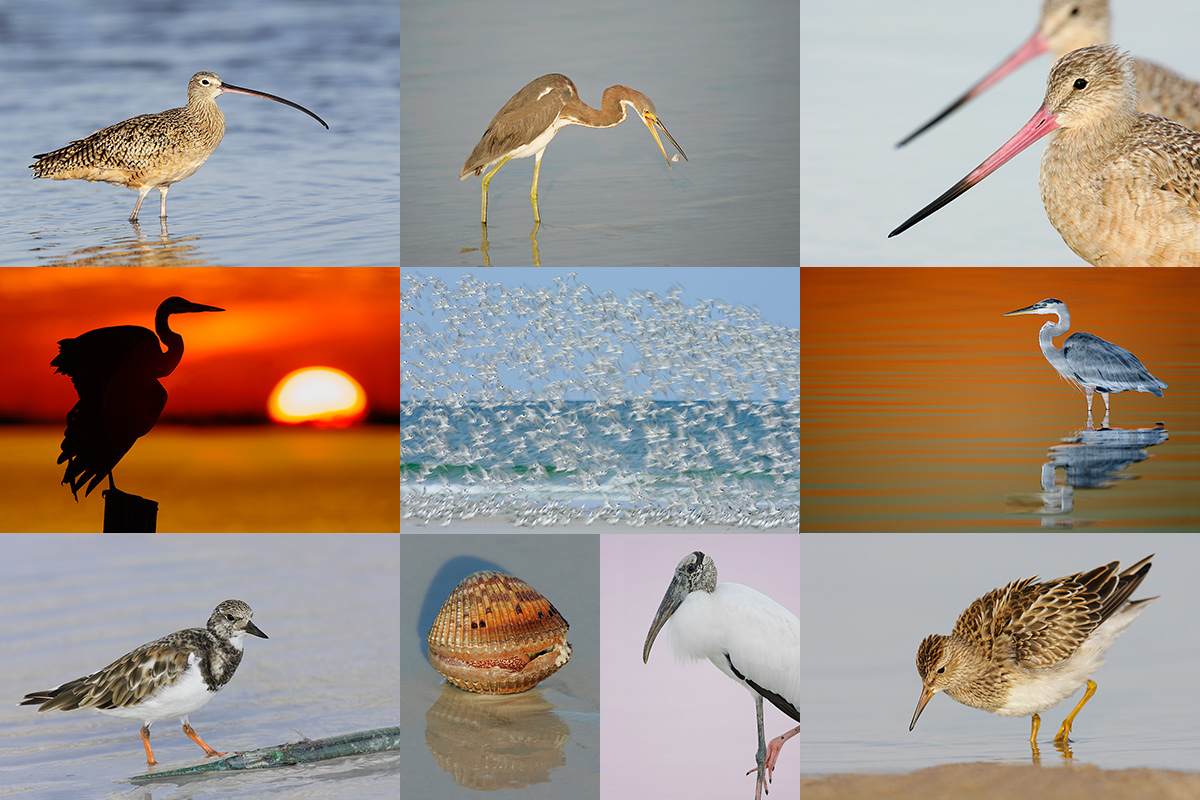 Obviously folks attending the IPT will be out in the field early and stay late to take advantage of sunrise and sunset colors. The good news is that the days are relatively short in late September. Click on the composite to enjoy a larger version.
Clockwise from upper left to center: Long-billed Curlew, juvenile Tricolored Heron, Marbled Godwits, Great Blue Heron, juvenile Pectoral Sandpiper, Wood Stork, smiling Sea Scallop, Ruddy Turnstone scavenging needlefish, Great Blue Heron sunset silhouette at my secret spot, and southbound migrant tern flock blur.
Early and Late
Getting up early and staying out late is pretty much a staple on all BIRDS AS ART Instructional Photo-Tours; on this particular trip we will get lots of sleep as the days are short. Being in the field well before the sun comes up and staying out until sunset will often present unique photographic opportunities, opportunities that will be missed by those who need their beauty rest. I really love it when I am leaving the beach on a sunny morning after a great session just as a carful or two of well-rested photographers arrive.
Help Support the Blog
Please help support my efforts here on the blog by remembering to click on the logo link above each time that you shop Amazon. That would be greatly appreciated. There is no problem using your Prime account; just click on the link and log into your Prime account. With love, artie
If In Doubt …
If in doubt about using the BAA B&H affiliate link correctly, you can always start your search by clicking here. Please note that the tracking is invisible. Web orders only. Please, however, remember to shoot me your receipt via e-mail.
Please Remember to use my Affiliate Links and to Visit the New BAA Online Store 🙂
To show your appreciation for my continuing efforts here, we ask, as always, that you get in the habit of using my B&H affiliate links on the right side of the blog for all of your photo and electronics purchases. Please check the availability of all photographic accessories in the New BIRDS AS ART Online Store, especially the Mongoose M3.6 tripod head, Wimberley lens plates, Delkin flash cards and accessories, and LensCoat stuff.
As always, we sell only what I have used, have tested, and can depend on. We will not sell you junk. We know what you need to make creating great images easy and fun. And please remember that I am always glad to answer your gear questions via e-mail.
I would of course appreciate your using our B&H affiliate links for all of your major gear, video, and electronic purchases. For the photographic stuff mentioned in the paragraph above, and for everything else in the new store, we, meaning BAA, would of course greatly appreciate your business. Here is a huge thank you to the many who have been using our links on a regular basis and those who will be visiting the New BIRDS AS ART Online Store as well.
Facebook
Be sure to like and follow BAA on Facebook by clicking on the logo link upper right. Tanks a stack.
Typos
In all blog posts and Bulletins, feel free to e-mail or to leave a comment regarding any typos or errors. Just be right :).