Stuff
I was glad to learn that multiple IPT veteran Mike Gotthelf sold his Canon EOS 1DX in near-mint condition for $2299.00 this week just days are selling his Canon EOS 7D Mark II in near-mint condition for $799.00.
There are now five folks signed up for San Diego. The limit is eight. Only two folks are signed up for the Early Winter DeSoto IPT; there is cheap shared Airbnb lodging for one or two folks (male or female) available. Do consider joining us on that one or on another IPT. Scroll down for the DeSoto details or see all the current offerings here.
If you missed the comments and replies on the last blog post here, you might wish to revisit and check them out as there were several revealing exchanges and insightful questions and answers. All civil 🙂
Galapagos Photo-Cruise of a Lifetime/Limit 13/Openings: 4
Right now I have nine folks committed to the 2019 Galapagos Photo Cruise. A friend who had committed to the trip learned that he and his wife might not be able to attend. Thus, I have room for one or two couples, one couple and two singles, or four singles. If the archipelago is on your bucket list, please get in touch via e-mail asap with questions. If you might be registering with a friend or a spouse, do ask about the two at a time discount. See the complete details here.
BIRDS AS ART
BIRDS AS ART is registered in the U.S. Patent and Trademark Office.
Selling Your Used Photo Gear Through BIRDS AS ART
Selling your used (or like-new) photo gear through the BAA Blog is a great idea. We charge only a 5% commission. One of the more popular used gear for sale sites charged a minimum of 20%. Plus assorted fees! Yikes. They went out of business. And e-Bay fees are now up to 13%. The minimum item price here is $500 (or less for a $25 fee). If you are interested please scroll down here or shoot us an e-mail with the words Items for Sale Info Request cut and pasted into the Subject line :). Stuff that is priced fairly — I offer pricing advice to those who agree to the terms — usually sells in no time flat. Over the past year, we have sold many dozens of items. Do know that prices on some items like the EOS-1D Mark IV, the old Canon 100-400, the old 500mm, the EOS-7D and 7D Mark II and the original 400mm DO lens have been dropping steadily. You can always see the current listings by clicking here or on the Used Photo Gear tab on the orange-yellow menu bar near the top of each blog post page.
Insane Low Prices on Nikon Lenses
Nikon AF-S NIKKOR 600mm f/4G ED VR Lens
John Svendsen is offering a used Nikon AF-S NIKKOR 600mm f/4G ED VR lens in like-new condition for the BAA record low price by miles of $4199.00. The sale includes the original product box and everything that came in it: the front and rear lens caps, the lens trunk, the front lens cover, the lens strap,a LensCoat, a Wimberley low foot, and insured ground shipping via major courier. Your item will not ship until your check clears unless other arrangements are made.
Please contact John by e-mail or by phone at 1-503-881-1172 (Pacific time).
The 600 f/4 lenses are ideal for those who do birds and wildlife. This current (lighter) version of the Nikon 600, the Nikon AF-S NIKKOR 600mm f/4E FL ED VR lens sells new right now for $12,296.95. John's lens is an amazing buy for someone young and relatively strong who would like to save an astounding $8,097.95. artie
Nikon AF-S VR Zoom-NIKKOR 200-400mm f/4G IF ED Lens
John Svendsen is also offering a used Nikon AF-S VR Zoom-NIKKOR 200-400mm f/4G IF ED lens (the original version) in near-mint condition for the BAA record low price by miles of $1499.00. The sale includes the original product box and everything that came in it: the front and rear lens caps, the lens trunk, the front lens cover, the lens strap, a Really Right Stuff LCF-14 C low foot, and insured ground shipping via major courier. Your item will not ship until your check clears unless other arrangements are made.
Please contact John by e-mail or by phone at 1-503-881-1172 (Pacific time).
This, the older version of the very versatile Nikon 200-400, is priced to sell. artie
Money Saving Reminder
If you need a hot photo item that is out of stock at B&H, would enjoy free overnight shipping, and would like a $50 discount on your first purchase, click here to order and enter the coupon code BIRDSASART at checkout. If you are looking to strike a deal on Canon or Nikon gear (including the big telephotos) or on a multiple item order, contact Steve Elkins via e-mail or on his cell at (479) 381-2592 (Eastern time) and be sure to mention your BIRDSASART coupon code and use it for your online order. Steve currently has several D850s in stock along with a Nikon 600mm f/4 VR. He is taking pre-orders for the new Nikon 500 P and the Nikon Z6 mirrorless camera body.
Gear Questions and Advice
Too many folks attending BAA IPTs and dozens of photographers whom I see in the field and on BPN, are–out of ignorance–using the wrong gear especially when it comes to tripods and more especially, tripod heads… Please know that I am always glad to answer your gear questions via e-mail. Those questions might deal with systems, camera bodies, accessories, and/or lens choices and decisions.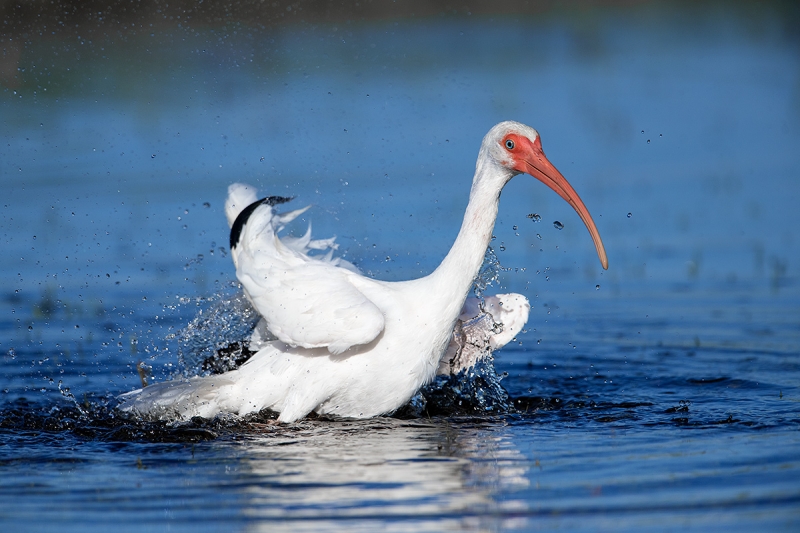 This image was created on September 25, 2018 on the DeSoto Fall IPT. I used the Induro GIT 304L/Mongoose M3.6-mounted Nikon AF-S NIKKOR 600mm f/4E FL ED VR lens, the Nikon AF-S Teleconverter TC-14E III, and my souped up Nikon D850. ISO 400. Matrix metering at about zero: 1/4000 sec. at f/6.3 in Manual mode. Auto 1 WB at 9:12am on a clear, sunny morning.
On to the right Group (grp)/Shutter button/Continuous (AI Servo in Canon) AF as originally framed was active at the moment of exposure. The array was centered on the ibis's neck.
Focus peaking AF Fine-tune: +5. See the Nikon AF Fine-tune e-Guide here.
White Ibis bathing in parking lot puddle
Your browser does not support iFrame.
Your browser does not support iFrame.
Parking Lots Can Be Great for Bird Photography …
We did well at my #1 early morning DeSoto spot and decided to check out my #2 location. But we never made it. There were several large rain pools on the grass on either side of one of the bathrooms adjacent to the parking lot. With birds. We stayed with them for a bit and were rewarded when the White Ibises began bathing, one at a time, in the exact same spot. Apparently the exact depth of the water is super-important to bathing birds; when one bird is finished bathing and repositions to preen, another bird grabs the same spot and begins frolicking in the water. I see this most often with sandpipers and plovers. Though the ibises and a few Snow Egrets were very tame, I opted to go with the TC-e14 to reduce my angle of declination. I just missed on a few incoming ibises but did get some nice stuff on Mottled Duck. It always pays to keep your eyes and your mind open when looking for good places to photograph birds. We should see lots of White Ibises on the DeSoto Winter IPT (details below).
More on fine-tuning your BLUEs
I have been noticing more and more recently that when I set the WHITE and BLACK points during the RAW conversion that the BLUEs lose their punch, often being rendered a bit too light and a bit too YELLOW. Try refining your BLUEs by opening a Hue Saturation layer and selecting the BLUE channel. Then experiment by moving the Hue slider a bit to the right a very few points and moving the Lightness slider to the left to -10 or so. In addition, you can open a Selective Color and again selecting the BLUE channel. You can try moving the YELLOW slider to the left — try -10 or so, and adding a very few points of BLACK to the BLUEs.
Then, if you liked the look of the BLUEs in the RAW file do a comparison of the BLUEs in the RAW file with the BLUEs in your master TIFF file. By keeping your layers intact you can go back and further fine-tune the BLUEs until you are happy.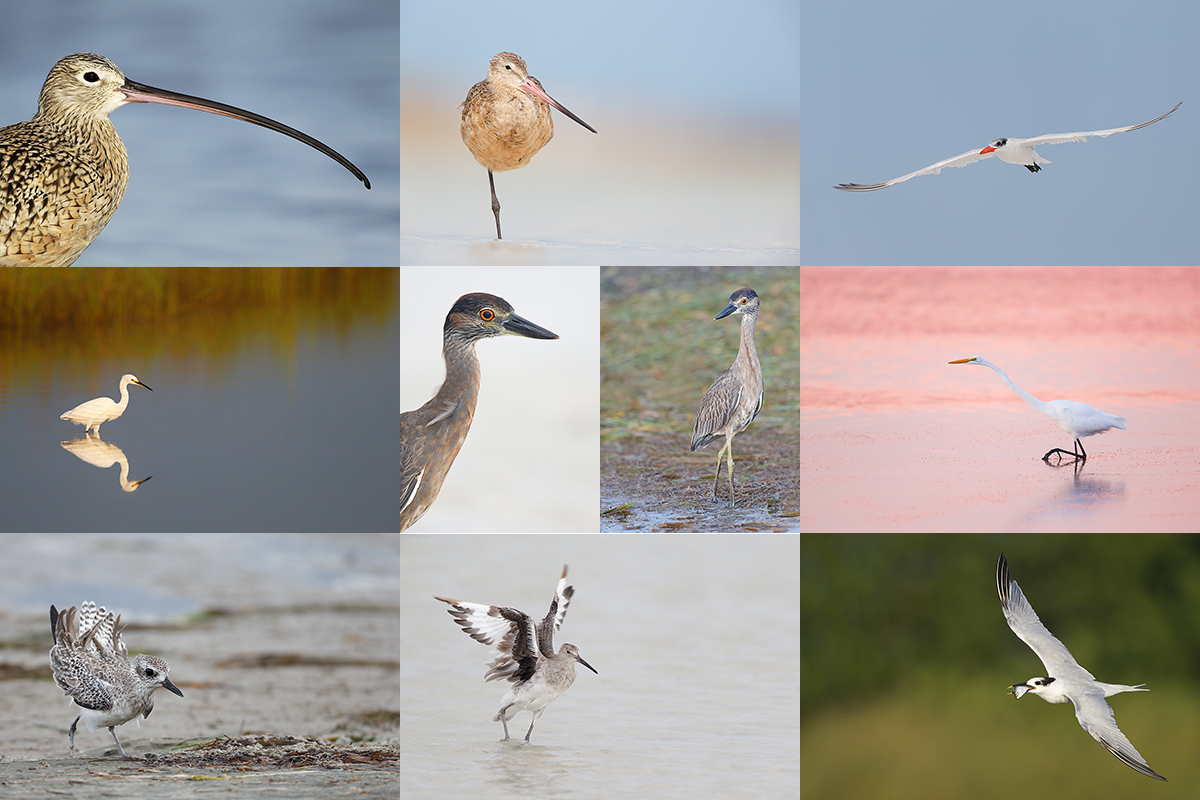 Fort DeSoto in early winter is rife with tame birds. Click on the composite to enjoy a larger version.
Clockwise from upper left to center: Long-billed Curlew, Marbled Godwit, Caspian Tern, Great Egret, Sandwich Tern with fish, Willet, Black-bellied Plover threat display, Snowy Egret, 2-year old Yellow-Crowned Night-Heron, juvenile Yellow-Crowned Night-Heron.
The 2018 Fort DeSoto Early Winter IPT/Thursday December 7 through the morning session on Monday December 10, 2018: 3 1/2 DAYS: $1549. Limit 8/Openings: 6.
Fort DeSoto, located just south of St. Petersburg, FL, is a mecca for migrant shorebirds and terns in early winter. There they join hundreds of egrets, herons, night-herons, and gulls that winter on the T-shaped peninsula. With luck, we may get to photograph two of Florida's most desirable shorebird species: Marbled Godwit and the spectacular Long-billed Curlew. Black-bellied Plover and Willet are easy, American Oystercatcher almost guaranteed. Great Egret, Snowy Egret, Great Blue Heron, Tricolored Heron, and White Ibis are easy as well and we will almost surely come up with a tame Yellow-crowned Night-Heron or two. We may very well get to see and photograph the amazing heron/egret hybrid that has been present for three year. And we should get to do some Brown Pelican flight photography. In addition, Royal, Sandwich, Forster's, and Caspian Terns will likely provide us with some good flight opportunities as well. Though not guaranteed, Roseate Spoonbill and Wood Stork might well be expected. And we will be on the lookout for a migrant passerine fallout in the event of a thunderstorm or two.
On the IPT you will learn basics and fine points of digital exposure and to get the right exposure every time after making a single test exposure, how to approach free and wild birds without disturbing them, to understand and predict bird behavior, to identify many species of shorebirds, to spot the good situations, to choose the best perspective, to see and understand the light, and to design pleasing images by mastering your camera's AF system. Most importantly you will surely learn to evaluate wind and sky conditions and understand how they affect bird photography. And you will learn how and why to work in Manual mode (even if you're scared of it).
There will be a Photoshop/image review session after lunch (included) each day. That will be followed by Instructor Nap Time.
As with the fall IPT, this one will run with only a single registrant. The best airport is Tampa (TPA). Once you register, you will receive an e-mail with the hotel information. Do know that it is always best if IPT folks stay in the same hotel (rather than at home or at a friend's place).
A $500 deposit is due when you sign up and is payable by credit card. Balances must be paid by check after you register. Your deposit is non-refundable unless the IPT sells out with eight folks so please check your plans carefully before committing. You can register by calling Jim or Jennifer during weekday business hours at 863-692-0906 with a credit card in hand or by sending a check as follows: make the check out to: BIRDS AS ART and send it via US mail here: BIRDS AS ART, PO BOX 7245, Indian Lake Estates, FL 33855. You will receive a confirmation e-mail with detailed instructions, clothing, and gear advice. Please remember that the meet and greet will take place at 7:30 on the evening of Sunday, September 23. Please shoot me an e-mail if you plan to register or if you have any questions.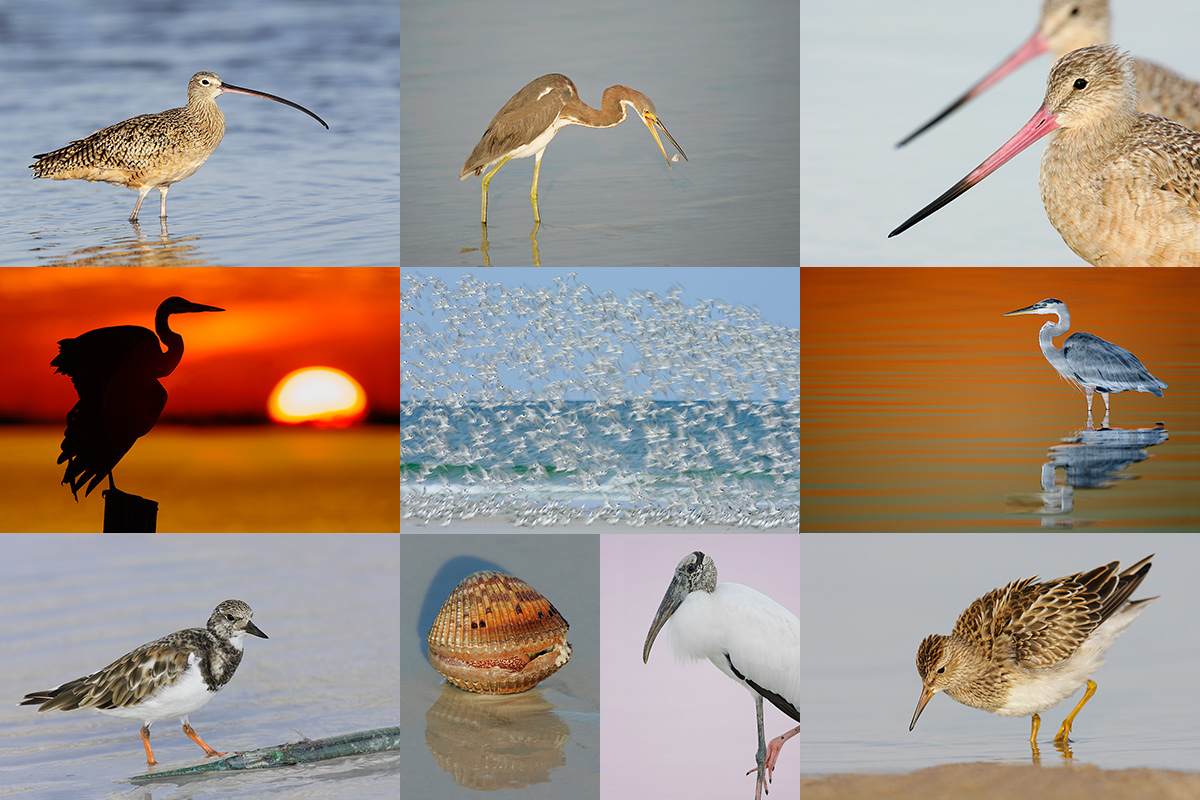 Obviously folks attending the IPT will be out in the field early and stay late to take advantage of sunrise and sunset colors. The good news is that the days are relatively short in late September. Click on the composite to enjoy a larger version.
Clockwise from upper left to center: Long-billed Curlew, juvenile Tricolored Heron, Marbled Godwits, Great Blue Heron, juvenile Pectoral Sandpiper, Wood Stork, smiling Sea Scallop, Ruddy Turnstone scavenging needlefish, Great Blue Heron sunset silhouette at my secret spot, and southbound migrant tern flock blur.
Early and Late
Getting up early and staying out late is pretty much a staple on all BIRDS AS ART Instructional Photo-Tours; on this particular trip we will get lots of sleep as the days are short. Being in the field well before the sun comes up and staying out until sunset will often present unique photographic opportunities, opportunities that will be missed by those who need their beauty rest. I really love it when I am leaving the beach on a sunny morning after a great session just as a carful or two of well-rested photographers arrive.
Help Support the Blog
Please help support my efforts here on the blog by remembering to click on the logo link above each time that you shop Amazon. That would be greatly appreciated. There is no problem using your Prime account; just click on the link and log into your Prime account. With love, artie
If In Doubt …
If in doubt about using the BAA B&H affiliate link correctly, you can always start your search by clicking here. Please note that the tracking is invisible. Web orders only. Please, however, remember to shoot me your receipt via e-mail.
Please Remember to use my Affiliate Links and to Visit the New BAA Online Store 🙂
To show your appreciation for my continuing efforts here, we ask, as always, that you get in the habit of using my B&H affiliate links on the right side of the blog for all of your photo and electronics purchases. Please check the availability of all photographic accessories in the New BIRDS AS ART Online Store, especially the Mongoose M3.6 tripod head, Wimberley lens plates, Delkin flash cards and accessories, and LensCoat stuff.
As always, we sell only what I have used, have tested, and can depend on. We will not sell you junk. We know what you need to make creating great images easy and fun. And please remember that I am always glad to answer your gear questions via e-mail.
I would of course appreciate your using our B&H affiliate links for all of your major gear, video, and electronic purchases. For the photographic stuff mentioned in the paragraph above, and for everything else in the new store, we, meaning BAA, would of course greatly appreciate your business. Here is a huge thank you to the many who have been using our links on a regular basis and those who will be visiting the New BIRDS AS ART Online Store as well.
Facebook
Be sure to like and follow BAA on Facebook by clicking on the logo link upper right. Tanks a stack.
Typos
In all blog posts and Bulletins, feel free to e-mail or to leave a comment regarding any typos or errors. Just be right :).