Stuff
Amazingly the pool has warmed up from a low of 70 degrees to a toasty 81 yesterday. I am swimming a slow half-mile every day.
Do consider using one of the B&H logo links below for your holiday photography shopping or the Amazon logo link on the right (or below) for household or clothing gifts.
DeSoto Early Winter IPT Late Registration Discount!
It is Just About the Last Second …
Please e-mail me directly if you are interested in learning about the substantial late registration discount for this IPT. I will be bringing my LensAlign unit and the complete lighting set-up and we will do some micro-adjusting and AF fine-tuning. Do consider joining us if you would like to do the same. See below for details. From Ed Dow via blog comment: For anyone contemplating the Fort Desoto trip, jump on it. I don't think anybody knows that area like Artie. I was pretty much new to bird photography and he got me into position to create many shots that I treasure.
BAA IPTs
The 2018 Fort DeSoto Early Winter IPT/Thursday December 7 through the morning session on Monday December 10, 2018: 3 1/2 DAYS: $1549. Limit 8/Openings: 5.
Falklands Land-based IPT DEC 22, 2018 thru JAN 5, 2019/Two Weeks: Sold out.
2019 San Diego 4 1/2-DAY BIRDS AS ART Instructional Photo-Tour (IPT) SUN JAN 20, 2019 thru and including the morning session on THURS JAN 24: 4 1/2 days: $2099. (Limit: 8/Openings: 1) Introductory Meet and Greet at 7:00pm on the evening before the IPT begins: THURS, 6 DEC.
The 2019 Hooptie Deux/Roseate Spoonbill Boat 3 1/2 DAY IPT — FEB 16 thru 19, 2019: $2599.00. Limit: 5 photographers/Openings: 1.
The New, Expanded 2019 UK Puffins, Gannets, & Red Kites IPT. Thursday June 27 (from EDI) through Tuesday, July 9, 2019 (on the ground; fly home on Wednesday July 10.): $9,999. Limit 10 photographers — needs four to run. Co-leader: Peter Kes.
The GALAPAGOS Photo Cruise of a Lifetime IPT/The Complete Galapagos Photographic Experience. July 23 to August 6, 2019 on the boat. 13 FULL and two half-days of photography: $14,499. Limit: 12 photographers/Openings: 4.
BIRDS AS ART
BIRDS AS ART is registered in the U.S. Patent and Trademark Office.
Selling Your Used Photo Gear Through BIRDS AS ART
Selling your used (or like-new) photo gear through the BAA Blog is a great idea. We charge only a 5% commission. One of the more popular used gear for sale sites charged a minimum of 20%. Plus assorted fees! Yikes. They went out of business. And e-Bay fees are now up to 13%. The minimum item price here is $500 (or less for a $25 fee). If you are interested please scroll down here or shoot us an e-mail with the words Items for Sale Info Request cut and pasted into the Subject line :). Stuff that is priced fairly — I offer pricing advice to those who agree to the terms — usually sells in no time flat. Over the past year, we have sold many dozens of items. Do know that prices on some items like the EOS-1D Mark IV, the old Canon 100-400, the old 500mm, the EOS-7D and 7D Mark II and the original 400mm DO lens have been dropping steadily. You can always see the current listings by clicking here or on the Used Photo Gear tab on the orange-yellow menu bar near the top of each blog post page.
Money Saving Reminder
If you need a hot photo item that is out of stock at B&H, would enjoy free overnight shipping, and would like a $50 discount on your first purchase, click here to order and enter the coupon code BIRDSASART at checkout. If you are looking to strike a deal on Canon or Nikon gear (including the big telephotos) or on a multiple item order, contact Steve Elkins via e-mail or on his cell at (479) 381-2592 (Eastern time) and be sure to mention your BIRDSASART coupon code and use it for your online order. Steve currently has several D850s in stock along with a Nikon 600mm f/4 VR. He is taking pre-orders for the new Nikon 500 P and the Nikon Z6 mirrorless camera body.
Gear Questions and Advice
Too many folks attending BAA IPTs and dozens of photographers whom I see in the field and on BPN, are–out of ignorance–using the wrong gear especially when it comes to tripods and more especially, tripod heads… Please know that I am always glad to answer your gear questions via e-mail. Those questions might deal with systems, camera bodies, accessories, and/or lens choices and decisions.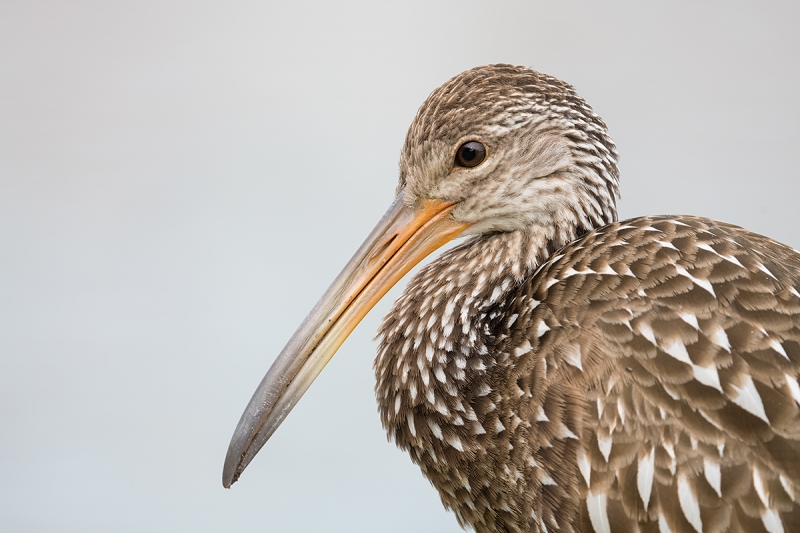 This image was created on the morning of Saturday December 1, 2018 at Lake Morton in Lakeland, FL. I used the hand held Nikon AF-S NIKKOR 500mm f/5.6E PF ED VR lens and my back-up (#2) Nikon D850. ISO 400. Matrix metering plus about one stop: 1/320 sec. at f/8 in Manual Mode. NATURAL AUTO WB at 9:31pm on a cloudy-bright morning.
Three AF points up and three to the right of center AF point/Single/Shutter Button/Continuous (AI Servo with Canon) AF as framed was active at the moment of exposure. The selected AF point was just below and slightly behind (but right on the same plane as) the bird's eye.
Nikon Focus Peaking fine-tune: +3. See the Nikon AF Fine-tune e-Guide here. Click on the image to enjoy a larger version.
Limpkin: head and shoulders portrait
Your browser does not support iFrame.
An Ari — artie Conundrum Explained
Ari — Arash Hazeghi — is a BPN Avian Moderator, one of the top birds in flight photographers in the world, and is much more technically knowledgeable about all things digital photography than me. Arash Hazeghi, Ph.D. is a senior electron device engineer. He received his MS.c. degree and Ph.D. degrees in Electrical Engineering in 2006 and 2011, respectively from Stanford University, Stanford, California. His pioneering research on carbon nanotubes and quantum capacitance have been cited many times. He is currently focused on the development of cutting edge memory technology.
In short, he ain't no dummy.
Arash has stated often that he sees no need to micro-adjust (M-A) or fine tune (F-T) his gear. He says often, "The lenses and bodies produce sharp images without any adjustments needed." I on the other hand will not even use a lens/camera body combination unless it has been focus fine-tuned (Nikon) or micro-adjusted (Canon).
Both of us routinely produce sharp, high quality image files. So how can you explain our seemingly contradictory and polar opposite views? Is there a possible explanation?
Yes there is. Ari concentrates on photographing birds in flight. He often uses a hand held 600mm f/4 lens often with 1.4X teleconverter. A 600 was his favorite weapon when he used Canon and remains so now that he switched to Nikon. Ari is most often photographing birds in flight at distances of from 60-80 feet.
On the other hand, I concentrate on photographing static subjects. My style is clean, tight, and graphic. I work hard to get very close to my subjects and use teleconverters extensively. With Canon I routinely used the 2X TC with my f/4 super-telephotos. With Nikon I rely more on the TC-E14 III and the TCE-17II more than on the TC-E20 III. Most commonly I am photographing birds at distances ranging from 15 to 50 feet and often work very close to the minimum focusing distance (MFD) of the lens.
As depth-of-field increases as the distance to the subject increases, Arash is rarely if ever affected by not having micro-adjusted or focus fine-tuned his gear because any errors in accurate focus are more than well-covered by depth of field. For example, when working with a full frame camera body at f/5.6 at a distance of 15 feet and a focal length of 840mm, the total depth of field in front of and behind the subject is 0.36 inches. When working with a full frame camera body at f/5.6 at a distance of 60 feet and a focal length of 840mm, the total depth of field in front of and behind the subject is 6.72 inches. Thus, when photographing relatively distant subjects the more than half a foot of depth of field will more than cover relatively small M-A or FT adjustments.
On the other hand, when I am head hunting as I am often wont to do, and as I did with today's featured image, having the correct M-A of F-T adjustment set is absolutely necessary for sharp success. And the same goes for those using teleconverters extensively. (I use them probably 90% of the time or more.) In general, Autofocus Adjustment (AFA) and Focus Fine-tune (FFT) values will be substantially greater with TCs than when testing the prime lens alone. And that goes double for folks using 2X TCs (aka doublers).
The Lesson
The lesson is that if you are able to get close to your avian subjects, enjoy working clean, tight, and graphic, and use teleconverters often, you need to be micro-adjusting your gear. If — like Arash — you concentrate on photographing birds in flight at a distance, the need for you to spend the time, effort, and expense of correctly determining an AFA or FFT value for each of your gear combinations drops drastically.
If you are in the former group you will surely want to check out the LensAlign/FocusTune kit here, the The LensAlign/FocusTune Micro-Adjusting Tutorial e-Guide here, and the The Nikon AF Fine-tune e-Guide here. The LensAlign/FocusTune kit is the only device that features True Parallel Alignment that will allow you to come up with precise AFA and FFT values with the help of the amazing FocusTune software. And both of my e-Guides will significantly reduce your learning curve.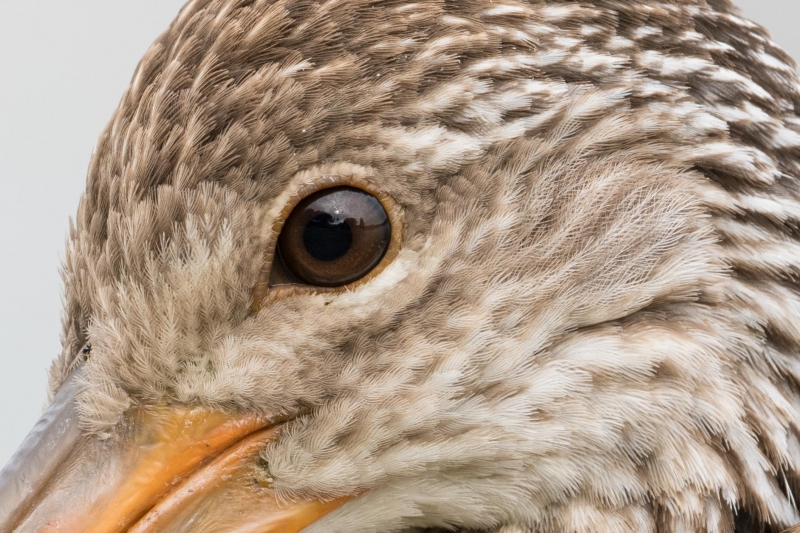 An unsharpened 100% crop of today's featured image
Your browser does not support iFrame.
FFD. And Nikon 500mm PF Sharpness
FFD (fine-feather detail) is an oft-discussed topic in the hundreds of critiques done weekly in the Avian Forum at BPN. As I concentrate on getting the eye sharp when creating my clean, tight, and graphic images often at point-blank range, my images sometimes get slammed for a lack of FFD (almost always due to a lack of adequate d-o-f when working near MFD.) That is why I recommend stopping down when you are very close to the subject. The FFD in the unsharpened 100% crop immediately above looks more than adequate (stopped down one full stop here to f/8) to me. Especially the ear coverts.
It is quite evident to me that the Nikon 500mm PF is one of the sharpest lenses I have ever used. Check out the dollar bill test images in Arash's updated review of the 500 PF here. It is no wonder that this lens is pre-order only and is virtually impossible to get right now. And with only a trickle of these lenses becoming available that situation may persist for quite some time. If you order or pre-order please use this link:
Nikon AF-S NIKKOR 500mm f/5.6E PF ED VR lens
or get in touch with Steve Elkins at Bedford Camera — see Money Saving Reminder above.
Help Support the Blog
Please help support my efforts here on the blog by remembering to click on the logo link above each time that you shop Amazon. That would be greatly appreciated. There is no problem using your Prime account; just click on the link and log into your Prime account. With love, artie
If In Doubt …
If in doubt about using the BAA B&H affiliate link correctly, you can always start your search by clicking here. Please note that the tracking is invisible. Web orders only. Please, however, remember to shoot me your receipt via e-mail.
Please Remember to use my Affiliate Links and to Visit the New BAA Online Store 🙂
To show your appreciation for my continuing efforts here, we ask, as always, that you get in the habit of using my B&H affiliate links on the right side of the blog for all of your photo and electronics purchases. Please check the availability of all photographic accessories in the New BIRDS AS ART Online Store, especially the Mongoose M3.6 tripod head, Wimberley lens plates, Delkin flash cards and accessories, and LensCoat stuff.
As always, we sell only what I have used, have tested, and can depend on. We will not sell you junk. We know what you need to make creating great images easy and fun. And please remember that I am always glad to answer your gear questions via e-mail.
I would of course appreciate your using our B&H affiliate links for all of your major gear, video, and electronic purchases. For the photographic stuff mentioned in the paragraph above, and for everything else in the new store, we, meaning BAA, would of course greatly appreciate your business. Here is a huge thank you to the many who have been using our links on a regular basis and those who will be visiting the New BIRDS AS ART Online Store as well.
Facebook
Be sure to like and follow BAA on Facebook by clicking on the logo link upper right. Tanks a stack.
Typos
In all blog posts and Bulletins, feel free to e-mail or to leave a comment regarding any typos or errors. Just be right :).