Stuff
It was cloudy dark and very windy on Sunday morning. We started out with some neat pleasing blur opportunities and then headed to my favorite morning backup location. The birds were right where I expected them. As it had started to spit cold rain pretty good we made sure to work with our back to the wind to keep our cameras dry. We all had rain tops. In the car. After about an hour we were were all chilled to the bone so we headed back early and spent about four hours micro-adjusting. The gang ordered in pizza while I had tuna with a few bites of crust with great tomato sauce on it.
After Instructor Nap Time we drove back to DeSoto and despite the cloudy conditions had a fabulous afternoon with a flock of tame shorebirds being the highlight until we started back to the cars and encountered a mega feeding spree close to the shore with both Brown and White Pelicans and several dolphins chasing and herding the baitfish. We made it back to the condo that Narayanan and I are sharing at about 6pm and did 90 minutes of ACR and Photoshop instruction. We are planning a short early morning session for Monday as Narayanan and Dietmar needs to be headed home for their mid-afternoon flights. Deidre Bryan who will be driving back home to Tifton, Georgia, nick-named me Grumpy artie-Bob. 🙂
So on the first day we had perfect weather and few birds and on the last day in horrible conditions with tons of birds And we killed. Go figger.
The iPhone Photography e-Guide Update
Thanks to the dozens of folks who order the i-Phone e-Guide yesterday. Please understand that those who purchased the new guide after lunch on Friday will receive their download links on Monday morning. For those who have already received their guides we would love to receive your feed back via e-mail. In addition, we would be glad to answer your iPhone questions, also via e-mail.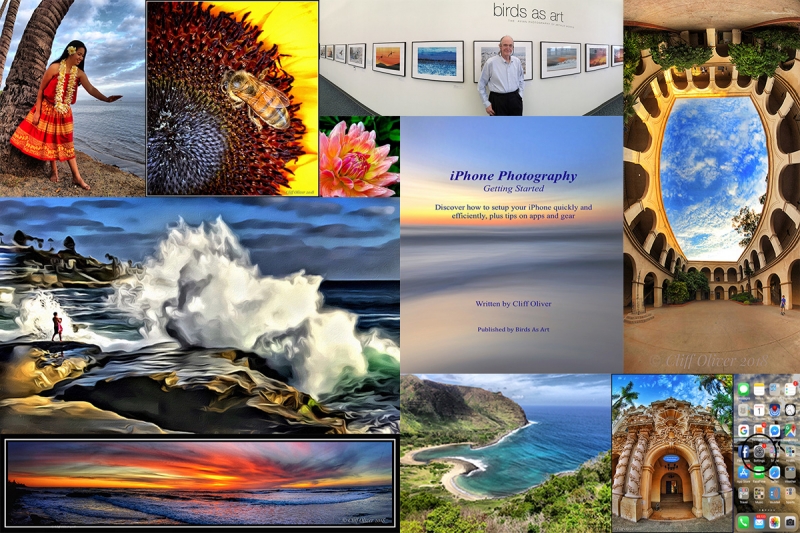 The iPhone Photography e-Guide
If you missed the long-awaited announcement yesterday, click here to learn about Cliff Oliver's great new iPhone e-Guide. To order your copy of the The iPhone Photography e-Guide, please click here. The PDF is sent link by e-mail for downloading: the file is relatively huge at 216 MB.
The 2018 B&H/BAA Bird Photography Holiday Contest!
Thanks to the generosity of the great folks at B&H, I am proud to announce the first-ever B&H/BAA Bird Photography Holiday Contest. The rules are simple:
1-Anyone can enter one or two of their favorite avian images that were created in 2018. As below, each image must be sent in a separate e-mail.
2-Image clean-up and repair is permitted.
3-Send you JPEGs in two separate e-mails only by clicking on this link: Contest Entry e-mail.
4-Please size your properly sharpened JPEGs as follows: 1200 high or wide less than 600 kb.
5-If you do not follow the instructions above to the letter your images will not be judged and you will not receive any notification.
6-There is one judge and you can guess who it is.
7-Here are the five prizes:
1st place: a $100 B&H gift certificate
2nd through 4th place: a $50 B&H gift certificate
All prizes will be awarded.
8- Entries my be submitted from now until January 16, 2019. Happy New Year! Please remember to do your holiday shopping at B&H using a BAA affiliate link or by clicking here or on the banner just below.
Good luck.
BAA IPTs
The 2018 Fort DeSoto Early Winter IPT/Thursday December 7 through the morning session on Monday December 10, 2018: 3 1/2 DAYS: $1549. Limit 8/Openings: 5.
Falklands Land-based IPT DEC 22, 2018 thru JAN 5, 2019/Two Weeks: Sold out.
2019 San Diego 4 1/2-DAY BIRDS AS ART Instructional Photo-Tour (IPT) SUN JAN 20, 2019 thru and including the morning session on THURS JAN 24: 4 1/2 days: $2099. (Limit: 10/Openings: 4) Introductory Meet and Greet at 7:00pm on the evening before the IPT begins: THURS, 6 DEC.
The 2019 Hooptie Deux/Roseate Spoonbill Boat 3 1/2 DAY IPT — FEB 16 thru 19, 2019: $2599.00. Limit: 5 photographers/Openings: 2.
The New, Expanded 2019 UK Puffins, Gannets, & Red Kites IPT. Thursday June 27 (from EDI) through Tuesday, July 9, 2019 (on the ground; fly home on Wednesday July 10.): $9,999. Limit 10 photographers — needs four to run. Co-leader: Peter Kes.
The GALAPAGOS Photo Cruise of a Lifetime IPT/The Complete Galapagos Photographic Experience. July 23 to August 6, 2019 on the boat. 13 FULL and two half-days of photography: $14,499. Limit: 12 photographers/Openings: 4.
BIRDS AS ART
BIRDS AS ART is registered in the U.S. Patent and Trademark Office.
Selling Your Used Photo Gear Through BIRDS AS ART
Selling your used (or like-new) photo gear through the BAA Blog is a great idea. We charge only a 5% commission. One of the more popular used gear for sale sites charged a minimum of 20%. Plus assorted fees! Yikes. They went out of business. And e-Bay fees are now up to 13%. The minimum item price here is $500 (or less for a $25 fee). If you are interested please scroll down here or shoot us an e-mail with the words Items for Sale Info Request cut and pasted into the Subject line :). Stuff that is priced fairly — I offer pricing advice to those who agree to the terms — usually sells in no time flat. Over the past year, we have sold many dozens of items. Do know that prices on some items like the EOS-1D Mark IV, the old Canon 100-400, the old 500mm, the EOS-7D and 7D Mark II and the original 400mm DO lens have been dropping steadily. You can always see the current listings by clicking here or on the Used Photo Gear tab on the orange-yellow menu bar near the top of each blog post page.
Money Saving Reminder
If you need a hot photo item that is out of stock at B&H, would enjoy free overnight shipping, and would like a $50 discount on your first purchase, click here to order and enter the coupon code BIRDSASART at checkout. If you are looking to strike a deal on Canon or Nikon gear (including the big telephotos) or on a multiple item order, contact Steve Elkins via e-mail or on his cell at (479) 381-2592 (Eastern time) and be sure to mention your BIRDSASART coupon code and use it for your online order. Steve currently has several D850s in stock along with a Nikon 600mm f/4 VR. He is taking pre-orders for the new Nikon 500 P and the Nikon Z6 mirrorless camera body.
Gear Questions and Advice
Too many folks attending BAA IPTs and dozens of photographers whom I see in the field and on BPN, are–out of ignorance–using the wrong gear especially when it comes to tripods and more especially, tripod heads… Please know that I am always glad to answer your gear questions via e-mail. Those questions might deal with systems, camera bodies, accessories, and/or lens choices and decisions.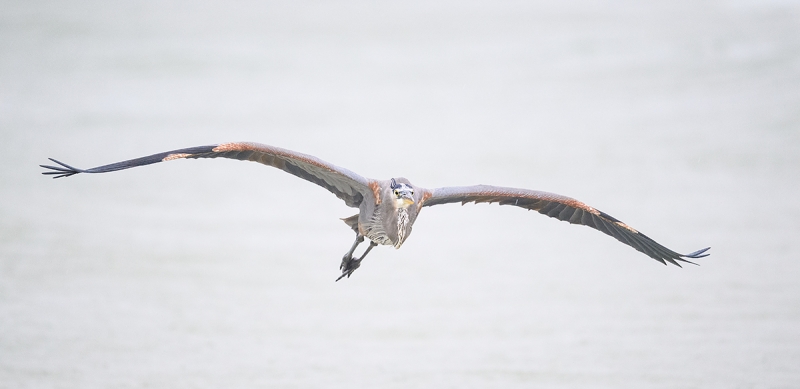 This image was created with on the morning of Day 3 of the Early Winter DeSoto IPT with the hand held Nikon AF-S NIKKOR 500mm f/5.6E PF ED VR lens and the rugged, blazingly fast Nikon D5 with Dual XQD Slots.AUTO ISO at ? Matrix metering plus 2 1/3 stops: 1/500 sec. at f/5.6 in S Mode(Shutter Priority — Tv mode in Canon). Auto 1 WB at 10:11am on a cloudy/very dark rainy morning.
Center Group (grp) AF/Shutter button AF as framed was active at the moment of exposure. The array was centered squarely on the bird's face with the lower AF point on its neck. I kept my 500 PF/D5 on my shoulder via an RS-7 Curve Breathe Strap. Click on the image to see a larger version.
Focus peaking AF Fine-tune: -1. See the Nikon AF Fine-tune e-Guide here.
Incoming Great Blue Heron
Your browser does not support iFrame.
The Situation
We were photographing terns and gull and Snowy Egrets that were hunkered down a bit out of the wind. When it is windy, birds are usually reluctant to fly and will often allow very close approach. I had seen a Great Blue Heron near Battery Bigelow and when I noticed it flying towards us, I screamed it out to the group. Working in shutter priority mode in dark conditions is a great option as you can set a slow shutter speed for blurs or a faster shutter speed for sharp flight and action images; you do need to dial in the correct EC for a given situation and the camera will set the correspondingly correct ISO. If you choose to work in Manual mode in such situations you will have to spin a lot more dials as you will always need to change both your shutter speed and the ISO value, often significantly.
Note that most good bird photographers advise using shutter speeds of at least 1/1600 to 1/3200 second for flight photography. At times, I opt to go as low as 1/500 second in order to avoid insanely high ISOs and am often able to produce sharp images. Today's featured image with the 500 PF/D5 combination was one of a seven image burst. The first frame was a bit soft, the next six were razor sharp on the eye. I enjoyed the fast frame rate of the D5.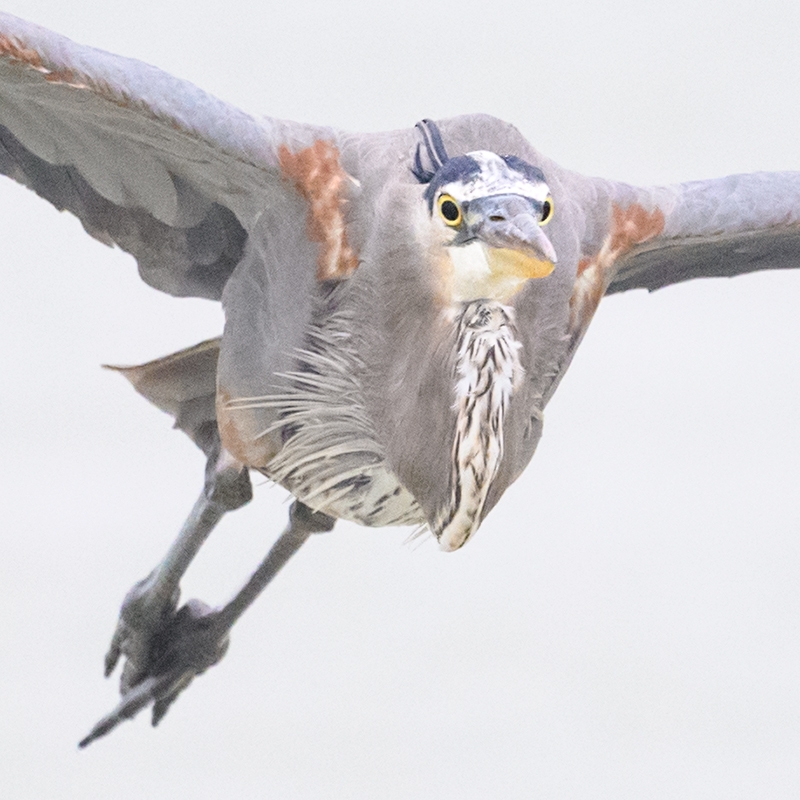 Unsharpened tight crop of Incoming Great Blue Heron
Your browser does not support iFrame.
What's the ISO?
After reading the account above and considering both the enlarged full frame image and the tight crop above, please leave a comment and take a guess at the ISO that the camera set for today's featured image.
Help Support the Blog
Please help support my efforts here on the blog by remembering to click on the logo link above each time that you shop Amazon. That would be greatly appreciated. There is no problem using your Prime account; just click on the link and log into your Prime account. With love, artie
If In Doubt …
If in doubt about using the BAA B&H affiliate link correctly, you can always start your search by clicking here. Please note that the tracking is invisible. Web orders only. Please, however, remember to shoot me your receipt via e-mail.
Please Remember to use my Affiliate Links and to Visit the New BAA Online Store 🙂
To show your appreciation for my continuing efforts here, we ask, as always, that you get in the habit of using my B&H affiliate links on the right side of the blog for all of your photo and electronics purchases. Please check the availability of all photographic accessories in the New BIRDS AS ART Online Store, especially the Mongoose M3.6 tripod head, Wimberley lens plates, Delkin flash cards and accessories, and LensCoat stuff.
As always, we sell only what I have used, have tested, and can depend on. We will not sell you junk. We know what you need to make creating great images easy and fun. And please remember that I am always glad to answer your gear questions via e-mail.
I would of course appreciate your using our B&H affiliate links for all of your major gear, video, and electronic purchases. For the photographic stuff mentioned in the paragraph above, and for everything else in the new store, we, meaning BAA, would of course greatly appreciate your business. Here is a huge thank you to the many who have been using our links on a regular basis and those who will be visiting the New BIRDS AS ART Online Store as well.
Facebook
Be sure to like and follow BAA on Facebook by clicking on the logo link upper right. Tanks a stack.
Typos
In all blog posts and Bulletins, feel free to e-mail or to leave a comment regarding any typos or errors. Just be right :).