What's Up?
Back home and working hard. Swimming every day. If you have a moment, please check out yesterday's blog post here and let us know which of the six featured images is your favorite and why? Only two folks left their opinions yesterday … The blog is designed to be interactive; the more folks who comment, the more everyone learns — including me.
Last Gatorland In-the-Field Session of the Season: Sunday May 12, 2019.
Join me at Gatorland this Sunday and learn a ton. It will be prime time for Cattle Egrets in breeding plumage, we might even have a shot at some Little Blue Herons, and there will still be lots of chicks of all sizes. There were still some nests with eggs on my last visit. Learn to shoot in the shade on sunny days! Most folks who visit Gatorland simply have no clue. Join me to learn how to photograph at easily accessible rookeries. An intermediate telephoto lens is all that you will need. I will have two of those and my 600 VR. Learn to think and see like a pro. A loaner FlexShooter Pro will be available.
Morning Session — 7-10am: $200.00
Morning Session with a 90-minute working lunch including image review and Photoshop: $300.00.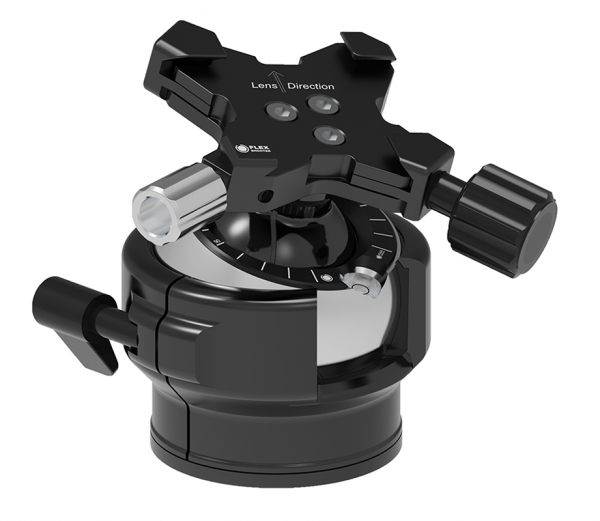 FlexShooter Pro
You can order your FlexShooter Pro from the BAA Online Store right now for $599.00 plus the shipping by clicking here, or by phone at 863-692-0906. We started with twenty units and expect the rest of those to be gone quickly as we have sold four already by word of mouth …
More on the FlexShooter Pro
We have already sold 19 of the 20 heads that we received in our first shipment. We have re-ordered and should have them in stock by the very end of next week (or the following Monday at worst). Folks are encouraged to place their orders now by phone; your card will not be charged until your head ships. Once folks have a chance to play with a friend's FlexShooter Pro, or meet me in the field with my 600 VR, I expect sales to boom. Think that I am full of it? Do you remember when everyone used Gitzo tripods? Today, all that you see in the world of nature photography are Induro tripods. Folks always gravitate to gear that is better, well made, more efficient, and less expensive …
This Just In!
We are now officially sold out. I do have one barely used FlexShooter Pro head, the one with the very slightly smaller knob (11/16″ vs 7/8″) for sale. If I had not mentioned the difference in the size of the knobs nobody would have noticed. In any case, if you would like to save $50 I'd be glad to sell it for $549.00. Phone orders only to 863-692-0906 between 10:15am and 1:00pm Friday or any time on Monday (if it lasts that long). Again, if you want to be assured of getting one from our next shipment it would be to place a phone order as above. Your card will not be billed until your item ships.
A Comment by Daniel Gomez-Ibanez
I've had a chance to try the FlexShooter Pro that I ordered from BAA a few times during the last week. I am using it in place of my 4th Generation Design Mongoose 3.6. I really like the new head, not only because it maintains the level but especially because it is much, much easier to adjust the tension than on the Mongoose. It is easy to find and set exactly the right amount of tension on the rig — in my case a Canon 800mm f/5.6 or a 300mm f/2.8 (sometimes with 2x extension) and the 1D-X Mark 2. I think the smoother tension makes it easier to keep the rig perfectly steady when photographing with the FlexShooter (as compared to the Mongoose). Sometimes the Mongoose jiggled a bit even when I was using your good bracing (sharpness) techniques, but that doesn't seem to happen with the FlexShooter. I'm wondering if you've experienced the same advantage with the FlexShooter's tension adjustment. It is nice also having the FlexShooter's single tension knob rather than two as on the Mongoose. Has that been a factor aS FAR AS using the new ball head for flight photos?
Thanks for making this good ballhead easily available in the U.S. — and at no greater cost than ordering it from Hungary.
My Reply
Thanks for your purchase Daniel. Yes, the tension settings on the FlexShooter are mega. And I agree that the single control is a big plus; as I've been saying, the Silver Bullet Knob is our best friend! I used the Mongoose for well more than a decade because it was the best and lightest available, and it was and is a lot, lot better than some of the crappy knock-offs, and a lot, lot lighter than the Wimberley V2. And yes again — both the smooth, easily adjustable tension and the ease of operation were factors that I considered before deciding to go to the FlexShooter Pro full time.
YAW, and thanks again for your purchase. I hope to see you on an IPT one of these days.
with love, artie
ps: Please note that we are able to sell them for less than if you had to have them shipped from Hungary . 🙂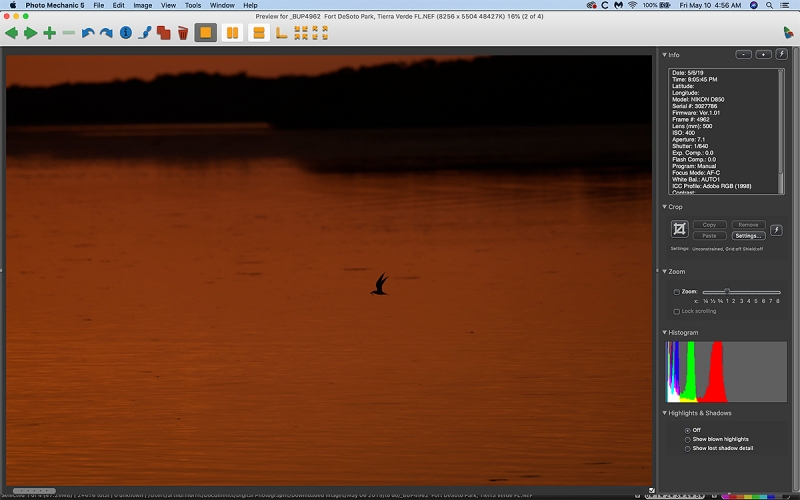 This image was created on May 6, 2019, on the last afternoon of the DeSoto Sandbar Secrets IPT. I used the hand held Nikon AF-S NIKKOR 500mm f/5.6E PF ED VR lens and my souped-up Nikon D850. ISO 400. Matrix metering as framed: 1/640 sec. at f/7.1 in Manual mode was, as you can see by the histogram, close to three stops underexposed. AUTO1 WB at 8:06pm just after sunset.
Nikon Focus Peaking fine-tune value: +4. See the Nikon AF Fine-tune e-Guide here.
One down and one to the right of center Group (grp) AF/Continuous (C in Nikon/AI Servo with Canon) was active at the moment of exposure. See the Nikon Capture NX-D screen capture below to learn a ton.
Photo Mechanic screen capture
Click on the image if you would like to read the fine print.
Your browser does not support iFrame.
Your browser does not support iFrame.
Questions
#1: What is the bird?
##2: Would you keep this image? (There were no others in the series.) Why or why not?
#3: If you have any idea has to how I wound up so many stops under-exposed, please leave a comment?
If In Doubt …
If in doubt about using the BAA B&H affiliate link correctly, you can always start your search by clicking here. Please note that the tracking is invisible. Web orders only. Please, however, remember to shoot me your receipt via e-mail.
Please Remember to use my Affiliate Links and to Visit the New BAA Online Store 🙂
To show your appreciation for my continuing efforts here, we ask, as always, that you get in the habit of using my B&H affiliate links on the right side of the blog for all of your photo and electronics purchases. Please check the availability of all photographic accessories in the New BIRDS AS ART Online Store, especially the Mongoose M3.6 tripod head, Wimberley lens plates, Delkin flash cards and accessories, and LensCoat stuff.
As always, we sell only what I have used, have tested, and can depend on. We will not sell you junk. We know what you need to make creating great images easy and fun. And please remember that I am always glad to answer your gear questions via e-mail.
I would of course appreciate your using our B&H affiliate links for all of your major gear, video, and electronic purchases. For the photographic stuff mentioned in the paragraph above, and for everything else in the new store, we, meaning BAA, would of course greatly appreciate your business. Here is a huge thank you to the many who have been using our links on a regular basis and those who will be visiting the New BIRDS AS ART Online Store as well.
Facebook
Be sure to like and follow BAA on Facebook by clicking on the logo link upper right.
Typos
In all blog posts and Bulletins, feel free to e-mail or to leave a comment regarding any typos or errors. Just be right :).