What's Up?
I woke very early on Sunday May 12 and met retired Boeing materials engineer Terry Tsuchiyama — visiting from Seattle, WA — for a morning of instruction at Gatorland. As on my last visit, I found fewer birds than in any year in recent memory. But again, the photography was very good to excellent for those able to spot the good situations. We had a great time and Terry particularly enjoyed our working lunch. He had wanted to learn the NeatImage noise reduction techniques that I use, those detailed in Arash Hazeghi's The Professional Post Processing e-Guide Based on NeatImage V 8.2. As this is an advanced technique, I created a six-minute Camtasia MP.4 video just for Terry. To introduce folks to our MP.4 videos I'd be glad to send all a free copy. Simply shoot me an e-mail to get your free copy.
We had so much fun that I did not get home from the "morning session" until 3:30pm. (I-4 was standing still from Orlando seemingly to Tampa so I had to take the scenic route. After my nap I was greeted by an afternoon of thunder and lightning so I wound up having dinner first and then getting in the pool when it was just about dark for a quick 50 lengths. On Saturday I did an even 100. 88 lengths is one mile. But I swim very slowly.
For sure I was the only person on the planet (aside from Steve Kerr and the rest of the Golden State Warriors) to believe that the Warriors without their injured superstar Kevin Durant but with Steph Curry and Klay Thompson and Draymond Green would vanquish the Houston Rockets (can you say James Harden and CP3?), their bitter rivals, from the NBA playoffs in Game 6 (at Houston no less!) But that is exactly what they did to the tune of 118 to 113. Hooray.
Like Puffins?
Scroll down to save a ton of money.
FlexShooter Pro Update
By first leveling the tripod platform and then leveling the FlexShooter Pro via the large silver ball, I was able to reposition my tripod on the boardwalk at Gatorland with impunity and was ready to go instantly with everything square to the world.
Not surprisingly, we have sold all twenty FlexShooter Pros that we received with our first shipment. Another twenty are on the way as we speak.Two of those are already accounted for. Folks are encouraged to place their orders now by phone; your card will not be charged until your head ships. Once folks have a chance to play with a friend's FlexShooter Pro, or run across me in the field with my 600 VR, I expect sales to boom. Think that I am full of it? Do you remember when everyone used Gitzo tripods? Today, all that you see in the world of nature photography are Induro tripods. Folks always gravitate to gear that is better, well made, more efficient, and less expensive …
I do have one barely used FlexShooter Pro head, the one with the very slightly smaller knob (11/16″ vs 7/8″) for sale. If I had not mentioned the difference in the size of the knobs, nobody would have noticed. In any case, if you would like to save $50, I'd be glad to sell it for $549.00. Phone orders only: 1-863-692-0906 Saturday or Sunday afternoon or any weekday.
BIRDS AS ART
BIRDS AS ART is registered in the U.S. Patent and Trademark Office.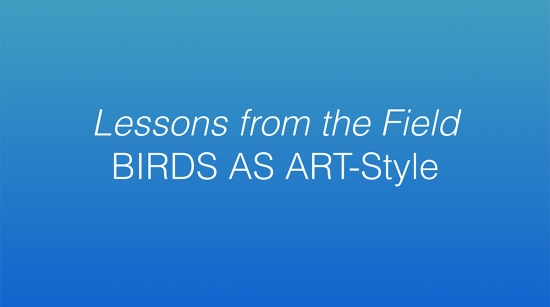 Lessons From the Field/BIRDS AS ART Style is a 1 hour, 15 minute, 314 image,
click and play MP4 video
Lessons From the Field/BIRDS AS ART Style: $10.00
Click here to order or see the Save $10 Bundle offer below.
Lessons From the Field/BIRDS AS ART Style is a 1 hour, 15 minute click and play MP4 video. It is available here in the BAA Online Store, by phone order, or by sending a Paypal for $10.00 to birdsasart@verizon.net. As the file is a large one, be sure to upload it when you have a good internet connection.
The video features 314 of artie's best images, educational and otherwise. Based on his 35 years of in-the-field experience, it covers all the basics along with many fine points. Are you making mistakes that give you no chance to create a great image? Learning to avoid those and learning to think like a pro will make you a better photographer. If you purchase and study the video, it will surely prove to be the best ten dollars you've ever spent on photography.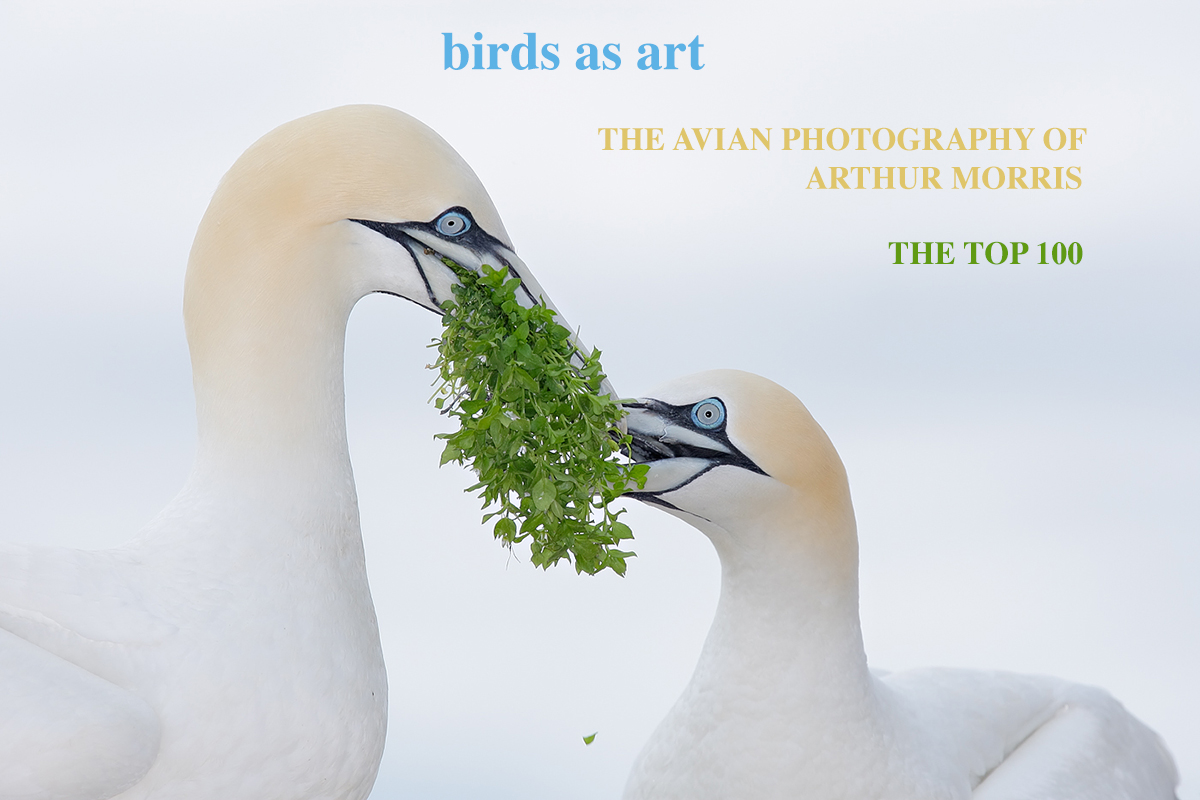 birds as art: The Avian Photography of Arthur Morris/The Top 100:
Save Ten Bucks!
Order the Lessons From the Field MP4 video and add a copy of the birds as art: The Avian Photography of Arthur Morris/The Top 100 (via convenient download — normally sells for $20.00) for an additional 10.00.
Order the bundle for $20.00 by clicking here.

Money Saving Reminder
If you need a hot photo item that is out of stock at B&H, would enjoy free overnight shipping, and would like a $50 discount on your first purchase, click here to order and enter the coupon code BIRDSASART at checkout. If you are looking to strike a deal on Canon or Nikon gear (including the big telephotos) or on a multiple item order, contact Steve Elkins via e-mail or on his cell at (479) 381-2592 (Eastern time) and be sure to mention your BIRDSASART coupon code and use it for your online order. Steve currently has several D850s in stock along with a Nikon 600mm f/4 VR. He is taking pre-orders for the new Nikon 500 P and the Nikon Z6 mirrorless camera body.
Booking.Com
Many IPT folks have been using the Booking.Com link below to get great rates and save a handsome $25.00 in the process. If you too would like to give Booking.Com a shot, click here and to earn a $25 reward on your first booking. Thanks to the many who have already tried and used this great service.
Airbnb
I enjoyed another great inexpensive AirBNB on the recently concluded 2019 Fort DeSoto Sandbar Secrets IPT. For the past year, I have been using AirBNB for all of my travel lodging needs. Everyone on the Fort DeSoto Spring IPT stayed at AirBNB properties in Gulfport. Airbnb lists more than 4.5 million homes across 200 countries; you'll find spacious, affordable options for every occasion. With Airbnb you will travel with confidence as reviews from past guests help you find the right fit. Once you do, their secure messaging makes it easy to coordinate with your host. And Airbnb support teams are available 24/7. And this morning, I made a 17-day reservation for an Airbnb condo for San Diego, 2020. I am staying with Rick again: his place has lots of room, a full kitchen, two bedrooms, and great WiFi. All for a lot less than the price of a chain hotel.
Yikes. I almost forgot the best part: Airbnb rates average less than half of even the least expensive chain hotels and motels. If you would like to save $40 on your first booking sign up by using this link: Airbnb. Airbnb does charge clean-up and service fees that make short stays less attractive bargains than long stays.
Those who prefer to stay in a motel or hotel are invited to use the Booking.com link above to save $25.00.
Gear Questions and Advice
Too many folks attending BAA IPTs and dozens of photographers whom I see in the field and on BPN, are–out of ignorance–using the wrong gear especially when it comes to tripods and more especially, tripod heads… Please know that I am always glad to answer your gear questions via e-mail. Those questions might deal with systems, camera bodies, accessories, and/or lens choices and decisions.
Binocular Vision in Herons and Egrets
I first came up with the concept for this image while lying on my back on the Sanibel Fishing Pier shooting up at a Great Egret. That was with film on a Southwest Florida IPT about a zillion years ago with friend Ellen Anon co-leading. Such images are possible whenever you find a situation where the bird is perched above you. I was standing at full height for this one.
Adapted from the Nature Watch blog here, posted by Greg Dodge on January 25, 2012
What's the last thing a fish sees?
Image #1 above clearly illustrates the fact that herons have binocular vision and can see objects beyond and below their bills, helpful if you make your living plucking fish out of the water. Among land or air based predators binocular vision is the norm. Herons' (and egrets") eyes are placed on the sides of their heads allowing them to see potential trouble heading their way from the side. They are however, far enough forward that both eyes can be used to peer down into the water at their prey. Two eyes are better than one when trying to gauge position and distance.
Birds such as mallards, and mammals like rabbits, have their eyes placed high and laterally dead center on their heads allowing them a 360 degree view of the world. It's tough to sneak up on either. Although herons can't see directly behind themselves, a simple turn of that long flexible neck lets them quickly check out anything sneaking up from behind. They give up some of their ability to see potential predators approaching from the rear in order to have binocular vision, but you still have be be on your tippy toes to sneak up on them.
Loving the SONY a7R iii with the 1.4X FE Teleconverter
Though it has taken me a while to embrace the SONY a7R iii, I have become increasingly happy with the images and the image files made with this 42MP Mirrorless Digital camera body. Though neither the AF system nor the frame rate with the a7R iii are as fast as with the Sony Alpha a9, the more I use the a7 R iii the more I like it. I killed with it at Gatorland yesterday morning. Images soon.
I love the fine feather detail, the ability to withstand even large crops, and especially the color. The fact that it is eminently effective with the Sony FE 1.4x teleconverter is a huge plus. With the TC you get accurate AF across 93% of the frame.
That Image #2 is slightly sharper on the near wing than on the bird's head is due to operator error. I was not able to properly frame the image when the bird unexpectedly jumped forward … Selectively sharpening the face with a Contrast Mask helped for web presentation.
The SONY a7R iii with the 1.4X FE Teleconverter for Flight Photography
I was glad to see that the a7R iii/FE 1.4X TC, SONY 100-400 OSS combo is viable for photographing birds in flight. I am not quite sure what is so different about doing flight with this SONY gear, but with practice, I am getting better and better with each session. I created lots of flight keepers on the afternoon of May 7. I am liking the SONY a7R iii with the 100-400 OSS combo that my seller's remorse over my Nikon 80-400 VR is fading quickly … And we will see in a future blog post that it is deadly for close work as well.
Your Favorite?
Which of today's three featured images is your favorite? Be sure to let us know why.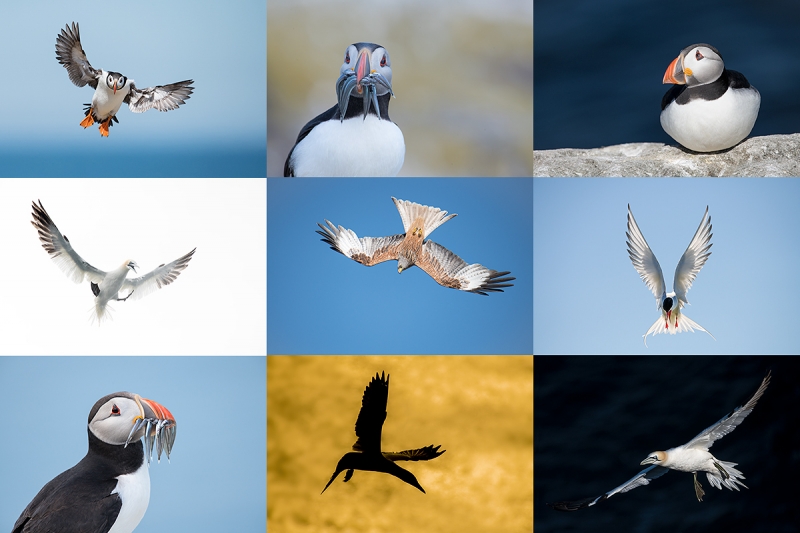 Images and card design copyright: Arthur Morris/BIRDS AS ART. All of the images on this card were created on the 2018 UK Puffins and Gannets IPT
The New, Expanded 2019 UK Puffins and Gannets IPT. Seahouses, Bempton Cliffs, and the Dunbar, Scotland Gannet boat to Bass Rock! Thursday June 27 (from EDI) through Tuesday, July 9, 2019 (on the ground; fly home on Wednesday July 10.): $9,999. Limit 5 photographers/Openings: 1
Please e-mail to learn about the very large late-registration discount
Join me in the UK in late June and early July 2019 to photograph Atlantic Puffin, Common Murre, Razorbill, Shag, and Northern Gannet, Red Kite, and more both in flight and at close range. We will also have great chances with Arctic and Sandwich Terns, both with chicks of all sizes; Black-headed, Lesser-Black-backed, and Herring Gulls, many of those chasing puffins with fish; Black-legged Kittiwake with chicks; plus Grey Seal. There will be tons of great flight photography. As on all IPTs, if you pay attention, you will learn a ton, especially about sky conditions and the relationship between light angle and wind direction and their effects on flight photography.
Why go all the way to Machias Seal Island off the coast of Maine, endure a two-hour boat ride, and have to photograph Atlantic Puffins from a cramped blind usually in bright sun (and well off sun angle) when you can hop a red-eye flight from Newark, NJ and be in Edinburgh, Scotland early the next morning. First we drive down to Bridlington for easy access to Bempton Cliffs where our primary targets will be Northern Gannet in flight. We will also get to photograph Razorbill, Northern Fulmar, Herring Gull, and Black-legged Kittiwake. While in Bridlington we will spend one afternoon visiting a Red Kite feeding station that should provide lots of flight photography action.
While in Bridlington we will staying at the White Horse Inn in Cranswick, about twenty minutes from Bempton Cliffs. After 3 1/2 days of photography there, we drive down to Seahouses in Northumberland to the two lodges that will be our home base for a week. After a short boat ride each day we will have hundreds of puffins posing at close range all day, every day — usually in ideal cloudy-bright conditions. While we are in Seahouses we will do six puffin/seabird trips, all weather permitting of course; last year we did not miss a single landing. In five years we have averaged losing less than one half day per year to bad weather. We land at Staple Island in the mornings and then sail over to Inner Farnes for our afternoon sessions. In addition, we may enjoy a session or two photographing nesting Black-legged Kittiwakes at eye level from a rocky beach in Seahouses.
In Seahouses, we stay 7 nights in gorgeous, modern, upscale lodges with Wi-fi. They are beyond lovely with large living areas and lots of open space for the informal image sharing and Photoshop sessions. The bedrooms are decent-sized. Each lodge has one double bedroom and two twin bedrooms. (See the single supplement info below.) At the lodges we cook our own breakfasts each morning and prepare our own lunches to be brought on the six puffin boat trips. For dinners we will alternate cooking in the lodges with fine dining at several excellent local restaurants. We stay two nights at the Marston's Inn in Dunbar. We will enjoy a fine-dining Thank You dinner at the Dunbar Hotel on the Tuesday evening before we fly home.
On the morning of Monday, July 8, 2019, the plan is to sleep late, pack, and head up to Dunbar Harbor, Scotland for lunch and an afternoon gannet boat chumming trip: flight photography until you cannot lift your camera. The next morning, Tuesday July 9, we will enjoy our second gannet boat chumming trip (both weather permitting). On both trips we will enjoy great views of the huge gannetry at Bass Rock. Included will be two nights lodging at the Pine Martin by Marston's Inn in Dunbar. Very early on the morning of Wednesday, July 10, we will drive up to Edinburgh Airport so that everyone can make their flights home. No moaning please. You will need a flight that leaves at 8:30am or later. Not too much later is generally best.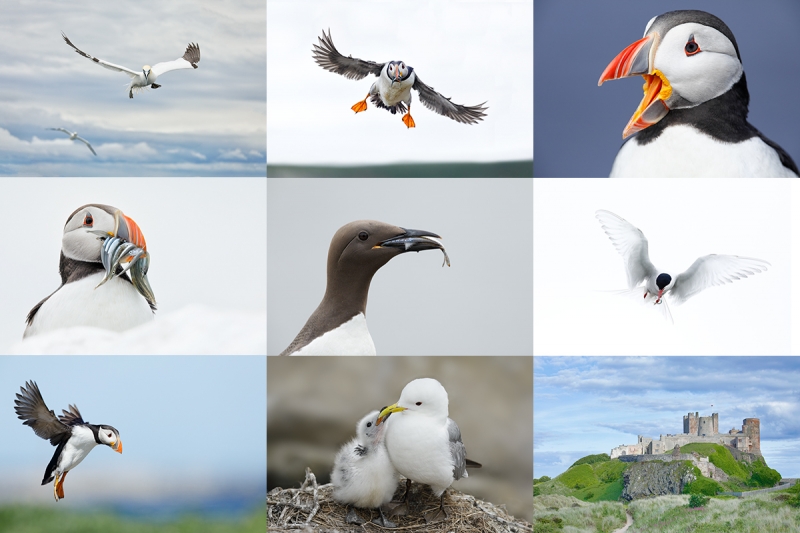 Images and card design copyright: Arthur Morris/BIRDS AS ART. All images were created on the 2017 UK Puffins and Gannets IPT
The Details
This IPT is all-inclusive except for your airfare and alcoholic beverages. All ground transportation, lodging costs, meals, your National Trust membership, and all boat, entry, and landing fees are included. Weather permitting, we will enjoy three and one-half days (at least six sessions in all) at Bempton Cliffs, an afternoon with the Red Kites, six full days on the puffin boats, one amazing afternoon gannet chumming trip, and one spectacular morning gannet chumming trip.
IPT Details
If you are good to go sharing a room–couples of course are more than welcome, heck, we actually need two couples — please send your non-refundable $2,000/person deposit check now to save a spot. Please be sure to check your schedule carefully before committing to the trip and see the travel insurance info below. Your balance will be due on February 28, 2019. Please make your check out to "Arthur Morris" and send it to Arthur Morris/BIRDS AS ART, PO Box 7245, Indian Lake Estates, FL, 33855.
Please shoot me an e-mail if you are good to go or if you have any questions.
Travel Insurance
Travel insurance for big international trips is highly recommended as we never know what life has in store for us. I strongly recommend that you purchase quality insurance. Travel Insurance Services offers a variety of plans and options. Included with the Elite Option or available as an upgrade to the Basic & Plus Options you can also purchase Cancel for Any Reason Coverage that expands the list of reasons for your canceling to include things such as sudden work or family obligation and even a simple change of mind. My family and I use and depend on the great policies offered by TIS whenever we travel. You can learn more here: Travel Insurance Services. Do note that many plans require that you purchase your travel insurance within 14 days of our cashing your deposit check or running your credit card. Whenever purchasing travel insurance, be sure to read the fine print carefully even when dealing with reputable firms like TSI.
I truly hope that you can join me on this exciting venture.