What's Up?
The weather here has been clousy. On Monday I got in a late 70-length swim when the lightning and thunder finally quit. I have not been down to the lake in days …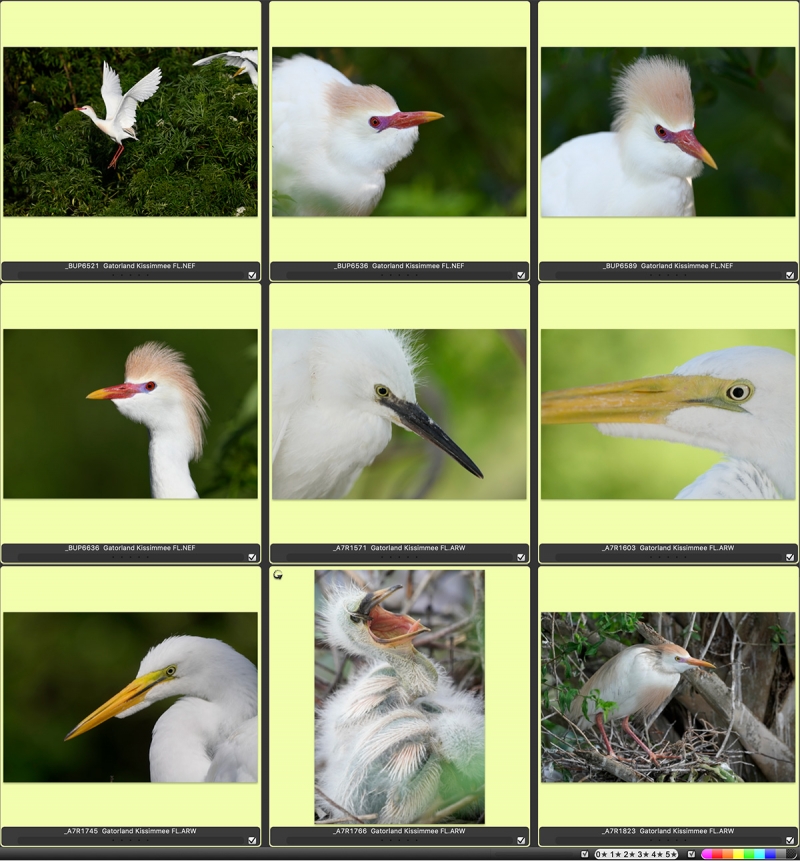 Clockwise from top left to center: breeding plumage Cattle Egret in flight, breeding plumage Cattle Egret head portrait, breeding plumage Cattle Egret head, portrait, Great Egret large chick head portrait, worn fading Cattle Egret on the nest, small Snowy Egret chick squawking/begging, Great Egret fledged young head portrait, breeding plumage Cattle Egret head portrait, and Snowy Egret large fledgling head and shoulders.
Photo Mechanic Screen Capture Composite of my favorite keepers from Mother's Day
Let's Run That One Back!
(Possibly) the Last Gatorland In-the-Field Session of the Season: Saturday, May 18, 2019.
The photo opps at Gatorland last Saturday were better than I expected and the Cattle Egrets finally showed up so I have decided to run this at least once more.
Join me at Gatorland this coming Saturday and learn a ton. It will be prime time for Cattle Egrets in breeding plumage, and we might even have a shot at some nesting Little Blue Herons. There will still be lots of white chicks of all sizes. There were still one Snowy Egret nest with eggs on my last visit. Learn to shoot in the shade on sunny days! Most folks who visit Gatorland simply have no clue. Join me to learn how to photograph at easily accessible rookeries. An intermediate telephoto lens is all that you will need. I will have two of those and my 600 VR. Learn to think and see like a pro. A loaner FlexShooter Pro will likely be available.
Morning Session — 7-10am: $200.00
Morning Session with a 90-minute working lunch including image review and Photoshop: $300.00.
Call 863-692-0906 to register. I go with one!
The Nikon Photographers' Guide to Phase One Capture One Pro
Works great with SONY ARW (RAW) files too!
By Arash Hazeghi/$50.00 via PDF download/click here to purchase.
This 50+ page guide walks you through all the necessary steps to convert your Nikon NEF (and SONY ARW) files into sharp, detailed, and clean full-size TIFF files. To use this guide, you will need Capture One Pro 11 or newer (sold separately— see below). The guide is in digital PDF format via download.
When I heard that Arash, with his fervent desire to produce the sharpest, most detailed image files possible, had switched to Capture One for his Nikon RAW conversions and was seeing a big difference in image quality, I got a copy of Capture One Pro. With his guide in hand, I began converting my Nikon files in C-1 Pro. And seeing a difference. And the same happened with my SONY images. Most of the images you have seen on the blog over the past two months were converted in C-1 Pro and optimized in Photoshop.
C-1 Pro 12 automatically recognizes RAW files from a long list of SONY (and Nikon) bodies including the a7R iii and the a9. I find that for the most part that Arash's numbers for out-of-camera sharpening (on page 38) and for Luminance noise reduction (on page 39) work well with both SONY bodies. At times, working at 200%, I will fine-tune those settings for best results as detailed on pages 35 & 36 of the guide.
To purchase a copy of Capture One, please use this link. Note: I use Capture One Pro 12/perpetual license.